These buttermilk pancakes are so easy to make and taste fantastic. Soft and fluffy and perfect for breakfast – you will love these pancakes!
Pancakes are one of the best breakfast foods. I don't know too many people that don't like them, they're super easy to make, and are great at any time of the day.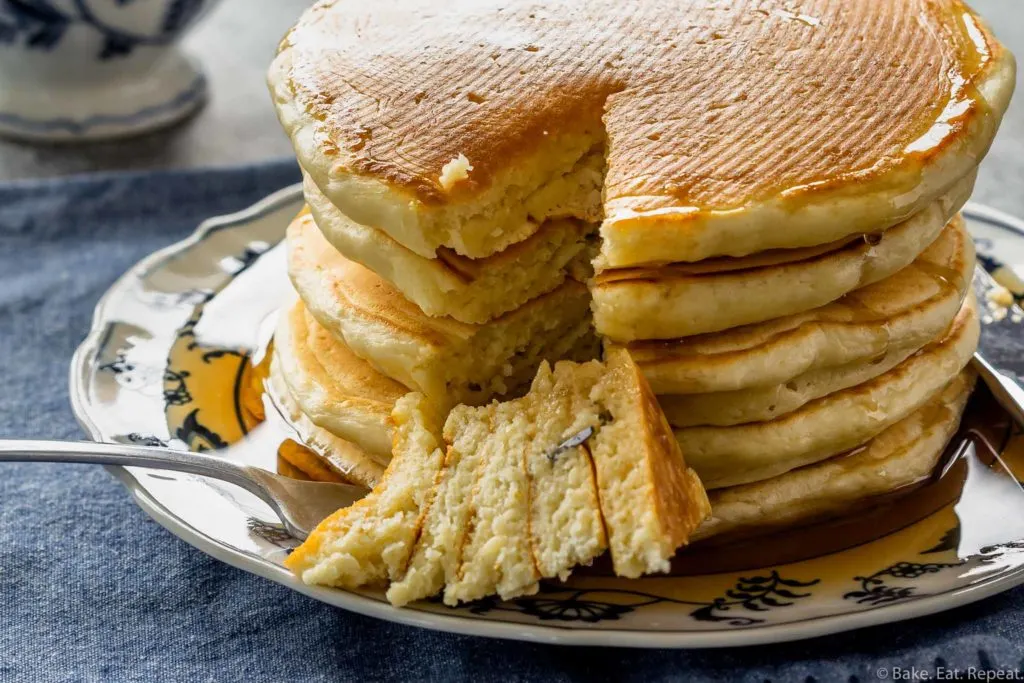 I think we probably have pancakes and eggs for dinner just as often as we do for breakfast, and nobody every complains when they're served – whatever time of day it is.
These buttermilk pancakes are super easy to make, taste fantastic, and are super soft and fluffy. Plus they freeze well if you have leftovers. We don't often have any leftovers, but when we do the kids are pretty happy because they reheat well for quick breakfasts.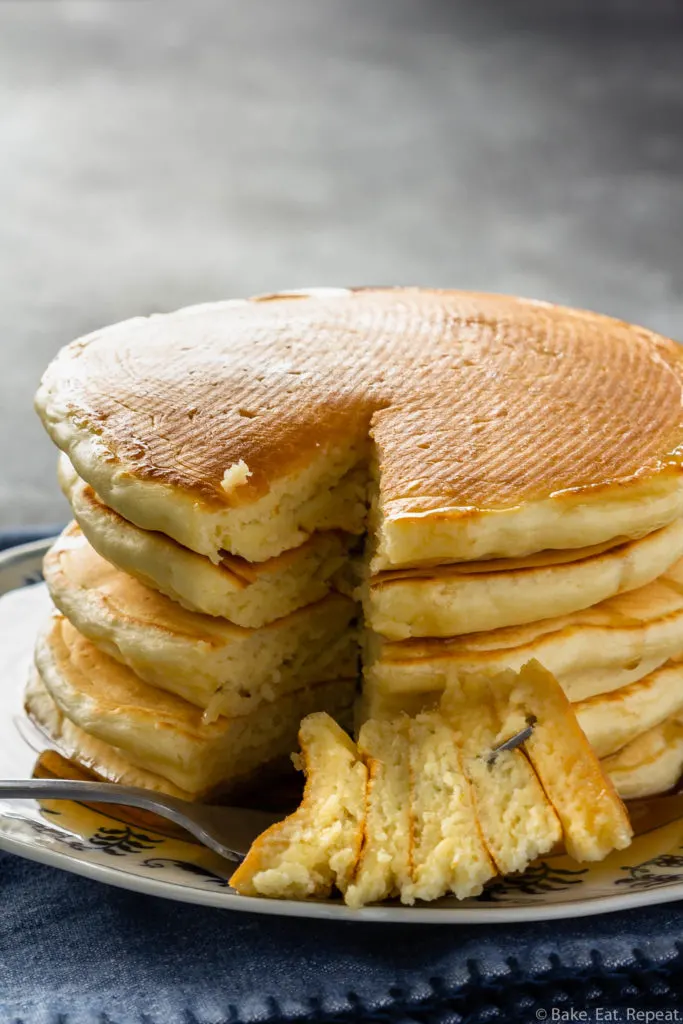 Is buttermilk better than milk in pancakes?
You don't need to use actual buttermilk for these buttermilk pancakes. I make them just as often with a buttermilk substitute as I do with real buttermilk.
If you don't have any buttermilk, substitute with 1 cup of milk mixed with 1 tablespoon of vinegar or lemon juice. Let it sit for 5 minutes and it will work well as a substitute.
That being said, I do prefer real buttermilk when I make pancakes. It does produce fluffier, more tender pancakes. But the substitute buttermilk is not at all bad here!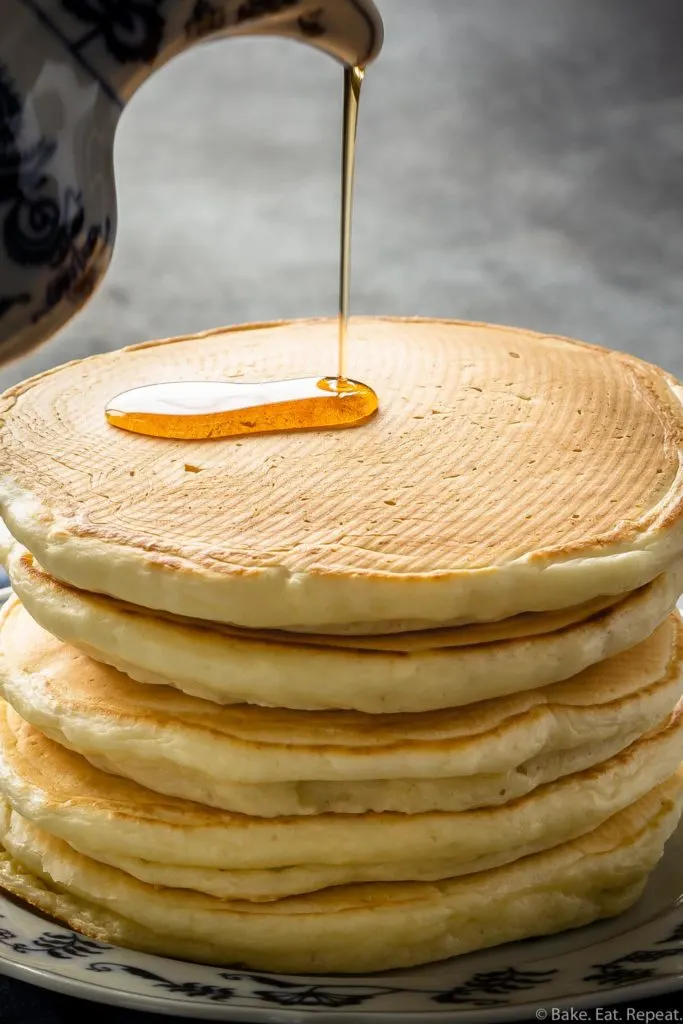 Should pancake batter be thick or runny?
Pancake batter should be fairly thick, but runny enough that it can be scooped onto the griddle and spread out easily. I find that if it's so runny that it runs off the spoon and spreads out super easily on it's own, then the pancakes will end up really thin.
If you want thick and fluffy pancakes, the batter should be thick enough that it will drip off the spoon but not run off. As you scoop it onto the griddle it will spread on its own a bit, but you will want to spread it a little with the spoon too.
If your batter is super runny, add a little flour until it's a bit thicker. If it's too thick to scoop onto the griddle easily, add a little buttermilk to thin it out.
Is it okay if my pancake batter is lumpy?
Pancake batter should be a little lumpy after you mix it. You don't want to over-mix it as the pancakes will be tough. Simply whisk everything together until the ingredients are just combined and then let it sit for 5 minutes or so before cooking it.
The lumps will disappear as the batter sits and the pancakes cook. As long as most of the flour is hydrated it will be fine.
Over mixing the batter to try and get rid of the lumps will develop gluten in the flour and will result in tough instead of tender pancakes.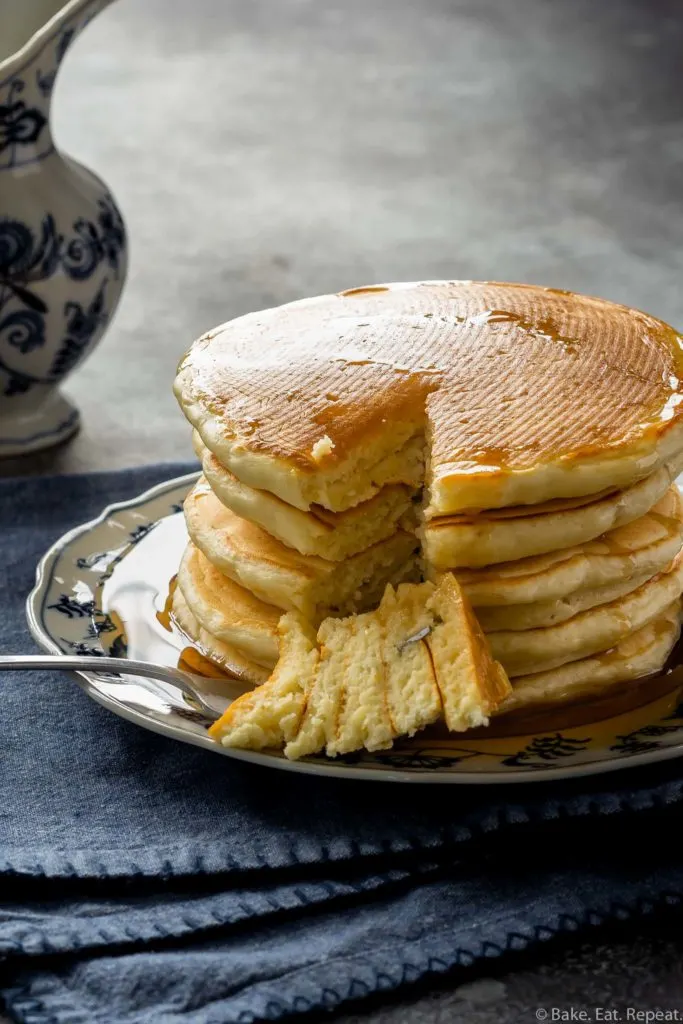 How to make Buttermilk Pancakes:
If you don't have real buttermilk, make sure to mix your milk with with vinegar or lemon juice before using it as a substitute. Use 1 cup of milk mixed with 1 tablespoon of vinegar or lemon juice.
This pancake batter is fairly thick, but if it seems too thick to scoop onto the griddle easily, add another 2-4 tablespoons of buttermilk to thin it out. If you measure your flour a little differently than I do, you may have a bit more and therefore need more liquid.
Any vegetable oil will be fine here as a substitution for the canola oil if you prefer.
These pancakes freeze well and can be reheated in the microwave or toaster.
Here are some more great breakfast recipes for you: