This easy, homemade, cranberry orange almond granola makes the perfect breakfast or snack. It's healthy and delicious!
Homemade granola is a very popular breakfast choice at my house. Batches of granola tend to disappear in record time around here.
I make granola and it's gone within the week. Sometimes less.
And these batches aren't small. But granola does make the perfect breakfast or snack. We love it with yogurt and berries, or even just on it's own with milk.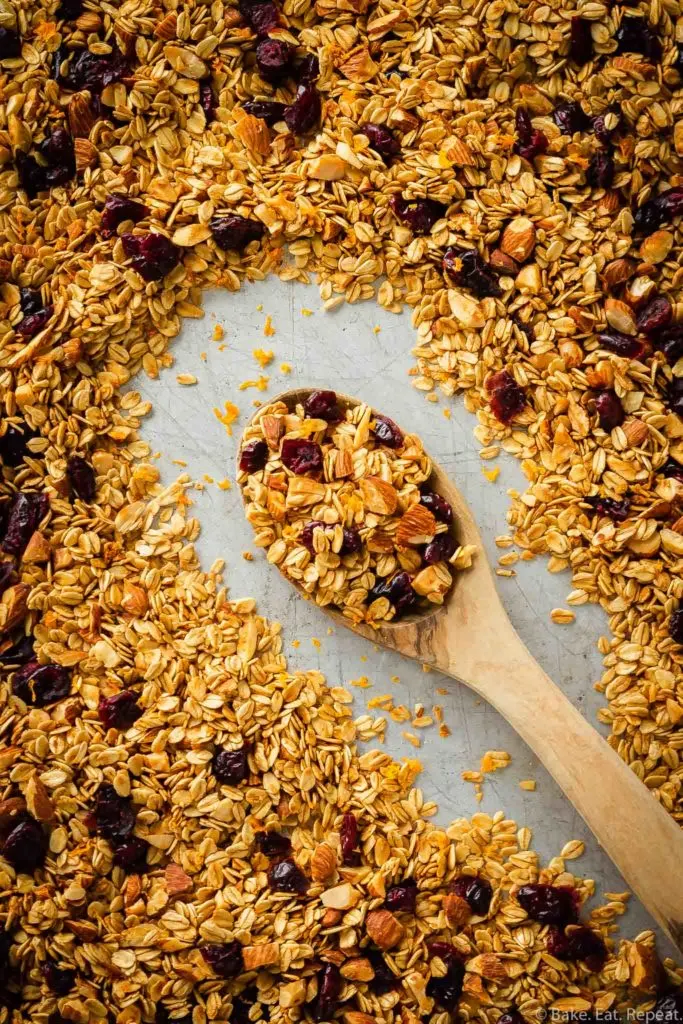 This cranberry orange almond granola is super easy to make, and tastes delicious. And it's a much healthier version of granola than most of the store bought versions.
It has a minimal amount of sugar and oil in it, but is still sweet enough, with a good crunch, to make a great addition to breakfast.
You will love this homemade cranberry orange almond granola recipe!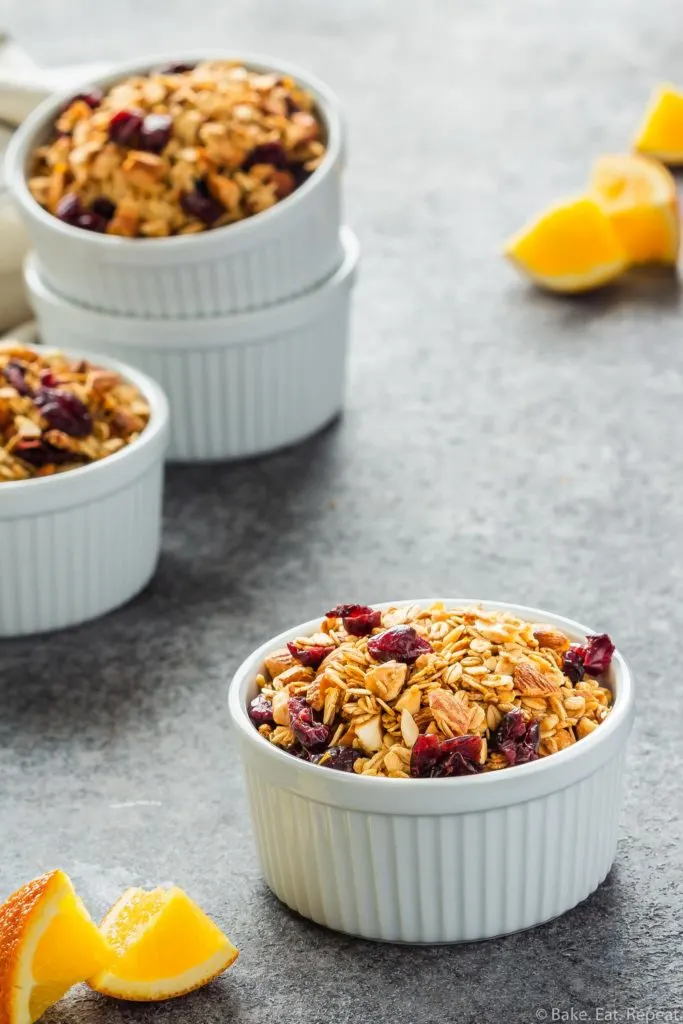 Should granola be cooked?
Granola is best when it's baked for a long time at a low temperature. If you bake it at too high a temperature you are likely to burn it.
This cranberry orange almond granola is baked at 250F for an hour and 15 minutes. You can give it a stir halfway through the baking time if you like, but it's not necessary. I usually forget and it always turns out just fine!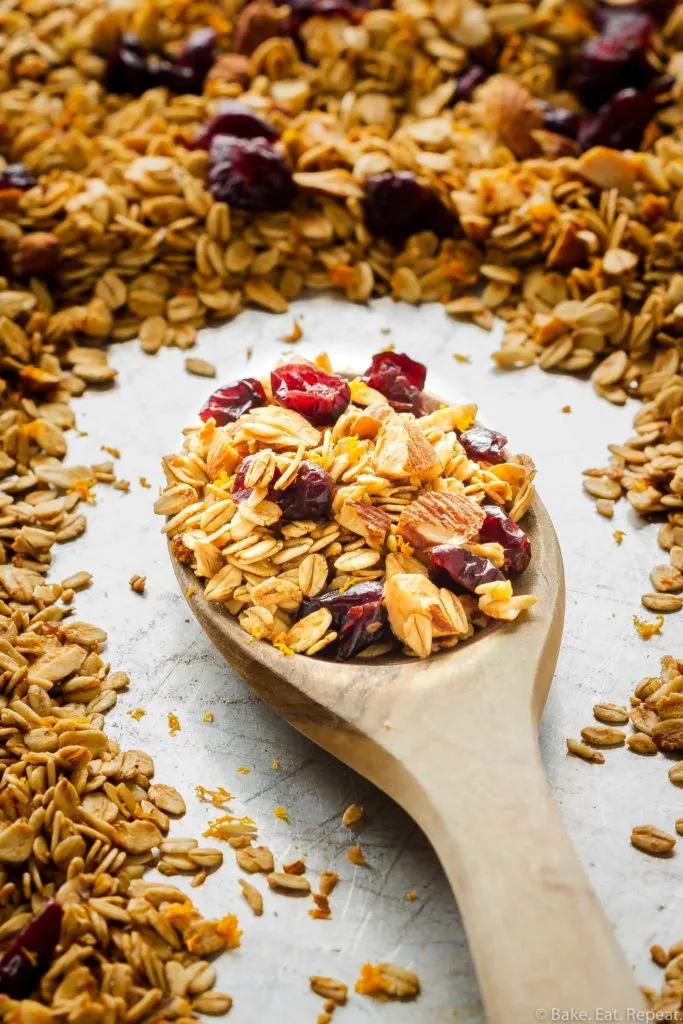 What kind of oats are best for granola?
Old fashioned rolled oats are best for granola. I have not tried any other kind of oats for this recipe, such as quick oats or instant oats. I always use rolled oats for my granola.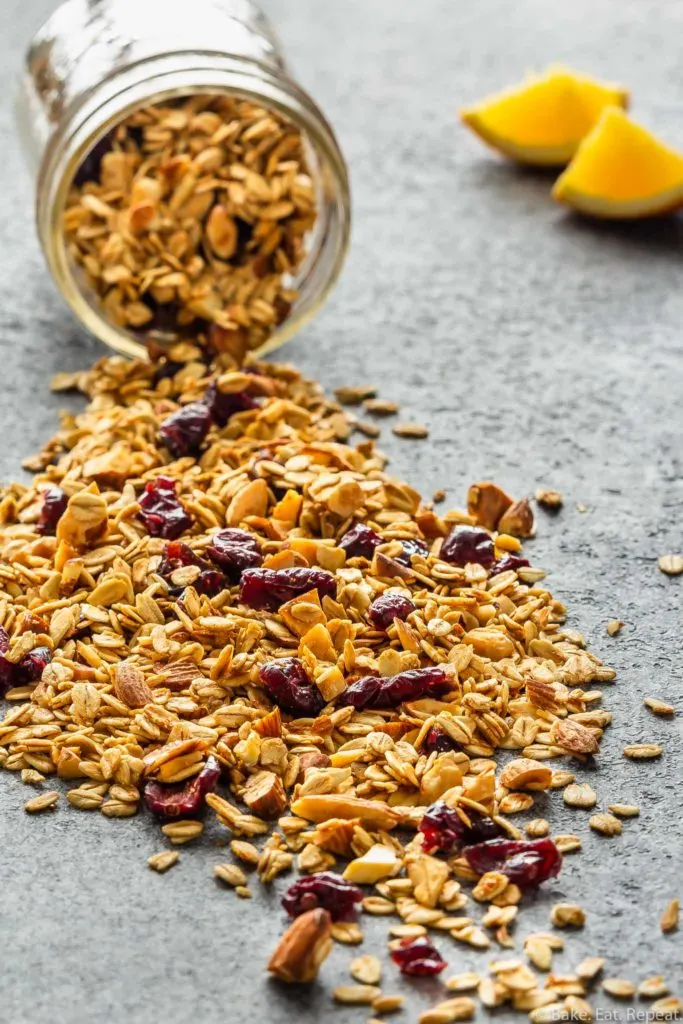 What kind of oil is best in this cranberry orange almond granola?
I have made this recipe with canola oil and with melted coconut oil and both work well here. Any type of vegetable oil would be fine to substitute if you prefer a different kind.
I do usually use canola oil in my granola recipes as I always have it on hand, but coconut oil is my next go to for the type of oil to use. Any vegetable oil will work though so use your preference.
How to make Cranberry Orange Almond Granola:
Make sure to stir all the ingredients together until everything is evenly coated in the liquid. It doesn't seem like enough liquid at first, but it will coat the oats after stirring it well.
Don't bake this granola at a higher temperature. Granola is best cooked at a low temperature for a long time.
You can swap the baking sheets in the oven halfway through the baking time to make sure everything cooks evenly.
Let the granola cool completely before transferring it to an airtight container to store.
Here are some more great granola recipes for you: