Easy banana pancakes that mix up quickly and are a fantastic change from the usual buttermilk pancakes.  The whole family will love these for breakfast!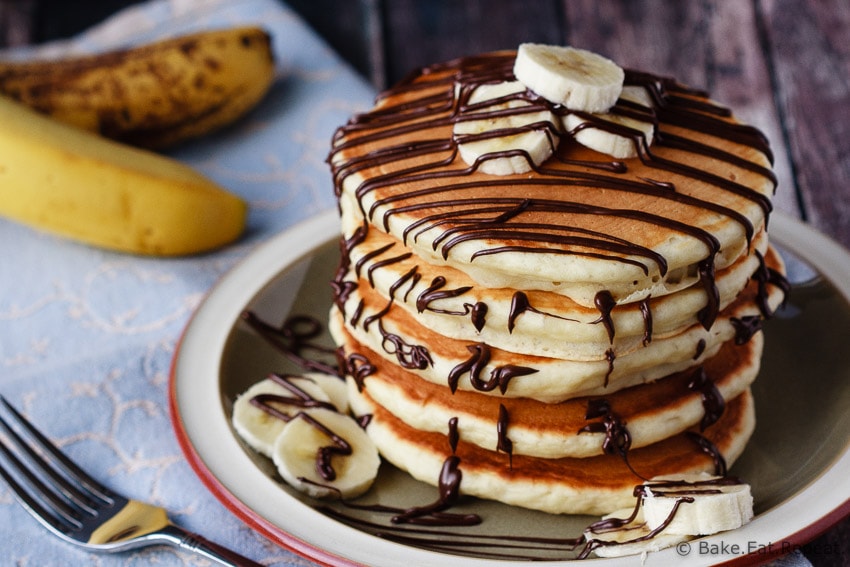 I don't really have a lot of breakfast recipes on here.  I'm not sure why that is, because we make a big breakfast every Sunday after church – it's become enough of a tradition that our kids get upset if we just do something quick and easy like sandwiches for lunch on Sunday instead.  Plus, breakfast for dinner is something we do on a fairly regular basis, because breakfast is always a hit.  And yet, I've only posted a handful of breakfast recipes.
I think maybe because whenever I'm making something like these banana pancakes, we just want to eat.  No one wants to sit around waiting while I take way too many photos of them.  They just want to eat them.  Now if not sooner.  And there's rarely any leftovers because everyone loves them and eats way too many.  Every single time.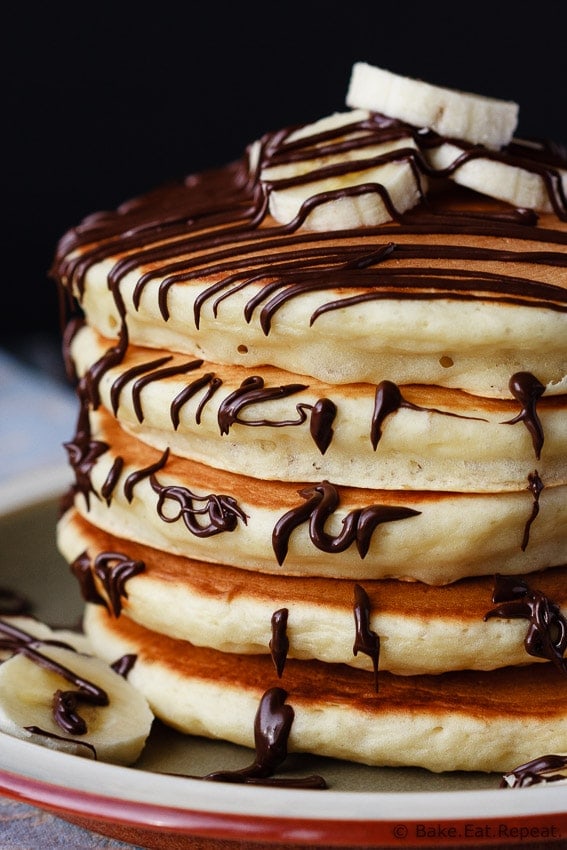 If you've never had banana pancakes, you definitely need to try these.  I first found this recipe in a magazine quite a few years ago and was intrigued by the idea of flavoured pancakes.  I'd only ever made regular buttermilk pancakes, and didn't even realize you could make different flavours.  I was missing out.  Since then I've made a bunch of different kinds, but these banana pancakes remain a favourite.  We tend to make them whenever there happens to be some super ripe bananas kicking around as we go to make breakfast.
They're a nice change from the usual Sunday morning pancakes.  Plus, putting banana in your pancakes is really just a license to enjoy some chocolate for breakfast.  Because it's basically banana bread in pancake form, and what's banana bread without chocolate chips?
Although if you don't enjoy putting chocolate in absolutely everything, they're just as wonderful with some maple syrup.  But you should probably at least sprinkle a few chocolate chips in the batter.  Trust me.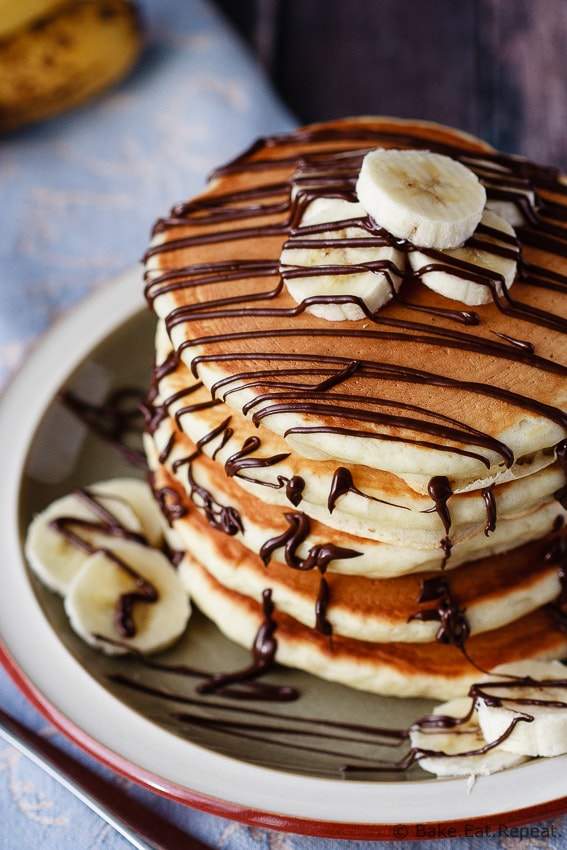 Yield: 12 pancakes
Banana Pancakes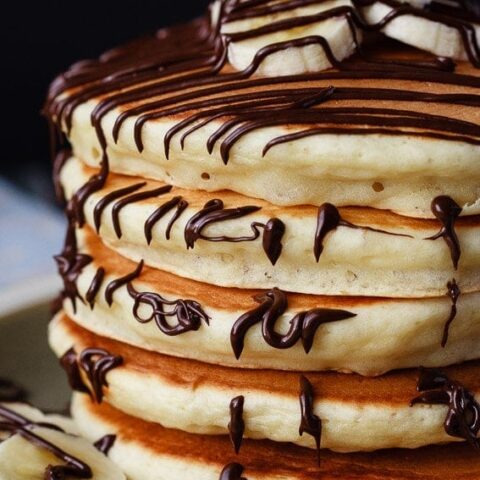 Easy banana pancakes that mix up quickly and are a fantastic change from the usual buttermilk pancakes.  The whole family will love these for breakfast!

Prep Time 20 minutes

Cook Time 15 minutes

Total Time 35 minutes
Ingredients
1 1/2 cups all-purpose flour
1 tablespoon granulated sugar
2 1/2 teaspoons baking powder
1 medium, very ripe banana, peeled
1 large egg
1 cup buttermilk
2 tablespoons canola oil
chocolate chips (optional)
Instructions
In a large bowl, whisk together the flour, sugar and baking powder until well combined.
In a blender, combine the banana, egg, buttermilk and oil until smooth and well combined.
Add this mixture to the dry ingredients and mix. I usually use an electric mixer, but you can also just whisk it all together until it's combined.
Preheat a non-stick frying pan or electric griddle to medium heat. I don't use any oil, but if it's not a good non-stick pan you may need to lightly oil the pan to prevent the pancakes from sticking.
Drop the batter onto the hot pan by 1/4 cup spoonfuls and allow to cook until bubbles start forming on the top.
Flip and cook on the other side. Keep warm while cooking the rest of the pancakes.
Serve hot. If you would like to add chocolate chips, either add about 1/3 cup to the batter before cooking the pancakes, or melt some and drizzle them over top of the cooked pancakes.
Recommended Products
This post contains affiliate links. As an Amazon Associate, I may receive a small commission from qualifying purchases.
Nutrition Information:
Yield:
6
Serving Size:
2 pancakes
Amount Per Serving: Calories: 243Total Fat: 8gSaturated Fat: 2gTrans Fat: 0gUnsaturated Fat: 6gCholesterol: 33mgSodium: 294mgCarbohydrates: 37gFiber: 2gSugar: 10gProtein: 6g

Nutrition Information is estimated based on ingredients used and may not be exact.