These soft and fluffy banana rhubarb muffins are the perfect mix of sweet banana and tart rhubarb. Easy and delicious and perfect for breakfast!
These banana rhubarb muffins are super soft and fluffy, and take just minutes to mix up. They make the perfect breakfast or snack, and have the perfect mix of sweet and tart with the banana and rhubarb combination.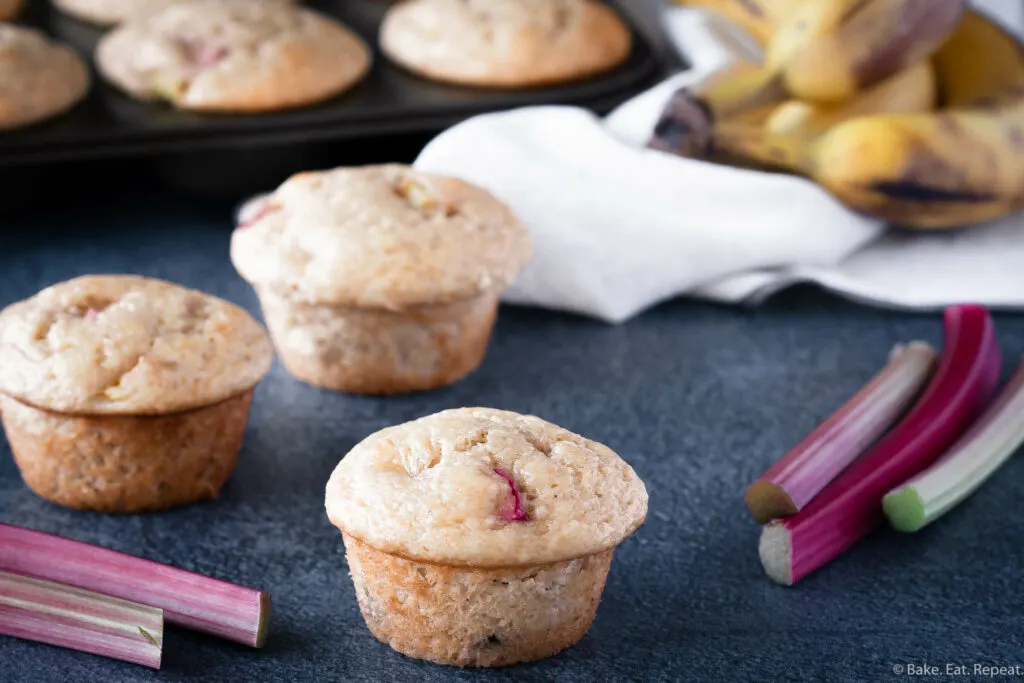 I like to combine all the wet ingredients with an immersion blender for these muffins. It's not necessary, you can definitely just mash the bananas with a fork and then whisk in the rest of the wet ingredients. But an immersion blender is super fast.
Stir in the dry ingredients, fold in the chopped rhubarb, and portion the batter out into a couple muffin tins. That's all it takes to make these muffins.
You can probably have them ready to go in the oven before it's even finished preheating. They're that fast.
And so tasty that the 18 muffins will not last long. At least at my house they didn't!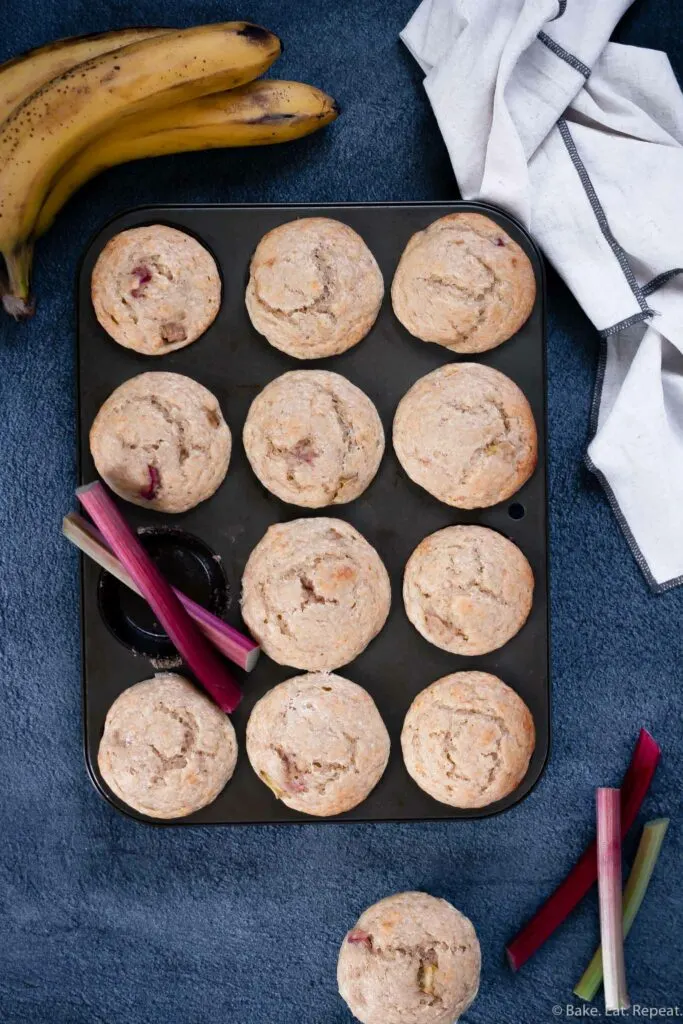 What is the best way to store banana rhubarb muffins?
I find the best way to store muffins is in a container that is loosely covered. The moisture in muffins will make them sticky if they are stored in an airtight container. Keeping them covered loosely helps with this, but they will only stay fresh for about 3 days.
Placing layers of paper towel below and above the muffins will help with excess moisture too.
Muffins will stay fresh longer if kept in an airtight container, but be aware that they will get sticky on the tops. You can reheat them in the oven at 300F for about 5 minutes to re-crisp the tops and bring them back to that "just baked" state.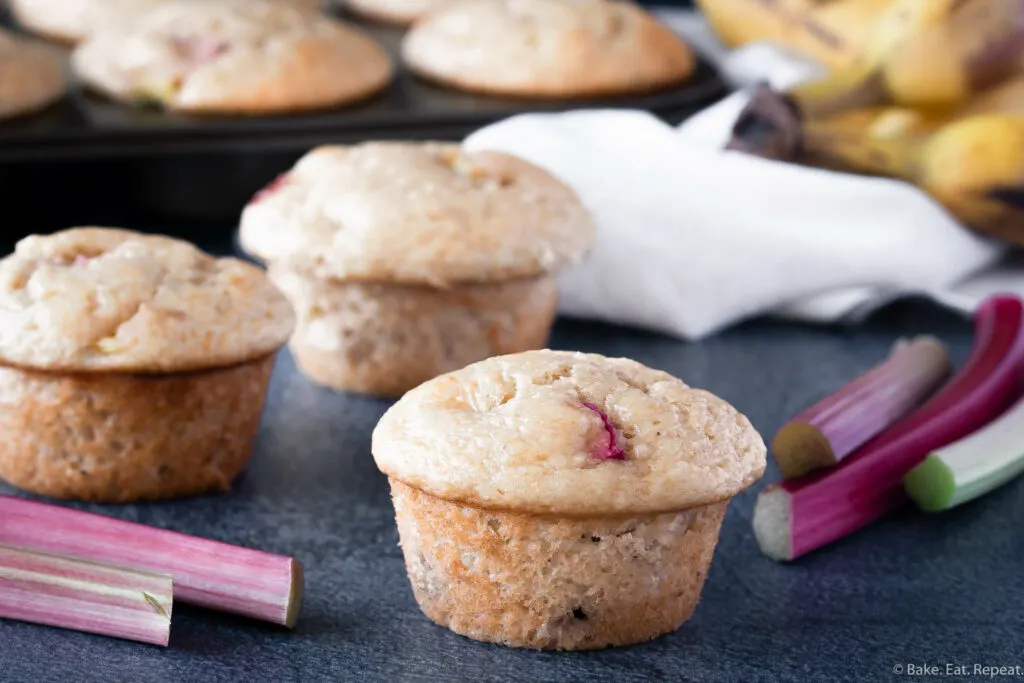 Can I freeze rhubarb for later use?
Yes, you can definitely freeze rhubarb for later use. I do this every year.
All you need to do is wash the rhubarb and slice it up so it's easy to use straight from the freezer. Most recipes call for rhubarb to be sliced into 1/2″ pieces. Then freeze it in a ziplock bag or an airtight container for up to 6 months.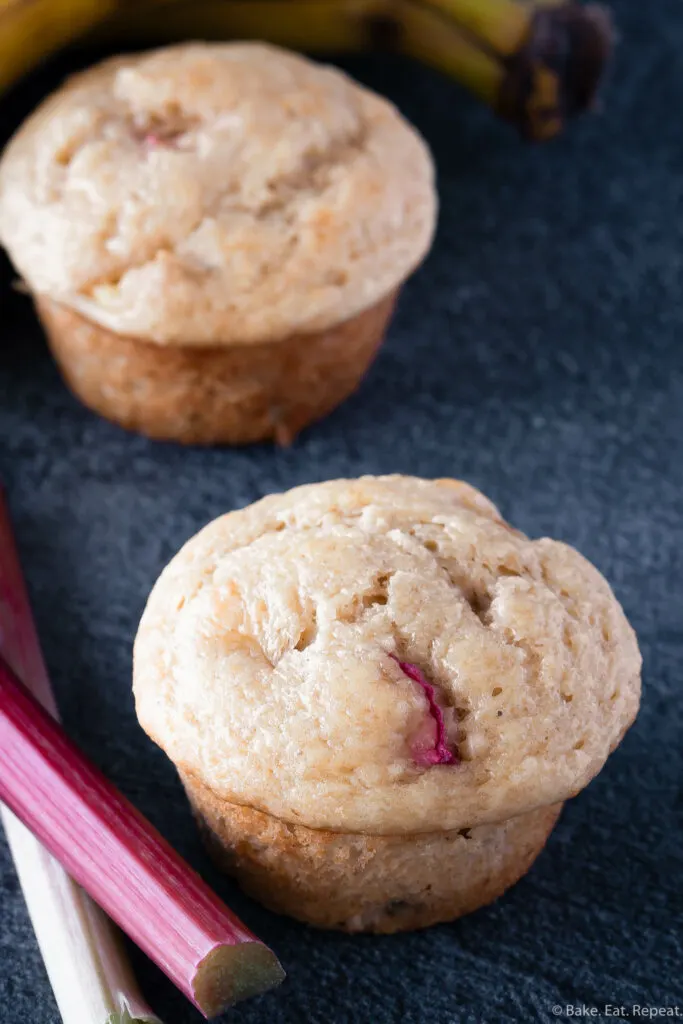 How to make Banana Rhubarb Muffins:
Make sure not to over-mix the muffin batter. Muffins can turn out tough and dense if you over-mix. Only stir until the ingredients are just combined.
Use very ripe bananas for these muffins. Super over-ripe bananas add the most sweetness to muffins.
Store these muffins loosely covered at room temperature for up to 3 days. You can refresh them in a 300F oven for about 5 minutes if they start to get sticky on the tops.
Here are some more great muffin recipes for you: