These strawberry rhubarb bars with a buttery crust and crumb topping are easy to make and taste fantastic! Make them for dessert today!
These strawberry rhubarb bars with a crumb topping are so easy to make and taste absolutely delicious. With a buttery crust and crumble (made from the same dough!) and a tasty sweet and tart fruit filling, they make the perfect dessert or snack.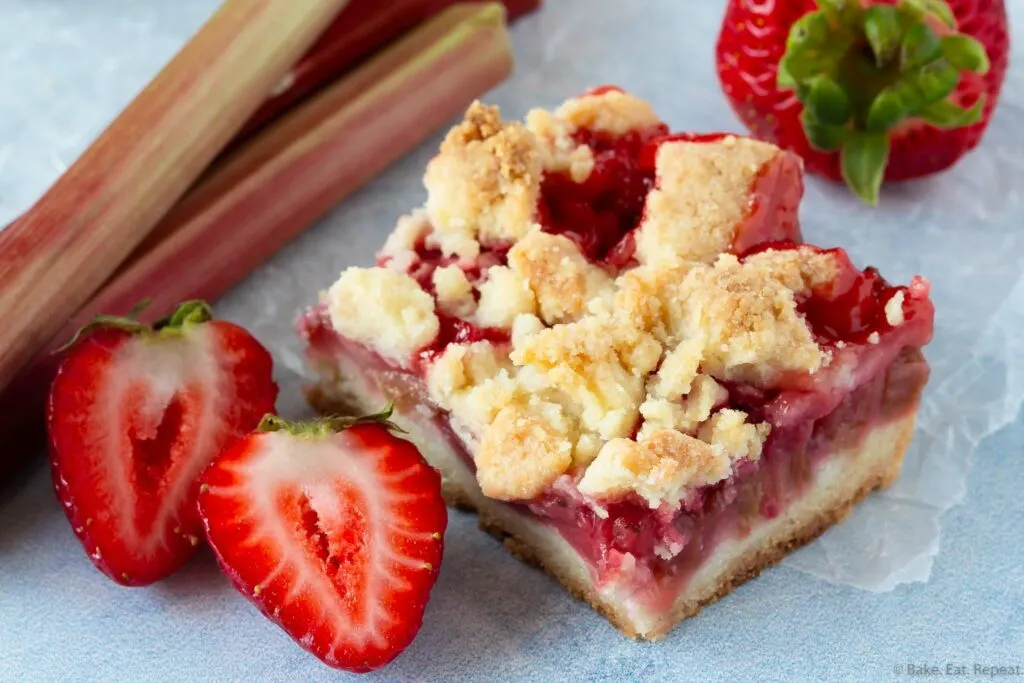 Plus they're super easy to make. There's only one dough to make for both the crust and the crumble, and it mixes up quickly in the food processor. And the filling only takes a couple of minutes to stir together.
These strawberry rhubarb bars are absolutely delicious, and are a must make when you have fresh rhubarb in the spring. Or all winter long if you're like me and end up freezing most of the garden rhubarb for later!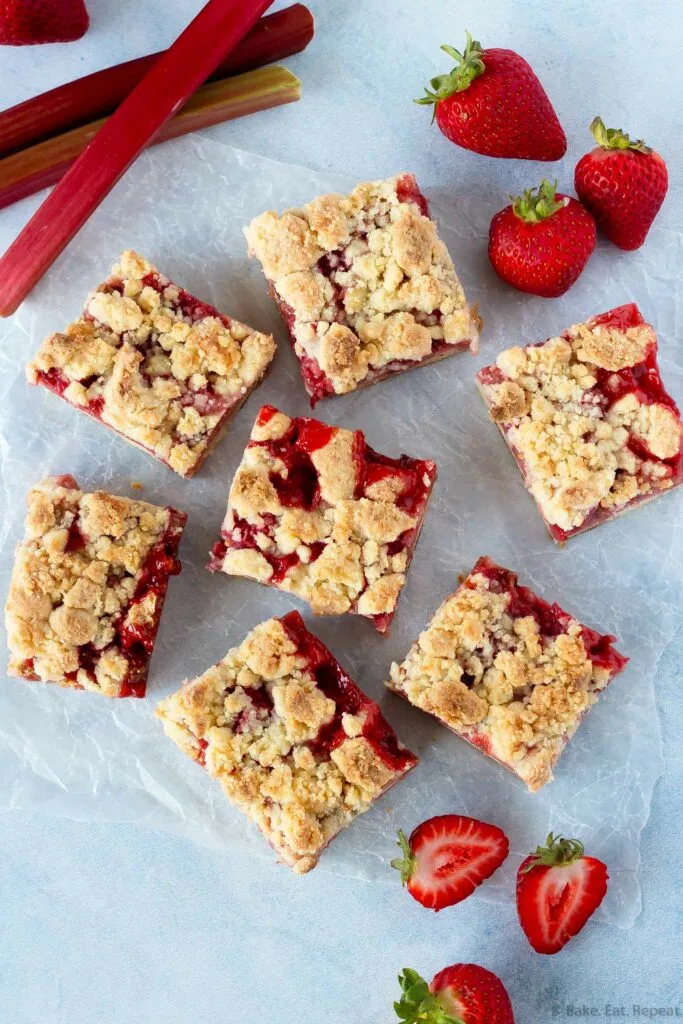 Do you need to cook rhubarb before baking?
No, you don't need to cook rhubarb before using it in baking. The fresh rhubarb stalks get chopped up and mixed with diced fresh strawberries, sugar, and cornstarch for these crumb bars. Spread this filling on the crust, top it with the crumble and bake.
The strawberry rhubarb filling cooks in the oven while the bars bake. Make sure the fruit filling is bubbling before you remove the bars from the oven as it needs to boil for the cornstarch to thicken it properly.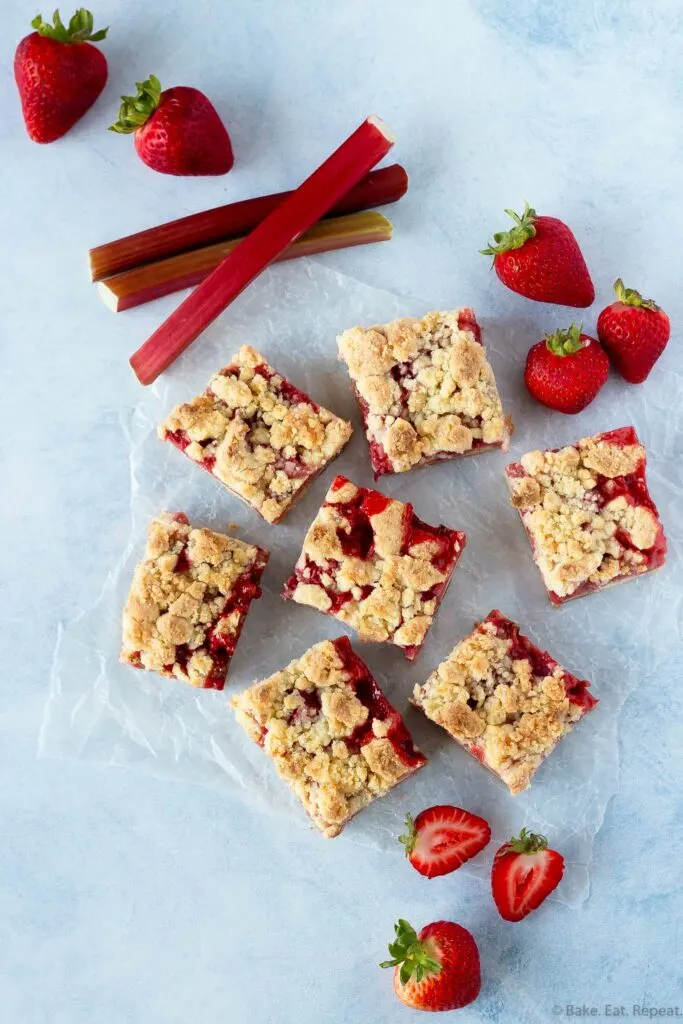 Can I freeze rhubarb?
Yes, you can freeze fresh rhubarb. Simply wash it and slice it up so it's ready to be used in your recipe and freeze it in a ziplock bag or an airtight container. You can use it straight out of the freezer in your baking.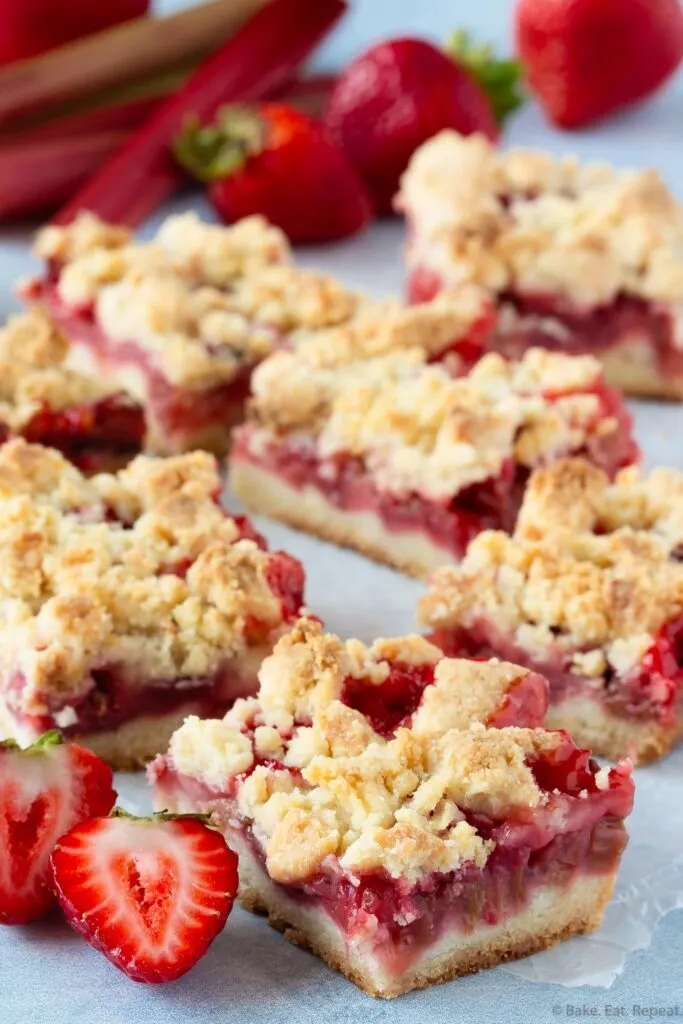 Why do you mix rhubarb and strawberries?
This classic combination is so good because the sweetness of the strawberries is mellowed out by the tartness of the rhubarb. The sweet and tart combination is the perfect filling for a summer fruit dessert.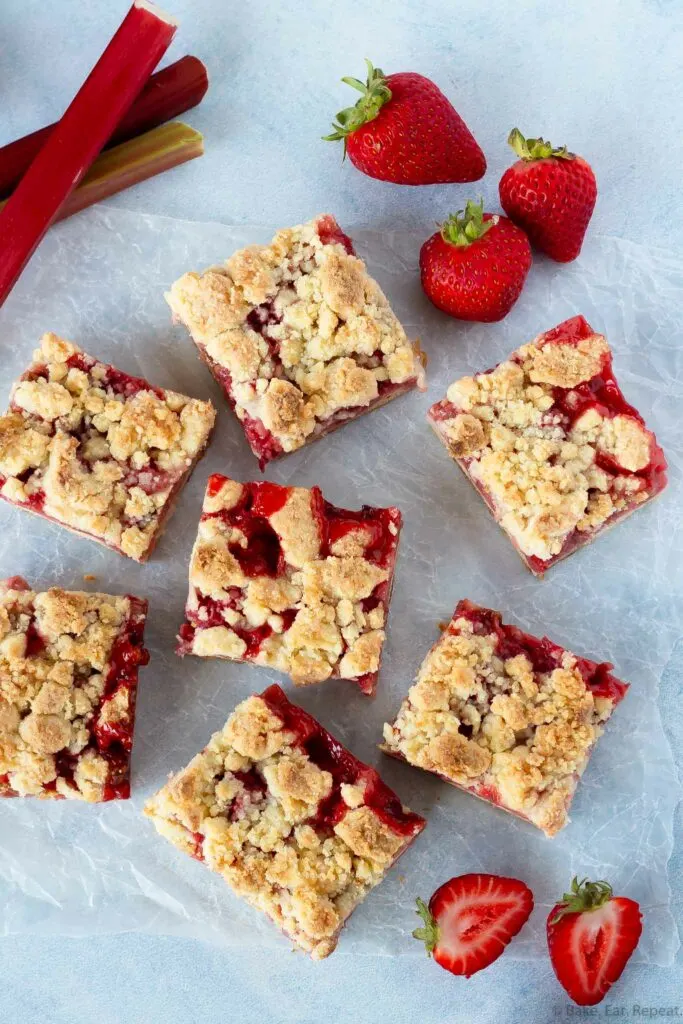 How to make Strawberry Rhubarb Bars:
The crust and crumble for these bars is made from the same mixture. Simply divide the dough, press half of it into the prepared pan, and crumble the other half on top of the fruit filling.
Make sure to let these strawberry rhubarb bars cool completely before lifting them out of the pan and slicing them. They will fall apart a bit if you try to slice them while they're still warm.
Store these bars at room temperature for up to 3 days, or freeze them for up to 3 months. Don't keep them in an airtight container at room temperature as the crumble topping will go soggy, just keep them loosely covered.
I use a 7 cup food processor to make the crust/crumble, and it is full when I make this recipe. If your food processor is smaller, it likely won't be able to handle this recipe. I would suggest making it in a mixing bowl with a pastry blender to mix in the butter if you don't have a big enough food processor.
Here are some more great dessert recipes for you: