These blackberry peach coffee cake muffins are quick and easy to make and taste fantastic with lots of fruit and a tasty brown sugar streusel! The perfect treat with your morning coffee!
These blackberry peach coffee cake muffins make the perfect breakfast or snack with your morning coffee. They're quick and easy to make, and are filled with flavour.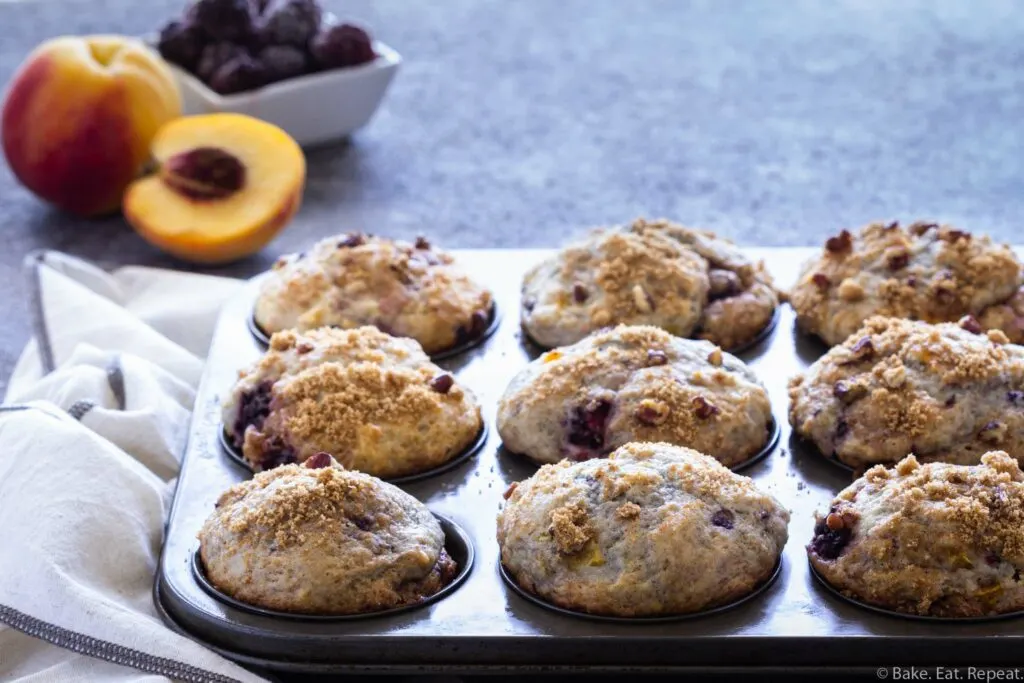 Bursting with fresh peaches and blackberries (or frozen, either works well here!), and with a tasty brown sugar and pecan streusel running through the middle of the muffins as well as sprinkled on top, they are absolutely delicious.
They take slightly longer to get into the oven then, say, these Chocolate Chip Banana Oatmeal Muffins, but those are so fast to mix up that they're ready before the oven is heated up. So it's not really a fair comparison.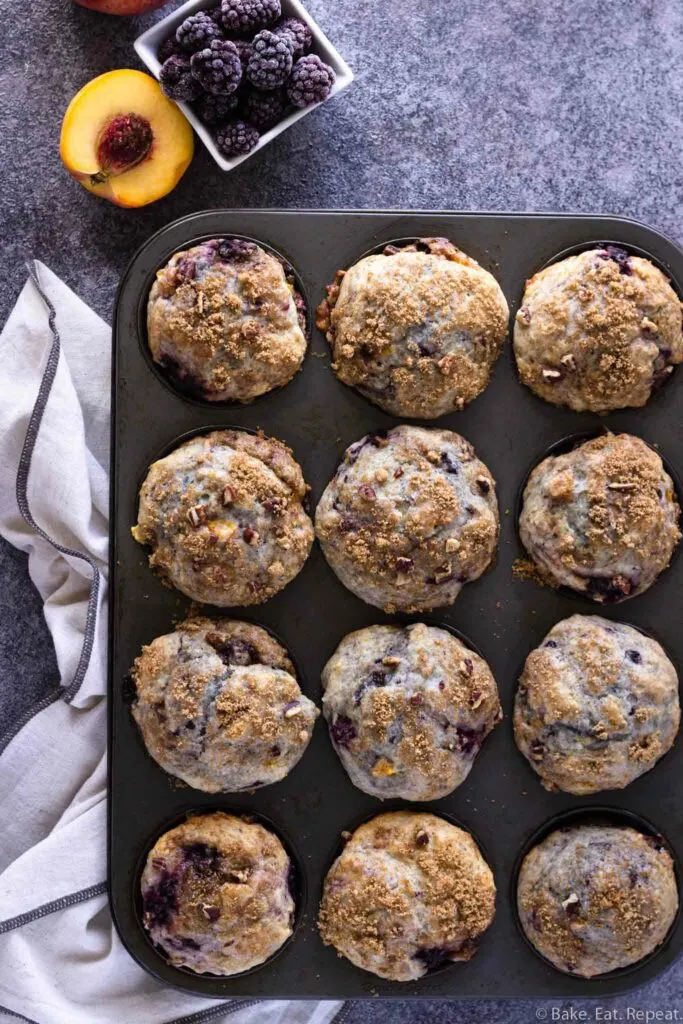 These muffins take a bit longer than that. But not much. It takes a couple of minutes to prepare the fruit, peeling and dicing up the peaches, and cutting the blackberries in half if they're large.
And a little longer to get the batter into the muffin tin, as you need to fill the tins halfway, then sprinkle some streusel on top, then add the rest of the batter and sprinkle more streusel.
These muffins are worth the extra couple of minutes though. They're soft and fluffy, bursting with fruit, and they have some crunch from the pecan brown sugar streusel. They're delicious.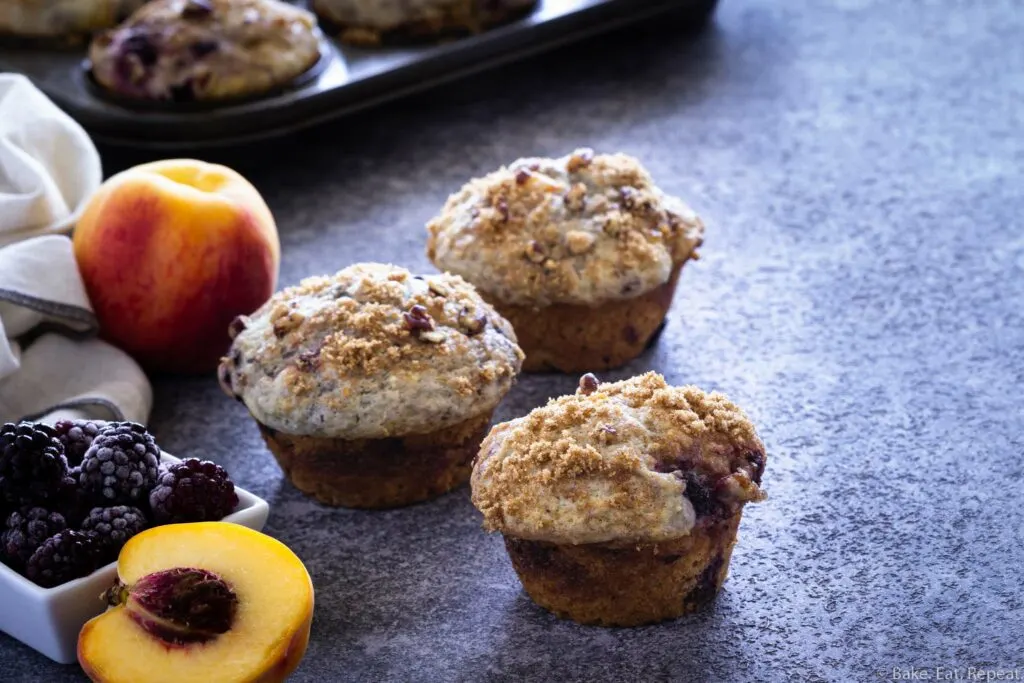 Why is it called a coffee cake muffin?
These muffins are called coffee cake muffins because they're similar to coffee cake, which is a cake that is meant to be served with coffee.
Coffee cake is typically a moist cake, often with fruit in it, and topped with a streusel or a crumb topping, and sometimes a glaze.
The brown sugar pecan streusel running through the middle, and sprinkled on top, of these blackberry peach muffins is similar to coffee cake. And they are perfect with coffee.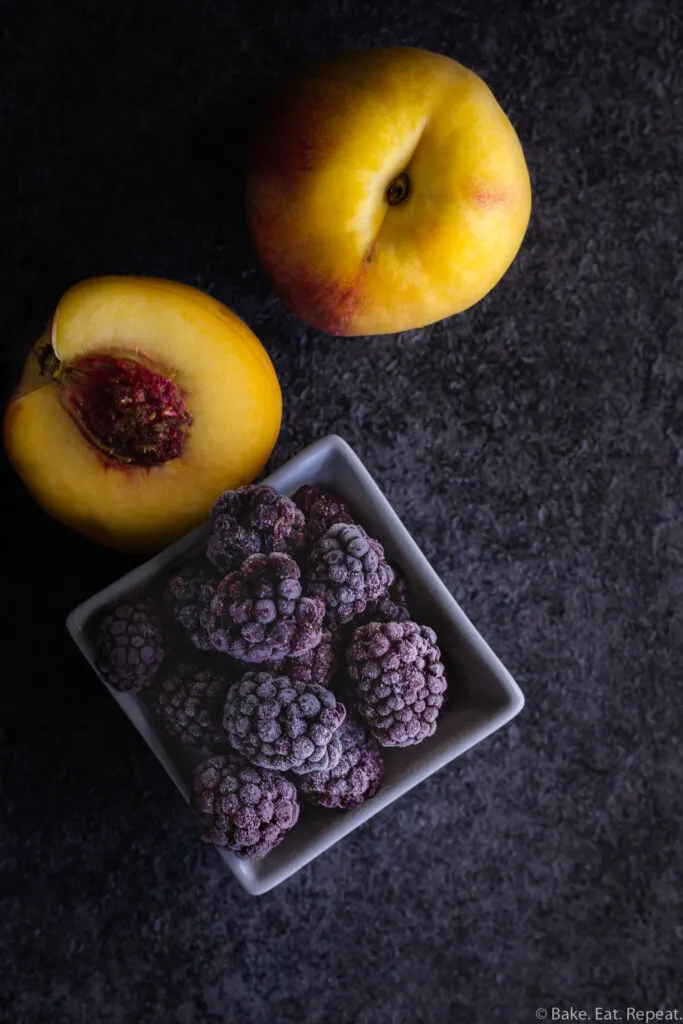 Should peaches be peeled for muffins?
It's a personal preference, but I tend to peel peaches for baking. You don't need to bother, but I find that the peach peel can have an unpleasant texture in baked goods.
I prefer to make these blackberry peach coffee cake muffins with peeled peaches.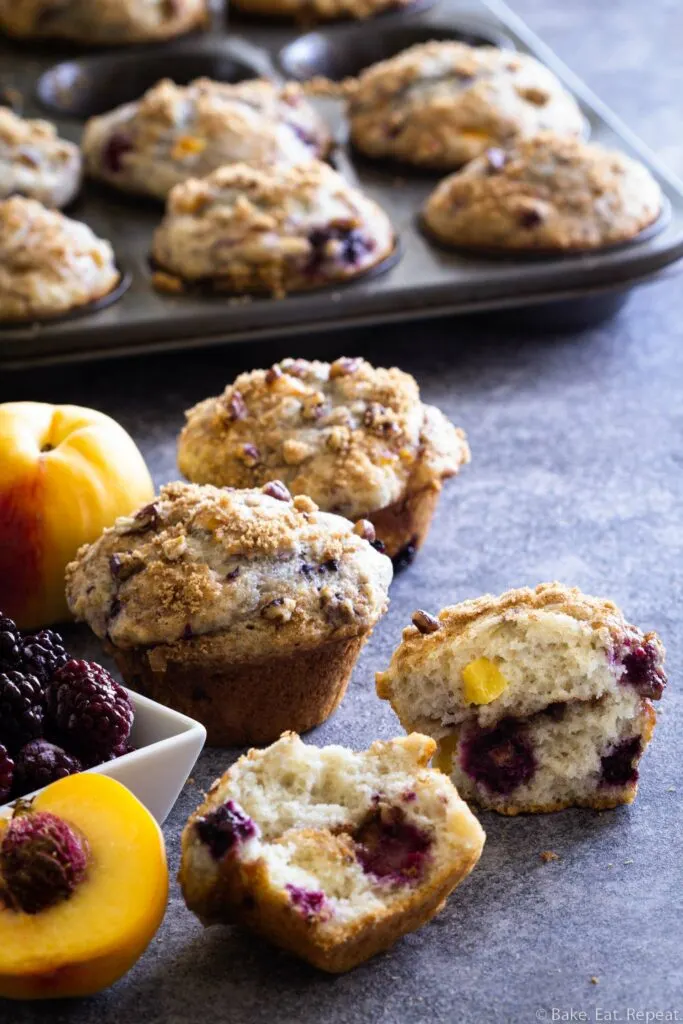 What is the best way to peel peaches?
You can peel under ripe peaches with a vegetable peeler or a paring knife. If they're quite ripe, this will be a bit difficult to do, though.
With very ripe peaches, the best way to peel them is to cut an "X" in the bottom of the peach and then blanch it in boiling water for about 30 seconds. Remove the peach from the boiling water and immediately put it in a bowl of ice water. Once it cools, the skin should slide right off the peach.
That being said, when I only need one or two peaches, I tend to just use a paring knife. It's messier, and some of the peach flesh comes off with the peel, but it's faster.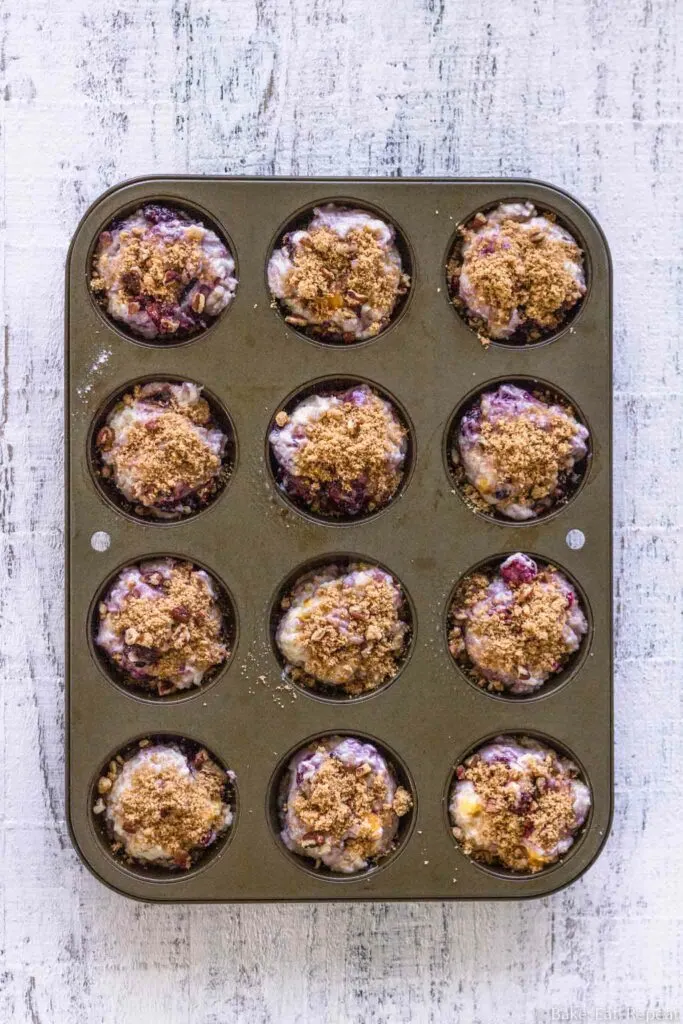 How to make Blackberry Peach Coffee Cake Muffins:
Using a small cookie scoop, about 1.5 tablespoon sized, is the quickest way to portion out the muffin batter into the muffin tin. One scoop into each muffin cup, then a sprinkle of streusel, then another scoop of batter, and another sprinkle of streusel. You may need to spread the batter out with a spoon after portioning it out with a cookie scoop.
If you don't like nuts in your muffins, you can omit the pecans from the streusel topping.
You can use fresh or frozen fruit for this recipe. If your fruit is frozen, don't defrost it before stirring it into the batter. There will be more bleeding of colour from the blackberries if they are frozen than if they are fresh.
Here are some more great muffin recipes for you: