Muffins or quick bread?  Which would you choose?  I generally go for muffins, they're so much quicker to bake, and the edges are the best part anyways.  But, if you make bread, the pan is way easier to clean.  Such a conundrum.
Not really.  But I do usually make muffins, so when I decided to go with blueberry chocolate chip banana oat bread the other day, everyone here was very excited.  Apparently we need to get out more.  Although I can't really blame them, it WAS really good bread, and it was a nice change from the usual muffins.
I used fresh blueberries, just cause I had some that were a little past their prime, but you can definitely use frozen.  I usually do in baked goods since I like keeping the fresh fruit for snacking.  Just don't thaw the frozen berries before mixing them in.  This bread was incredibly soft, with just the right amount of berries and chocolate, and we gobbled it up in under a day.  Obviously I should make banana bread a little more often!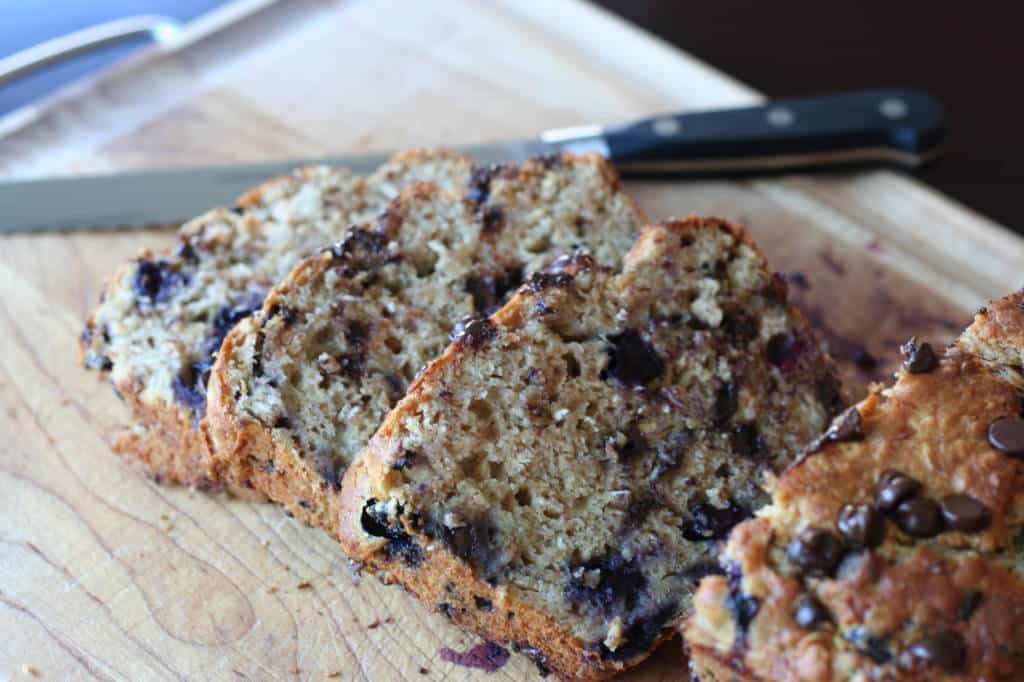 Yield: makes one 9x5 inch loaf
Blueberry Chocolate Chip Banana Oat Bread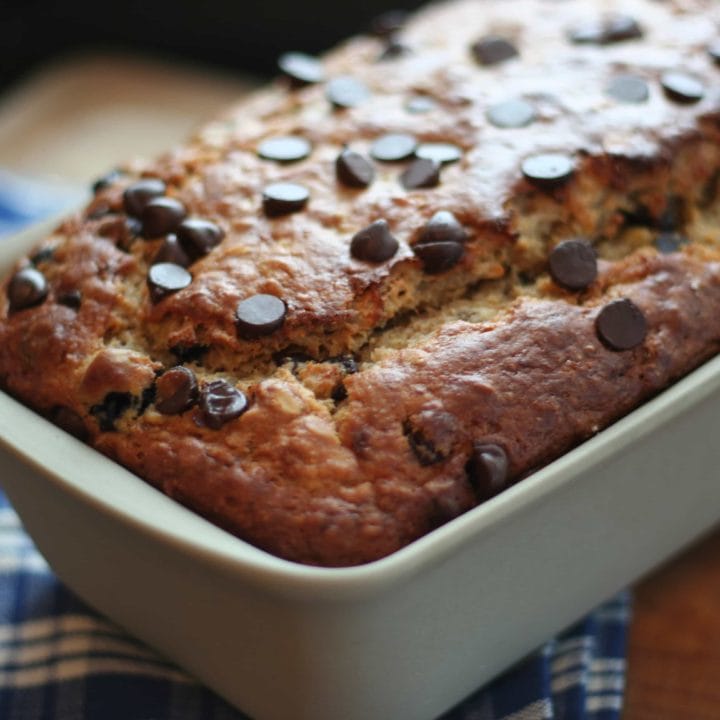 *Note:* You can use all all-purpose flour, or all whole wheat if you prefer, I just felt like half whole wheat today!
Ingredients
1 cup buttermilk (or 1 cup milk mixed with 1/2 tablespoon vinegar and allowed to sit for 5 minutes)
2 medium bananas (about 1 cup mashed)
2 large eggs
1/2 cup lightly packed brown sugar
1/3 cup canola oil
1 cup whole wheat flour
1 cup all-purpose flour
1 cup old fashioned rolled oats
2 teaspoon baking powder
1 teaspoons cinnamon
1/2 teaspoon salt
1/4 teaspoon baking soda
1 heaping cup blueberries
1/2 cup chocolate chips
Instructions
Preheat the oven to 375 degrees F. Lightly spray a 9x5 inch loaf pan with cooking spray and set aside.
In a small bowl, mash the bananas well. Whisk in the buttermilk, eggs, brown sugar and oil until well combined.
In a large bowl, toss together the whole wheat flour, all-purpose flour, rolled oats, baking powder, cinnamon, salt, baking soda. Pour in the wet ingredients and stir until just combined. Fold in the blueberries and chocolate chips gently.
Pour batter into the prepared pan and bake for 50 minutes to 1 hour, or until browned and a toothpick inserted in the center comes out clean. Cool in the pan for 15 minutes, then remove to a wire rack to cool completely.