These chocolate chip banana oatmeal muffins are super easy to make and are healthy enough for breakfast! One of our favourite muffin recipes!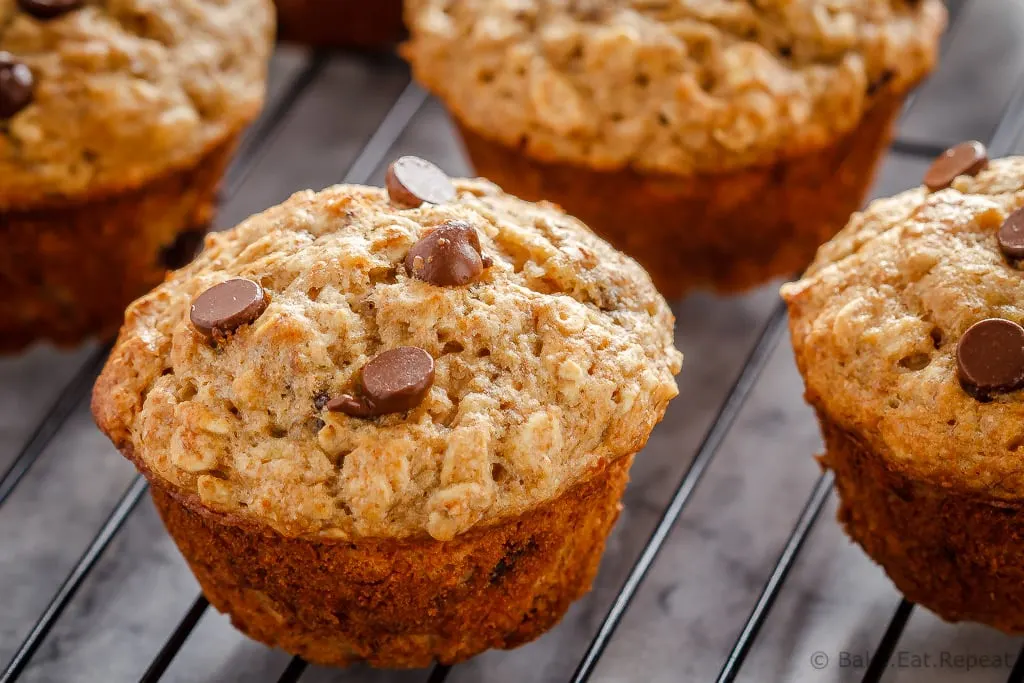 We love muffins around here. I make them on at least a weekly basis, usually more often then that.
And if I'm not making them, one of my kids are – they're so fast and easy to whip up that it's the perfect thing to suggest when the kids decide they want to bake something.
Also, muffins are usually at least moderately healthy, so I like having them around for quick and easy breakfasts, after school snacks, or to toss into the kid's lunch boxes.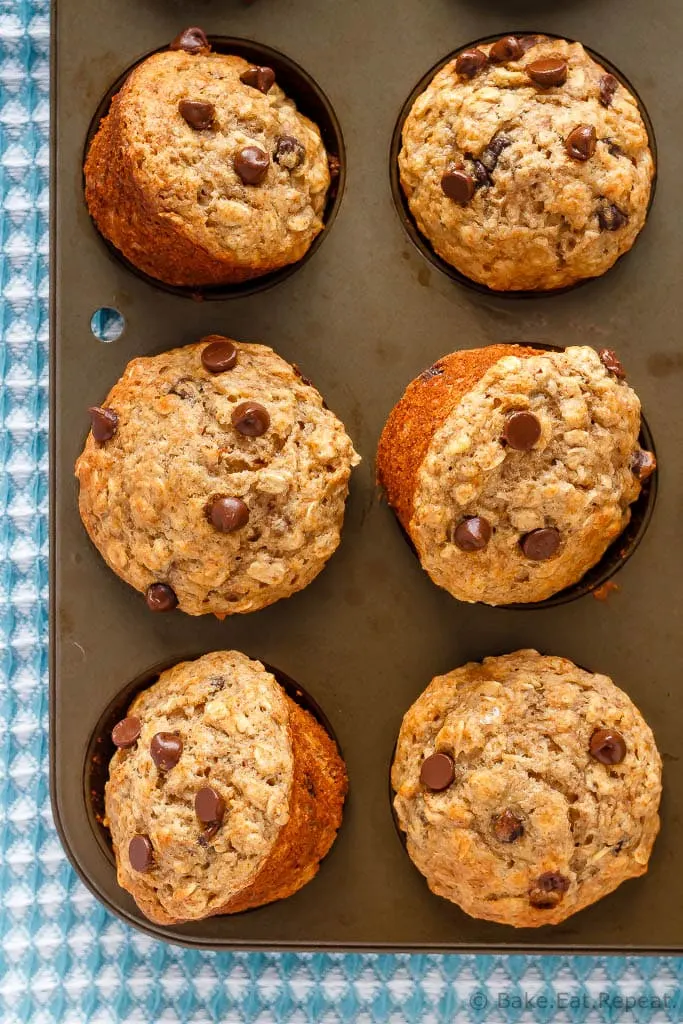 These chocolate chip banana oatmeal muffins are one of our favourites.
I've been making this recipe for years, and it's usually the first thought in my head when I have over-ripe bananas to use up.
These muffins are filled with oats, whole wheat flour, and bananas, and make an easy breakfast that is filling and healthy.
Yes, there are chocolate chips in them, but you could easily leave those out if you want them to be healthier.
I just have this complete inability to make banana muffins without chocolate chips in them.
Sorry, it can't be helped. Banana muffins should have chocolate chips – that's just a fact.
Although I will admit that I would still happily eat one of these banana oatmeal muffins without the chocolate chips too.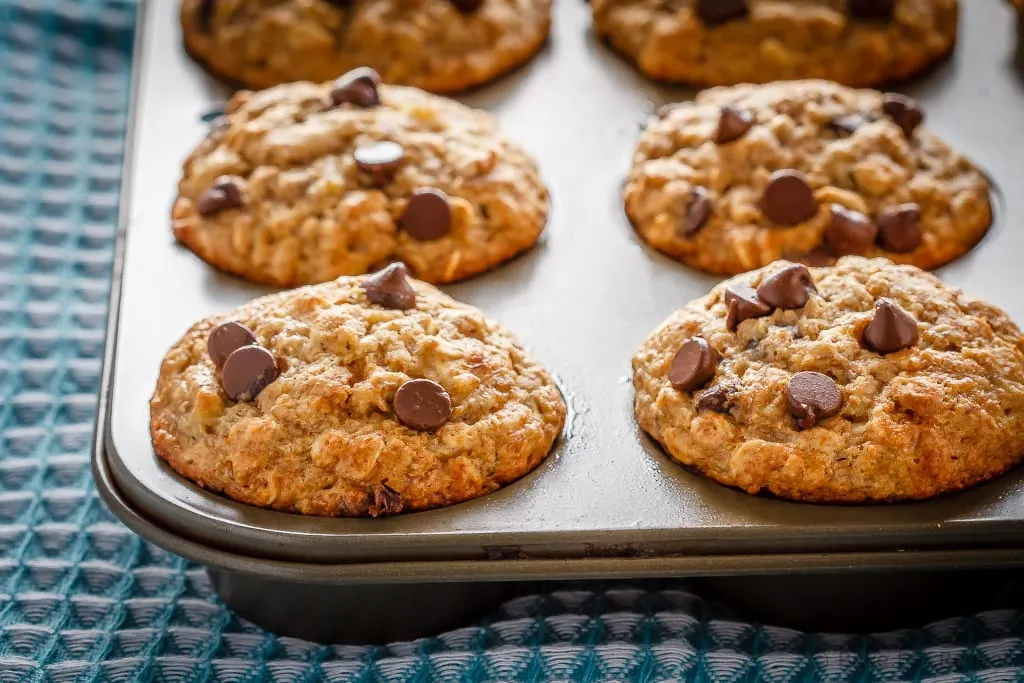 It's always a debate what to make with ripe bananas when we have some, but these oatmeal muffins definitely win a large percentage of those debates.
These peanut butter banana blender muffins and these chewy chocolate chip banana cookies are also amazing though, if you are looking for something different.
But you should probably try these chocolate chip banana oatmeal muffins first – they do usually win out, after all.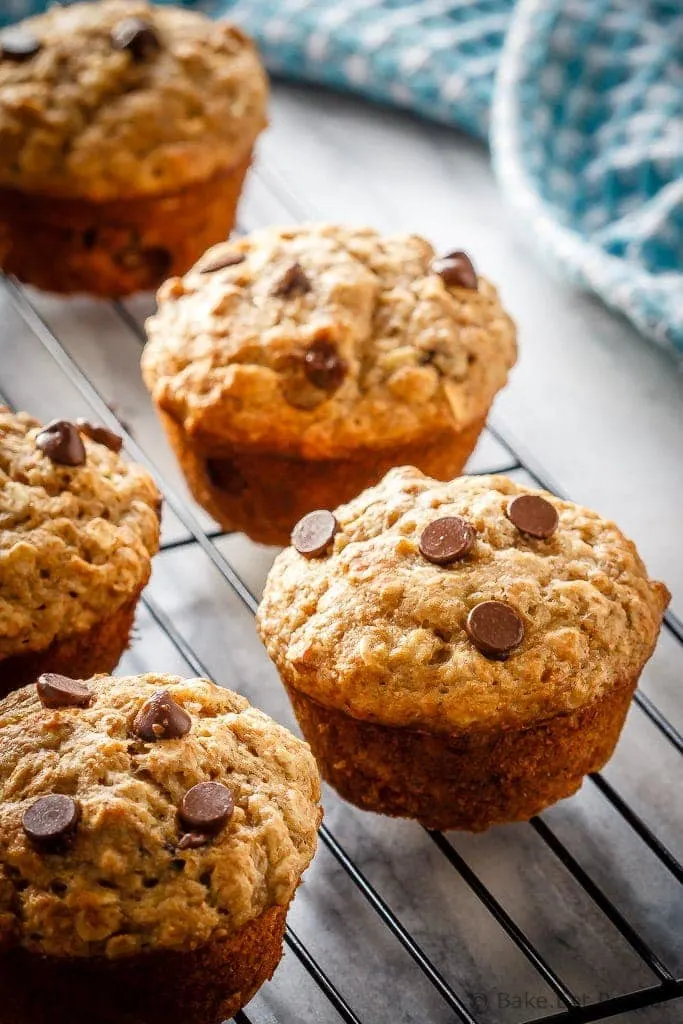 How to make Chocolate Chip Banana Oatmeal Muffins:
I love this stoneware muffin tin for baking muffins (usually you need to increase the baking time by about 5 minutes when using it though), but any regular muffin tin will work just fine
I like to use an ice cream scoop (like this one) to scoop the batter into the muffin tin – you get nicely domed muffin tops when you scoop it into the tin with one
Make sure to use paper or silicone liners (I have these ones), or spray the muffin tin with non-stick cooking spray or your muffins will stick as there is not a lot of oil in this recipe
Here are some more great banana muffin recipes for you:
I've also shared this Chocolate Chip Banana Oatmeal Muffins recipe over on Food Fanatic.