So, I have a ridiculous number of apples in my house right now.  My sister gave me several large bins full of apples from her tree, and then my neighbour stopped by with a bag off of their tree.  And then I bought a bunch at Costco cause they had honey crisps and those just aren't around for long enough to not buy them when they're there!
That's a problem I'm okay with though.  Between the kids and me, we eat a ton of apples anyways, and now my freezer is full of cut up apples for baking.  And some of them went into this apple crisp.  Because apple crisp is awesome and you can't have truckloads of apples and not make apple crisp.  Right?
This apple crisp is not very sweet, because I personally really dislike excessively sweet versions of apple crisp.  If you like yours sweeter, you'll probably want to add 1/4 to 1/2 a cup of sugar to the apple mixture.  I didn't add any sugar at all to the apples, just some brown sugar in the topping and I though it was perfect with a scoop of vanilla ice cream.
I think adding less sugar really lets the flavour of the apples shine through.  And it also makes dessert a bit healthier.  I mean, it's really just fruit and oats then right?!  Basically breakfast.
Apple crisp for breakfast anyone?!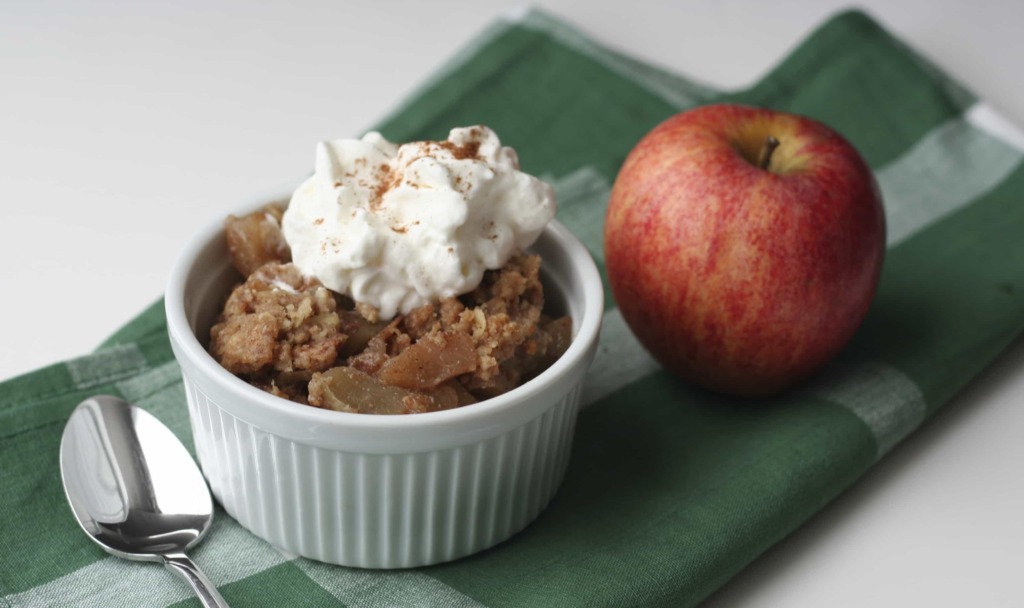 Yield: serves 6-8
Apple Crisp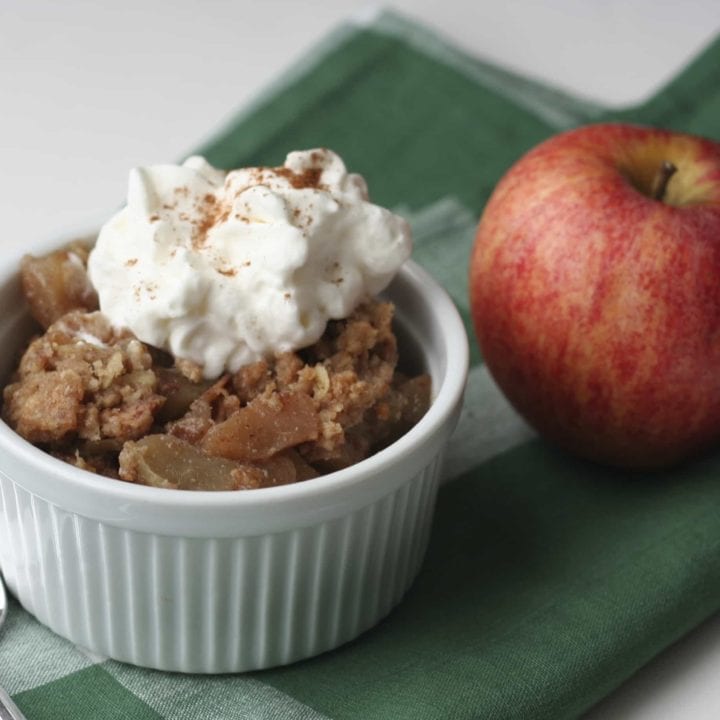 *Note:* This is not a very sweet apple crisp, if you like yours sweeter, add 1/4 to 1/2 cup of sugar to the fruit mixture.
Ingredients
For the fruit:
5 cups apples, cored, peeled and sliced
1 tablespoon flour
1 teaspoon cinnamon
1/4 teaspoon nutmeg
For the topping:
1/2 cup rolled oats
1/2 cup whole wheat flour
1 teaspoon cinnamon
1/3 cup brown sugar
pinch of salt
6 tablespoons unsalted butter
Instructions
Preheat the oven to 350 degrees F.
In a large bowl, toss together the apples, flour, cinnamon and nutmeg and pour into an 8x8 inch baking pan. Then make the topping by tossing the oats, whole wheat flour, cinnamon, brown sugar and salt together in a bowl until combined. Add the butter and cut it into the dry ingredients using a pastry blender or two knives, until the mixture resembles coarse crumbs. Crumble this mixtures over top of the apples, spreading it evenly.
Bake for 45 minutes, until the topping is lightly browned and the filling is hot and bubbling. Serve warm with vanilla ice cream or whipped cream.