This homemade tzatziki sauce recipe is so quick and easy to make, and tastes fantastic! You will never want to buy it again after trying this easy tzatziki recipe.
Who loves Greek food? I definitely do. Greek flavours are one of my favourites.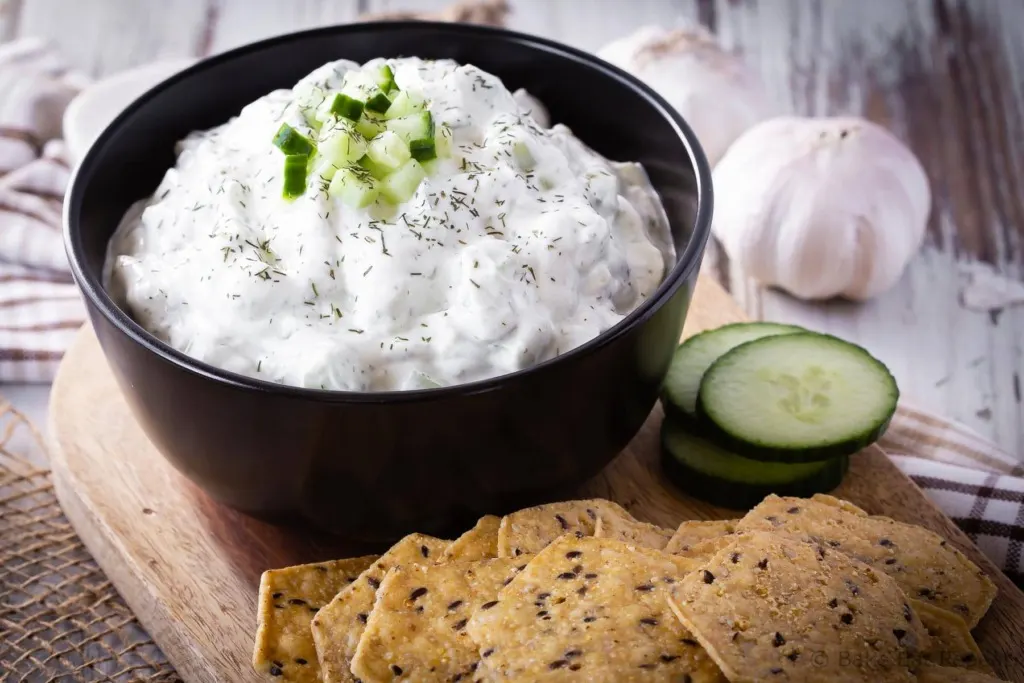 And this tzatziki recipe is a big part of that. It's just SO good! I love it on sandwiches, as a dip for my meat at dinner, to have with raw vegetables – it's fantastic.
Plus it's healthy. Greek yogurt and cucumber is basically all that's in it, so you can eat as much as you like, guilt free. The fact that it's so quick and easy to make just makes me love it even more.
Good thing my family loves Greek food as much as I do, because homemade tzatziki obviously needs to be made on a regular basis around here!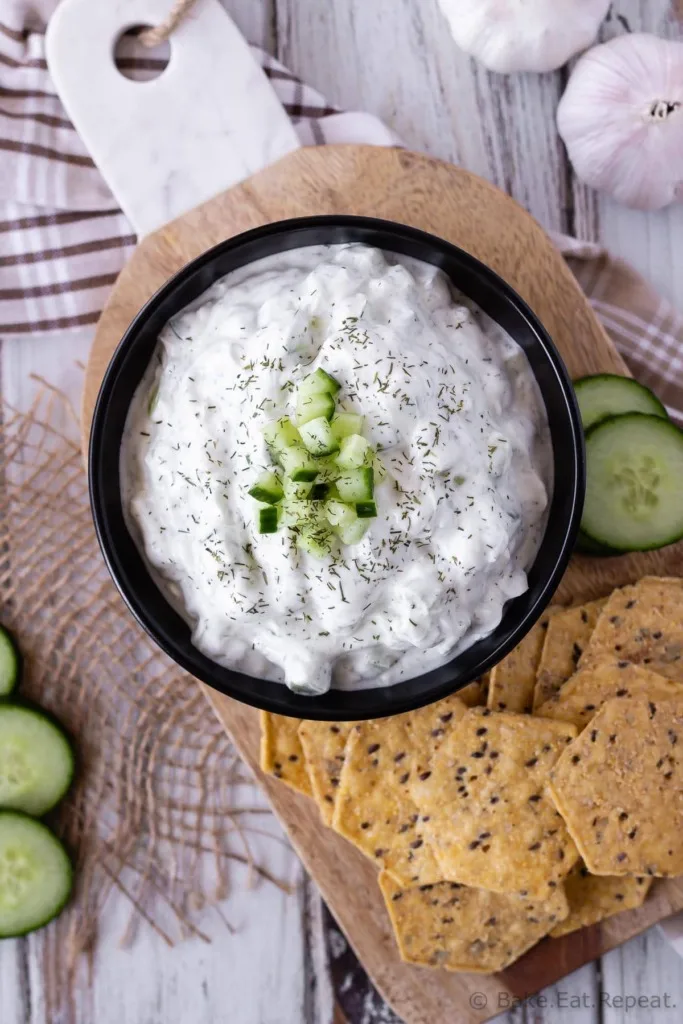 Do you have to peel cucumber to make tzatziki sauce?
You can. You don't have to.
I always use English cucumbers for my tzatziki sauce, and the peels are so thin on those cucumbers that I don't bother peeling them first. I simply chop them quite fine and toss them in the sauce. If you prefer your tzatziki sauce without any peels though, you can definitely go ahead and peel the cucumber first!
What goes with tzatziki?
So many things!
I love tzatziki sauce on sandwiches instead of the usual mayo and mustard, or as a dip for vegetables.
It's also fantastic served alongside these Greek marinated pork chops or this Greek chicken. And this meatball souvlaki is just not the same without the homemade tzatziki sauce.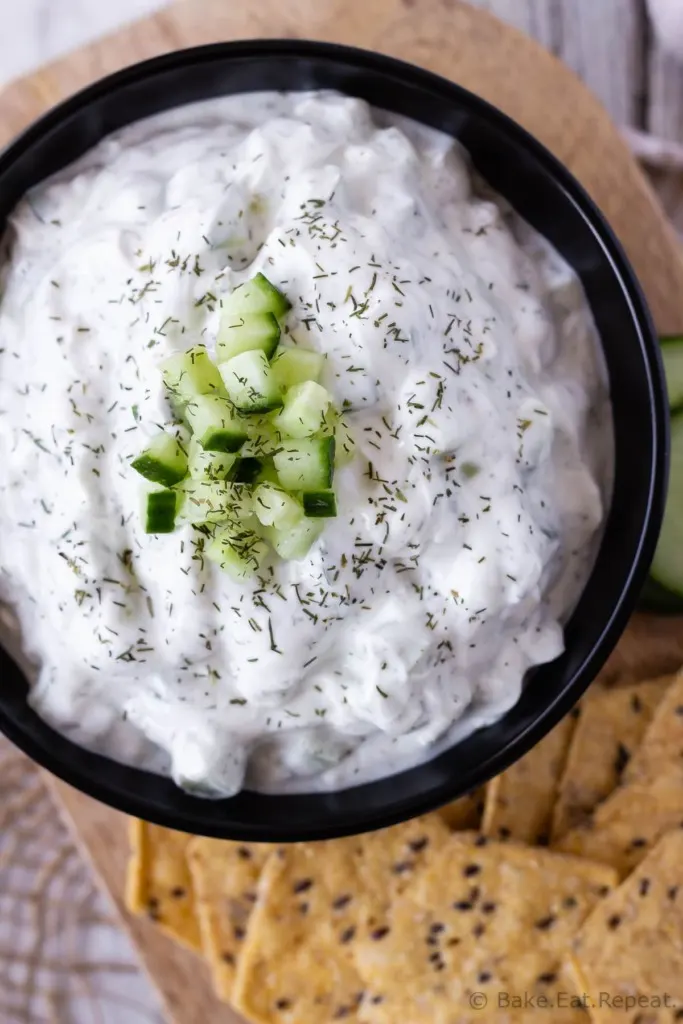 How long does homemade tzatziki sauce last?
Homemade tzatziki sauce can last for up to 2 weeks, when using very fresh yogurt, stored in an airtight container in the fridge. Keep in mind though, that it will only last as long as your yogurt, so make sure to use fresh yogurt, not yogurt that is expiring tomorrow.
Your tzatziki will typically be fine up to the expiry date on the yogurt that you're using. It does tend to get quite watery the longer it sits though. So even with very fresh yogurt, the texture will get runnier the longer it sits. It's best the first few days after making it.
How to make this Easy Tzatziki Sauce recipe:
Make sure to chop your cucumber quite small. The tzatziki is better with small pieces of cucumber in it, rather then huge pieces.
Let the tzatziki rest in the fridge for a couple of hours before serving it if you can. This allows the flavours to meld and it tastes much better.
Make sure to use plain Greek yogurt for your tzatziki sauce. It's much better then regular yogurt as it's so much thicker. The cucumber will add a lot of water to the sauce, so if you use regular yogurt it will be too thin.
Keep in mind that the tzatziki does tend to separate a bit with some liquid on the top when it sits in the fridge. This is nothing to worry about, just give it a stir and it will be fine.
I love this garlic press – I always use it rather then mincing the garlic with a knife, so much faster!
Here are some more great recipes to use your tzatziki sauce in:
I've also shared this easy Tzatziki Sauce Recipe over on Food Fanatic.