This easy roasted garlic hummus is silky smooth and full of roasted garlic flavour. Quick and easy to make, this homemade hummus is the perfect snack!
I've always liked hummus. It's healthy, it's filling, it's easy to make. Basically it's the perfect snack, light lunch, or addition to a sandwich.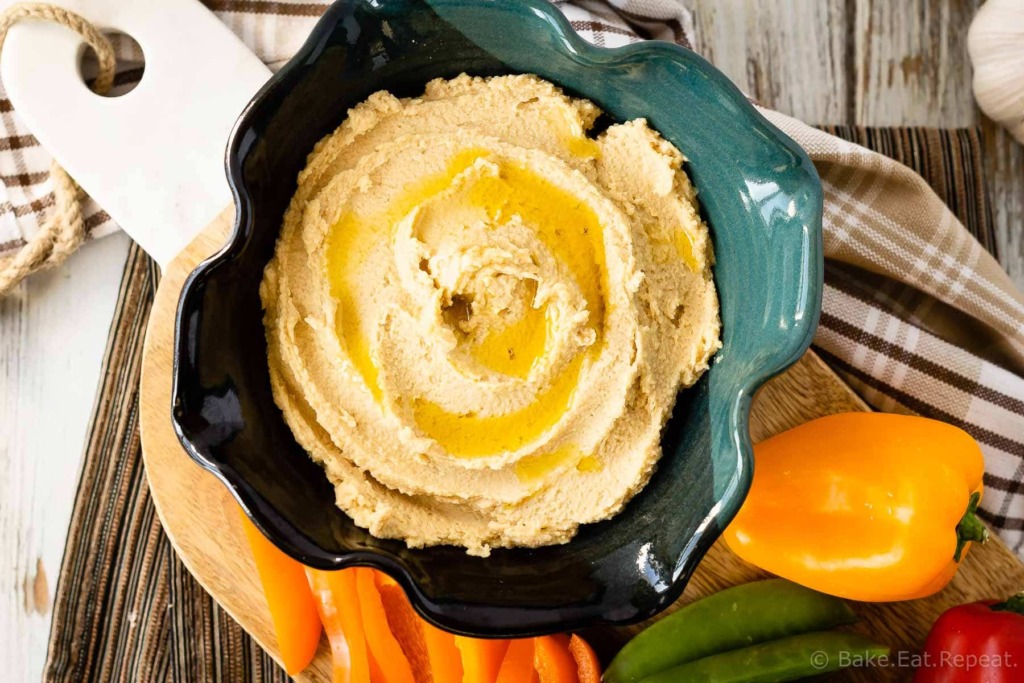 But I've always preferred something other then the usual garlic hummus.
If I'm making hummus it's going to be something like this black bean hummus, not boring old garlic hummus.
But then I tried homemade roasted garlic hummus, and I've changed my tune. It's delicious.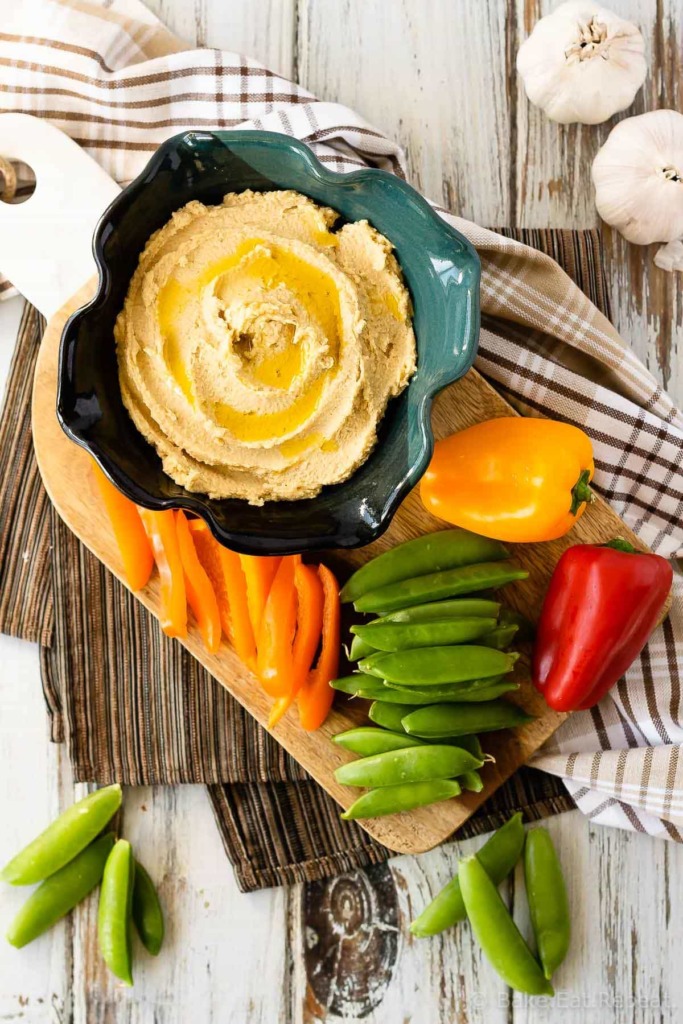 I don't know if it was roasting the garlic that changed my mind, or that I've just started liking garlic hummus, but this roasted garlic hummus was delicious.
Unfortunately I'm the only one in the house that thought so. Lucky for me I have friends that enjoy hummus as much as I do, so I met a couple of them for lunch and we managed to finish off a fair bit of this roasted garlic hummus.
And the leftovers were perfect for my lunch for a few days.
Maybe it's not a bad thing that my family won't eat my homemade roasted garlic hummus after all. More for me!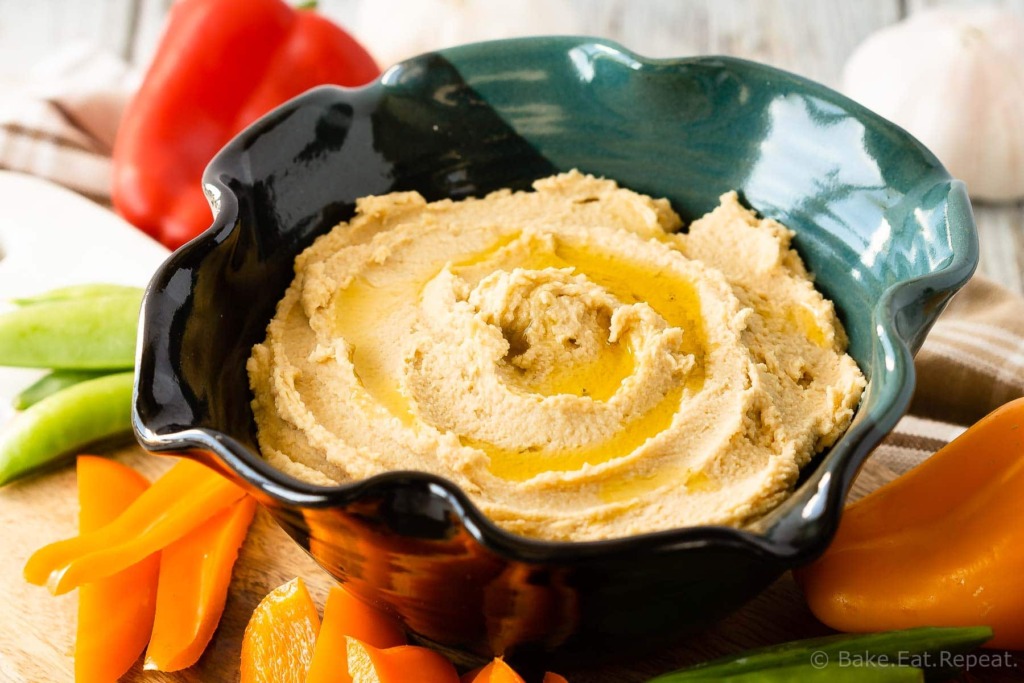 How do you roast garlic in the oven?
It's super easy to roast garlic. I find the best way is to slice off the tops of the cloves, so you can see all the individual cloves in the head of garlic, but leave the skin on so it all stays together.
Drizzle it with a little olive oil and then wrap it in tin foil. Then you roast it at 375F for 40-45 minutes until it's tender.
Can you make hummus without tahini?
You can, but it really isn't quite as good. I've read that nut butters are a good substitute, but I've tried using peanut butter in hummus when I didn't have tahini and I really didn't care for it.
If you don't have tahini, the best option would be to just leave it out and add a tablespoon of sesame oil instead. Then thin the hummus with water until it's the consistency you like.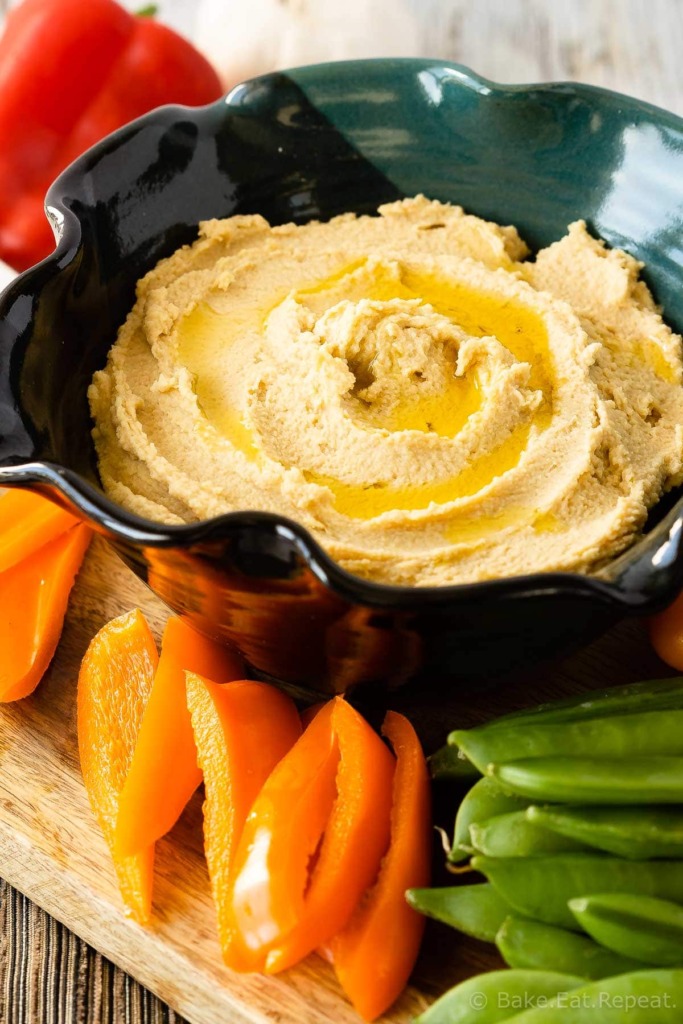 How to make roasted garlic hummus:
I like to remove the skins from the chickpeas before using them in hummus. It's not necessary, and it does take a little time, but it's totally worth it. The texture of the hummus will be much smoother if you take the time to remove the skins before mixing up your hummus.
You can make this hummus in either a blender or a food processor. Either will work just fine.
Serve this hummus with pita chips and veggies for a great snack or a light lunch.
Here are a few more fantastic hummus recipes for you:
I've also shared this Roasted Garlic Hummus recipe over on Food Fanatic.