So, I have been wanting to share this recipe with you for ages.  Ever since I posted the homemade pita bread recipe.  Because when I made those pitas, we used them for this meatball souvlaki.  But….the photos I took of this recipe were pretty awful and you couldn't even really tell what it was, let alone think it looked like something you'd want to make.  And I certainly couldn't have that, so it needed to wait until we ate it again.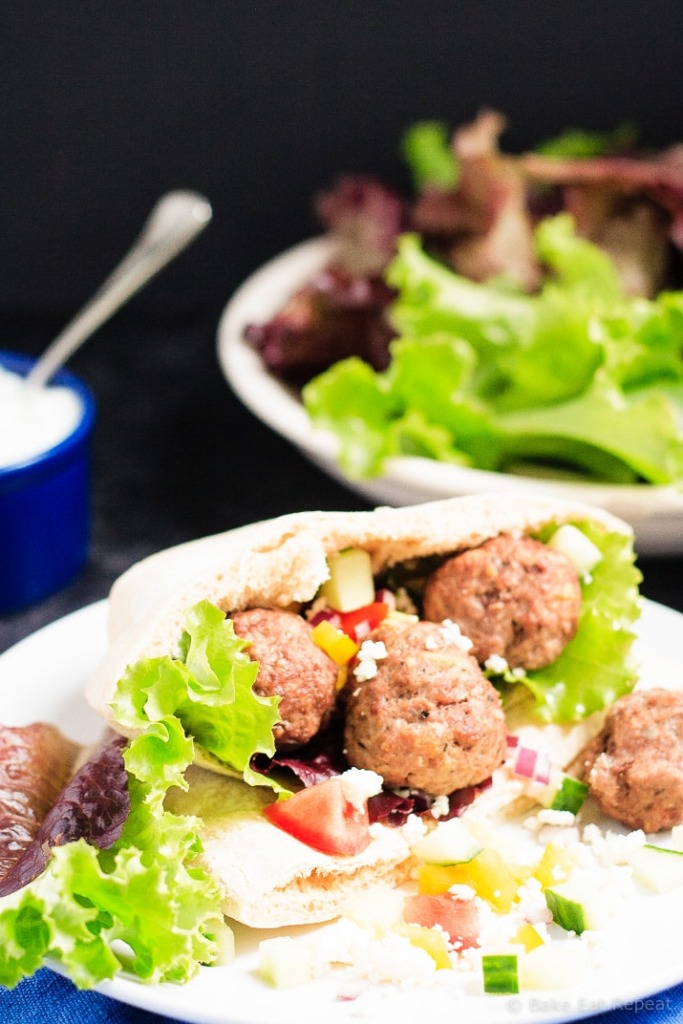 And that day is today.  Well, a couple of weeks ago really, but the day I'm finally sharing it with you is today.  And you should most definitely go make it soon.  Don't wait, because this meal is seriously one of my family's favourite meals.  This is one that actually IS in the regular rotation around here.  Unlike a lot of meals that get made a number of times and then kind of forgotten about (oh the joys of living with a food blogger!), I've been making this one for years.
And I have no plans to stop.  It's too good.  Plus, how many meals are there where absolutely everyone at the table is excited to eat it, there's no whining about not liking something, and everyone fights over the leftovers for lunch?  Not many.  In case you wondered.  Or at least, there's not many of those meals in my house.  Maybe your family is less picky and everyone likes everything, in which case don't tell me because I will envy you that joy.  But even so, you should make this, because it's amazing.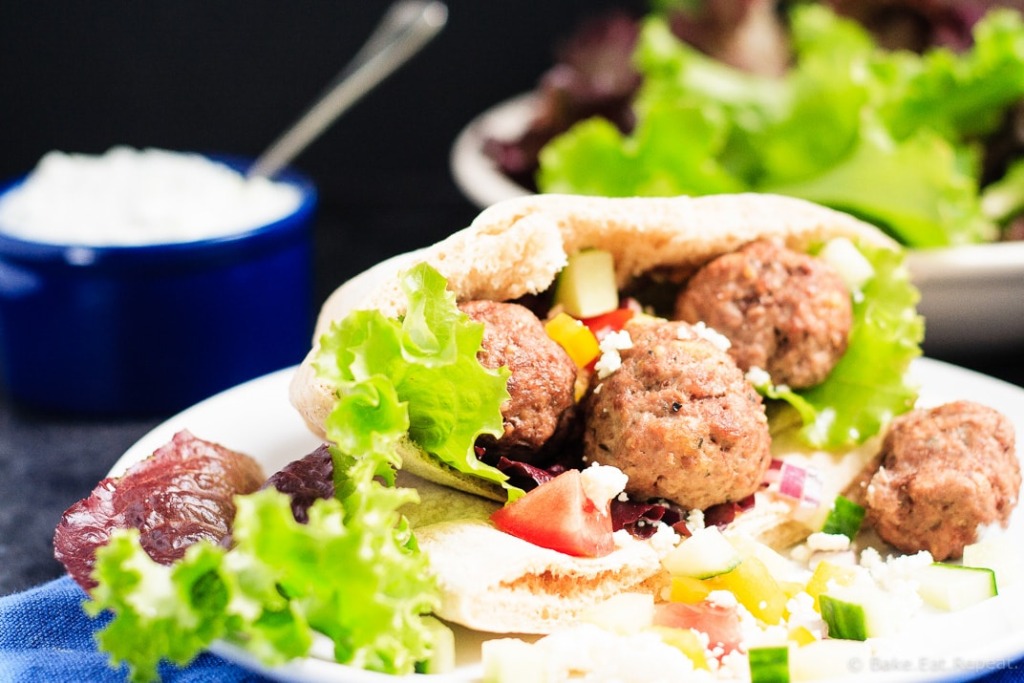 Juicy meatballs, fresh veggies, homemade tzatziki sauce, all stuffed into a fresh pita pocket.  It doesn't get a lot better than that. Except it kind of does, because it's also good cold as lunch the next day, and the meatballs freeze really well.  So you can make a double batch and freeze half for a really fast meal on a busy night, which is what I generally do.  In fact, that's what I did this time, and these photos are from the second meal that was straight from the freezer.  This took less than 15 minutes to get on the table, and that's only because I needed to chop up the veggies and mix up some tzatziki, which was easily accomplished while the meatballs defrosted.
It definitely doesn't get any better than that.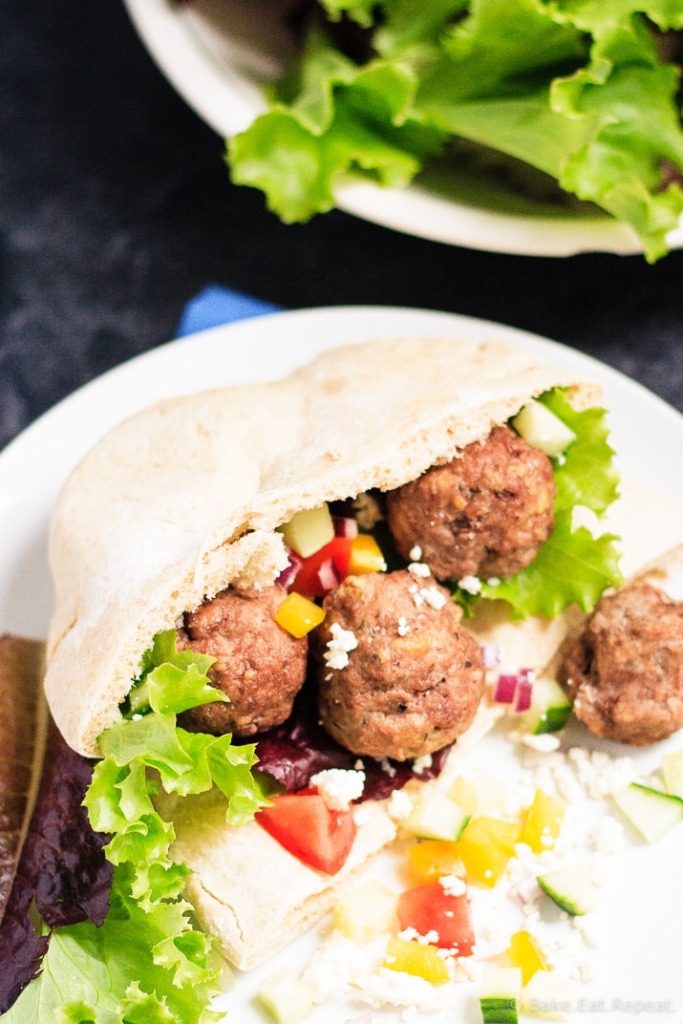 Yield: serves 4-6
Meatball Souvlaki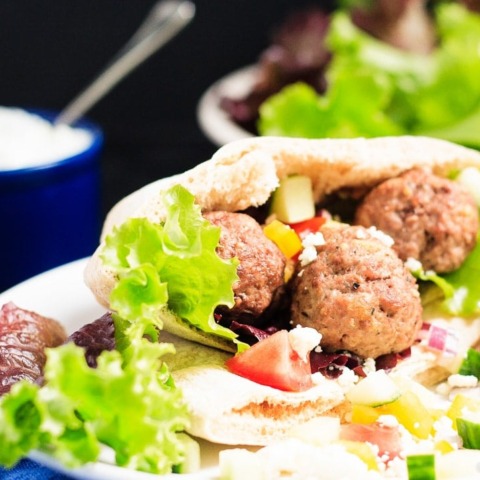 *Note:* The meatballs freeze really well for a quick meal another night if you want to make a double batch. Just allow them to cool completely after cooking and then freeze in an airtight container or a ziplock bag. Defrost in the fridge overnight and reheat in the oven, or if you're grabbing them at the last minute, just defrost them in the microwave at a low power for 5-10 minutes (generally what I do because I'm terrible at planning ahead!).
Ingredients
For the meatballs:
1/2 lb (225g) lean ground beef
1/2 lb (225g) ground turkey
1 large egg
1/4 cup bread crumbs
1 tablespoon dijon mustard
1/4 teaspoon dried oregano
1/4 teaspoon dried basil
1/8 teaspoon salt
1/2 teaspoon pepper
For the tzatziki sauce:
1/2 cup English cucumber, chopped fine (unpeeled)
1 cup plain Greek yogurt
2 cloves garlic, minced
1/2 teaspoon dried dill
salt and pepper to taste
For the toppings:
green leaf lettuce
red onion, chopped
tomatoes, chopped
cucumber, chopped
bell pepper, chopped (any colour)
feta cheese, crumbled
Instructions
Preheat the oven to 400 degrees F. In a large bowl, mix together the ground beef, ground turkey, egg, bread crumbs, dijon mustard, oregano, basil, salt and pepper until well combined. Roll the mixture into meatballs (about 20-24) and place them on a broiler pan lightly sprayed with cooking spray. Place in the preheated oven and bake for 15-18 minutes until cooked through.
While the meatballs are cooking, whisk together the chopped cucumber, Greek yogurt, garlic and dill in a small bowl. Add salt and pepper to taste and cover and refrigerate until ready to eat.
Prepare the toppings and serve the hot meatballs in pita bread with the tzatziki and toppings. The meatballs also freeze well after baking so I often make a double batch of the meatballs when making this meal and freeze half for another night. Just allow them to cool completely and then freeze in a large ziplock bag.