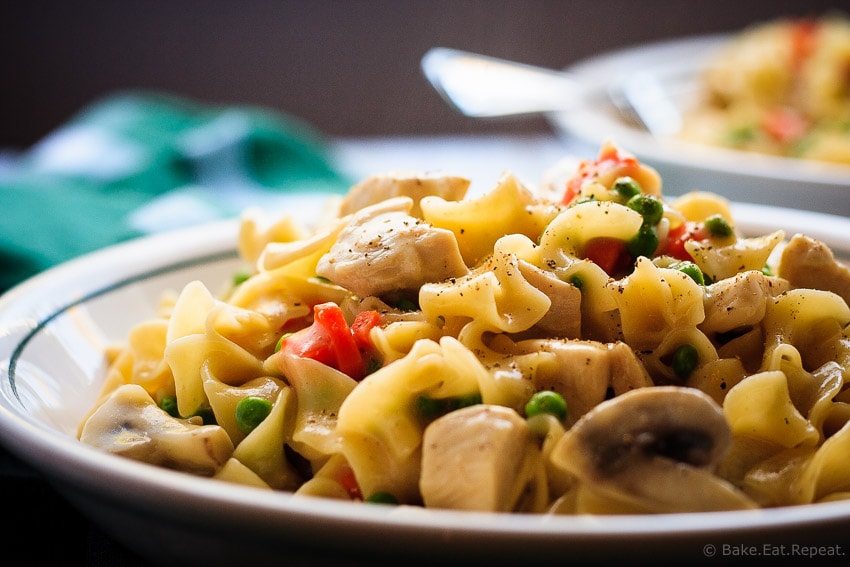 I finally have a recipe for you today that doesn't involve baking. Or snacking. Or way too much sugar. I do actually cook most nights too, but you'd never know from the last month of recipes I've brought you!
But it's 30 Minute Thursday again today (seriously, where did the last month go?), so I have a dinner recipe for, um, I think the first time since the last 30 Minute Thursday. On the plus side, there's a whole list of other 30 minute meals along with it, so at least I'm bringing you some supper ideas even if I'm not the one making them! Clearly I need to actually take pictures of the cooking as well as the baking a little more often.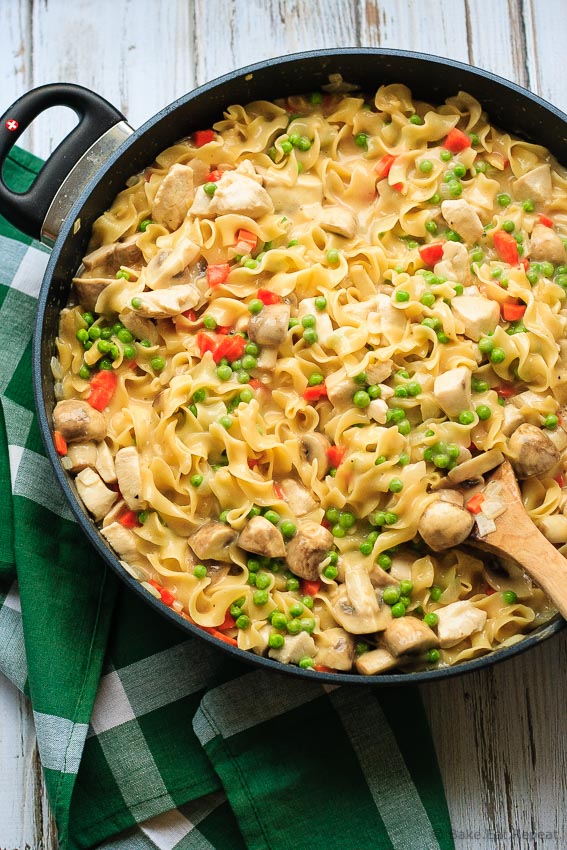 This one pot pasta is absolutely delicious. It's one of those meals that I've made many, many times over the last 10 years, and we've loved it every time. This is my variation of the original recipe that was in a cookbook I was given as a wedding gift. So I've been making it for a while!
We still love it just as much as we did the first time I made it! Although I don't make it quite as spicy as I used to, what with the kids that don't like spicy food and all. For this dish it's all good though – just throw more sriracha sauce on your own serving. And everyone is happy.
Check out all the other recipes for 30 Minute Thursday from my friends – the links are below the recipe!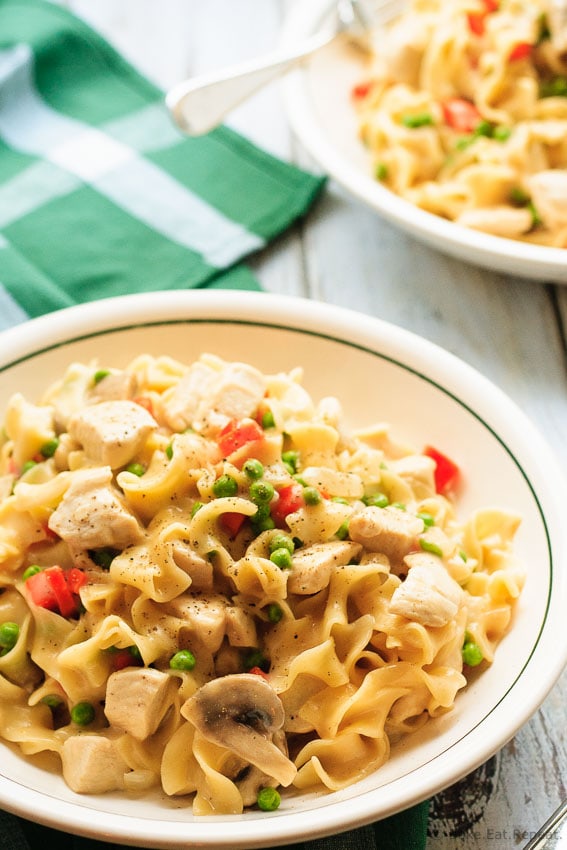 Yield: serves 4-6
Hazelnut Chicken One Pot Pasta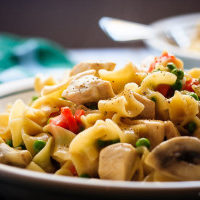 This hazelnut chicken one pot pasta is the perfect 30 minute weeknight meal!

Prep Time 10 minutes

Cook Time 20 minutes

Total Time 30 minutes
Ingredients
1 teaspoon olive oil
3 boneless, skinless chicken breasts
2 carrots
1 small onion
8 button mushrooms
2 cloves garlic
1/4 teaspoon salt
1/4 teaspoon pepper
1/4 teaspoon coriander
2 1/2 cups milk
2 1/2 cups chicken broth
4 tablespoons hazelnut liqueur
2 tablespoons lime juice (about 1 lime)
2 tablespoons liquid honey
1 1/2 tablespoons sriracha sauce
340g (12oz) broad egg noodles
1 cup frozen peas
1 tablespoon corn starch
1 tablespoon water
Instructions
Heat the oil in a large skillet over medium heat.
Cut the chicken into bite size pieces and add it to the pan as you cut.
Cook the chicken for 4-5 minutes turning a few times until it is no longer pink.
As the chicken cooks, chop the carrots and onion into small pieces, quarter the mushrooms and mince the garlic.
When the chicken is no longer pink (it won't be quite cooked through yet), add the vegetables, salt, pepper and coriander to the pan and cook for another 2-3 minutes until the vegetables start to soften and the chicken is cooked through.
Add the milk, chicken broth, hazelnut liqueur, lime juice, honey and sriracha to the pan.
Add the egg noodles and stir everything to combine. Try to get the noodles covered by the liquid as much as possible.
Bring the liquid to a boil (you can cover the pan if you have a lid so this is faster), then reduce the heat to a high simmer for 5-7 minutes until the noodles are tender.
Stir in the peas.
In a small bowl, whisk together the corn starch and water until it is combined and add it to the pot.
Stir everything and cook for another 1-2 minutes until the sauce has thickened.
Serve with more sriracha if you like things spicy!

Notes
I make this all in one pot to save on dishes, and this amount of liquid was right for me, but different pastas (brand and type) cook differently so it may not be the exact right amount. You can always add more liquid if necessary if your pasta isn't getting tender. You can also cook the noodles separately if you prefer, just follow the instructions as written, but decrease the milk and chicken broth to 1 cup each. When you add the liquid, lower the heat to a simmer and let the chicken and sauce simmer while you boil your noodles. Thicken the sauce the same way as written when your noodles are cooked.

Source: Adapted from Cooking for the Rushed.
Recommended Products
This post contains affiliate links. As an Amazon Associate, I may receive a small commission from qualifying purchases.
Nutrition Information:
Yield:
serves 6
Serving Size:
1
Amount Per Serving: Calories: 367Total Fat: 10gSaturated Fat: 2gTrans Fat: 0gUnsaturated Fat: 6gCholesterol: 78mgSodium: 707mgCarbohydrates: 38gFiber: 4gSugar: 12gProtein: 28g

Nutrition Information is estimated based on ingredients used and may not be exact.


This post contains affiliate links.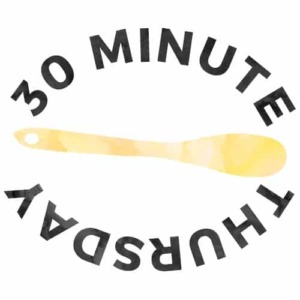 30-Minute Farro Fried "Rice" by Flavor the Moments
Cauliflower-Apple Fritters with Mixed Greens by Floating Kitchen
Veggie-Packed Peanut Noodles by Flying on Jess Fuel
Roasted Sweet Potato and Arugula Pasta with Chickpeas by Kristine's Kitchen
Alice Springs Shrimp Quesadilla by Maebells
Unstuffed Pepper Bake by Pumpkin 'N Spice
Pan-Fried Gnocchi with Sun Dried Tomatoes and White Beans by Sweet Peas & Saffron
One Pot Italian Chicken and Orzo Pasta by Whole and Heavenly Oven