This Italian sausage and peppers meal is made entirely on a sheet pan for a super simple dinner that is full of flavour! You will love it!
Italian sausage is not something that I cook with very often. And when I do, I usually use it by removing the casings and crumbling it up into a pasta dish of some sort.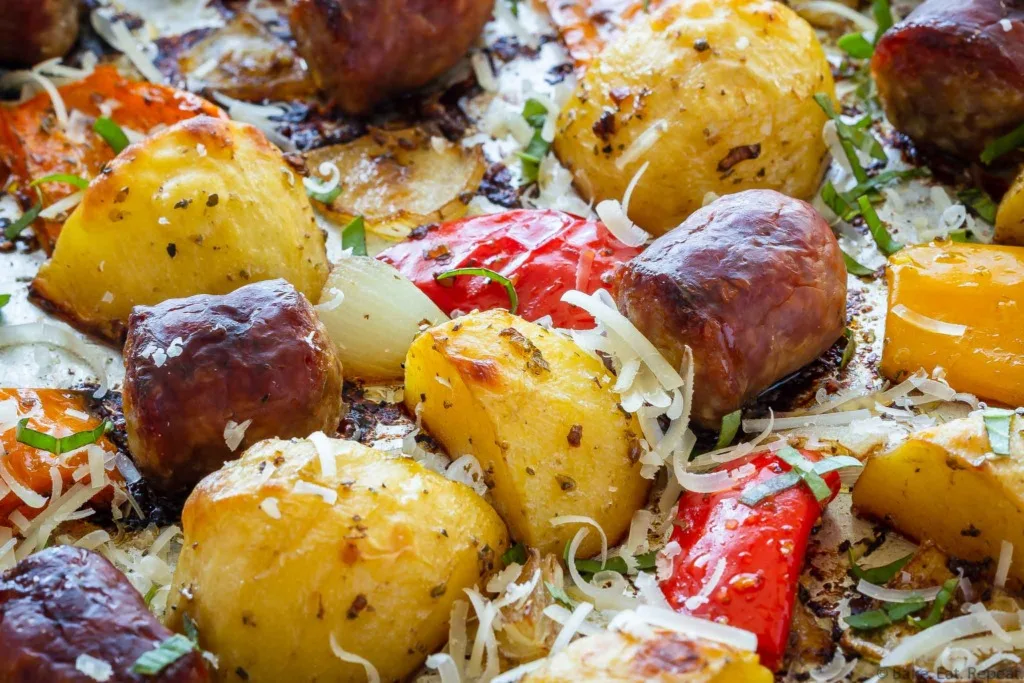 I will admit that I have never tried cooking Italian sausage in big pieces like this before. But it is definitely something I will be doing on a more regular basis going forward.
This Italian sausage and peppers sheet pan meal was so, so tasty. There was so much flavour. It was one of those meals where everyone immediately said it needed to be made often.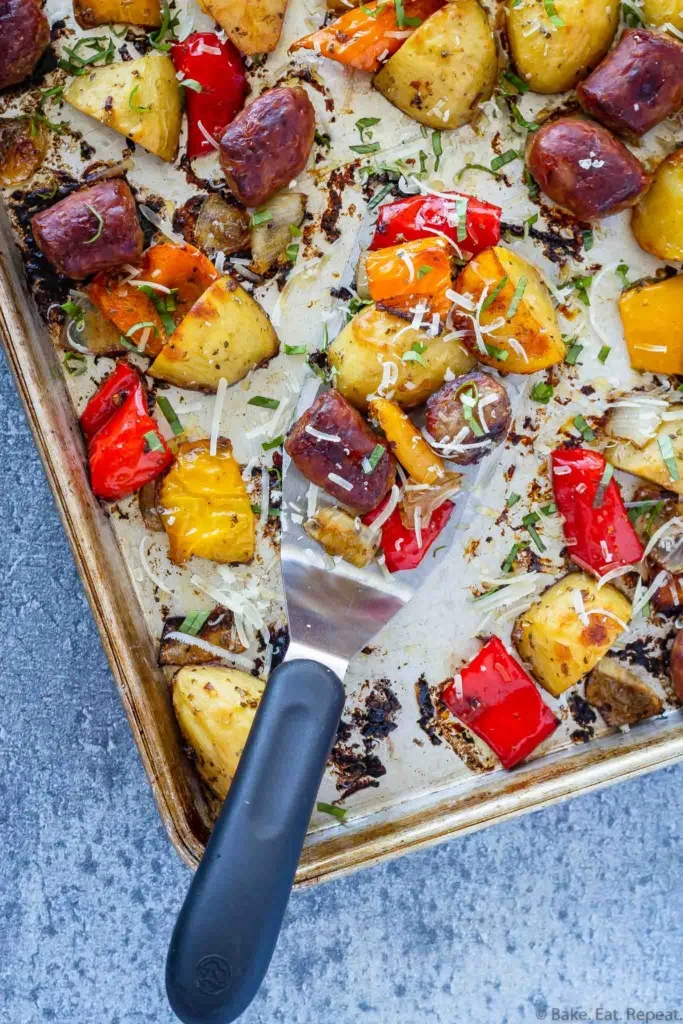 And I am a-okay with making it on a regular basis because it is one of the easiest meals to make. Chop up some potatoes, onions, and peppers, toss them with some oil and vinegar, and throw them on a sheet pan. Add some chunks of Italian sausage and bake.
So easy and so delicious. This will be in the regular meal rotation here!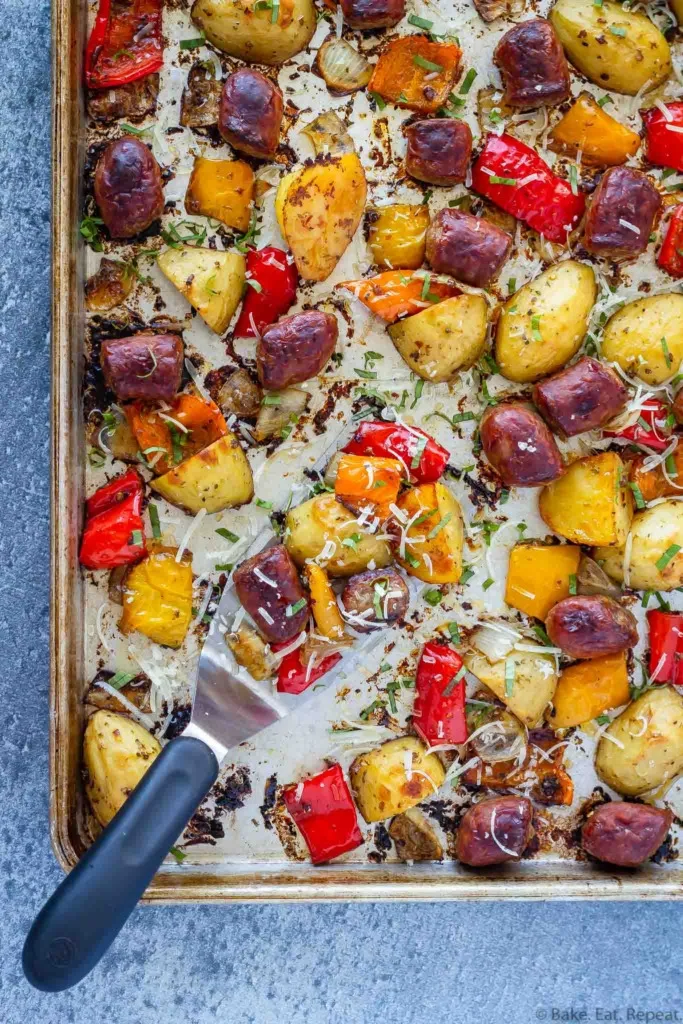 What is a sheet pan dinner?
A sheet pan dinner is a meal that is made entirely in the oven on a sheet pan. So everything is cooked together on one (or two) baking sheets.
In this case, Italian sausage, peppers, onions, and potatoes are all baked together on a sheet pan. We usually have a side salad with this, but it's not needed as you already have a protein, a carb, and vegetables cooked together on the sheet pan.
The benefit to making your meal on a sheet pan is that there's only the one pan to wash up afterwards, as you didn't need multiple pans and dishes to make your meal. The other benefit is not having to come up with multiple side dishes to serve with the main course.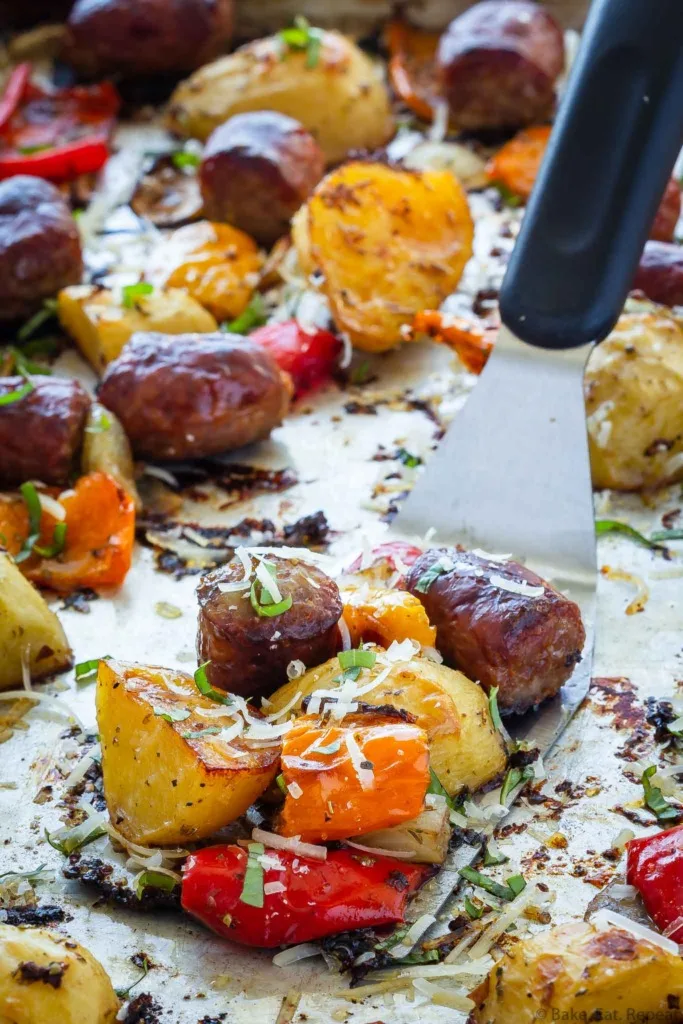 Should I line my sheet pan?
I don't usually bother lining the sheet pan with foil or parchment paper. You definitely can if you want, for easier clean up. But I find that the oils usually get under the liner anyways, so you still need to wash the pan afterwards.
This recipe uses olive oil to coat the vegetables, plus there is some grease from the Italian sausage, so you don't need to worry about the food sticking to the pan here either.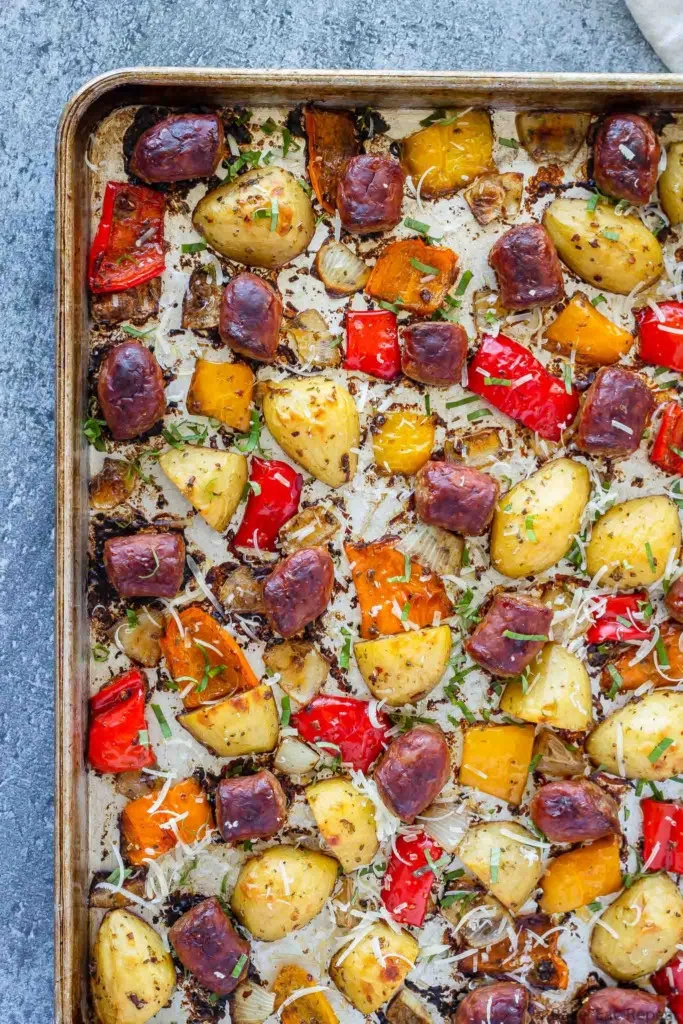 How to make Sheet Pan Italian Sausage and Peppers:
I used a mild Italian sausage with basil for this meal, but use any kind you like.
I usually make this meal with fresh basil, but if you don't have any fresh basil, you can substitute with 2 1/2 teaspoons of dried basil. Instead of sprinkling it on top of the meal after baking though, add it to the olive oil mixture that the vegetables are tossed in.
It's not necessary to peel the potatoes if you don't want to, you can just scrub them and cut them into large chunks. Another option would be to use baby potatoes – you could use them whole.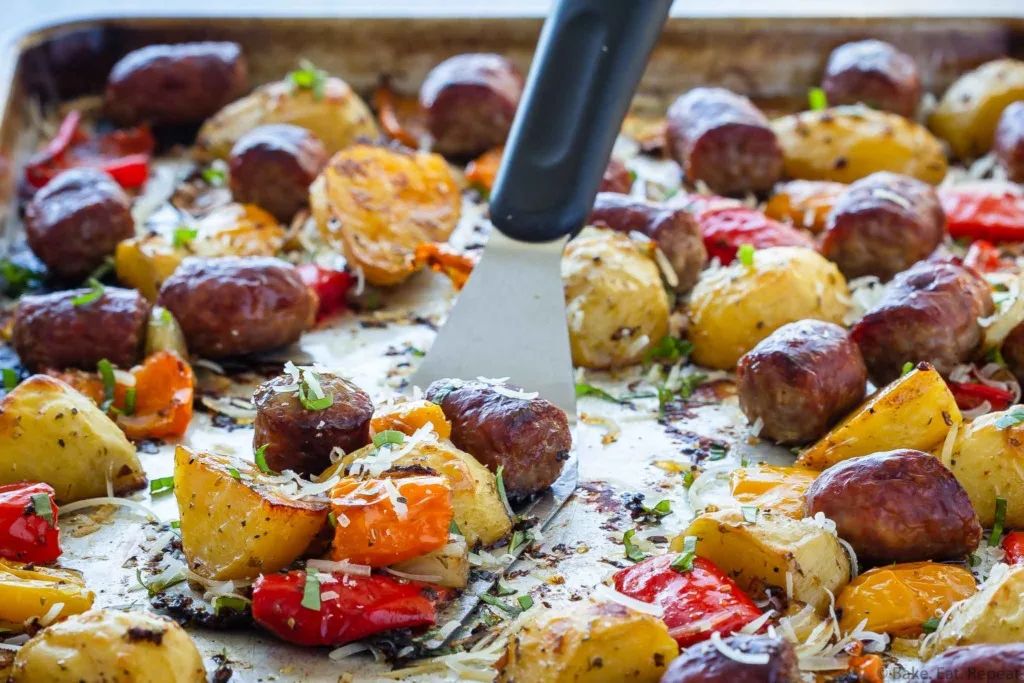 Here are some more great sheet pan or one pot meals for you: