Anyone else feel crazy busy lately?  I guess a lot of you are into the lazy days of summer already, but we still have one more week of school, and soccer games, and swimming lessons, before everything shuts down for a couple of months.  So I am all about the quick, easy, re-heatable, one pot meals right now.
That, and BBQing, because that's also fast and easy with no dishes!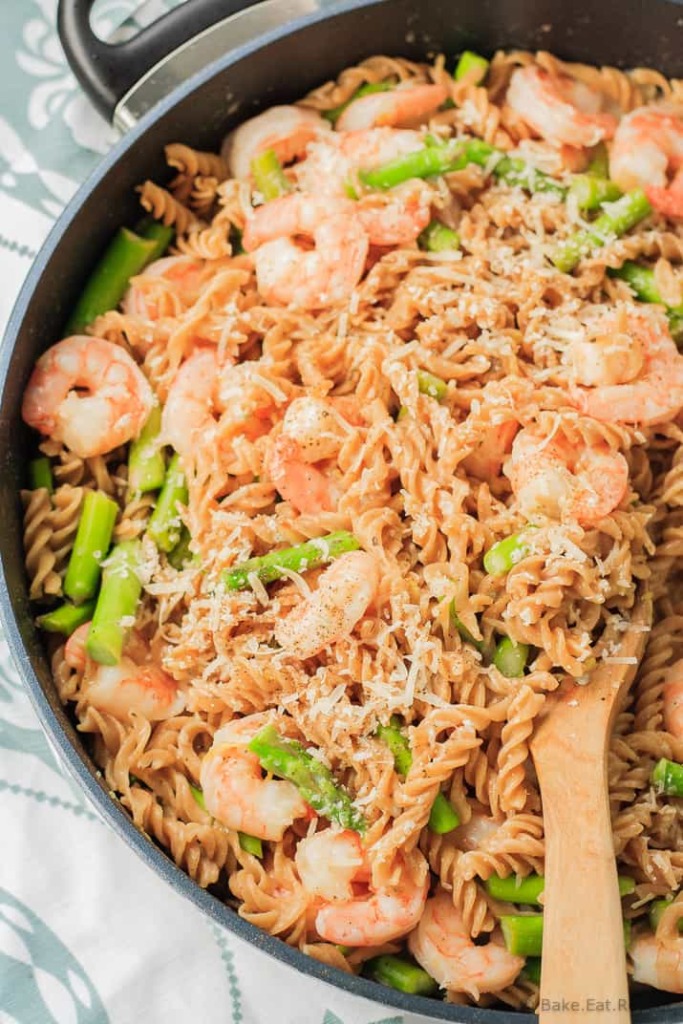 And really, even in the so called lazy days of summer, people are still busy.  You still want quick and easy meals that taste great and require minimal prep and cleanup.  Who wants to spend several hours cooking when you could be outside actually enjoying that summer weather?  Not me.
This lemon shrimp one pot pasta has been a favourite of mine the last few weeks.  My family is rather sick of it I will admit.  Evidently they don't want the same pasta dish over and over and over again.  I don't even understand that.
There's lemon, and shrimp, and asparagus, and pasta – and it's ready in one pot in under 30 minutes!  What's not to love?!
Maybe the kids criteria isn't the same as mine as to what makes a great meal?  Possibly.  Oh well, I'm sure you'll agree with me that this is an amazing pasta dish.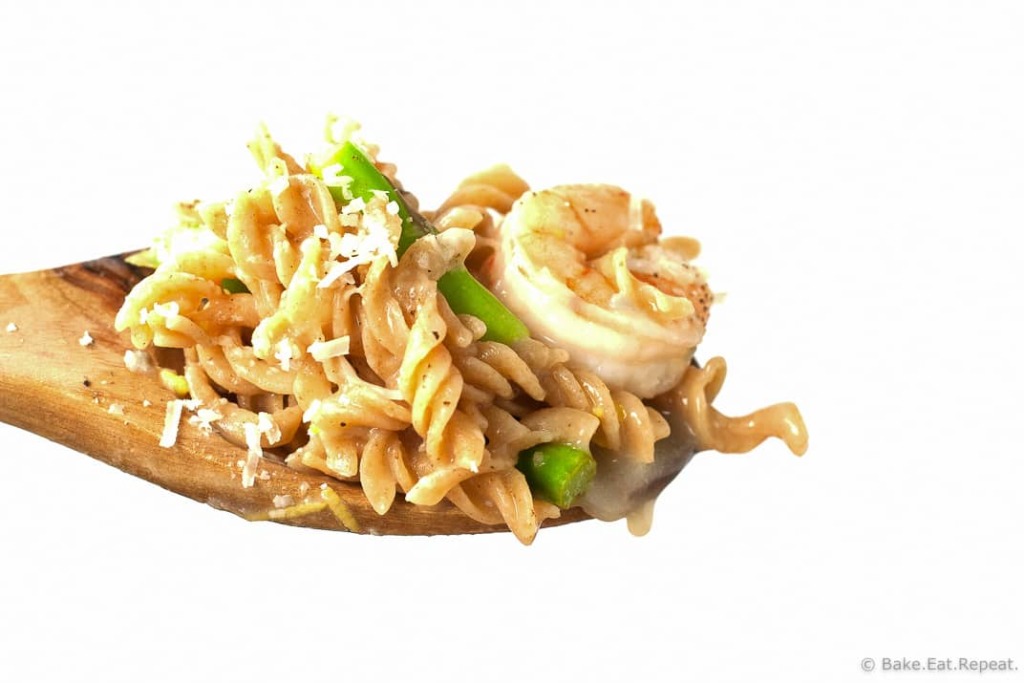 If asparagus is finished where you are, it's equally as wonderful with broccoli instead.  Plus, it reheats really well if you have time earlier in the day to cook, but need to be eating about 2 minutes after you walk in the door at dinnertime, rather than cooking for a whole 20 minutes first!  Yes, that sounds ridiculous, but if you're coming home with three starving children at suppertime after swimming lessons, you'll understand how that can be a thing.  And this pasta reheats well if that's a thing in your house too!  Just use a sturdier pasta shape like penne rather than the fusilli pictured here if you plan on reheating it.  I found the fusilli ended up a little on the mushy side when it was reheated.
I loved this one pot pasta.  It's fast, easy, and full of lemon, shrimp and asparagus – three of my favourite things!  If you need a quick and easy week night meal, you should definitely give this one a try!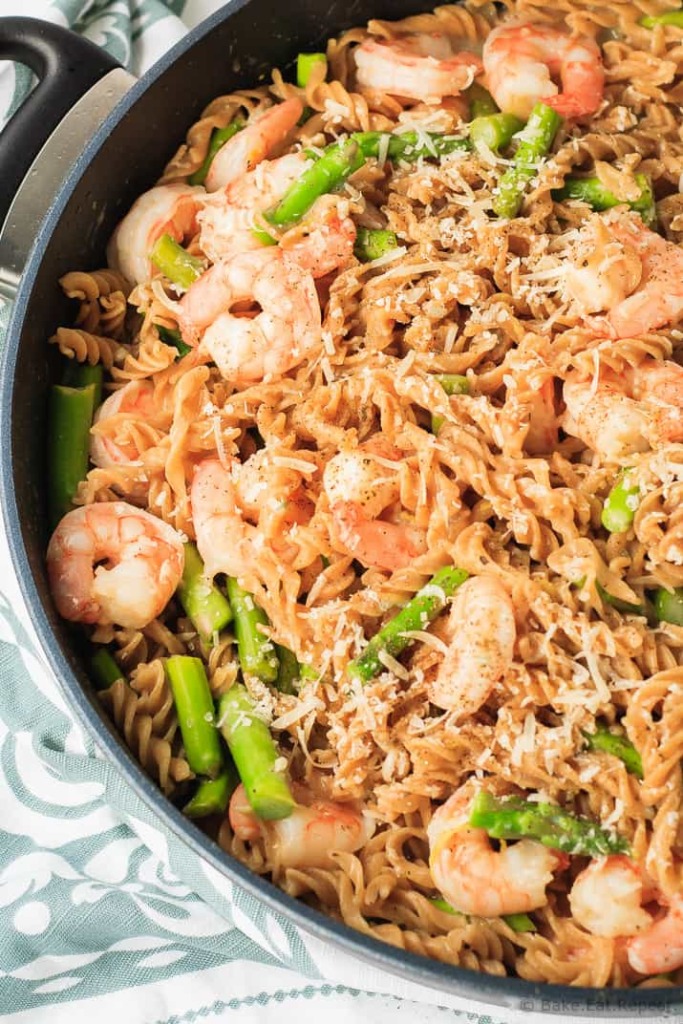 Yield: serves 6
Lemon Shrimp One Pot Pasta
*Note:* I have made this pasta with both penne and fusilli, and both were great immediately after making it, but I found that the fusilli didn't hold up well to reheating and was a bit mushy. The penne held up well though and was still great when reheated, so keep that in mind if you're planning on reheating this. I did make it ahead of time with the penne and then reheated it on the stovetop and it worked very well when using the penne, if you have a window of time earlier in the day to prepare it, but not much time at supper time!
Update 2015/07/14: Based on some comments from readers, I did a little more testing with this recipe. The type of pasta really determines how much liquid is needed for this recipe. As written, it works perfectly with pasta that is cooked to al dente in 5-7 minutes. With pasta that takes 10-12 minutes to cook, you will need to add 1 cup of water or chicken broth to the ingredients listed in order to have enough liquid for the pasta. So take a look at the pasta package and determine how much liquid to add based on the time indicated for cooking. Or just use pasta that cooks in 5-7 minutes and the recipe will be perfect as is! If you find your pasta isn't tender enough after the liquid has been used up, you can just add more liquid 1/4-1/2 cup at a time and continue cooking until your pasta is done, before continuing on with the recipe.
Ingredients
1 tablespoon olive oil
14 ounces (400g) raw shelled shrimp
4 cloves garlic, minced
1/2 teaspoon dried basil
3 cups low sodium chicken broth
2 lemons, juice and zest
12 ounces (375g) uncooked whole wheat pasta (penne, rotini, fusilli)
1 pound (450g) asparagus
3/4 cup milk (I used 2%)
1 tablespoon corn starch
1/2 cup grated parmesan cheese
Instructions
Heat the olive oil in a large, non-stick skillet over medium heat. Season the shrimp with salt and pepper and add them to the hot skillet. Cook, flipping them once or twice until they are completely pink, 2-3 minutes. Remove the shrimp to a plate and cover with tin foil to keep them warm.
Add a bit more olive oil to the skillet if needed, and add the garlic and basil, stirring constantly for about 20-30 seconds. Add the chicken broth, lemon juice and pasta and stir to combine. Bring the mixture to a high simmer, and cook, stirring occasionally for 10-12 minutes, until the pasta is al dente. There will still be a bit of liquid left in the skillet.
Add the asparagus and lemon zest, and cover and cook for 2 minutes until the asparagus is tender. While the asparagus is cooking, whisk together the milk and corn starch. Stir this mixture into the pasta, along with the cooked shrimp and parmesan cheese. Cook, stirring, for another 1-2 minutes until the sauce is thickened and the shrimp are heated through.