This roasted garlic butter is so easy to make and is fantastic served with fresh bread or dinner rolls, or used to make garlic toast!
I've always made garlic bread fairly simply. Slice up a loaf of French bread, butter the slices, sprinkle on some garlic salt, then throw it in the oven and call it a day.
Now I'm not saying that that kind of garlic bread is bad….but making it with this roasted garlic butter is so much better. So much.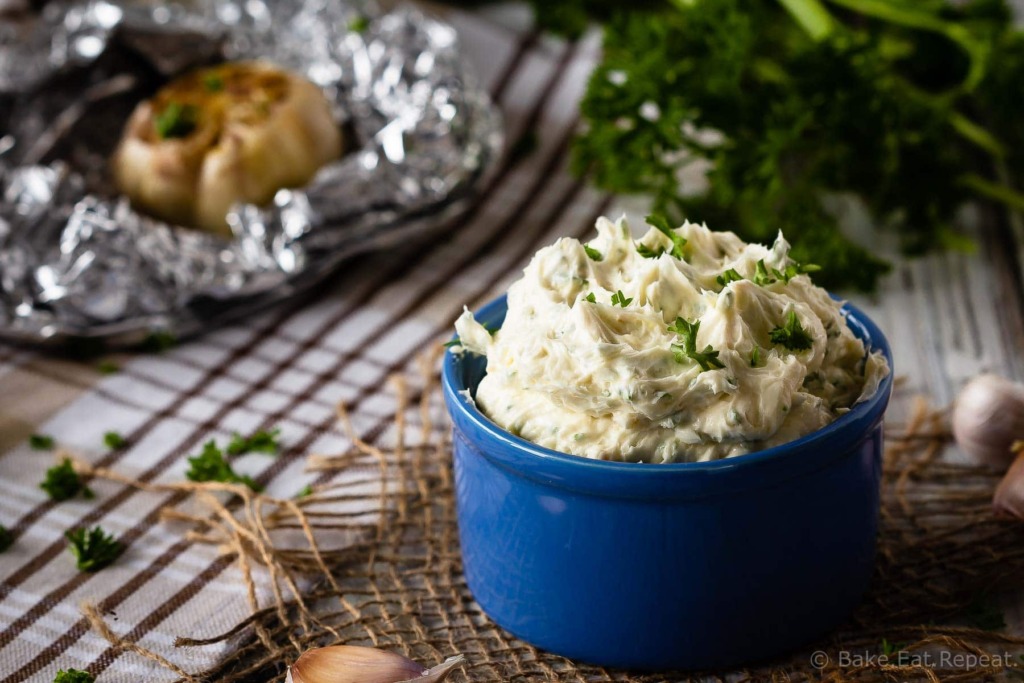 We went out for dinner at The Old Spaghetti Factory a little while ago. You know that whipped garlic butter they serve with the bread before dinner? It's amazing. Well, my boys decided it was the best thing they'd ever tasted, so of course they then insisted that I had to make some.
And I didn't hear the end of it for the next couple of weeks until I finally tried making some. I'm happy to say that they loved this roasted garlic butter just as much as the restaurant's version. Success!
They're not wrong though. There isn't much that tastes better then roasted garlic butter on fresh bread!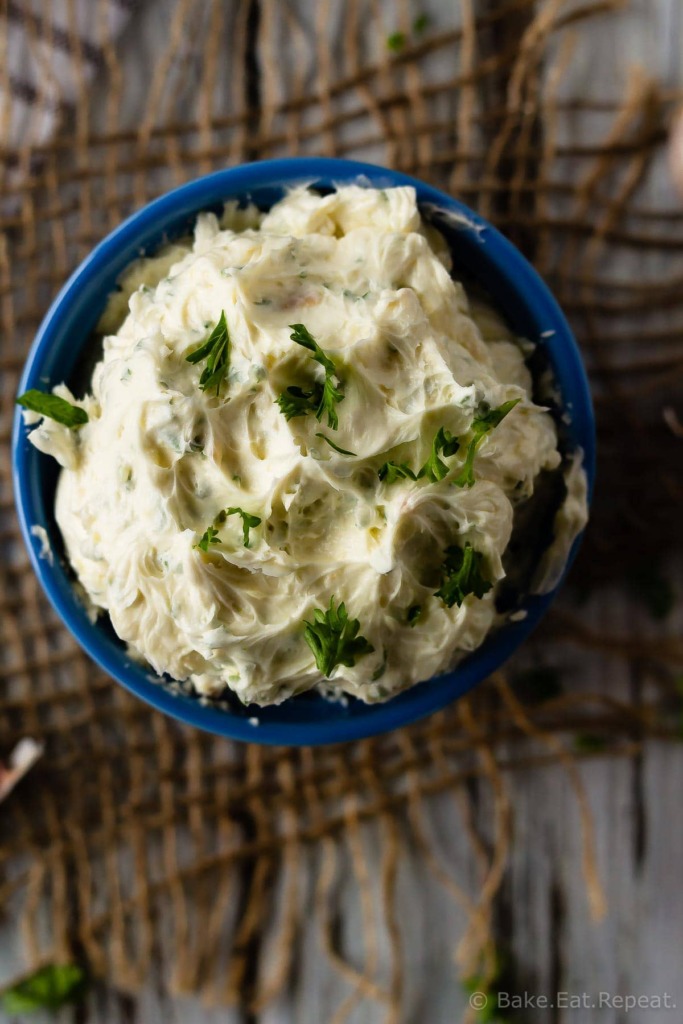 How do you make garlic butter?
Making garlic butter can be as simple as adding some crushed raw garlic to your butter and mixing it well. But we are partial to this version.
Roasted garlic gives a much nicer flavour to the butter than raw garlic does, and it's so easy to roast the garlic.
Softened butter whipped with roasted garlic and fresh parsley makes the best garlic butter ever.
How long does roasted garlic butter last?
If you store it in an airtight container in the fridge, it should last for up to 2 weeks. Of course, it doesn't spread well unless it's softened, so make sure to take it out of the fridge a few hours before you plan to use it.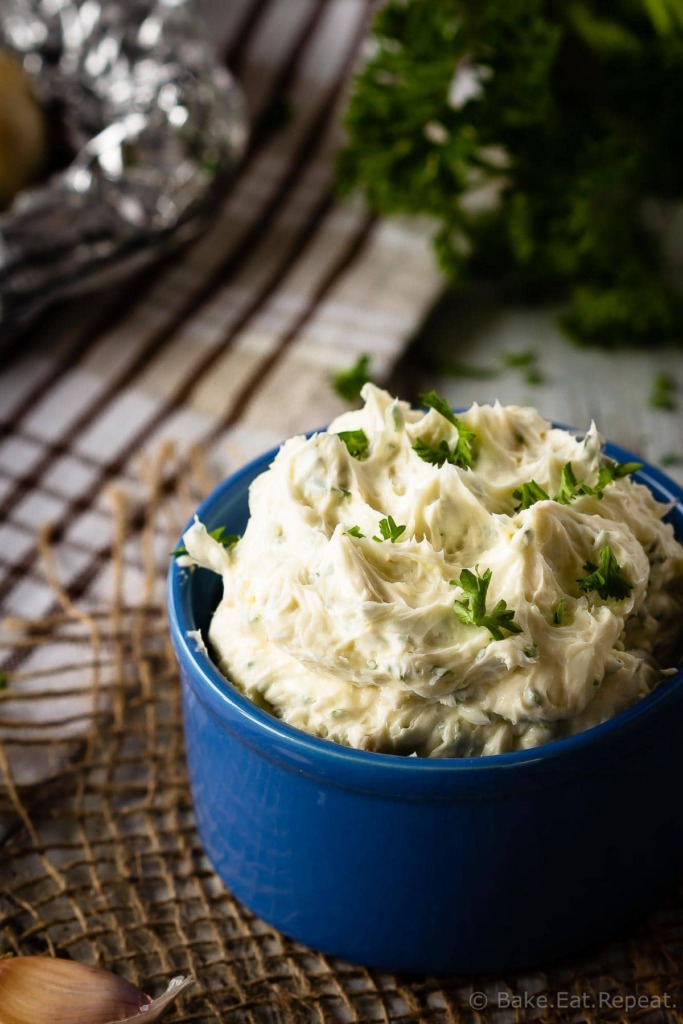 How do you make garlic bread with roasted garlic?
This roasted garlic butter makes the best garlic bread. The way I like to make it is to use French bread sliced quite thick.
I then broil one side of the bread until it's lightly toasted (watch carefully!), and then spread that side with the garlic butter. Broil again for about 30 seconds until the butter is bubbling. Then flip the bread slices over and repeat on the second side.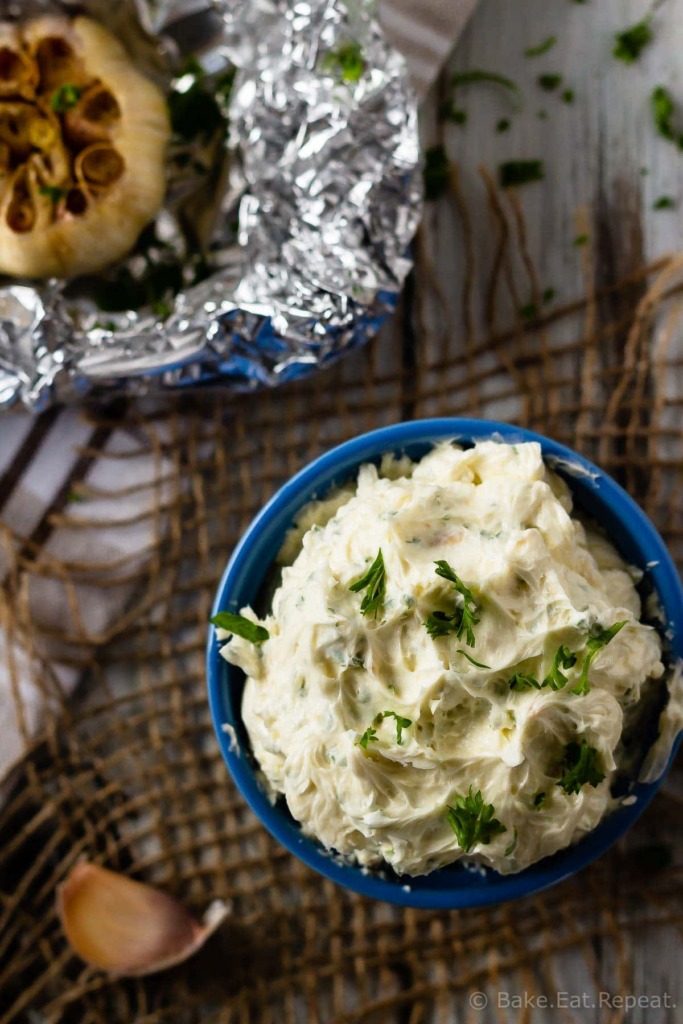 How to make Roasted Garlic Butter:
You can roast the garlic a day or two ahead of time if you like. It will be fine in an airtight container in the fridge for a bit until you're ready to whip up your garlic butter. You can find out how to roast garlic here.
It's not totally necessary to whip the butter (I use my hand mixer for this). You could just stir everything together with a spoon. That would be fine. But I do like the texture better when it's whipped. It's a little nicer if you're just serving it with dinner rolls or fresh bread. If you're using it for garlic toast it doesn't much matter since it will be melting into the bread anyways.
I use salted butter for this recipe. If you're using unsalted butter, add 1/2 teaspoon of salt for 1 cup of butter.
Here are a few great bread recipes to serve this with: