This chocolate zucchini bread is quick and easy to make and everyone loves it. It's the perfect way to use up that garden zucchini!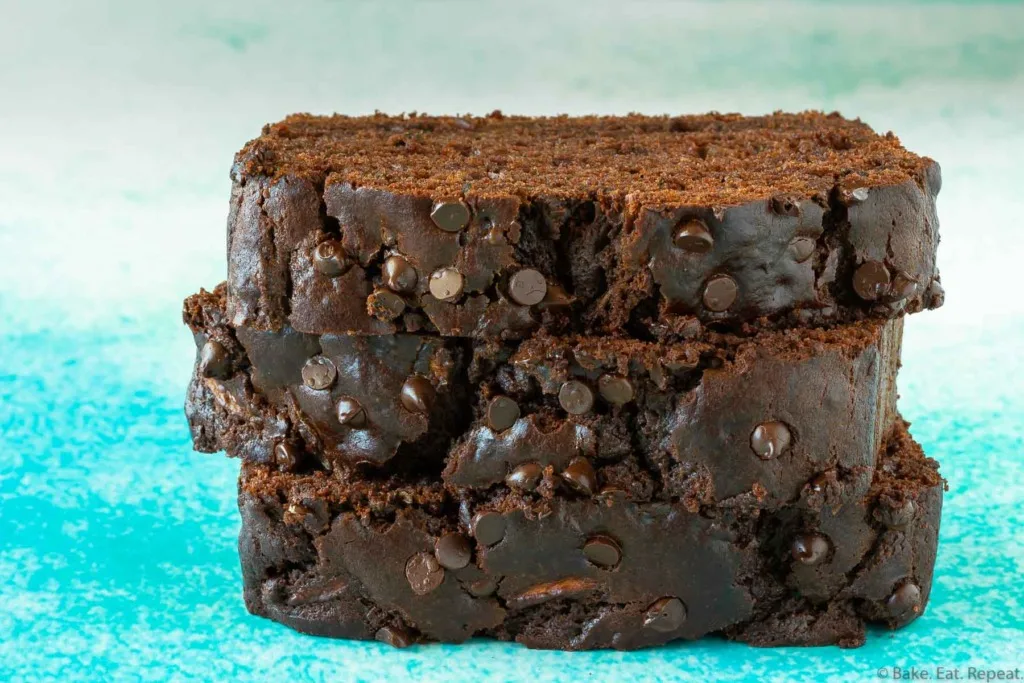 My family managed to go through two loaves of this chocolate zucchini bread in a weekend. Actually, I don't think it even took us the whole weekend.
It's delicious.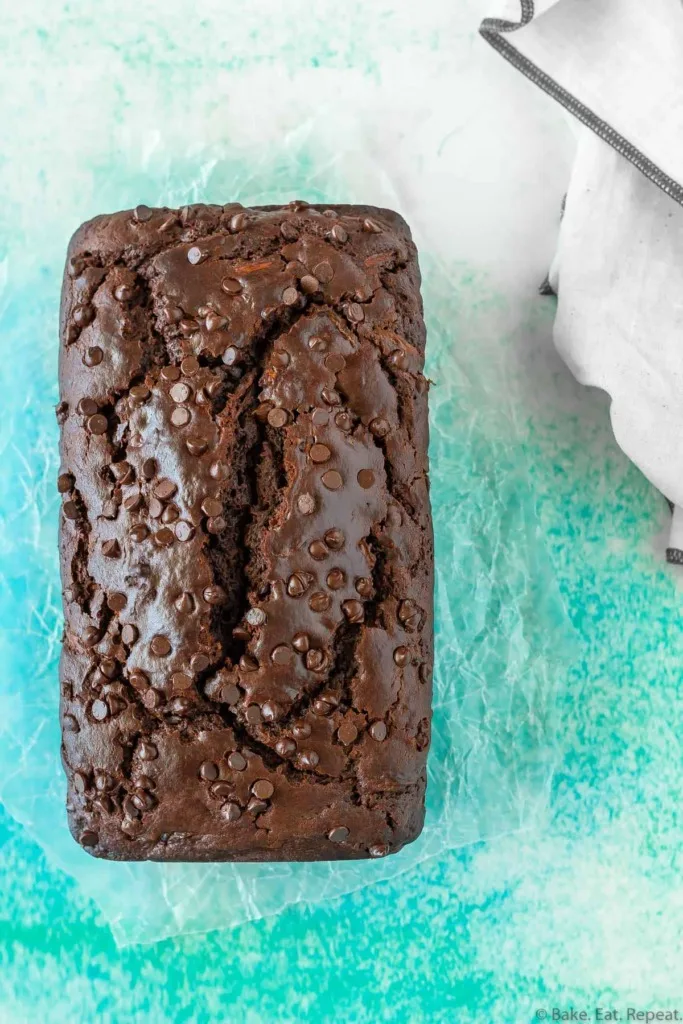 Soft and tender zucchini bread, filled with chocolate flavour, and super moist from all the zucchini – this chocolate zucchini bread is perfect.
You'd never even know you're eating vegetables, so it's a great option if you have kids that won't eat anything green.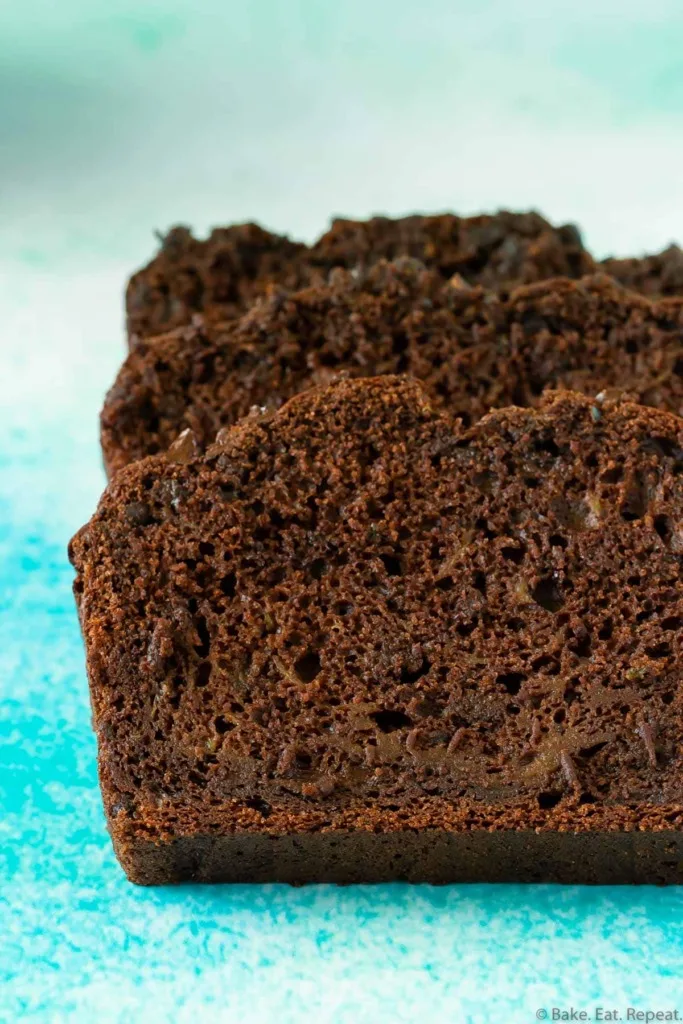 Plus whenever you can have what is basically chocolate cake for breakfast and call it good, we're all happy around here!
This chocolate zucchini bread is amazing if you're looking for a way to use up all that garden zucchini this year!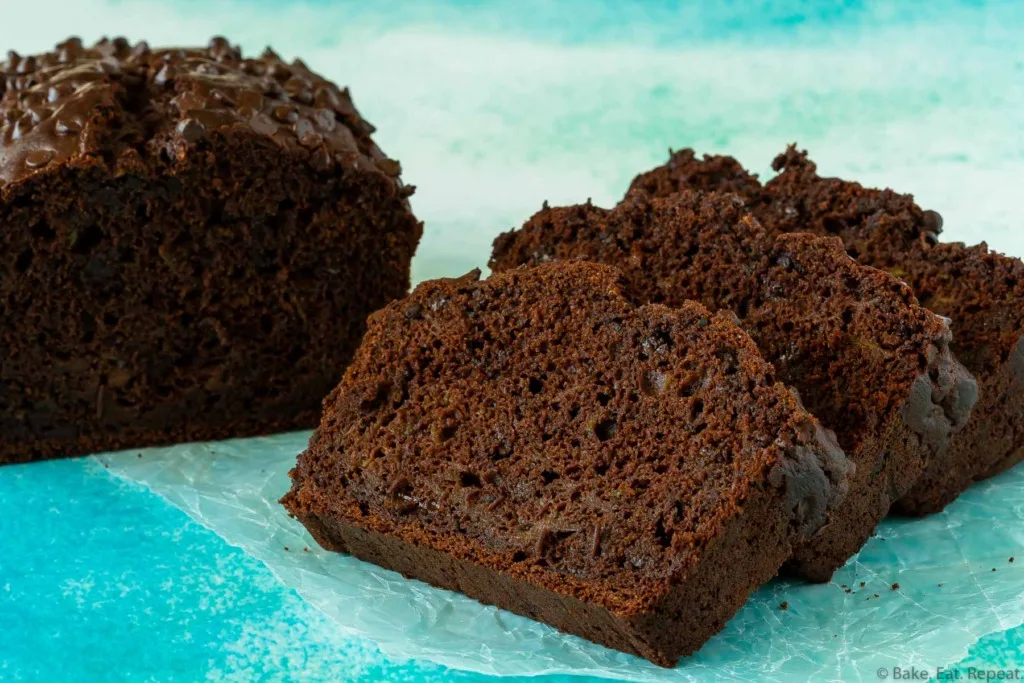 Do you squeeze water out of zucchini for bread?
I never bother squeezing a lot of the water out of zucchini for bread.
I do like to grate it before starting the bread and let it sit and drain in a colander while I mix up the batter.
Pressing it with a spoon in the colander before adding it to the batter gets out enough liquid that I don't find it necessary to wring it out any more than that.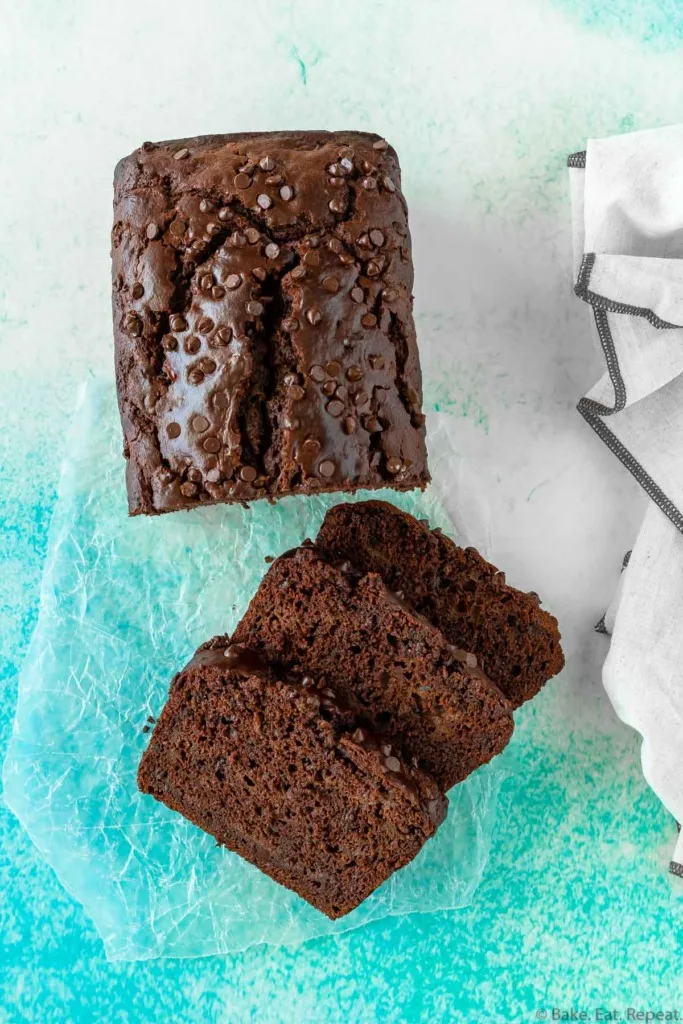 Do you use the skin in zucchini bread?
There's no need to peel the zucchini when making zucchini bread.
If your zucchini is really large, quarter it and scrape out the seeds with a spoon before grating it.
I like to shred zucchini in my food processor. This is the fastest way, but you can also use a box grater (use the large holes).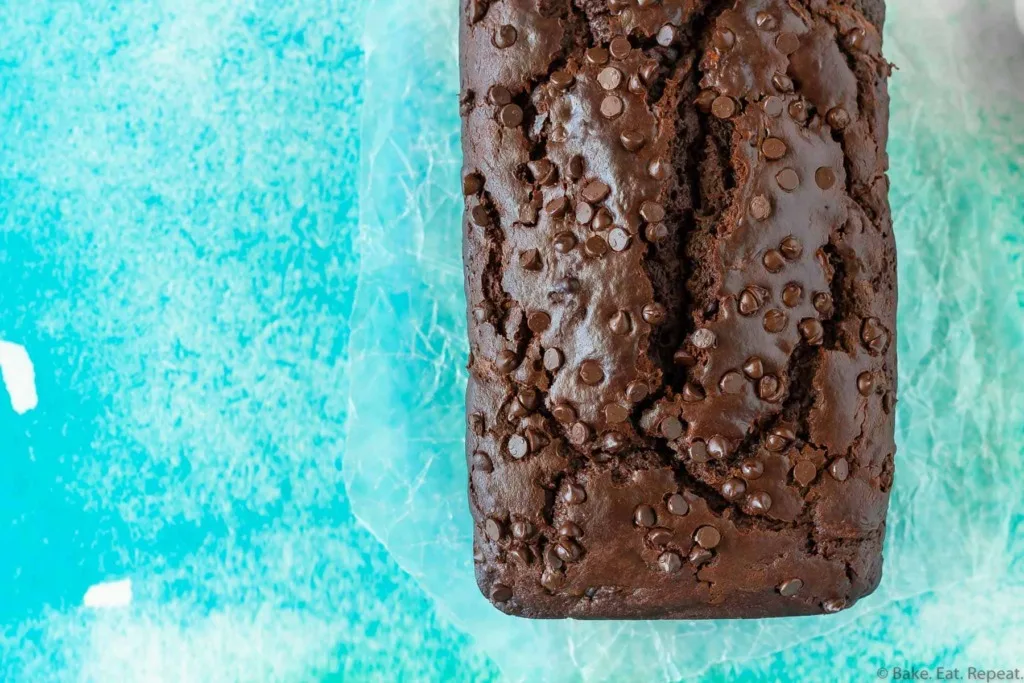 Does zucchini bread freeze well?
I freeze zucchini bread all the time!
Let the bread cool completely after baking, and then wrap it tightly in plastic wrap and then foil, and freeze it for up to 3 months.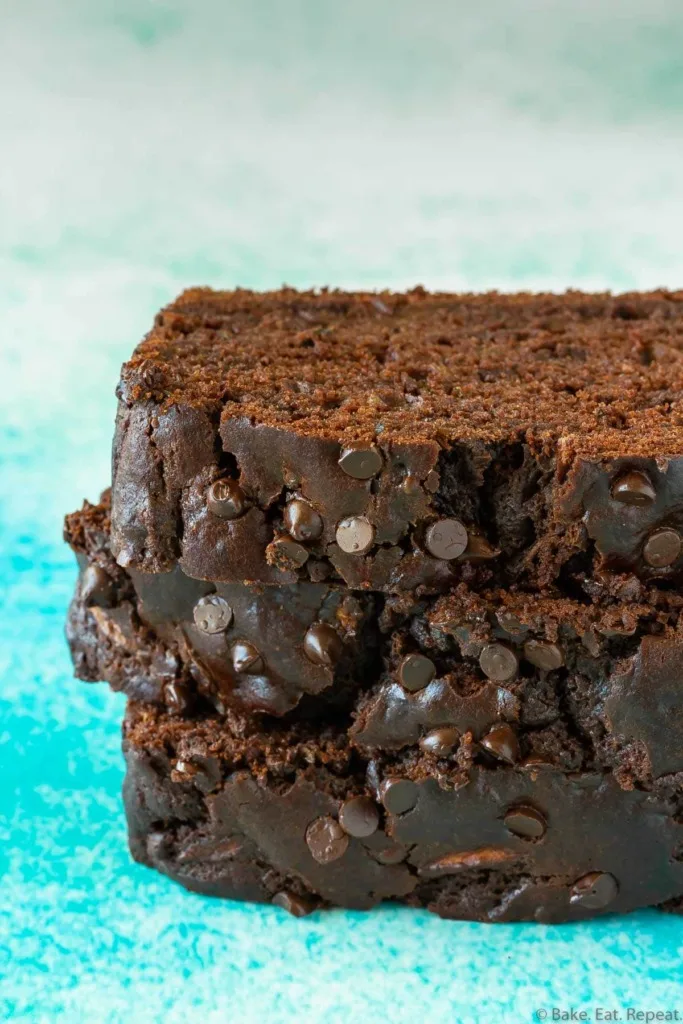 How to make Chocolate Zucchini Bread:
Make sure not to over-mix the zucchini bread batter. If you mix the batter too much your zucchini bread may be a bit dense. Simply stir with a spoon until the ingredients are just combined.
You can make this chocolate zucchini bread healthier by using half whole wheat flour, or by decreasing the sugar and using 1/4 cup granulated sugar instead of 1/2 cup, or both. I've made them this way and they're still delicious, although less sweet (obviously).
I don't recommend omitting the chocolate chips as they add quite a bit of sweetness and I found the bread a bit bland when I tried this.
I use Dutch process cocoa powder for this zucchini bread and have not tried it with regular cocoa powder.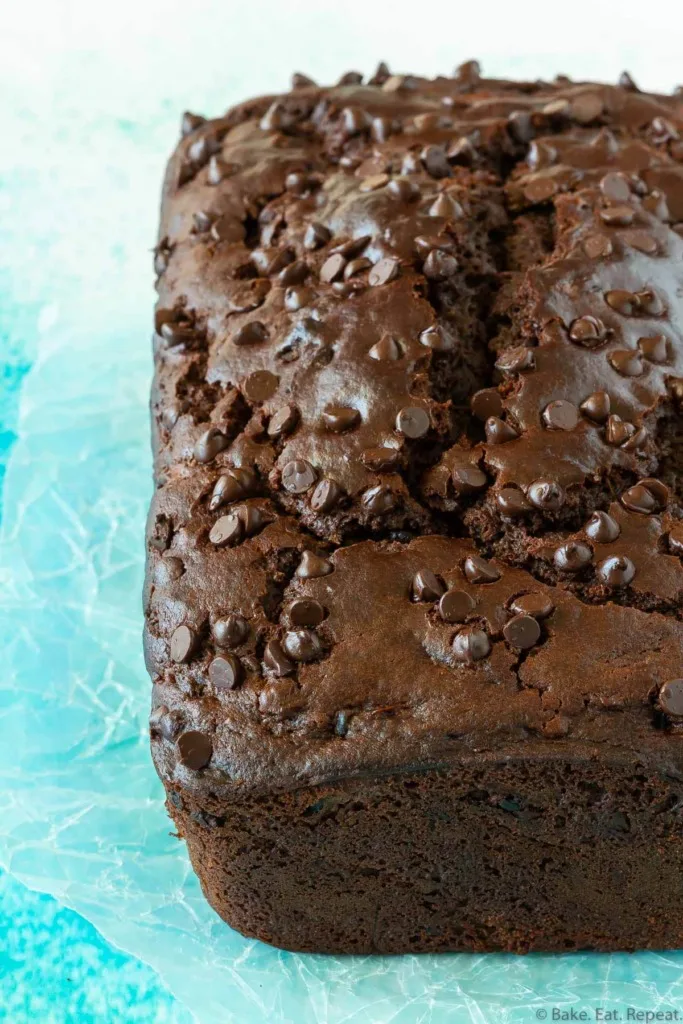 Here are some more great quick bread recipes for you: