These peach scones, filled with fresh peaches and topped with vanilla glaze, are tender and flaky and make the perfect sweet treat with your morning coffee!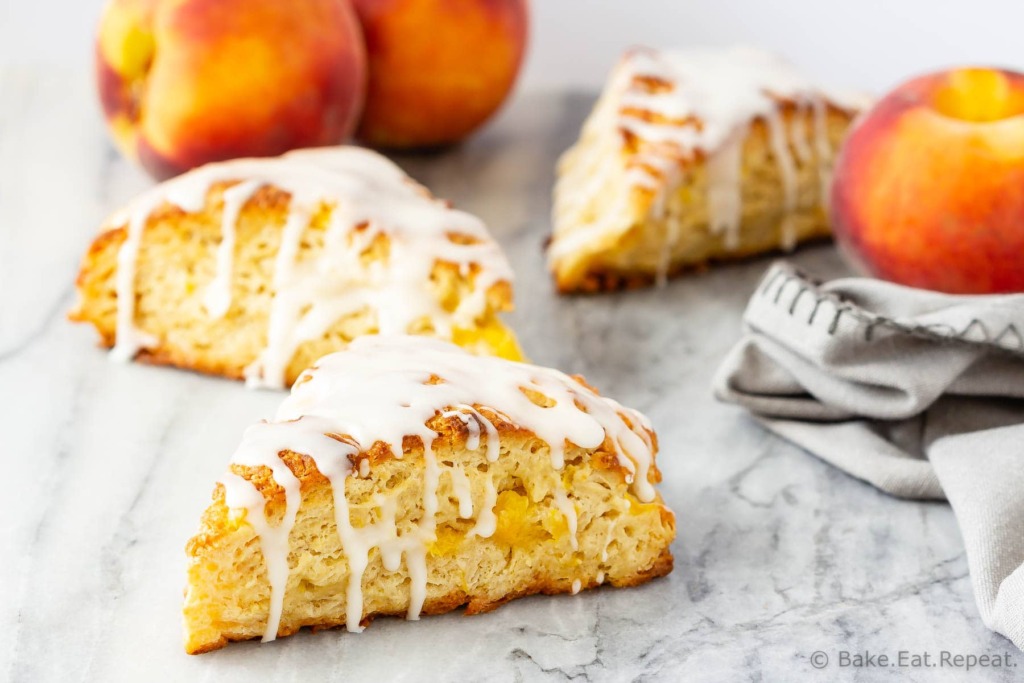 Mmmm, scones.
One of my all-time favourite treats to enjoy with my morning cup of coffee. And yes – I do enjoy having dessert for breakfast.
Any time pastry can be eaten for dessert, I am a-ok with it.
These peach scones are perfect for summer. Filled with fresh, sweet peaches, and topped with a sweet vanilla glaze, these tender, flaky scones mix up quickly and easily and taste amazing.
I'm pretty sure I'll be making these all summer long!
Should peaches be peeled for scones?
I always peel peaches when I'm baking with them. I find that peach peel has an unpleasant texture in baked goods like these peach scones with a crumb topping.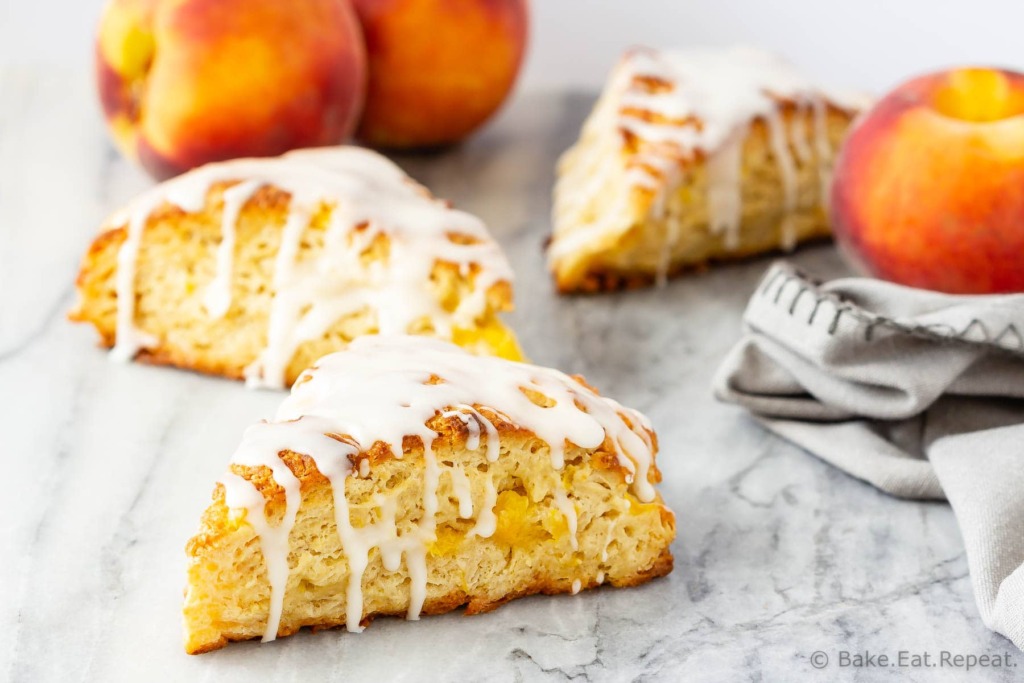 How do you peel peaches?
If your peaches are still a bit hard, you can peel them with a vegetable peeler, although I don't find this to be the easiest method. Peach peel tends to get stuck in the vegetable peeler and sometimes even an unripe peach will be too soft for this to be easy.
The easiest way to peel a peach is to cut an "X" in the bottom of the peach and place the peach in boiling water for about 30 seconds. If your peach is unripe you may need to leave it for 60 seconds. Remove the peach from the boiling water with a slotted spoon and place it in a bowl of ice water. After it cools enough to handle (about 5 minutes), you should be able to peel the softened skin off easily.

Should scones be crumbly?
The dough for scones should be crumbly after you mix it. When you make scones, you add just enough liquid to hold the dough together.
Don't be concerned when you stir in the liquid and it still just looks like a crumbly, floury mess in your bowl. That's how it should look. If you add more liquid to make it come together by stirring then your scones will be tough.
The trick to perfect scones is to let the mixture be crumbly. Stir it just until it starts to clump together a bit and most of the flour looks moistened. Then use your hands to knead it just a little bit in the bowl and bring most of the dough together, but try not to over-work it. Then dump everything onto a baking sheet and press it all together into a flat disc.
It won't matter that there are still floury bits that don't look mixed in. It works when you bake it, I promise!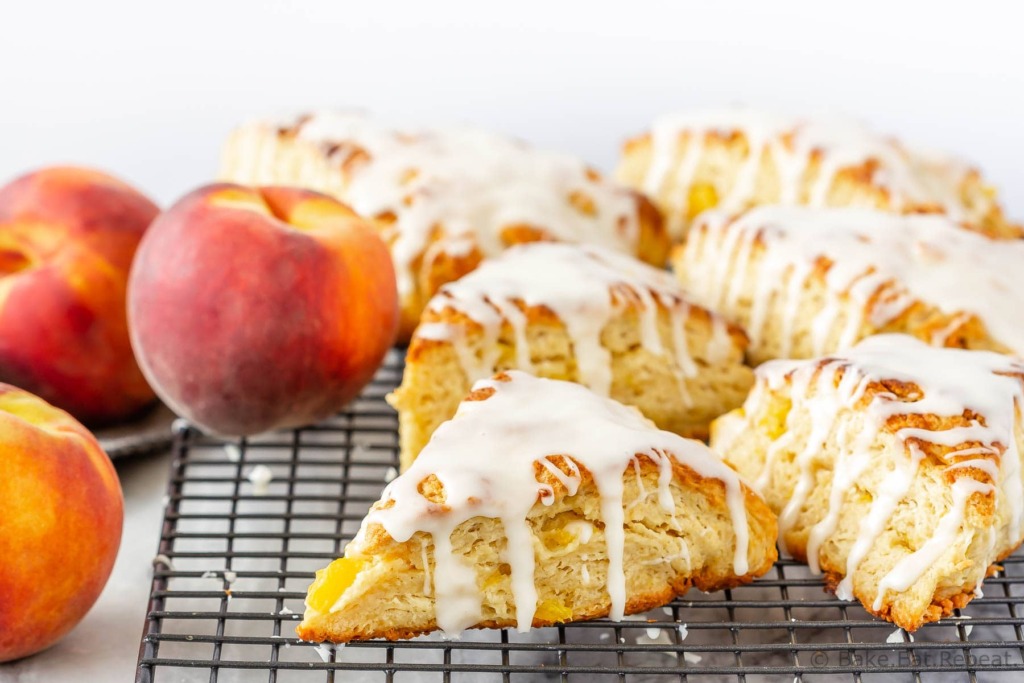 Can you freeze scones?
Yes! I freeze scones all the time. They freeze beautifully. Let them cool completely after baking, and if you are adding a glaze let it harden completely. Then store them in a ziplock bag or an airtight container with wax paper in between the layers to keep them from sticking together. Freeze for up to 3 months.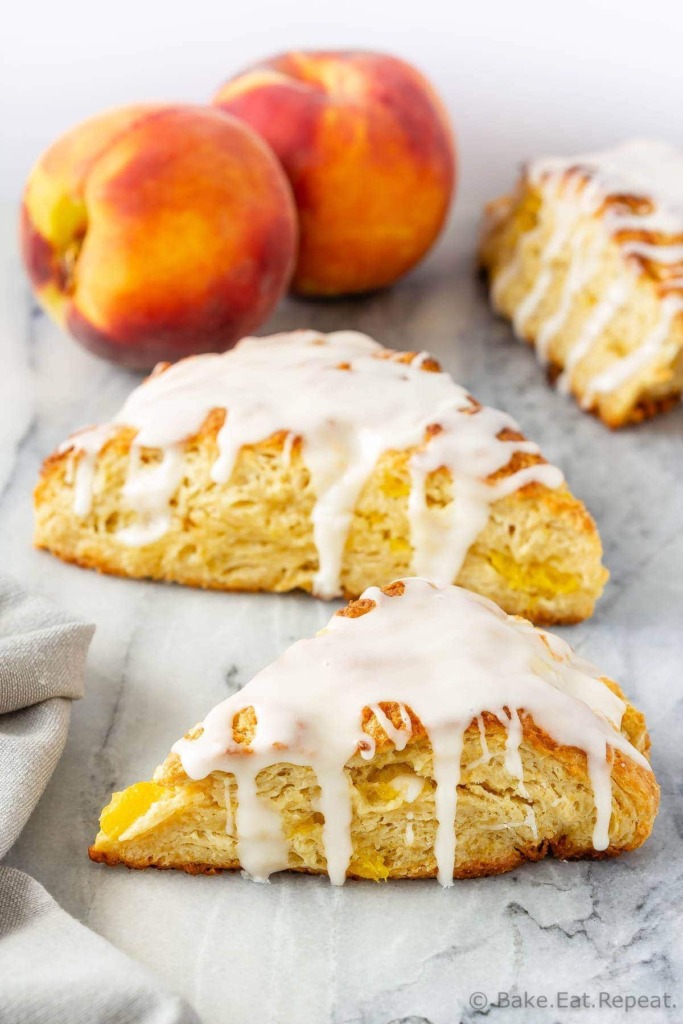 How to make Peach Scones:
If you don't want to grate your butter, you can use a pastry cutter or two knives to cut the butter into the flour mixture instead. This works just as well, I just find that grating the butter is faster and easier, and it helps keep the butter cold which is important when making scones.
Make sure to put the scones in the freezer for 15-20 minutes before baking them. Making sure all the ingredients are cold before baking helps the scones to rise better and they end up being flakier then they are if the dough is too warm.
When you cut the scones into wedges, make sure to use a sharp knife and press straight down. If you twist or saw through the dough it will seal the edges and the scones won't rise as well.

Here are some more great scone recipes for you: