This persiMon®, cranberry and apple stuffed pork loin is easier to make than you think, and everyone will love it!
Disclaimer: This post has been sponsored by persiMon® Canada, and I have been compensated monetarily for my time. All opinions are, as always, my own.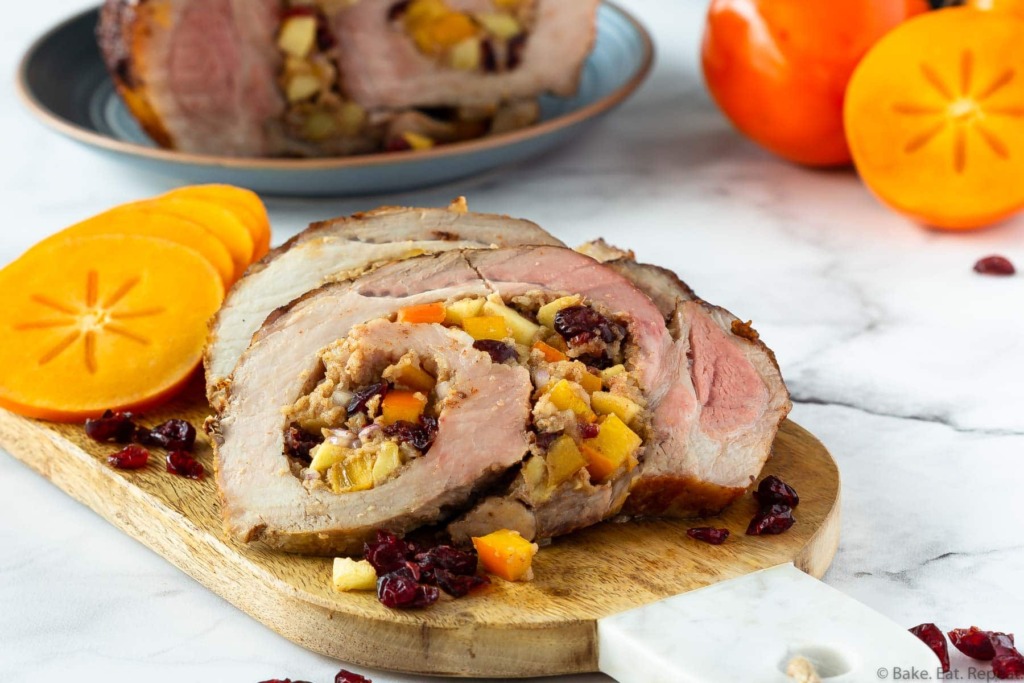 Have you ever made a stuffed pork loin? If not, you definitely need to try it!
It's easier than it looks, and this persiMon®, cranberry, and apple stuffed pork loin is the perfect recipe to make for dinner tonight!
I know I'll be making this stuffed pork loin every year now, as soon as I see persiMon® fruit in the grocery stores.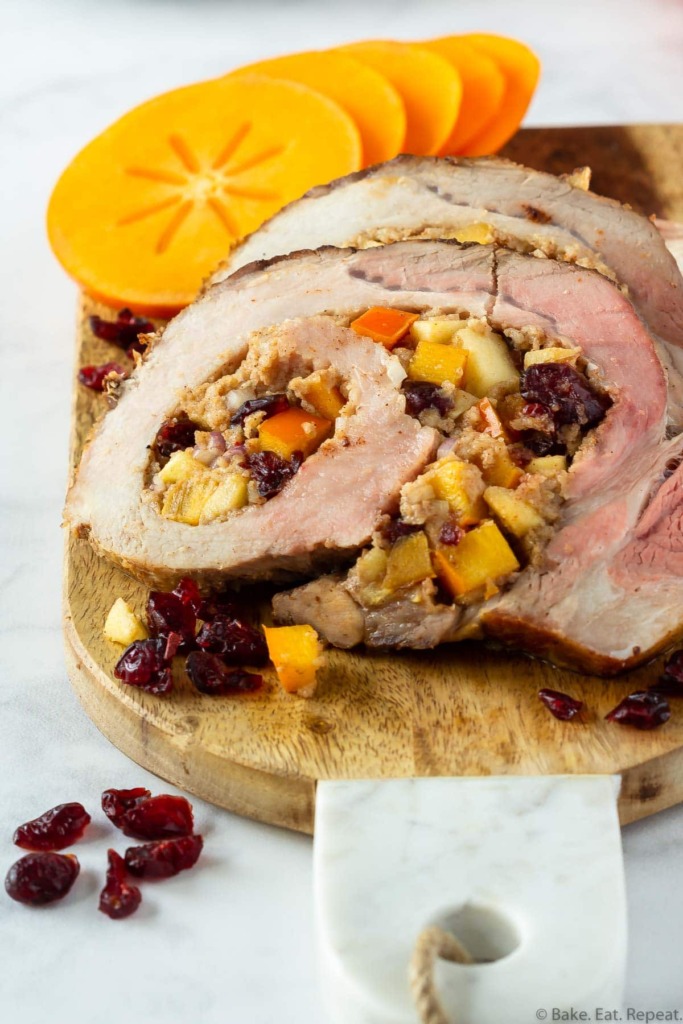 The persiMon® brand of persimmons is from the Ribera del Xuquer region of Spain.
They are available at your local grocery store for a limited time each year in November and December.
We tried them for the first time this year and they are amazing. I know that I will now be looking out for them every November because they are so delicious!
And I will want to make this persiMon®, cranberry, and apple stuffed pork loin again!
It's easy and delicious and the whole family loved it.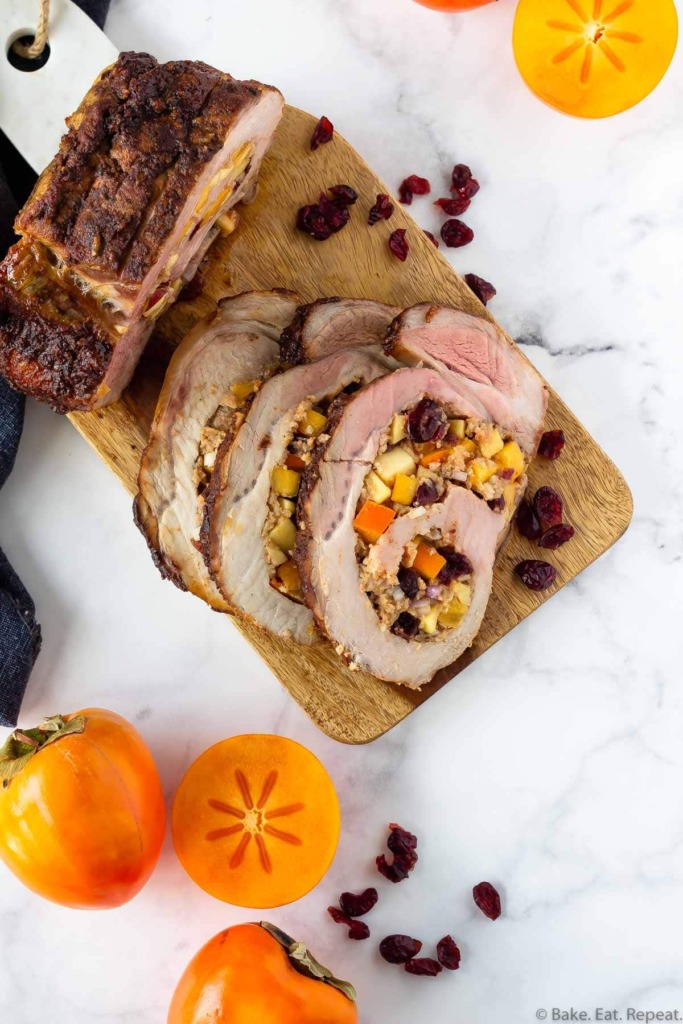 What do persiMon® fruit taste like?
The persiMon® brand of persimmon is a ready-to-eat fruit that has a light, delicate flavour, a bit like a mango or peach.
You can look for "sugar freckles" on the bright orange, seedless flesh which indicate extra sweetness.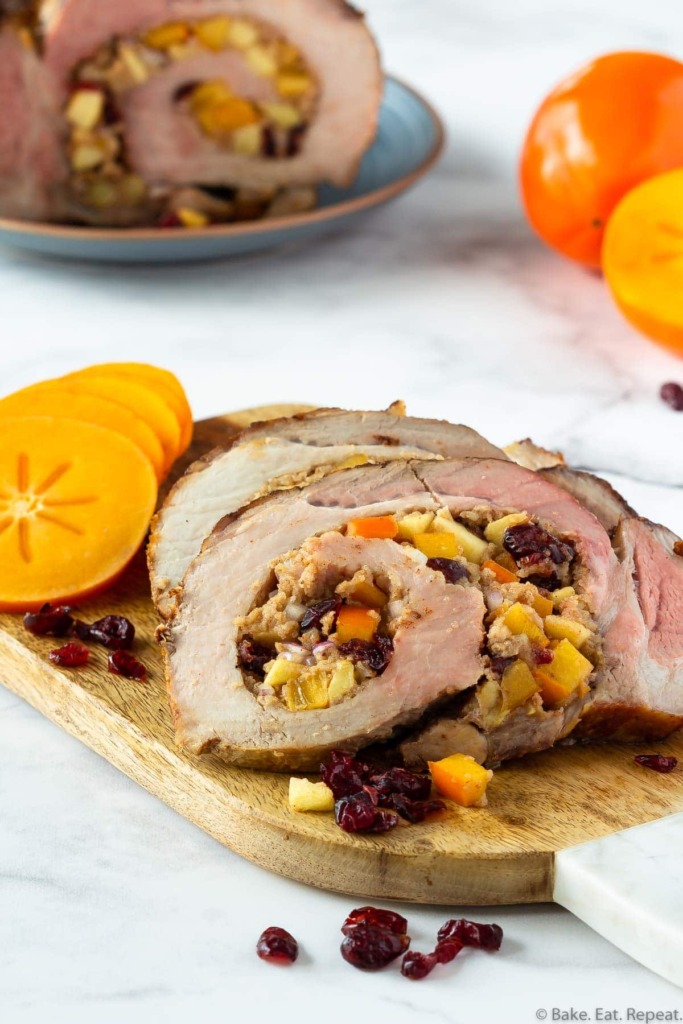 What are persiMon® fruit good for?
You can use persiMon® fruit in both sweet and savoury recipes. You can also enjoy it on its own, as both a dried fruit and eaten raw.
We liked it best sliced up and eaten fresh. The kids really liked the distinctive star shape on the inside of the fruit when it was sliced up.
I love that persiMon® fruit is so good for you!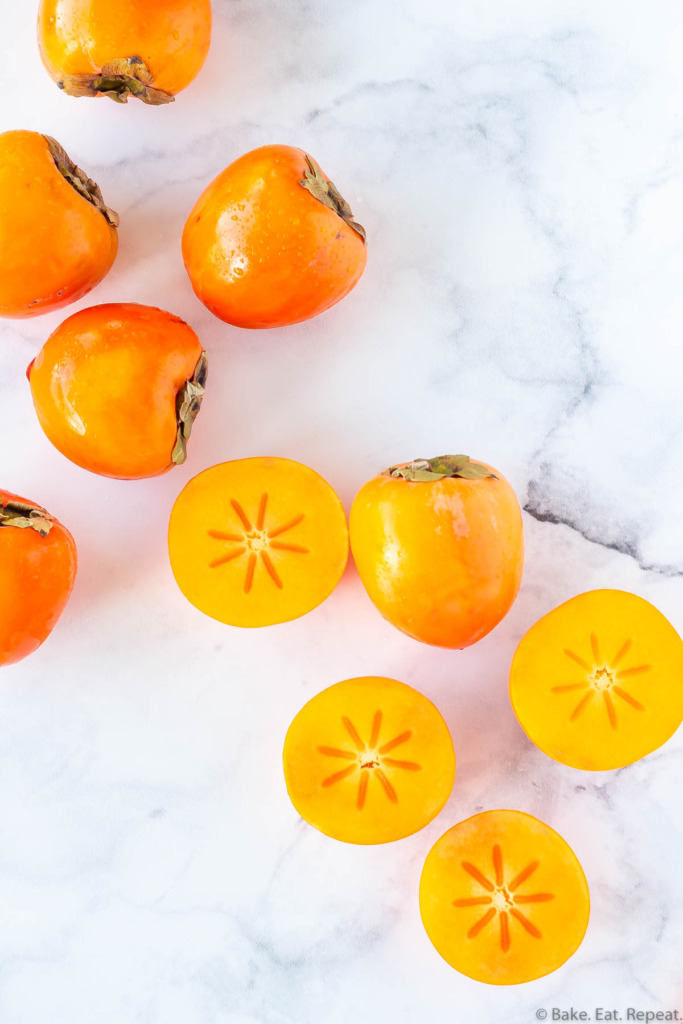 It's high in fibre, with 6 grams per fruit, and is a source of vitamins C, K, A, folate, potassium, magnesium, and manganese.
It also contains the antioxidants beta carotene, lutein, and lycopene.
So basically it's the perfect healthy snack!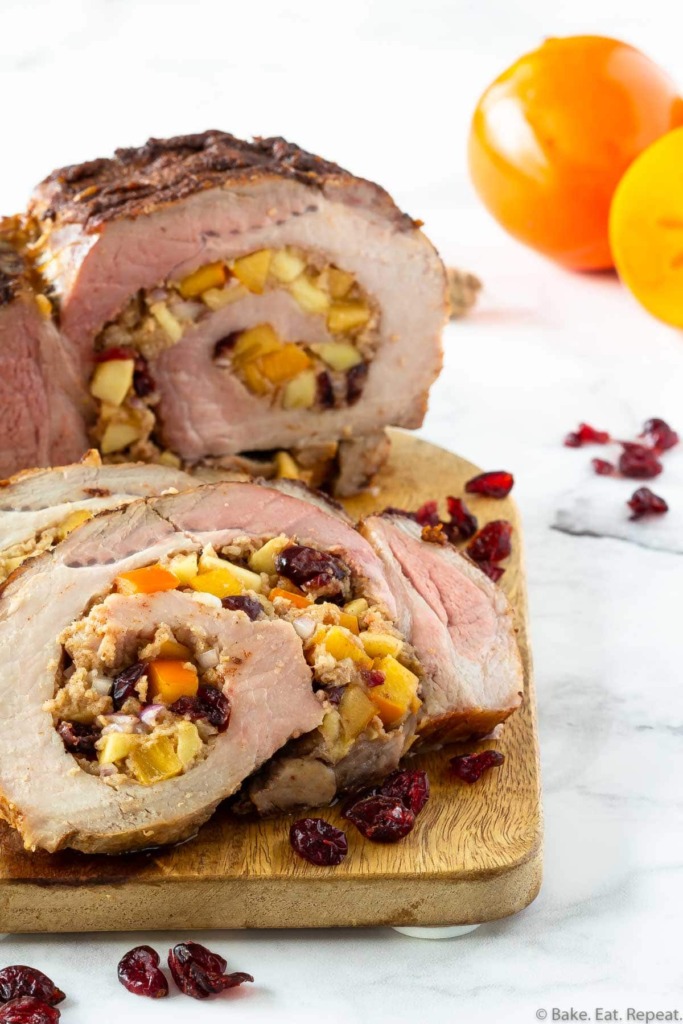 How do you butterfly a pork loin?
Butterflying a pork loin is easier than you think.
Chilling the meat in the freezer for 20 minutes first will help make it easier to cut.
Using a long sharp knife to butterfly a pork loin will also make cutting it evenly a bit easier.
If you'd like to see step by step instructions for how to butterfly a pork loin, you can find that at the bottom of this post, below the recipe card.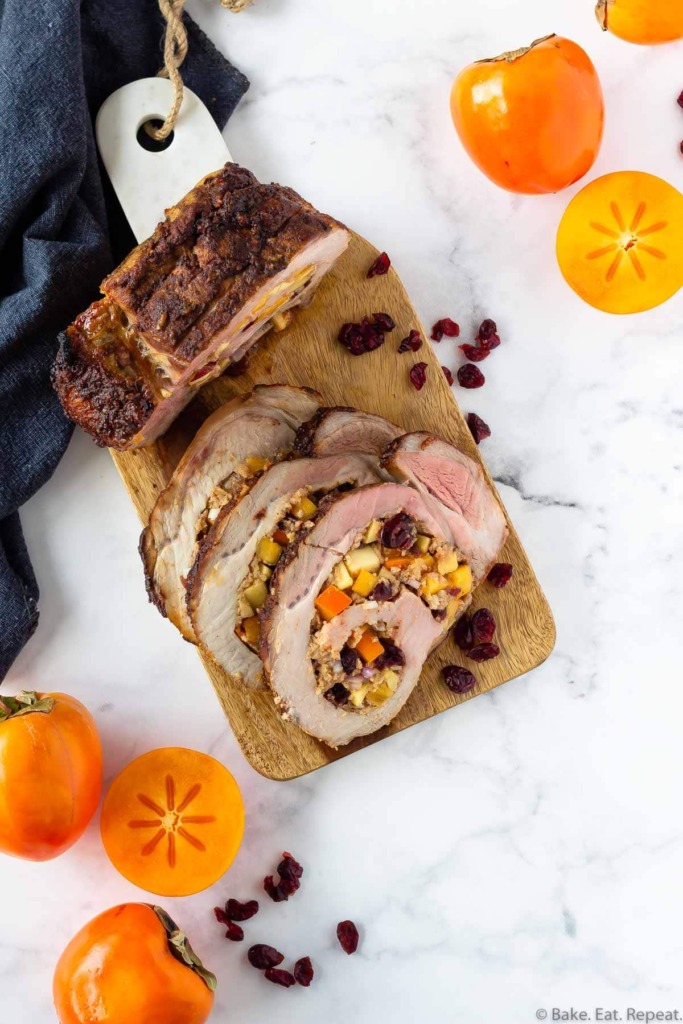 How do I keep my pork loin from drying out?
Make sure not to cook it too long!
Pork loin will be dry if you cook it for too long. The best way to avoid this is to use a meat thermometer to judge when it is done.
You need to cook it until a meat thermometer reads an internal temperature of 145-150 degrees F at the thickest part of the pork loin. I have this instant read meat thermometer and highly recommend it!
After it is cooked to that temperature, you then need to cover it in foil and let it rest for 10 minutes before slicing into it.
This resting time is important as the pork finishes cooking during this time, and it also relaxes the meat, making it juicier and more flavourful.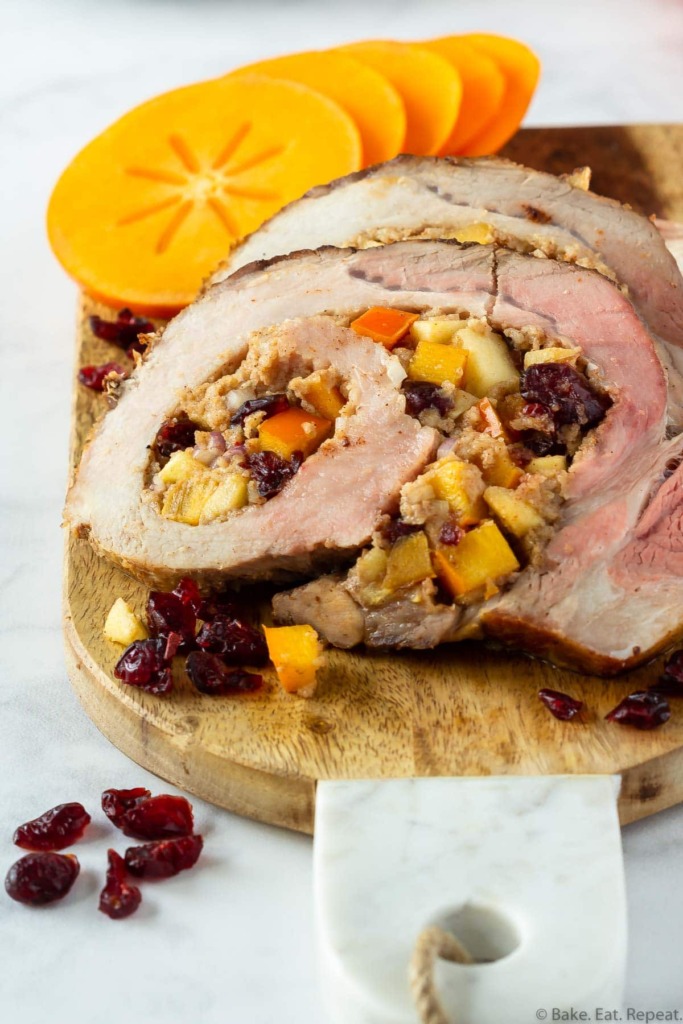 How to make persiMon® Cranberry and Apple Stuffed Pork Loin:
You can get the pork stuffed and ready for the oven up to 24 hours ahead of time if you like. Just cover it in plastic wrap and keep it in the fridge until you are ready to cook it.
Make sure to cook the pork loin until a meat thermometer registers 145-150 degrees F in the centre of the loin. Don't skip the resting period or your pork may be underdone.
You will want to dice the apples and persiMon® quite small as this helps the stuffing stay together a bit better, and not all fall out as soon as you slice the pork loin up.
If you would like to learn more about persiMon®, you can visit their website at persimoncanada.com.
Here are some more great pork recipes for you: