These baked pork chops with a cinnamon glaze are a simple, 30 minute meal that your whole family will love. Served with baked cinnamon apples and so fast and easy!
Do you like pork chops? Okay, maybe that's a strange question, everyone probably likes them.
But you know what? I don't, really. Don't get me wrong, I'll eat them. They're not bad. They're just not my favourite. If I'm making pork, I typically go for pork tenderloin because that's just plain fantastic.
I don't know what it is about pork chops, I just don't like them a lot. Much to the consternation of my husband, whose favourite meal is….pork chops (well, one of his favourites). He would happily eat them several times a week.
He doesn't get them that often.
But these baked pork chops with a cinnamon glaze? I've made them more times then I can count. Because I like them. Especially with some cinnamon baked apples on top. These baked pork chops are really, really good.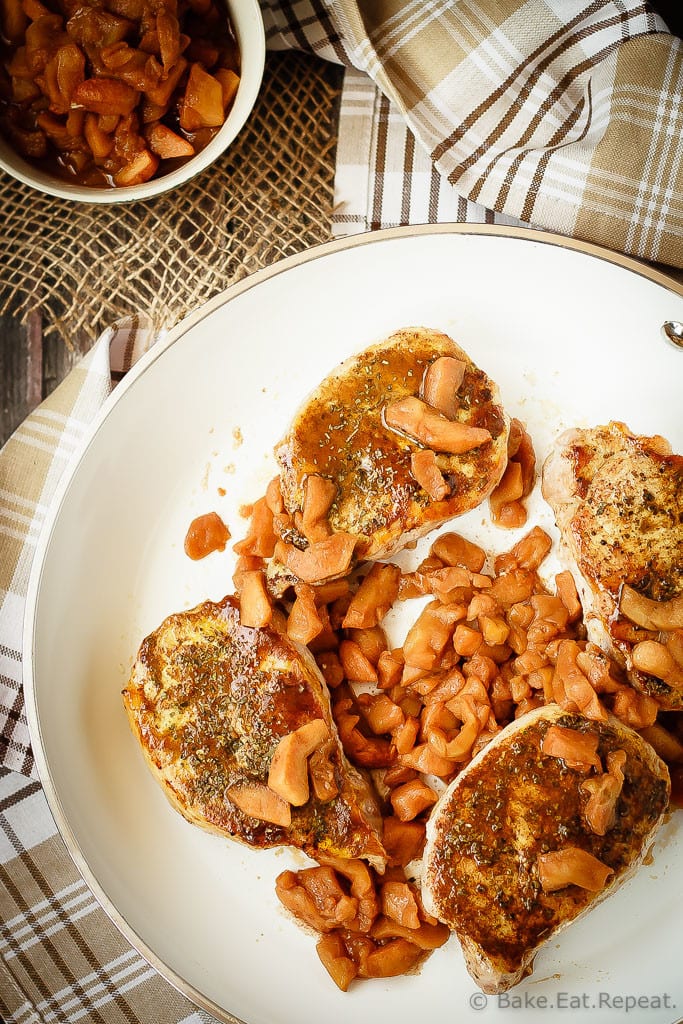 Or maybe they're just easy? I don't know, but whatever the reason, whenever I do decide to make pork chops, more often then not it's this recipe that I turn to.
So it's a good one to share with you for 30 Minute Thursday this month. If you're new around here, 30 Minute Thursday is the first Thursday of every month where myself and some of my blogging friends get together to share some 30 minute meals to help get you through those busy nights. With school starting up again, along with all the other activities the kids are in, I am going to be in desperate need of quick and easy meals! I'm sure I'm not the only one – so scroll down to below the recipe for more 30 minute meals, or click here for past 30 Minute Thursday posts.
And even if you're like me and don't really love pork chops – try these baked pork chops with a cinnamon glaze and baked apples. They might change your mind! So easy, and so good – even I like them!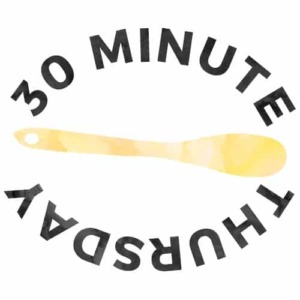 Honey Garlic Salmon Quinoa Bowl from Pumpkin 'N Spice
Maple Ginger Beef from The Recipe Rebel
Pesto Gnocchi with Sausage, Mushrooms, and Asparagus from Flavor the Moments
One Pot Pea and Corn Pasta from Savory Nothings
Grilled Romaine Salad with Roasted Chickpeas and Tomatoes from Floating Kitchen