These buttery persiMon® ginger scones are tender and flakey and filled with flavour. They're easy to make, and are the perfect breakfast or snack, especially with some sliced fresh persiMon® alongside!
Disclaimer: This post has been sponsored by persiMon® Canada and I have been compensated monetarily for my time. All opinions are, as always, my own.
Have you ever tried a persimmon before? I had never had one up until a couple of weeks ago.
This year we tried the persiMon® brand of persimmons and are now big fans.
The persiMon® brand is the registered trademark used to identify the brand of persimmon from the Ribera del Xuquer region of Spain.
They are available in your local grocery stores for a limited time in November and December.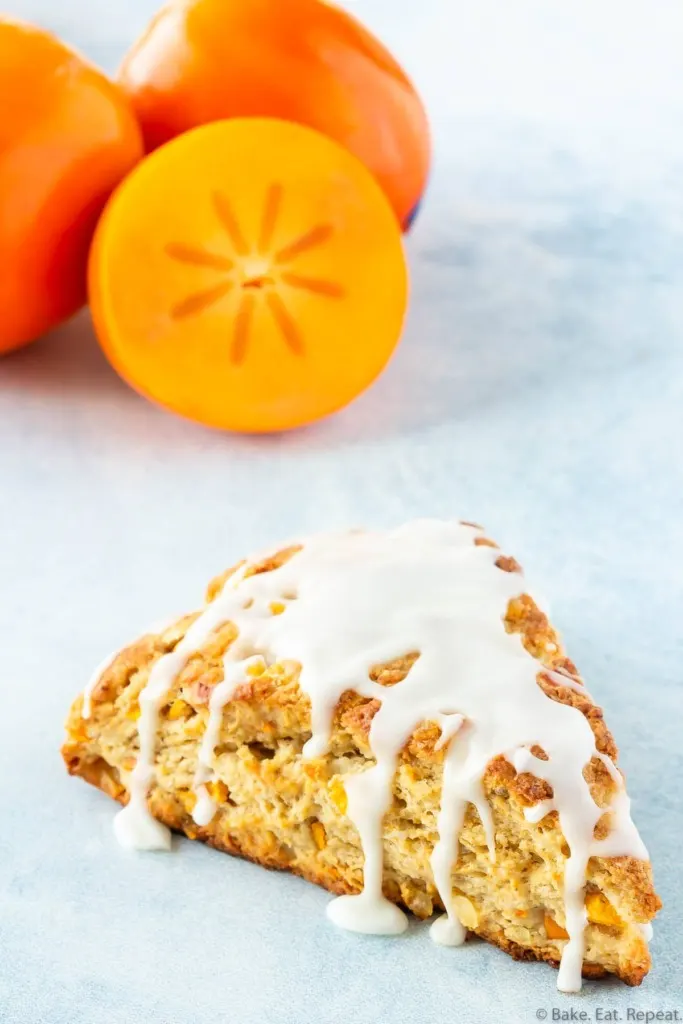 After trying them this year, I can guarantee that I will now be looking for them every year as soon as November starts.
My son is already sad that they are only available for a couple of months, and he'll have to wait a whole year before he can have another one!
The first recipe I tried out with persiMon® were these persiMon® ginger scones and I'm very happy with that decision.
This recipe makes enormous scones, I made at least 3 batches in a week, and we had no trouble polishing them all off. They were delicious.
These tender, flakey scones, filled with crystallized ginger and chopped persiMon®, and topped with a vanilla glaze, made an amazing breakfast.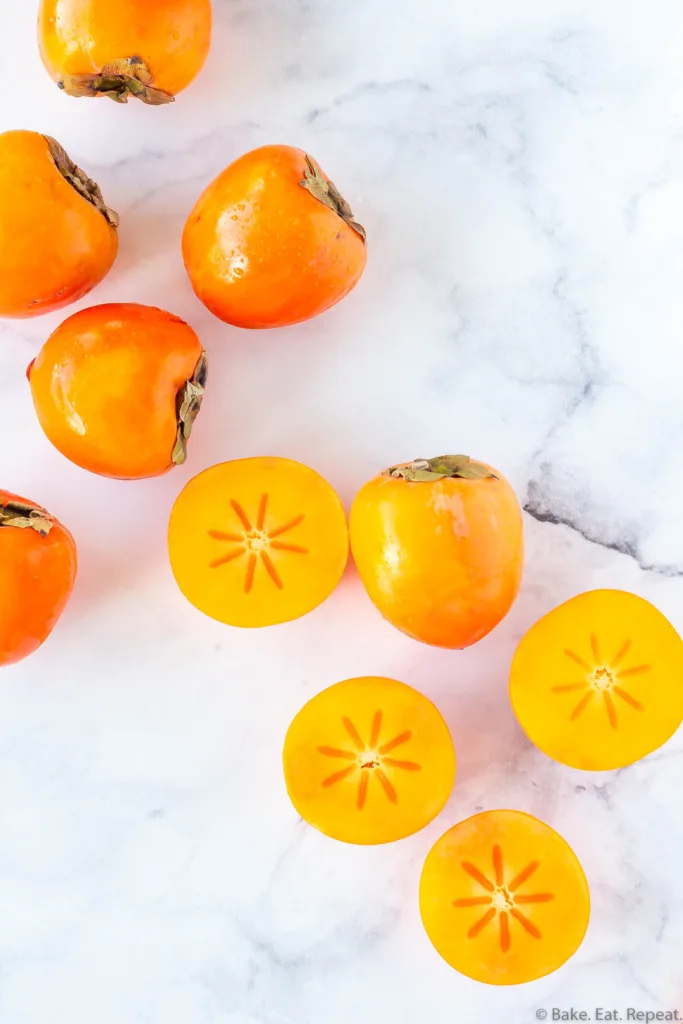 What is the secret to making scones?
The secret to making perfect scones is to use a light hand when mixing the dough together.
It's okay if it's still crumbly when you put it on the baking sheet, as long as you can press it all together into a flat disc.
If you work the dough too much to make it all come together, then you can end up with dense, tough scones instead of light and flakey ones.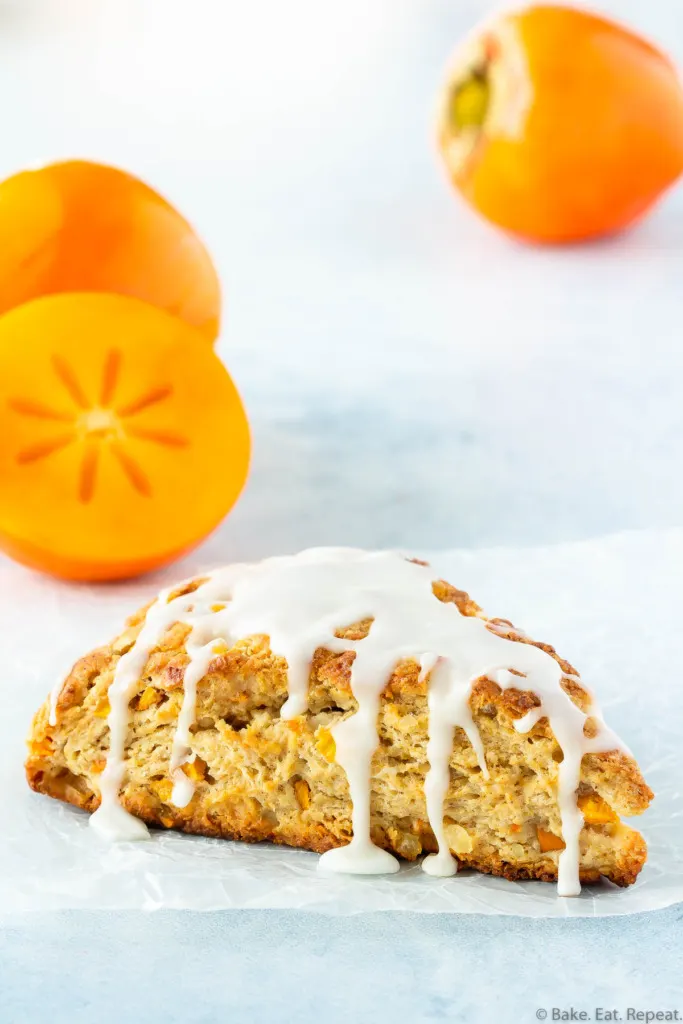 The other important part in baking scones is to keep all of your ingredients cold.
Use cold cream, grate cold (even frozen) butter into the dry ingredients, and chill the dough in the freezer for 20 minutes before slicing it into wedges to bake.
Placing the scones in the oven while the butter is nice and cold will result in tender, flakey scones, that keep their shape as they bake.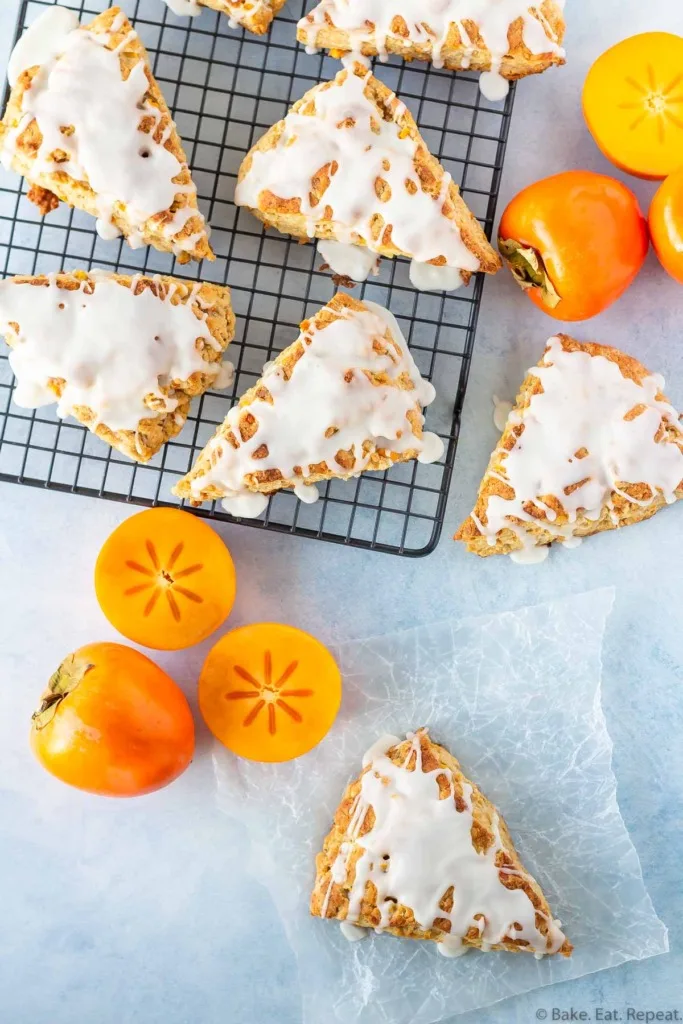 How long do scones last?
Scones will last for 2-3 days, but they are best the day they are made.
Store them in an airtight container with paper towel above and below the scones to absorb excess moisture to help them stay fresh a little longer.
The icing on them will get sticky if they're in an airtight container though, so keep this in mind.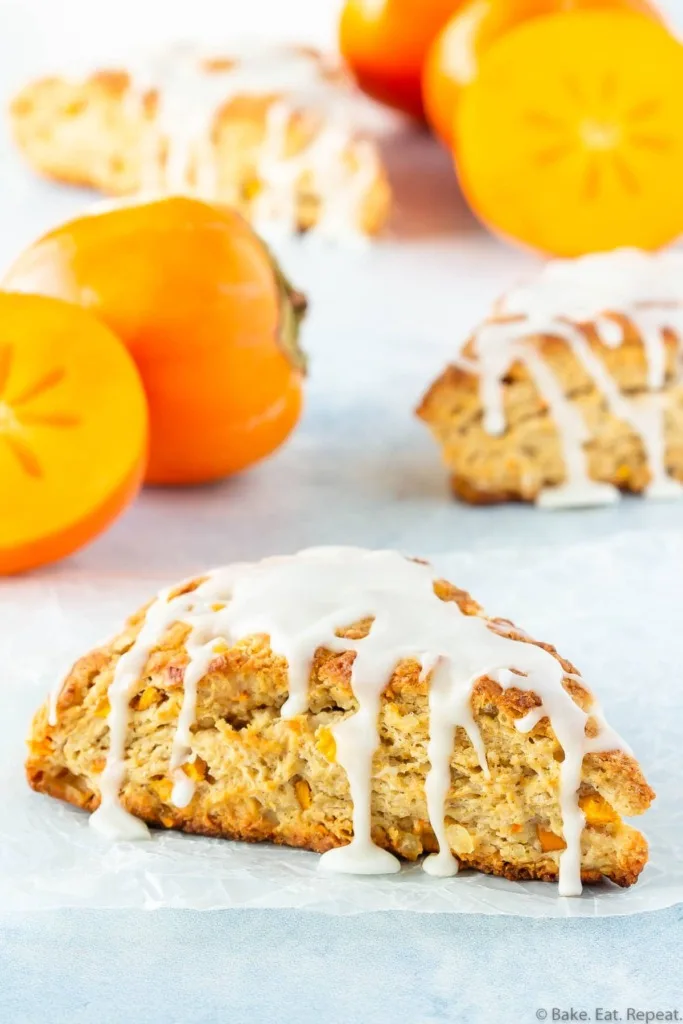 I like to store my persiMon® ginger scones in a container with the lid left on loosely, so some air gets in, and they stay crisp on the outside with firm icing.
They never last more than about 2-3 days in my house anyways so this works best for us!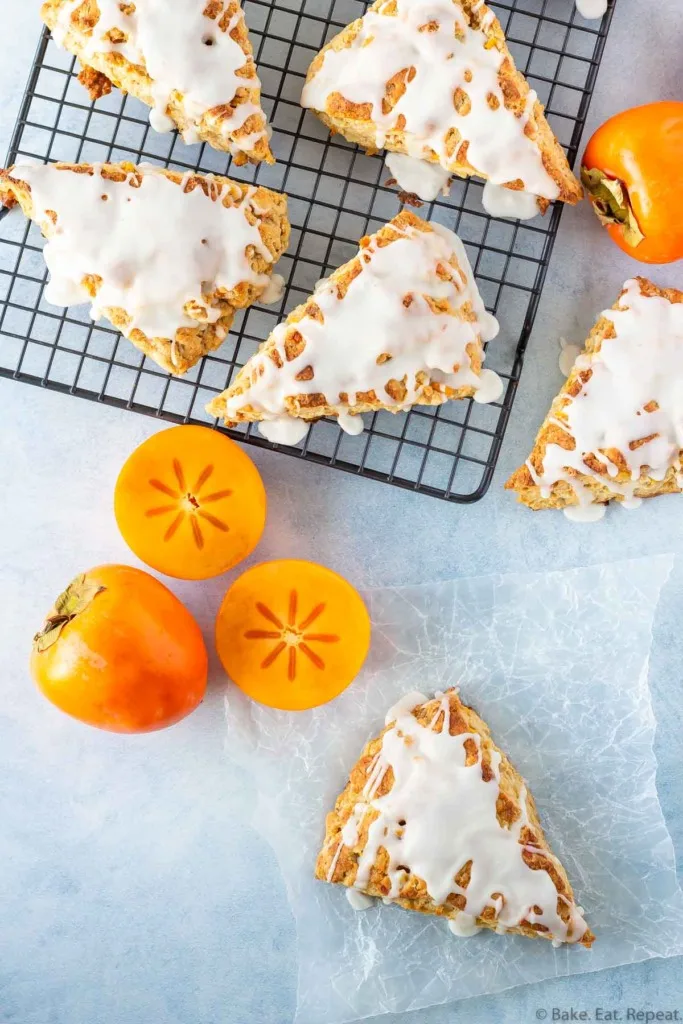 What do persiMon® fruit taste like?
The persiMon® brand of persimmons is ready-to-eat when you buy it, so there is no waiting for it to ripen before you can enjoy it.
It tastes a bit like a mango or peach.
They are sweet and juicy, have no seeds, a distinctive star shape when sliced, and are extra sweet when you see "sugar freckles" on the bright orange flesh.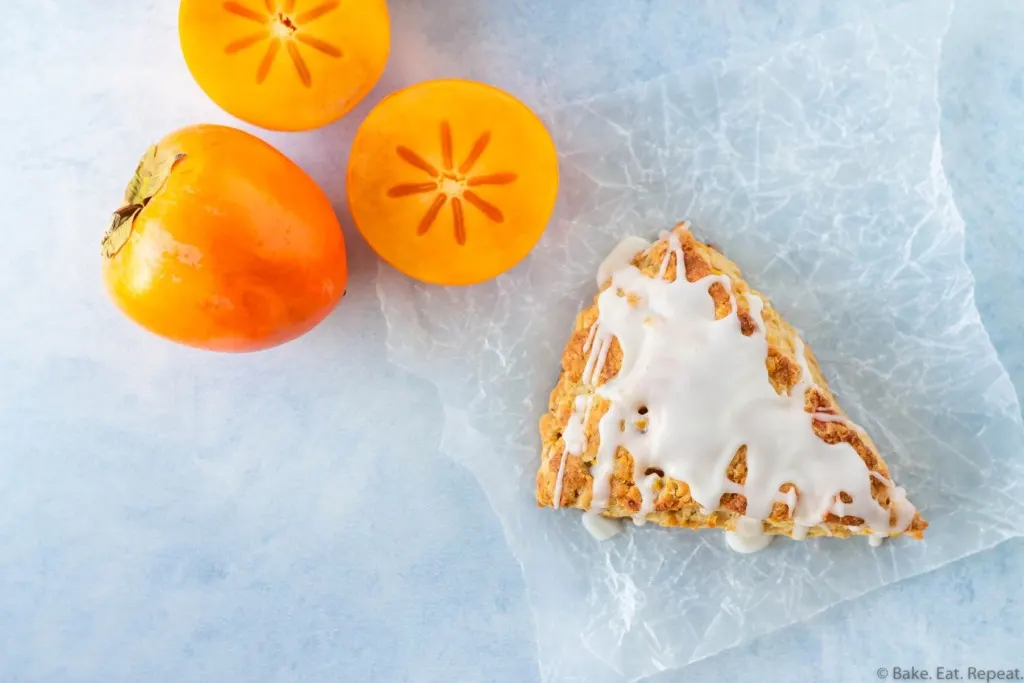 What is persiMon® fruit good for?
The persiMon® fruit is great in both sweet and savoury recipes.
It can also be enjoyed as a dried fruit.
But we enjoyed it best simply eaten raw.
It has a firm consistency and sweet flavour, and we went through several cases of this fruit in a matter of days.
The persiMon® fruit is high in fibre, with 6 grams per fruit.
It is also a source of vitamins C, K, A, folate, potassium, magnesium, and manganese.
Plus it contains the antioxidants beta carotene, lutein, and lycopene.
So it makes the perfect healthy snack!
I know that my kids are going to be very sad when it's no longer in season and they have to wait another year for more!
Find more information about persiMon® from Spain on their website.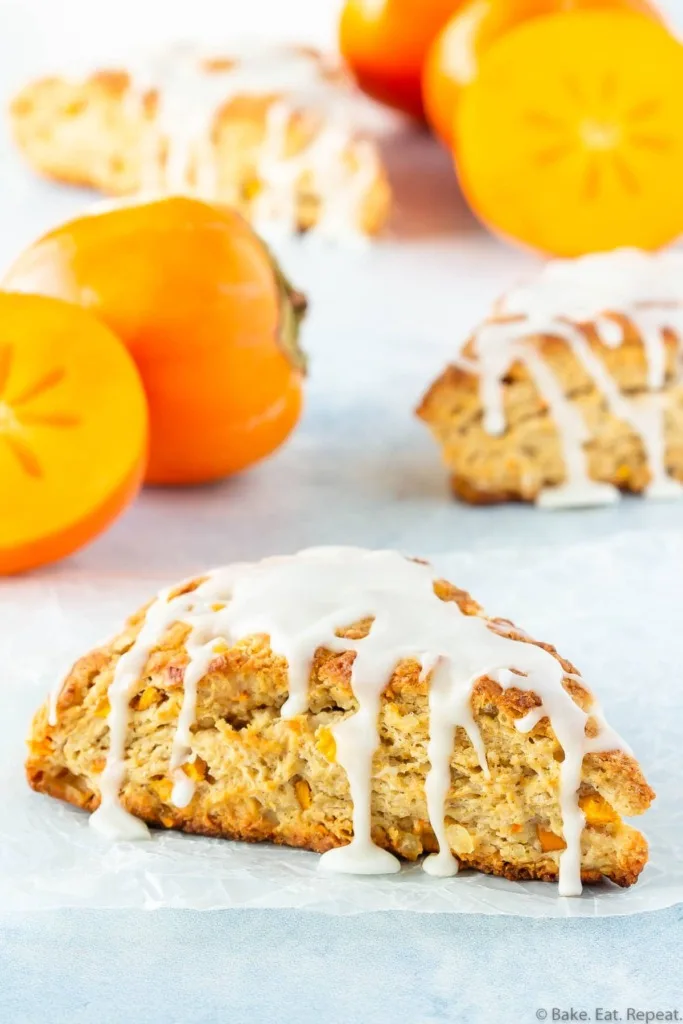 How to make persiMon® Ginger Scones:
I find that grating the butter for the scones is the quickest way to make them, but cutting it into the dry ingredients with a pastry cutter or two knives is also an option.
The dough will still be a bit crumbly when you turn it out onto a baking sheet. Don't worry about this, just press it all together into a flat disc, and it will bake together in the oven. If you work the dough too much you will have dense, tough scones instead of tender, flakey ones.
This recipe makes 8-10 large scones, but you can make 12-16 smaller ones instead if you prefer, the bake time will just be a bit shorter.
Here are some more great scone recipes for you: