One pot lemon thyme chicken and rice is ready in 30 minutes and filled with flavour. An easy and healthy weeknight meal the whole family will love!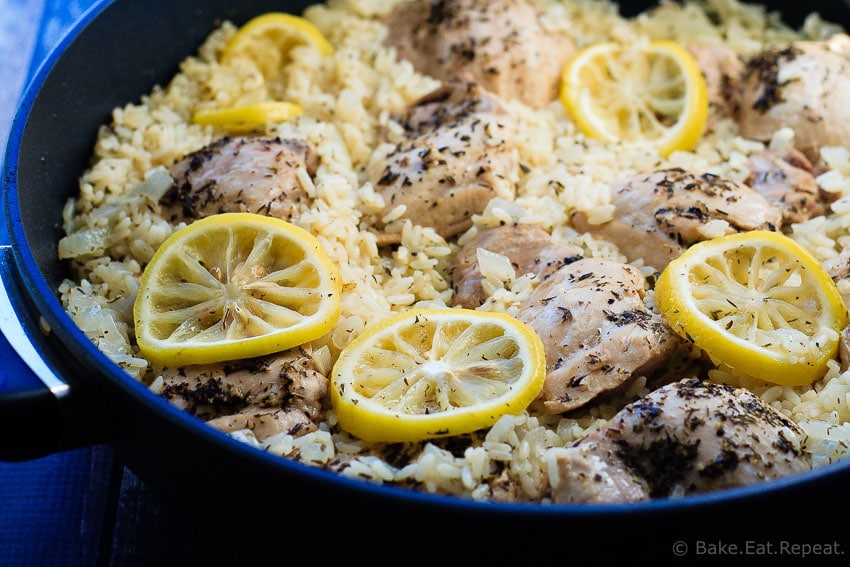 Well, I said that I wouldn't be sharing much other then sweets and baking for all of December, but I guess I lied.  It is 30 minute Thursday after all, so I guess I can still give you one recipe that involves real food and will feed your family.  I suppose we can't live on sugar and butter and chocolate for the entire month.  Unfortunately.
But at least we can do the cooking part quickly with another great list of 30 minute meals from my blogging friends!  We are all busy, especially during the holidays, so quick and easy meals are where it's at.
This one pot lemon thyme chicken and rice is fantastic.  Full of flavour from the lemon and thyme, and so easy to make.  It takes literally 10 minutes of hands on cooking, and then 20 minutes of just letting it cook while you  can go do something else.  Or sit down and do nothing at all.  Whatever.  Supper will be ready without much effort, and everyone will love it.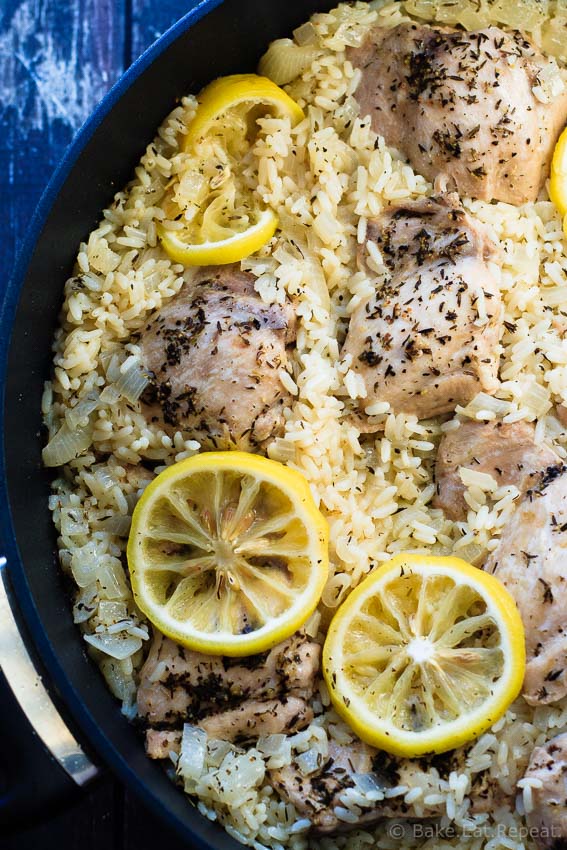 It's simple and plain enough that the kids will eat it, and with enough flavour that the adults will enjoy it too.  And it's only 30 minutes.  That alone makes it a winner right?  We paired it with some simple steamed peas, but I think next time I'll just stir some peas into the pot for the last couple of minutes of cooking to heat them through, because we ended up just mixing them in anyways!
We loved this one pot lemon thyme chicken and rice – healthy, tasty and fast to make.  For more 30 minute meal ideas from my friends, check out the list below the recipe.  Plus, if you want more 30 minute recipes, just click here to find the rest of the 30 Minute Thursday series.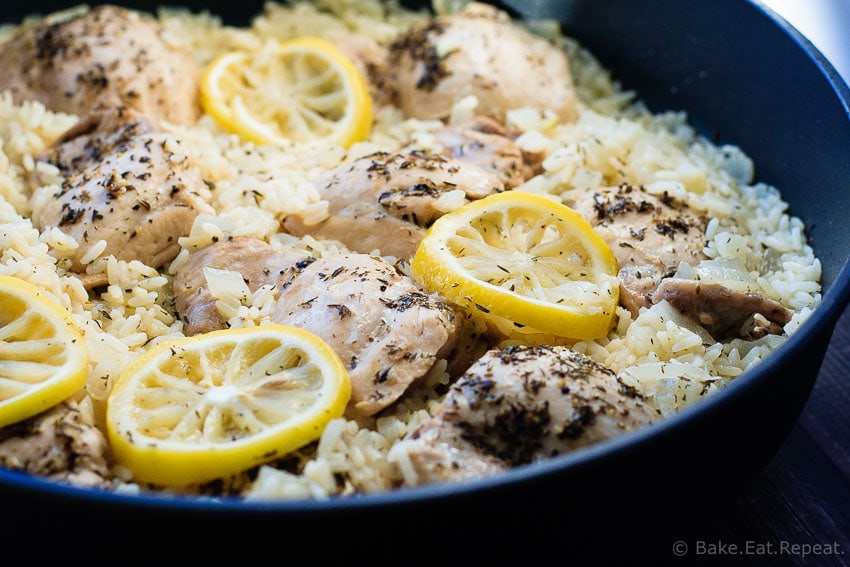 Yield: serves 4
One Pot Lemon Thyme Chicken and Rice
One pot lemon thyme chicken and rice is ready in 30 minutes and filled with flavour. An easy and healthy weeknight meal the whole family will love!

Prep Time 5 minutes

Cook Time 25 minutes

Total Time 30 minutes
Ingredients
2 tablespoons olive oil
2 tablespoons lemon juice
1 teaspoon kosher salt
1 teaspoon black pepper
1 tablespoon dried thyme
8-10 boneless, skinless chicken thighs
1/2 cup diced onion
2 cloves garlic, minced
1 cup long grain white rice
2 cups chicken broth
1 lemon, sliced
Instructions
Heat a large skillet on the stove over medium heat. In a small bowl, combine the olive oil, lemon juice, salt, pepper and thyme.
Pour this over the chicken thighs, turning them to coat them completely. Place the chicken thighs in the hot skillet.
Brown them, turning once to brown both sides, about 2 minutes per side.
Remove the chicken to a plate.
Add the chopped onion and garlic to the skillet and saute for about 1 minute to soften.
Add the rice and continue cooking, stirring, for one minute.
Add the chicken broth and stir to combine.
Return the chicken to the pot on top of the rice. It will be partially submerged in the liquid but not completely.
Spread the lemon slices on top of everything.
Bring the liquid to a boil over medium heat, then reduce the heat to a simmer and cover the skillet.
Cook at a simmer until the rice is tender and the liquid has been absorbed, about 20 minutes.
Notes
I used long grain white rice for this recipe. I think it would work fine with other types of rice, just adjust the liquid accordingly. For the rice I used, the package calls for 2 cups of liquid for 1 cup of rice. If your rice calls for a different amount of liquid, adjust the amount of chicken broth you use.
Recommended Products
This post contains affiliate links. As an Amazon Associate, I may receive a small commission from qualifying purchases.
Nutrition Information:
Yield:
4 servings
Serving Size:
1/4 recipe
Amount Per Serving: Calories: 603Total Fat: 29gSaturated Fat: 8gTrans Fat: 0gUnsaturated Fat: 21gCholesterol: 344mgSodium: 1491mgCarbohydrates: 18gFiber: 2gSugar: 3gProtein: 71g

Nutrition Information is estimated based on ingredients used and may not be exact.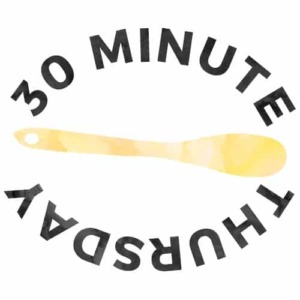 Easy Baked Gnocchi with Tomatoes and Mozzarella from Floating Kitchen
Shrimp Scampi Zoodles from Flying on Jess Fuel
Chicken Parmesan Meatballs with Easy Tomato Sauce from Kristine's Kitchen
Creamy Lemon Spinach One-Pot Pasta from My Sequined Life
One Pan Chicken Fettuccine Alfredo from Pumpkin 'N Spice
One-Pot Parmesan Risotto with Sausage and Kale from Whole and Heavenly Oven