These strawberry scones are soft and buttery and bursting with fresh strawberries. They're super easy to make and everyone will love them!
These soft and buttery strawberry scones are absolutely delicious. Filled with fresh strawberries and topped with a sweet vanilla glaze, they make the best treat with your morning coffee.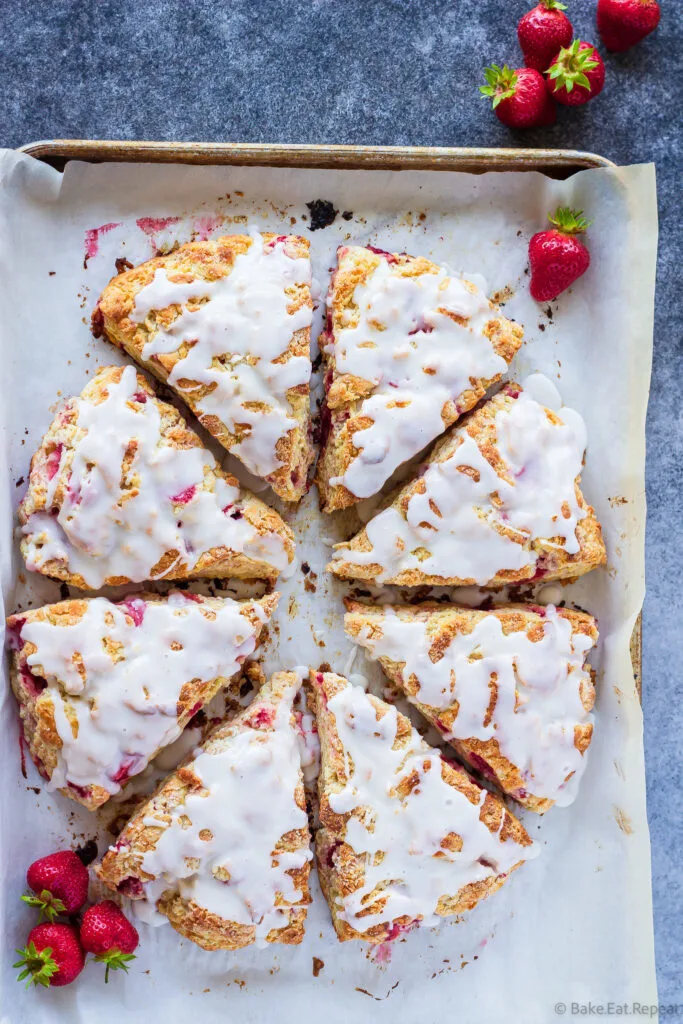 If you've never made homemade scones before, I highly recommend it. They're a thousand times better then the dry scones you get at the coffee shop.
And they are so easy to make. Once you make them from scratch, you will never again want one from the coffee shop. These are so much better!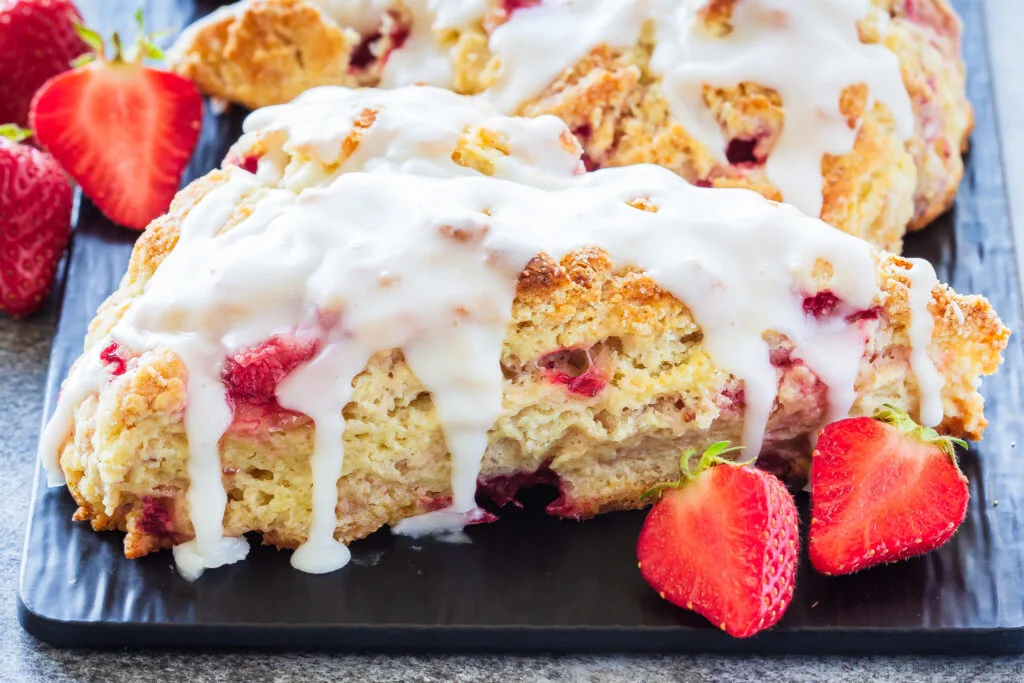 What is the secret to making good scones?
The key is to use really cold butter and cream, and to chill the scones in the freezer for 20 minutes before baking.
When you put them into the oven cold, the bits of butter melt and form little air pockets in the scones. This is what gives them their flaky texture. So don't skip the chilling step!
The other important thing when making scones is to not over work the dough. You will want to keep stirring and kneading it to try and get it to come together completely, but don't.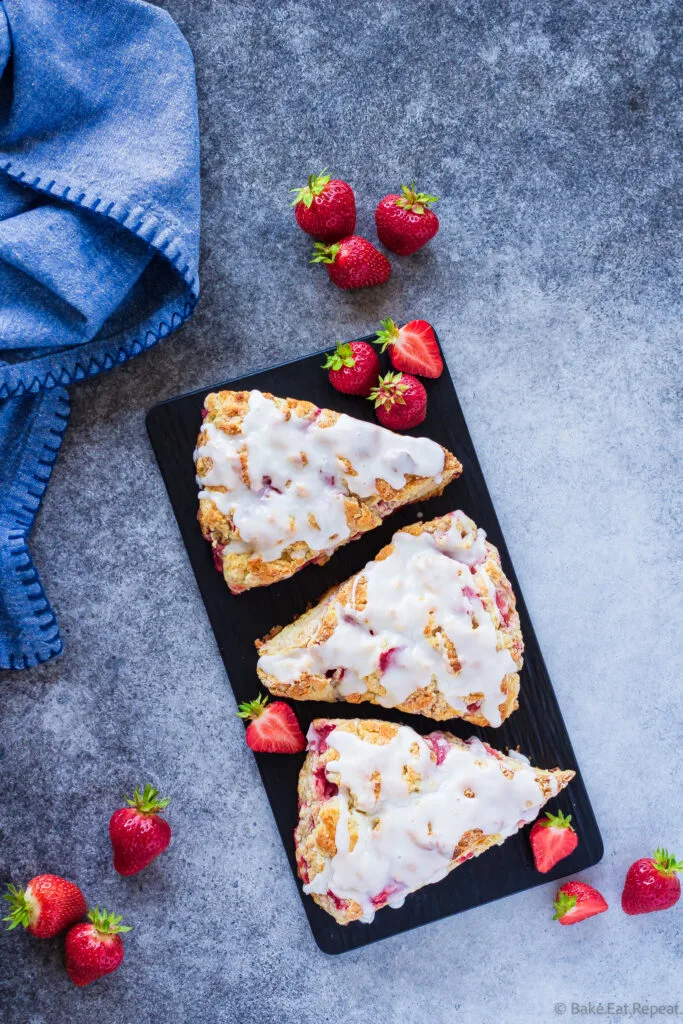 Just stir until the dough starts coming together into some bigger lumps, and then stop and dump it all onto a parchment lined baking sheet.
It will look like a crumbly mess that couldn't possible become scones, but it's fine, I promise. Just press all the bits together into a flat, 8 inch disc, and stick the whole thing in the freezer to chill. I just lift up the parchment paper and slide the whole thing into the freezer on the paper.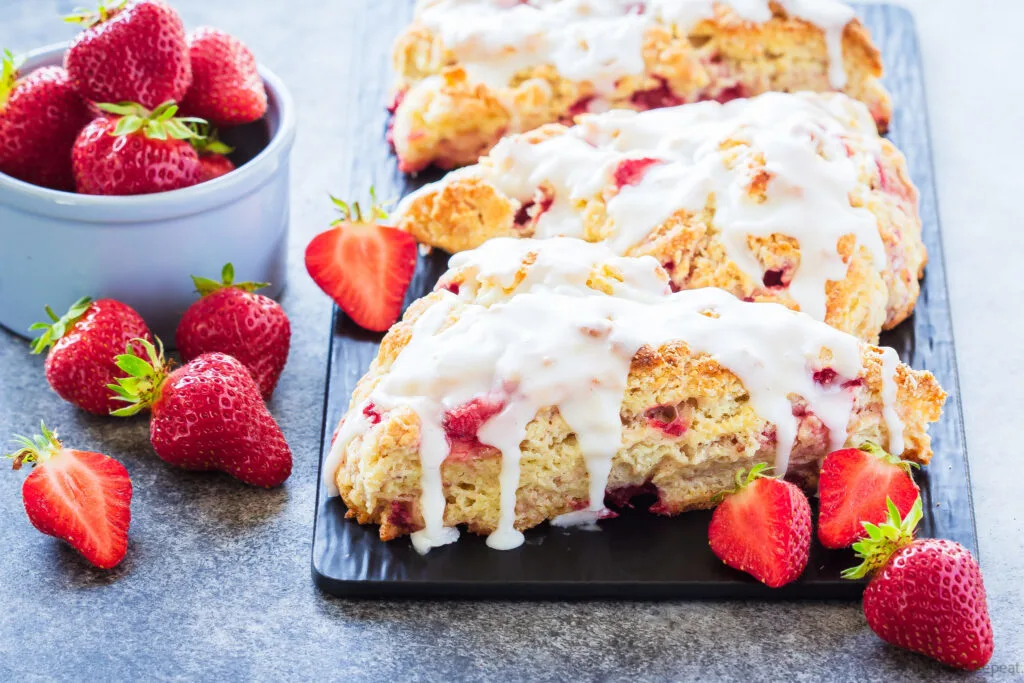 Once the dough chills, you will be able to cut the disc into wedges and separate them a bit. I like to use a pie server to separate the scones so they don't fall apart.
They will still look a bit crumbly, but will mostly stay together now. They will bake up perfectly in the oven, so don't worry about it if they look like they will crumble apart. They'll be fine once they bake.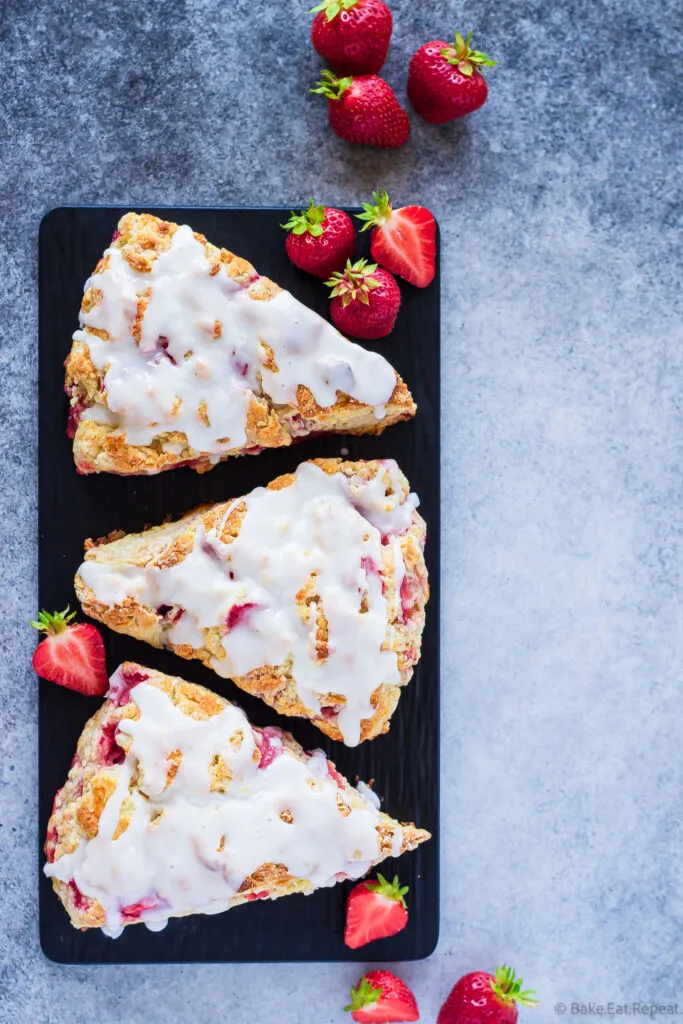 Should strawberry scones touch when baking?
It's a personal preference whether to have the scones touch when baking or not. I usually spread mine out a bit, but if you prefer to keep them closer together you definitely can.
If you keep them pretty close together, they will rise a bit higher as they can't spread out. They will also have softer sides. If you spread them out more on the baking sheet, the sides will be crisper. I prefer the edges of my scones to be crisp so I always spread mine out.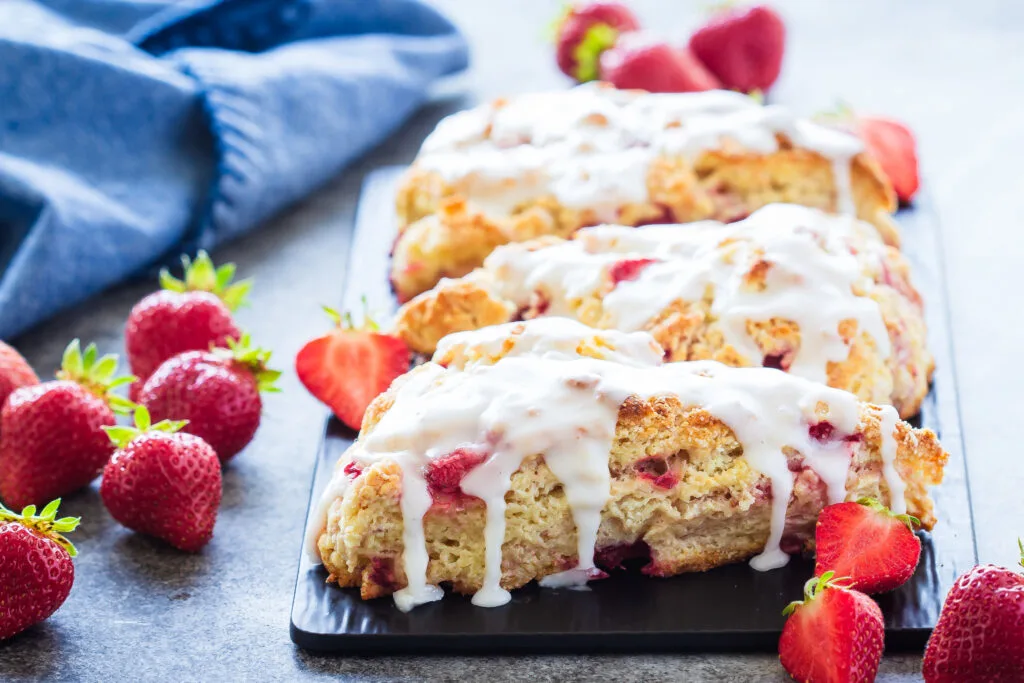 How to make Strawberry Scones:
Make sure to use cold butter, cold cream, and chill the scones before baking them. It does make a difference in the rise and the texture of the scones.
Use heavy whipping cream, which is 35% milk fat. Coffee cream, or half and half will not work as well in this recipe.
I used fresh strawberries. You could likely use frozen strawberries instead, but if you do keep them frozen, don't thaw them first. You will likely end up with some colour bleeding through the dough if you use frozen berries though.
Here are some more great scone recipes for you: