These pumpkin cheesecake brownies make the perfect fall treat! Chewy, fudgy brownies with creamy pumpkin cheesecake swirled into them – they disappeared fast here!
So the kids and I loved these fall flavoured, cream cheese brownies! Chewy chocolaty brownies with pumpkin spice cheesecake swirled into them?
What's not to love? The four of us demolished them quite quickly.
Also, I made 3 batches before I was satisfied, and since no one needs that many cheesecake brownies, two of those batches got sent to my husband's office, where I'm told they disappeared just as fast.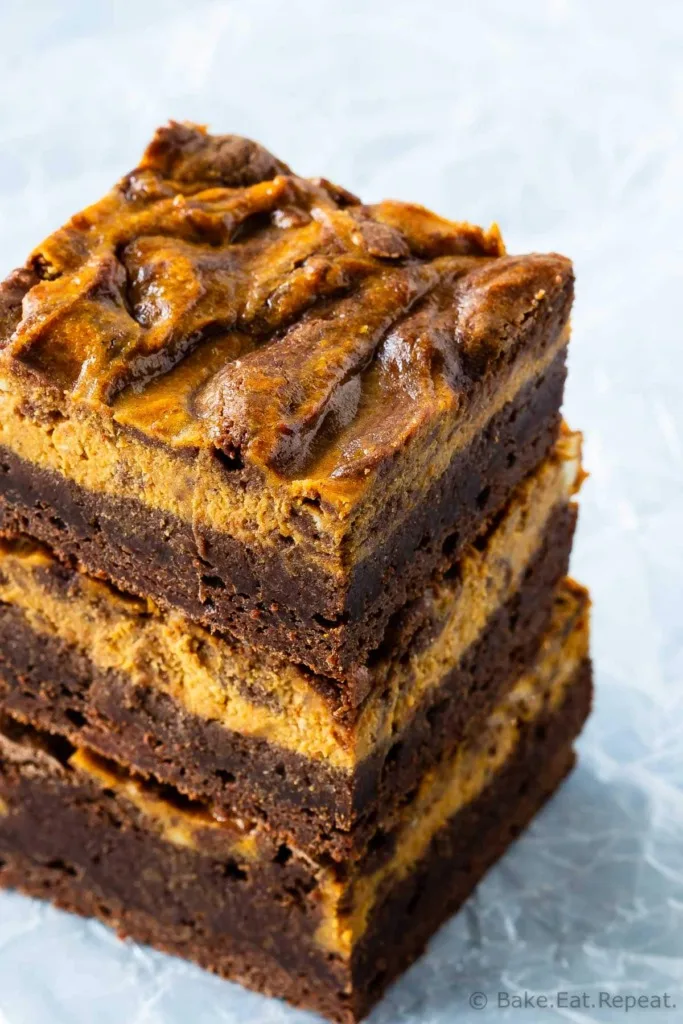 All that to say, that I think my husband is crazy for not even trying them. He has this thing with pumpkin spice and has stopped even trying anything I make that involves pumpkin.
I don't really understand – pumpkin spice is amazing and I want to make all the pumpkin things every single fall.
Oh well, he doesn't know what he's missing, because these pumpkin cheesecake brownies were amazing. But they're all gone now.
They didn't last long.
What makes brownies chewy?
To make sure your brownies are fudgy and chewy, you basically want to undercook the brownies a little bit. They will continue to set up as they cool down, so if you bake them until they are completely done, they will end up being dry.
Bake them until the edges are puffed and the middle is just set.
A toothpick inserted into the centre of the brownies should come out with some moist crumbs on it, but not wet batter or completely clean.
I find for these pumpkin cheesecake brownies, I needed to bake them for 55 minutes, but ovens do vary a bit, so test at 50 minutes, but they may take up to 60 minutes.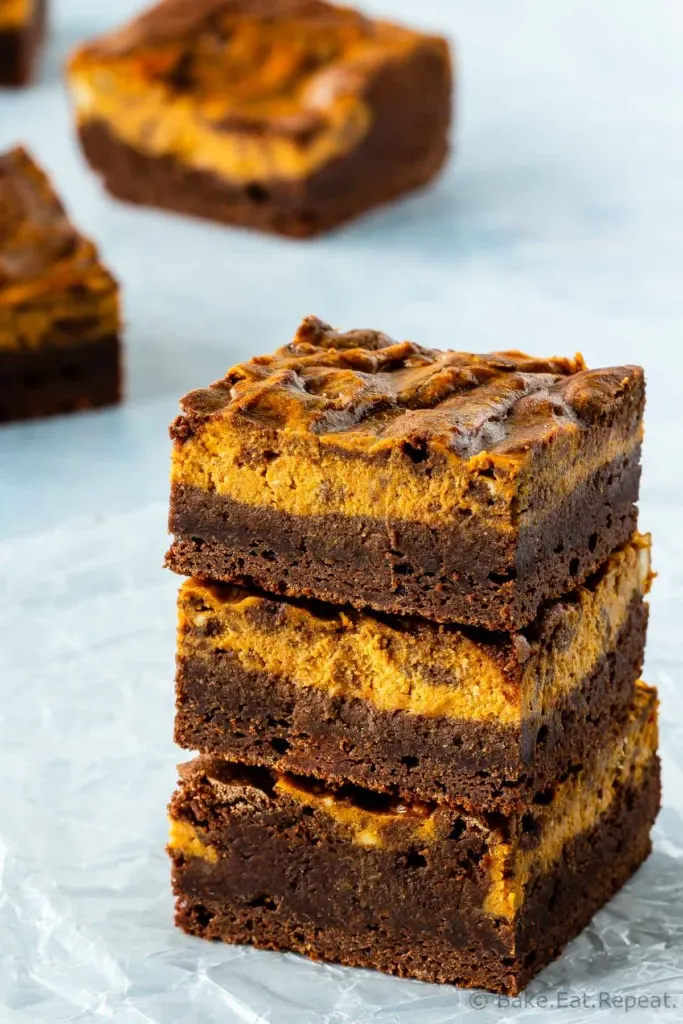 Do I need to refrigerate cheesecake brownies?
I always refrigerate cheesecake brownies. With the cream cheese in them, it's safer to store them in the refrigerator.
Plus, I find cheesecake brownies taste better cold anyways!
Once they have cooled completely, cover them tightly and store them in the refrigerator for up to five days.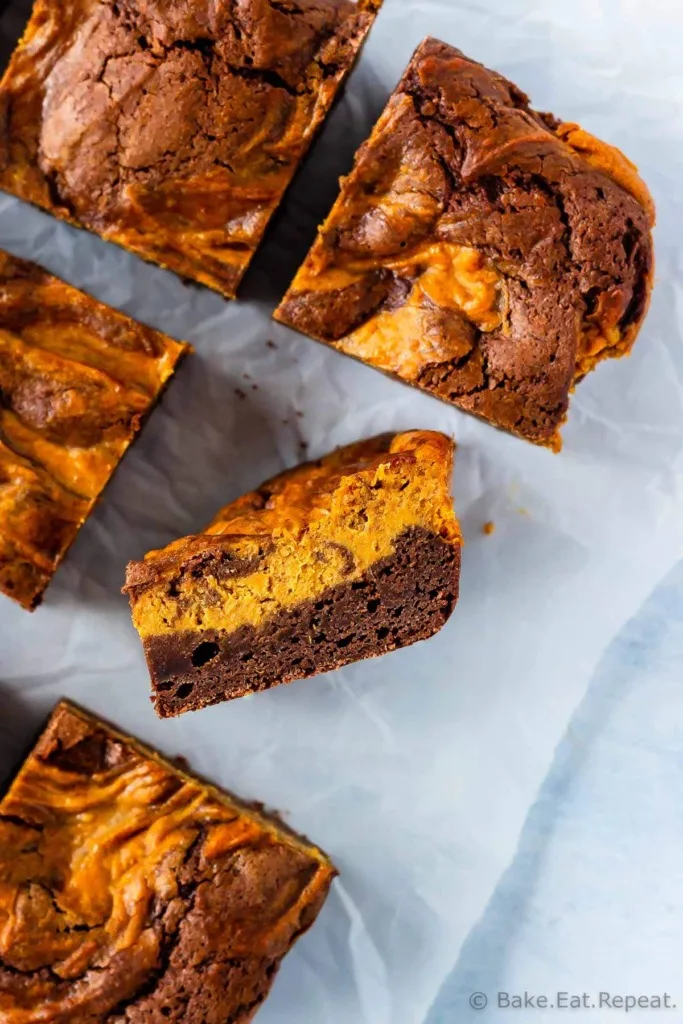 How long should you wait before cutting brownies?
Wait until your brownies are completely cooled and chill them for an hour to make them easier to cut.
For these pumpkin cheesecake brownies, I let them cool in the pan on a wire rack for about 10 minutes. Then lift them out of the pan with the foil sling and place that on the wire rack for the brownies to cool completely.
Once they've cooled place them in the refrigerator for at least an hour before cutting them into squares. Store them in the refrigerator, tightly wrapped or covered, for up to five days.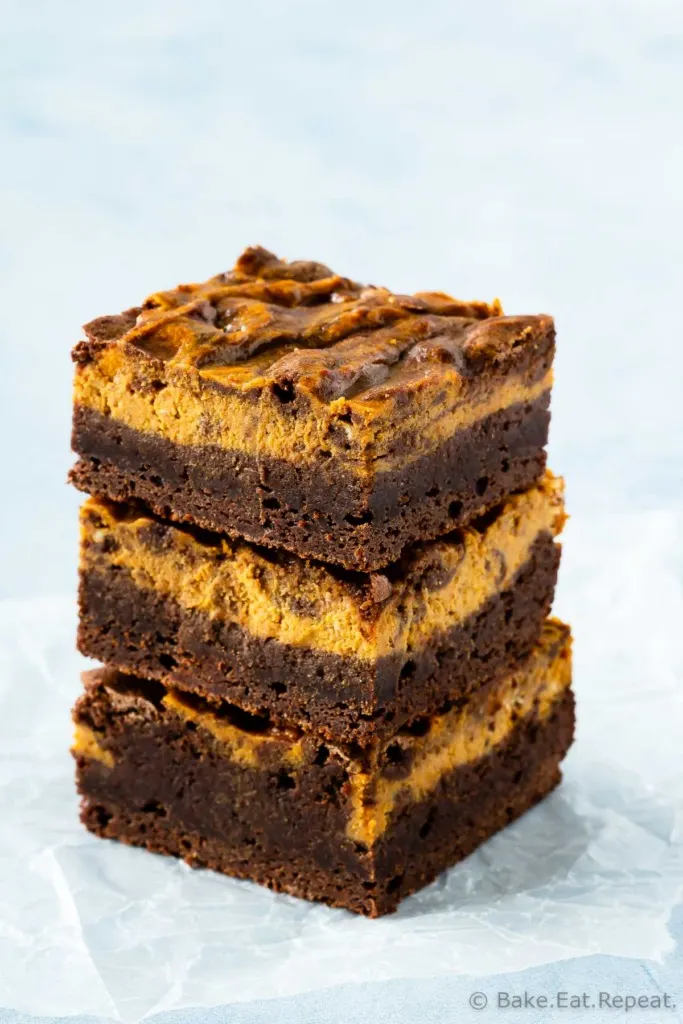 How to make Pumpkin Cheesecake Brownies:
Making a foil sling for your baking dish and spraying it with non-stick cooking spray is the best way to be able to get these brownies out of the pan easily after they're baked. You could just spray the pan with cooking spray if you like and skip the foil, it will just be harder to get perfectly cut brownies then!
These cream cheese brownies are very easy to make. The most difficult part is swirling the cheesecake and brownie batters together in a way that looks pretty. The trick is to not overdo it, because the two batters will mix together quite easily, and then you lose the swirling effect. Smooth the top of the batter once it's all in the pan, do a few swirls with a knife through the top layer to mix the two, and then leave it alone.
Store these cream cheese brownies, tightly covered or wrapped individually, in the refrigerator for up to five days.
Here are some more great pumpkin recipes for you:
I've also shared this Pumpkin Cheesecake Brownies recipe over on Food Fanatic.