This Instant Pot risotto is so quick and easy to make, and tastes delicious. Amazing, creamy risotto without any effort at all!
If you love risotto, this recipe is for you! This Instant Pot risotto is creamy and delicious, and takes next to no effort at all to make. If you know how to turn on an Instant Pot, you can make this risotto. It's SO easy.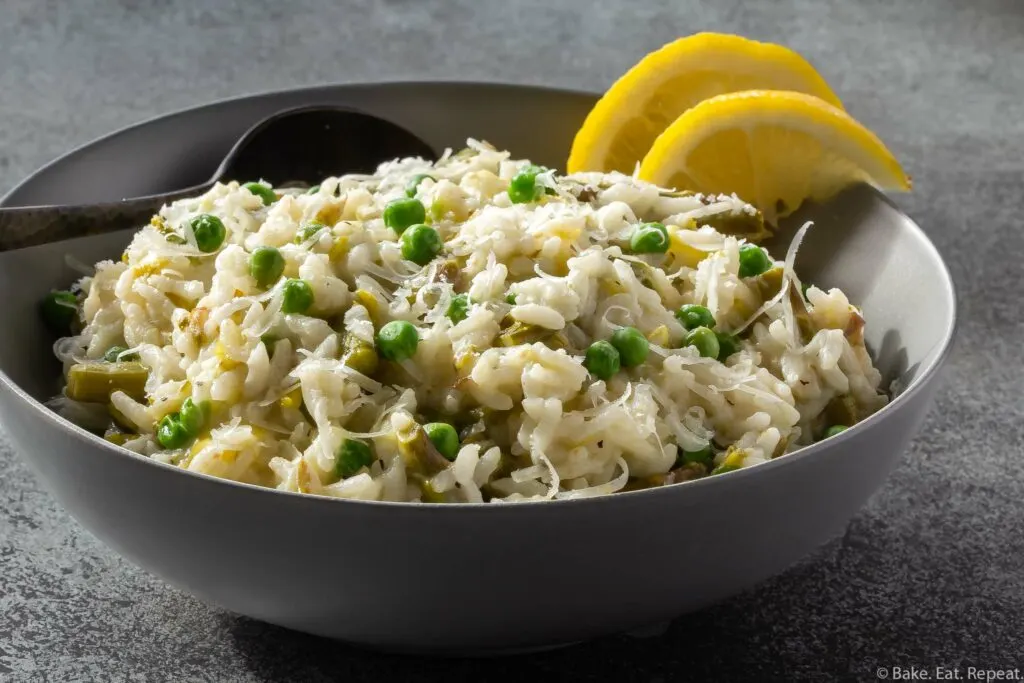 I've never actually made risotto on the stove. The constant attention it needs while cooking it the traditional way prevented me from wanting to make it, even though I love risotto.
But making risotto in the pressure cooker is so hands off and easy, that I will be making it on a regular basis now. It's absolutely delicious, and only takes about 15-20 minutes to make.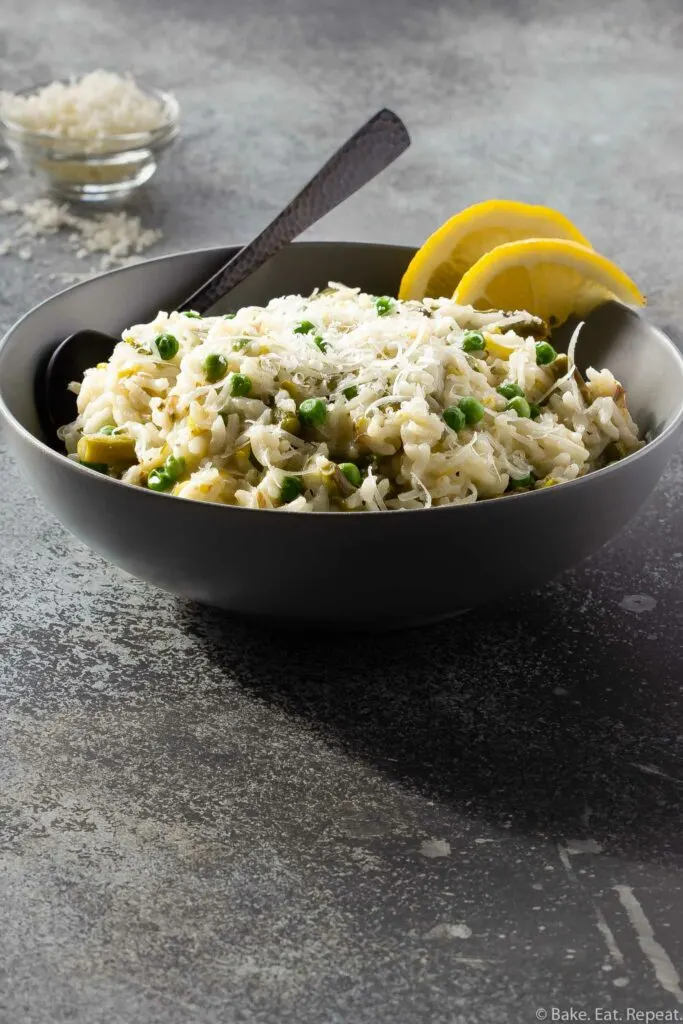 And that includes the time it takes for the Instant Pot to come to pressure. Only about 5 minutes of that cook time is hands on time, chopping up a few vegetables and sauteeing them.
If you haven't tried the Instant Pot method for cooking risotto yet, you need to try this recipe. You'll love it!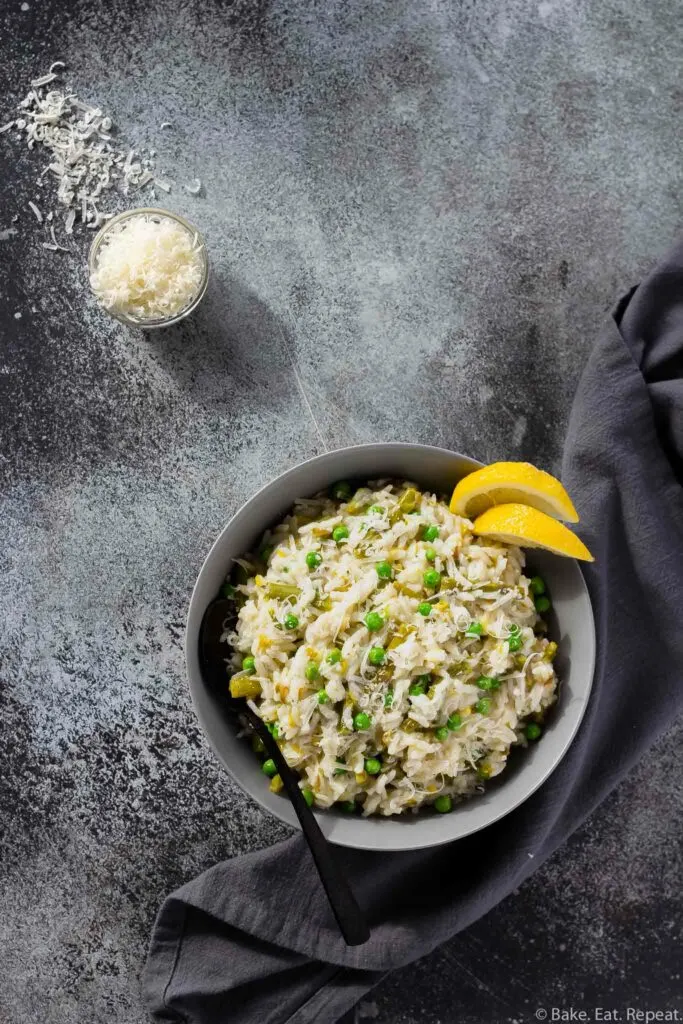 Should you rinse arborio rice?
Don't rinse the arborio rice before using it to make risotto. The starches on the rice help to thicken the risotto and contribute to the creamy texture.
If you rinse the rice before using it, the texture of your risotto won't be the same!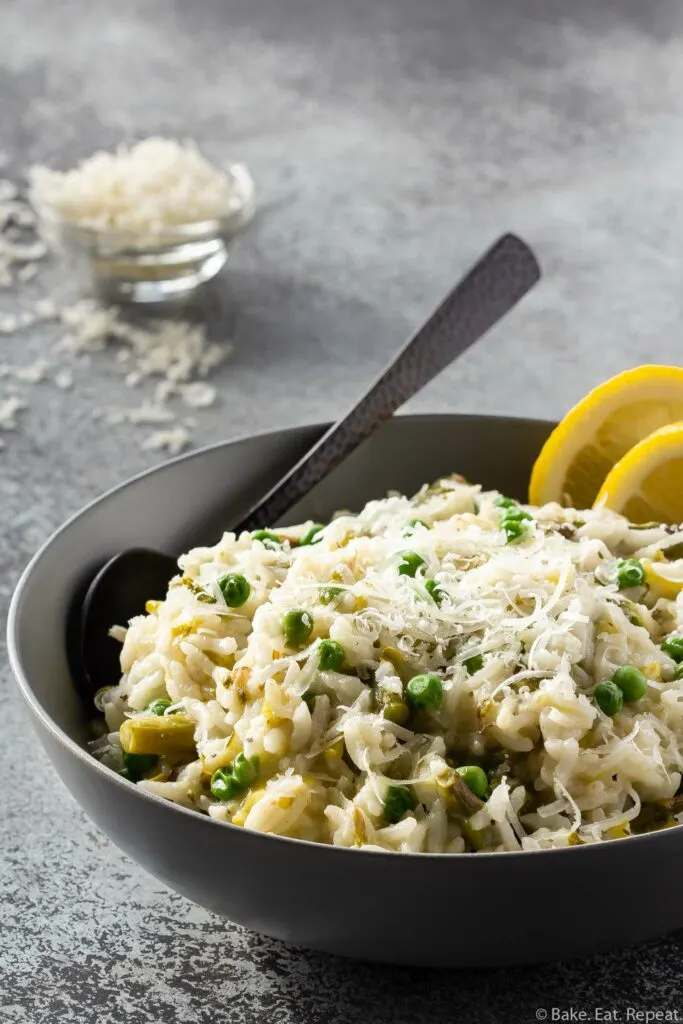 What kind of liquid should I use to make Instant Pot risotto?
You need 4 cups of water to cook 2 cups of arborio rice in the Instant Pot. For this recipe I like to use either vegetable broth or chicken broth to cook the rice.
Either liquid will work fine in this risotto recipe, so use your preference.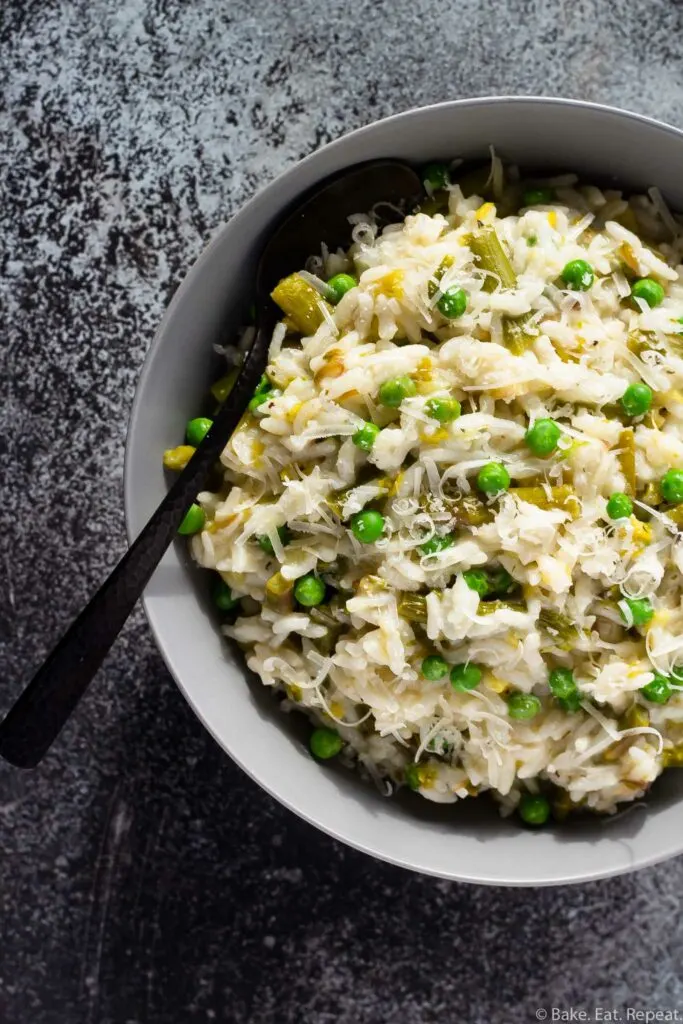 How to make Instant Pot Risotto:
Adding the asparagus to the Instant Pot for the full 5 minutes of pressure cooking time (as I wrote it in the recipe) does result in very well done asparagus. It tastes good, but if you don't like the texture of really well done asparagus, I would recommend steaming the asparagus separately and adding it with the peas instead. You can also add it after the risotto is done cooking, replace the lid on the Instant Pot, and let it steam in the pressure cooker with the residual heat from cooking for 10-15 minutes, for asparagus that's still a bit on the crunchy side.
If your risotto still looks soupy when you open the lid after pressure cooking, that's okay. Stir in the peas and parmesan, and it will thicken up after a minute or so of stirring while the cheese melts. If it still looks soupy, you can use the saute function for a minute to cook off any excess liquid.
The vegetables in this risotto are very adaptable. I've made it with diced onion instead of leeks, and mushrooms instead of (and in addition to) the asparagus and it was delicious with any of those options. Use what you like!
This recipe makes a LOT of risotto. If you're serving it as a side dish, you will likely want to halve the recipe. The cook times remain the same.
Here are some more great side dishes for you: