These easy chocolate chip muffins are light and fluffy and mix up in just minutes. They're so easy to make and everyone loves them!
We go through a lot of muffins in my house. I make a batch and they're almost gone before they've even cooled completely. It's a little ridiculous, actually.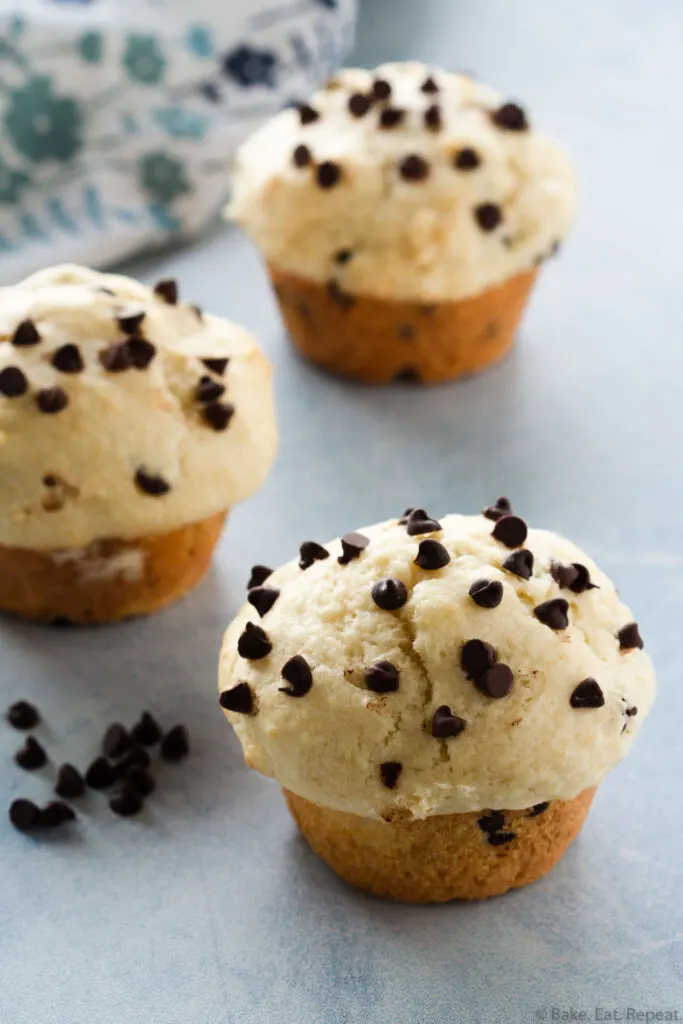 These easy chocolate chip muffins were hugely popular with my family. I made 3 batches in 2 days while I was testing this recipe. So, since there were 36 muffins, I decided to freeze some for later. I think the kids pulled those out of the freezer 2 days later. I'm not even sure how they managed to eat the other 24 muffins that quickly, but they like muffins I suppose.
All that to say, these easy chocolate chip muffins are delicious. They're light and fluffy bakery-style muffins that mix up in minutes. You can have these muffins ready for the oven before it has even finished preheating.
They're that quick and easy to make. Perfect for a mid-morning snack with your coffee!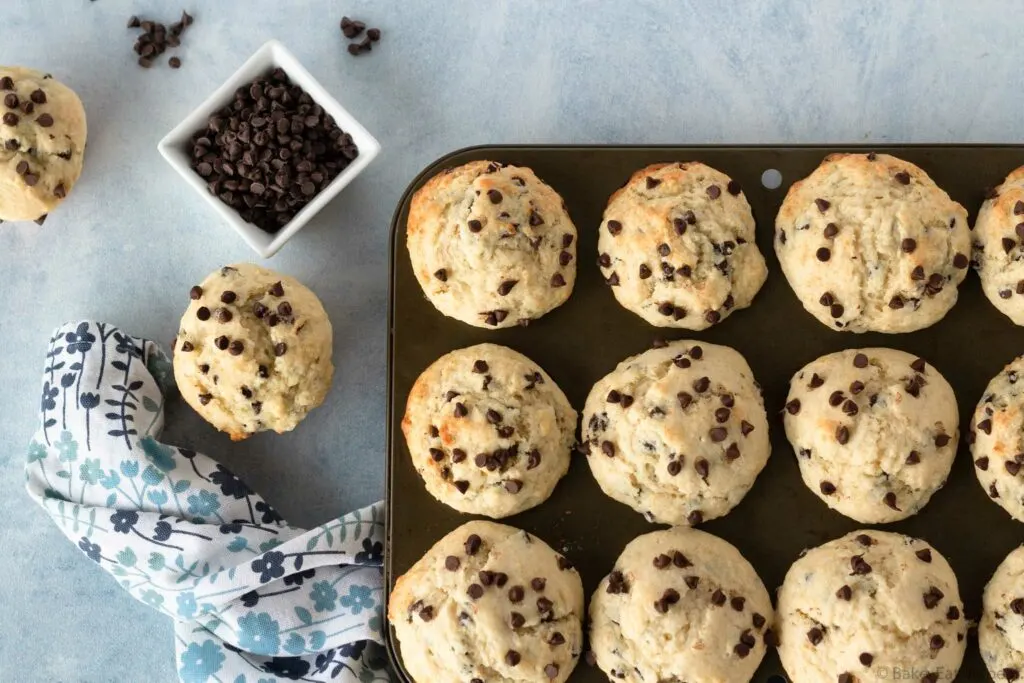 What happens if you stir muffins too much?
When making muffins, be sure to only stir the batter just until the ingredients are combined.
If you stir the batter too much you may end up with dense muffins, rather than light and fluffy ones. You may also end up with some tunnels forming on the inside of the muffins as they're baking if you over-mix the batter.
In order to get soft and fluffy muffins, you want to stir the batter as little as possible. You only need to stir just until there are no dry bits of flour visible. The batter will still be lumpy, but that's okay.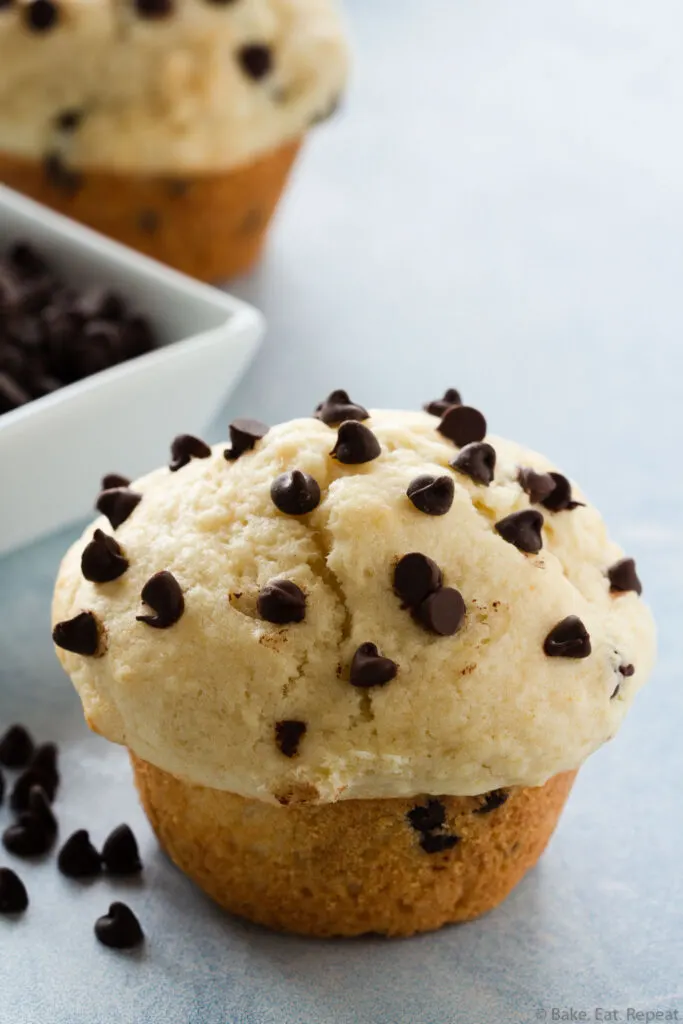 What kind of chocolate chips should I use in these easy chocolate chip muffins?
I prefer to use mini semi-sweet chocolate chips in these muffins. But you can use any type of chocolate chip you like.
I've also made these with regular sized semi-sweet chocolate chips and that works well too. We prefer the mini chips for these muffins as the smaller size gives a better distribution in the batter. With mini chocolate chips you get chocolate in every bite!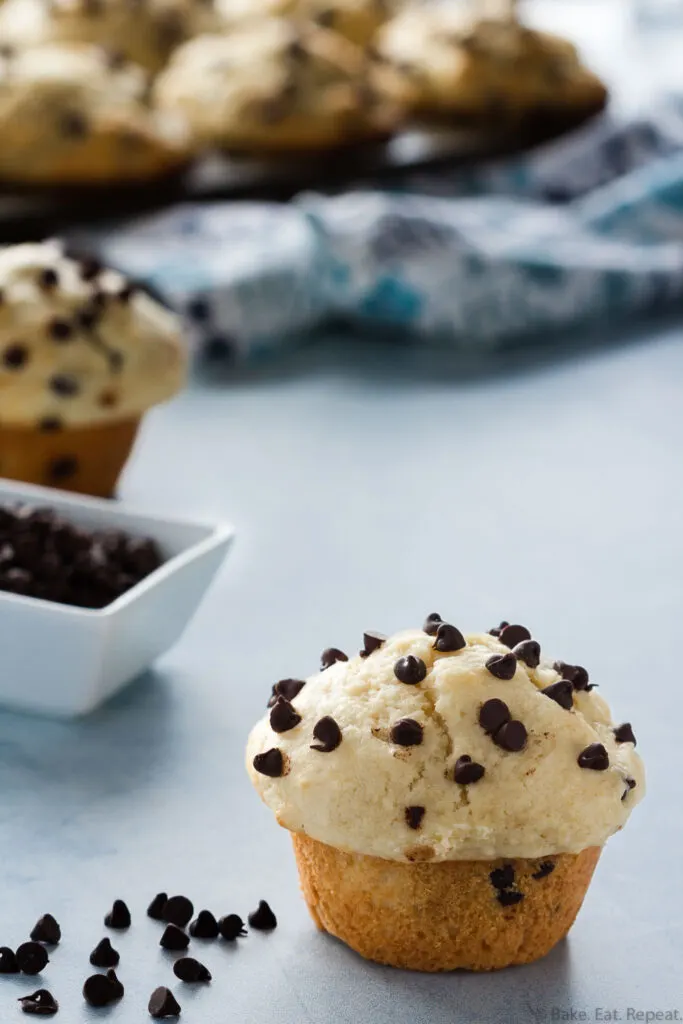 What is the best way to store muffins?
I like to store muffins in a loosely covered container at room temperature. Keeping them covered loosely instead of in an airtight container, keeps the muffins fresh, but allowing some air to get at them prevents them from getting soft and sticky.
They last for about 3 days when you store them like this. If you'd like them to last longer than this, you will want to store them in an airtight container instead.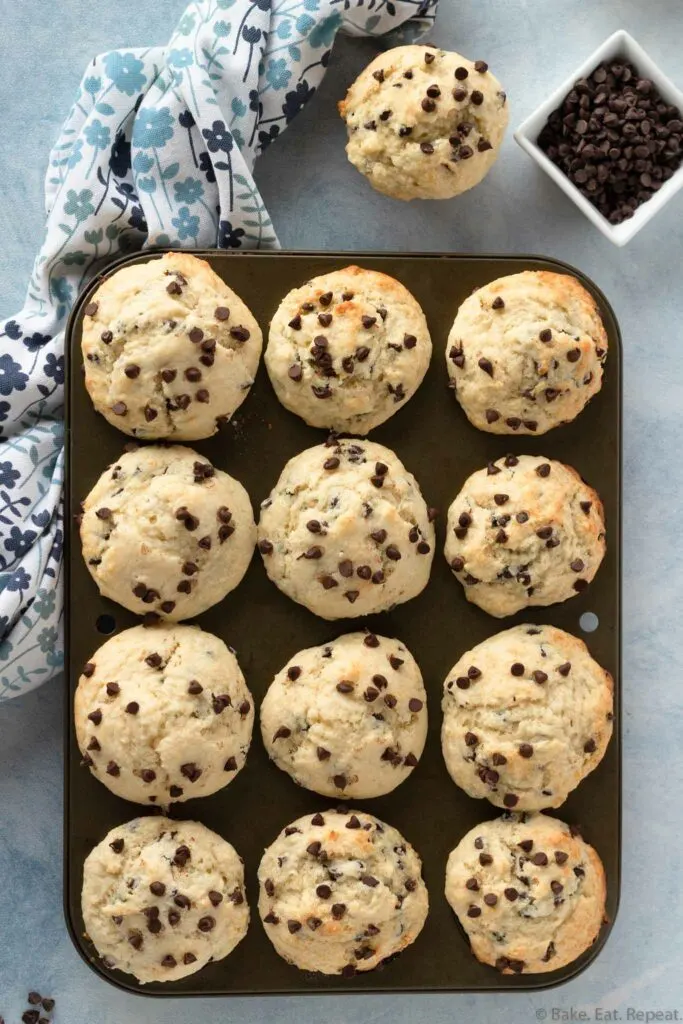 However, the tops of the muffins will get sticky when stored like this. It helps if you place a layer of paper towels both underneath and on top of the muffins to absorb some of the moisture.
If you want to refresh the muffins to eliminate the sticky tops, simply place them in a 350F oven for about 5 minutes. This will re-crisp the tops and help them taste fresh from the oven again.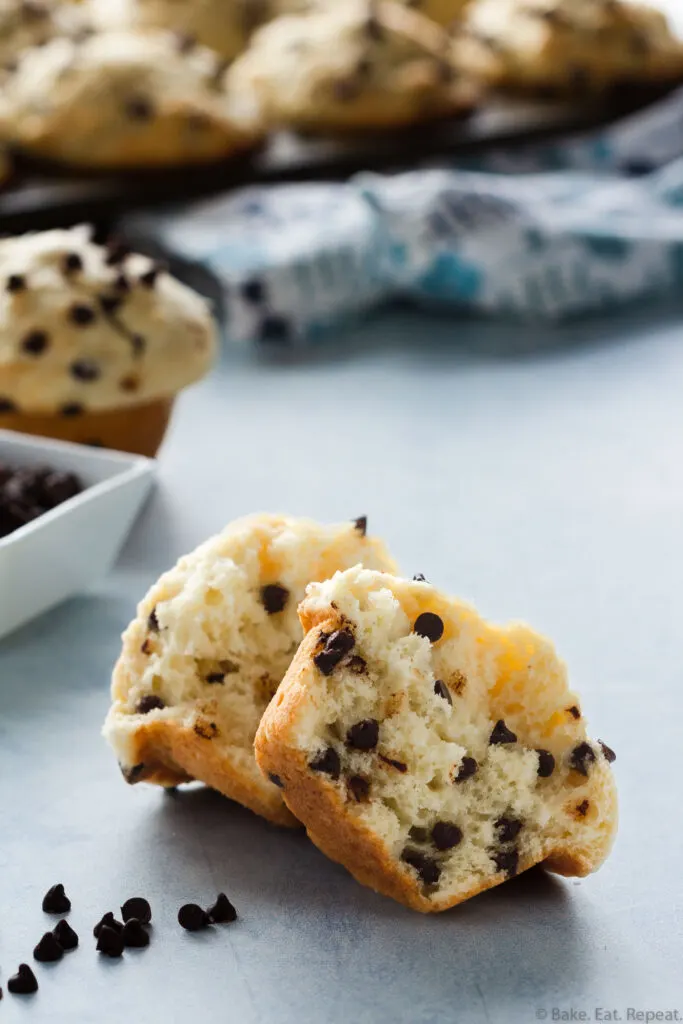 How to make Easy Chocolate Chip Muffins:
Make sure not to over-mix the muffin batter, or you may end up with dense muffins.
Let the muffins cool in the muffin tin for 5-10 minutes before removing them to a wire rack to cool completely.
These muffins keep well at room temperature for 3-5 days, or can be frozen for up to 3 months. Make sure to let them cool completely before freezing.
Here are some more great muffin recipes for you: