Instant Pot frozen ground beef is so easy and convenient, and completely saves dinner on those nights you forget to defrost!
I think the ability to cook frozen meat in the Instant Pot is my absolute favourite part about it.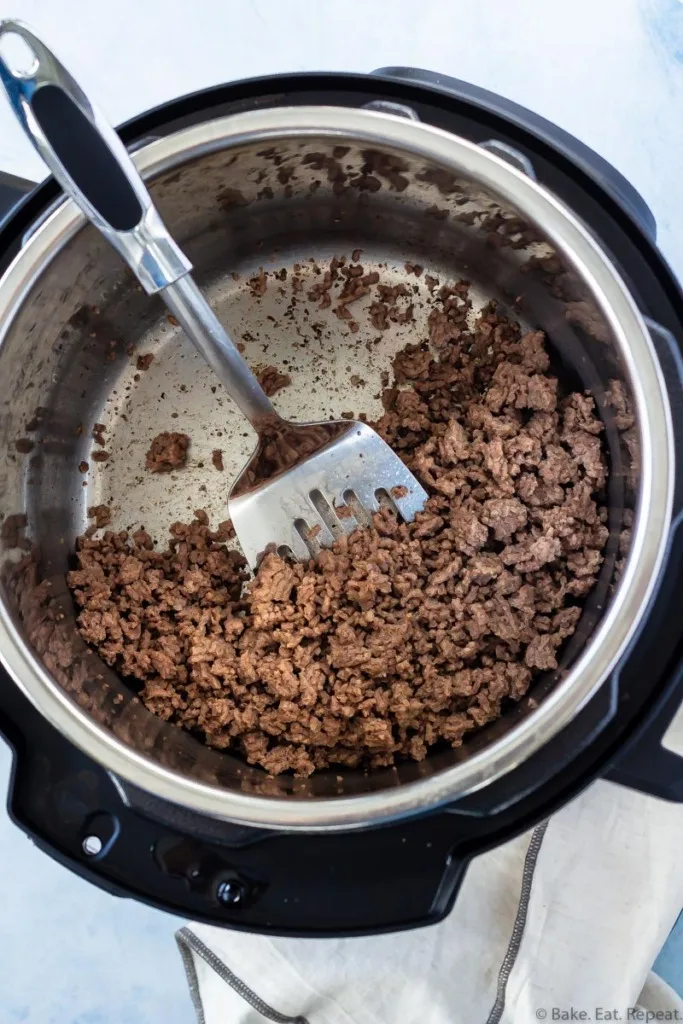 I never remember to take meat out to thaw. I'm terrible at it. Even when I menu plan.
Just can't seem to always remember to take it out the day before.
And then I'm annoyed when I go to cook dinner and realize that my meat is still frozen solid and I end up having to microwave it. Which never works well.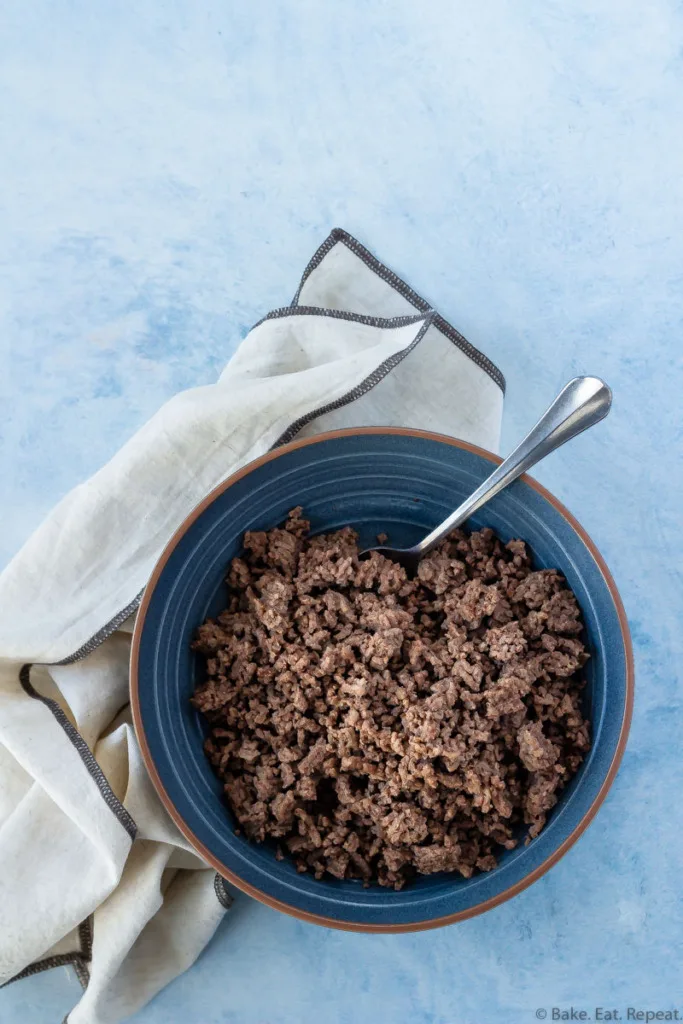 So the Instant Pot is a lifesaver. Or a dinner time saver at any rate.
Being able to pull a block of frozen ground beef out and have it cooked in less than a half hour is fantastic.
If you haven't tried cooking frozen ground beef in the Instant Pot yet, you definitely need to!
It's so easy, and so convenient!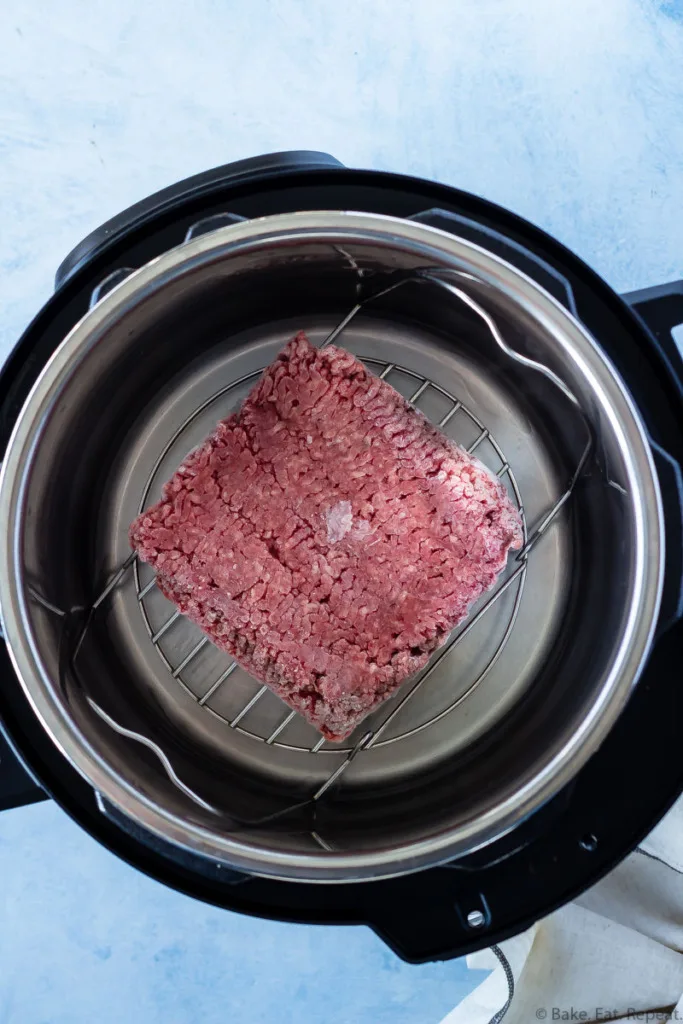 How long does it take to cook frozen meat in the Instant Pot?
How long it takes to cook frozen meat in the Instant Pot depends on the meat.
I have found that if you are cooking meat that is included in the cooking time chart at the back of the Instant Pot recipe booklet (comes with the Instant Pot), it's quite easy to adjust the time for frozen meat.
Usually frozen meat will take about 1.5 times as long as fresh meat to cook. So for instance, if you're cooking chicken breast they take 8 minutes to cook at high pressure if they're fresh, and 12 minutes if they're frozen.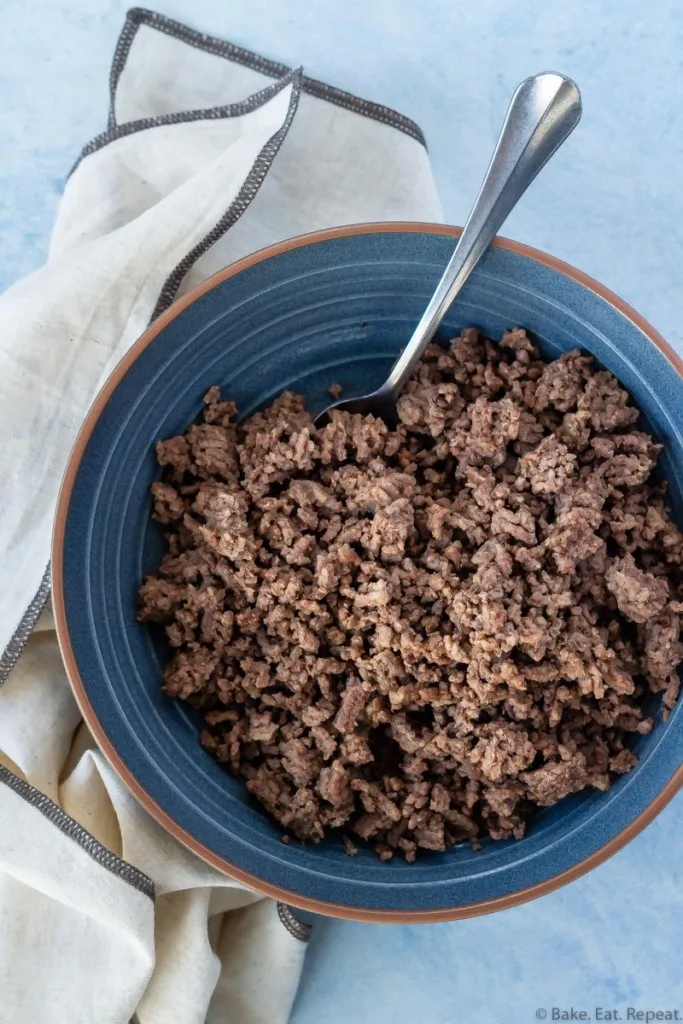 Can you cook frozen ground beef in the Instant Pot?
You can cook frozen ground beef in the Instant Pot, which is fantastic since it doesn't thaw very evenly in the microwave, and who actually remembers to take meat out the day before to thaw?
Not me, that's for sure.
Cooking frozen ground beef in the Instant Pot takes about 20 minutes. If your blocks of ground beef are really thick it will likely take a bit longer than that.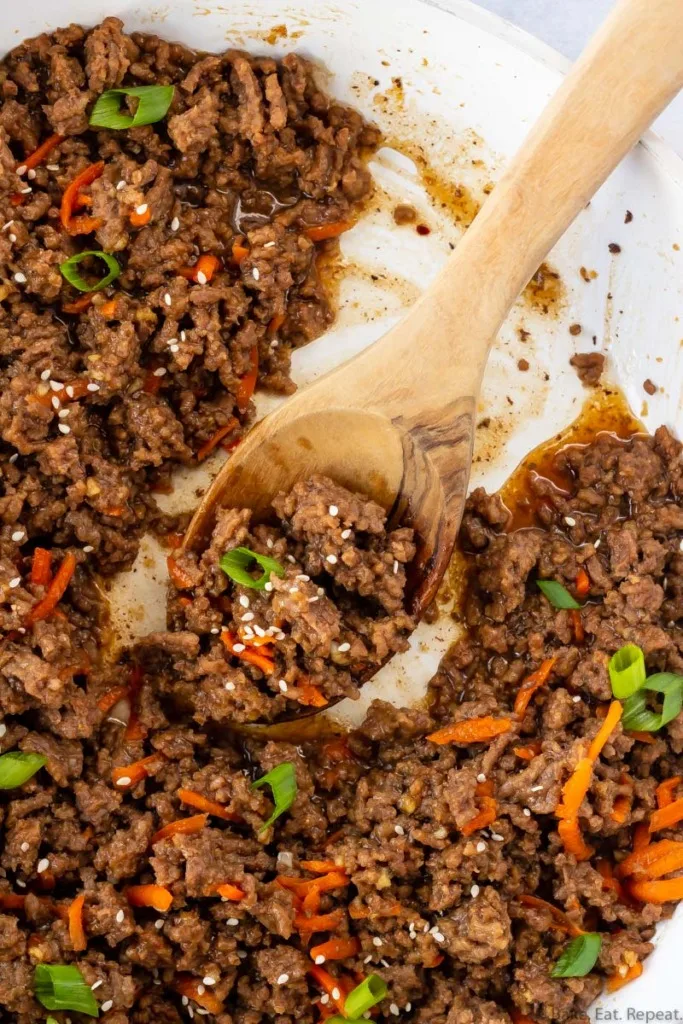 I freeze my ground beef in flat, 1-1.5 inch thick blocks and it takes 20 minutes to cook almost all the way through in the Instant Pot.
You can add a few more minutes to get it completely cooked through, but I find it's easier to crumble and break up if it's still a bit pink in the middle.
It only takes a couple minutes with the saute function to break it up and finish cooking it after the pressure cooking cycle is complete.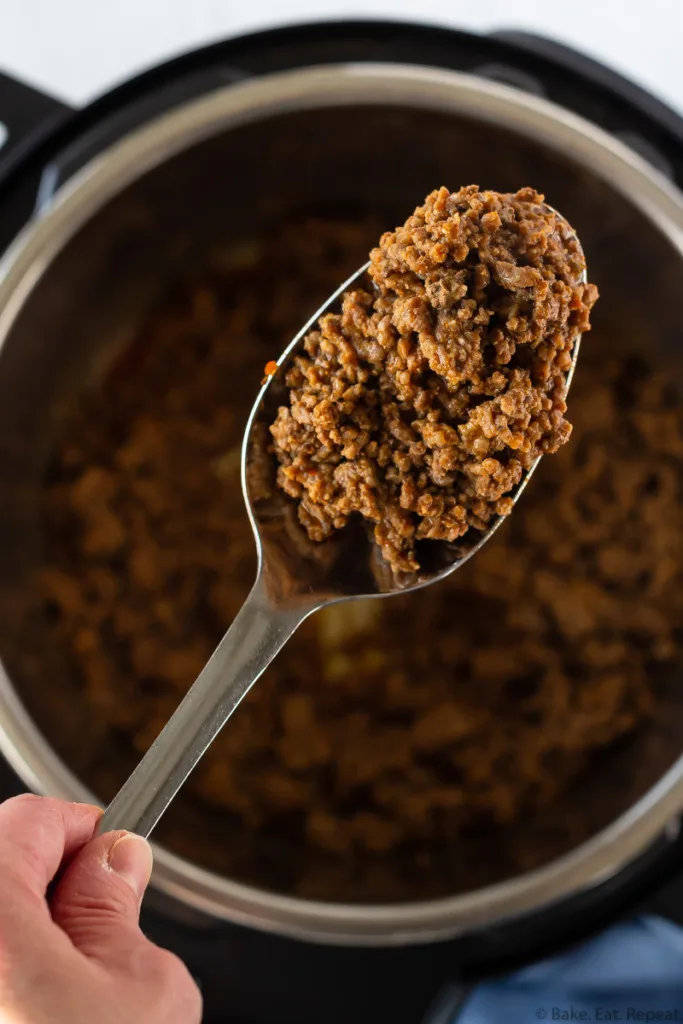 How to make Instant Pot Frozen Ground Beef:
The size/shape of your frozen ground beef blocks will change the time needed to cook it in the Instant Pot. Blocks that are 1-1.5 inches thick will take about 20 minutes. If they're 2-3 inches thick, add 3-5 minutes to the cook time.
This recipe will have your ground beef almost, but not quite, cooked through. Finish cooking it with the saute function while you break up the block of beef, before continuing with your recipe.
Make sure not to discard the Instant Pot liquid down the drain as the beef fat will be part of it after pressure cooking. If you refrigerate it for a few hours, the fat will solidify and can be easily scooped off and discarded.
Here are some great recipes to use your cooked ground beef in: