This simple fruit and nut crockpot candy is so easy to make. Chocolate candy filled with salted almonds and sweet California Raisins – it's delicious!
Disclaimer: This post has been sponsored by California Raisins and I have been compensated monetarily for my time. All opinions are, as always, my own.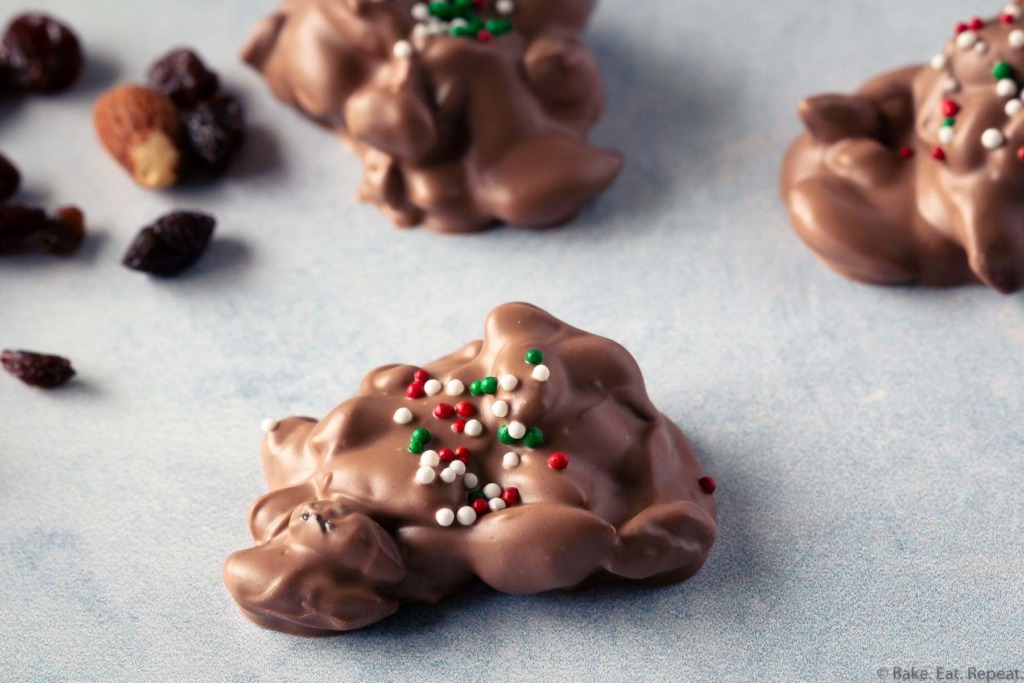 Have you ever made crockpot candy? I never had, but I'm pretty sure it will be a staple here every Christmas from now on! It is so easy to make, and so tasty!
Plus, you can make it ahead of time and freeze it, so you have it on hand during the holidays.
There are a lot of different crockpot candy recipes out there, the most common being chocolate and peanut clusters.
For my version I went with chocolate, almond, and raisin clusters, and they are delicious!
The combination of roasted, salted almonds with creamy chocolate and naturally sweet California Raisins is amazing.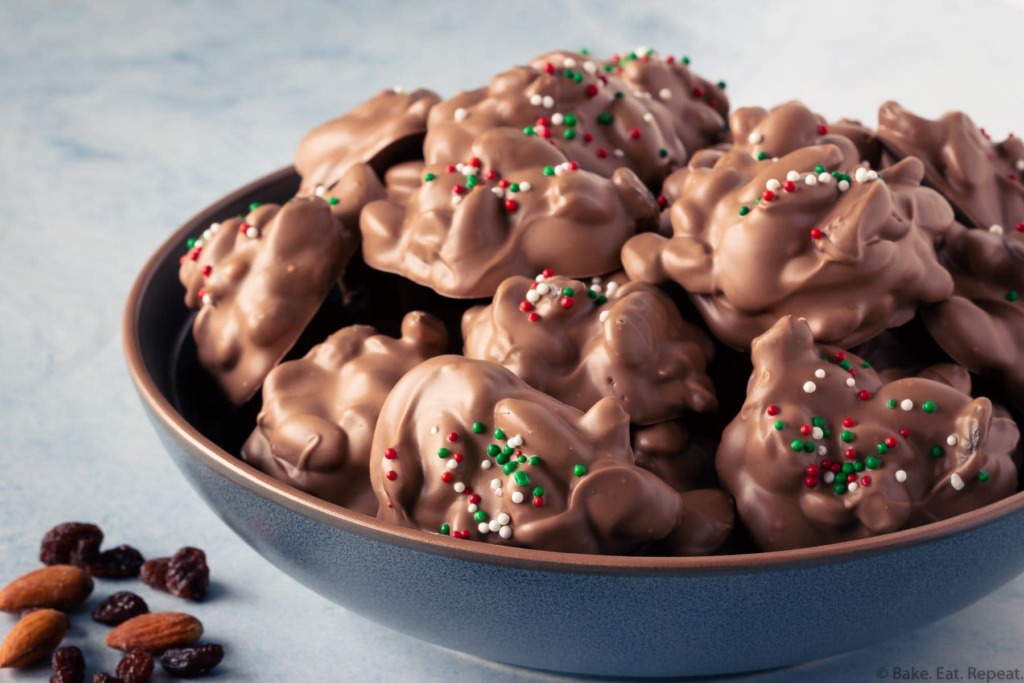 The best raisins in the world come from California, and they are definitely the ones I choose whenever I'm making a treat involving raisins.
We loved this crockpot candy! And it would not be as tasty if it didn't include California Raisins!
To learn more about California Raisins, visit californiaraisins.ca.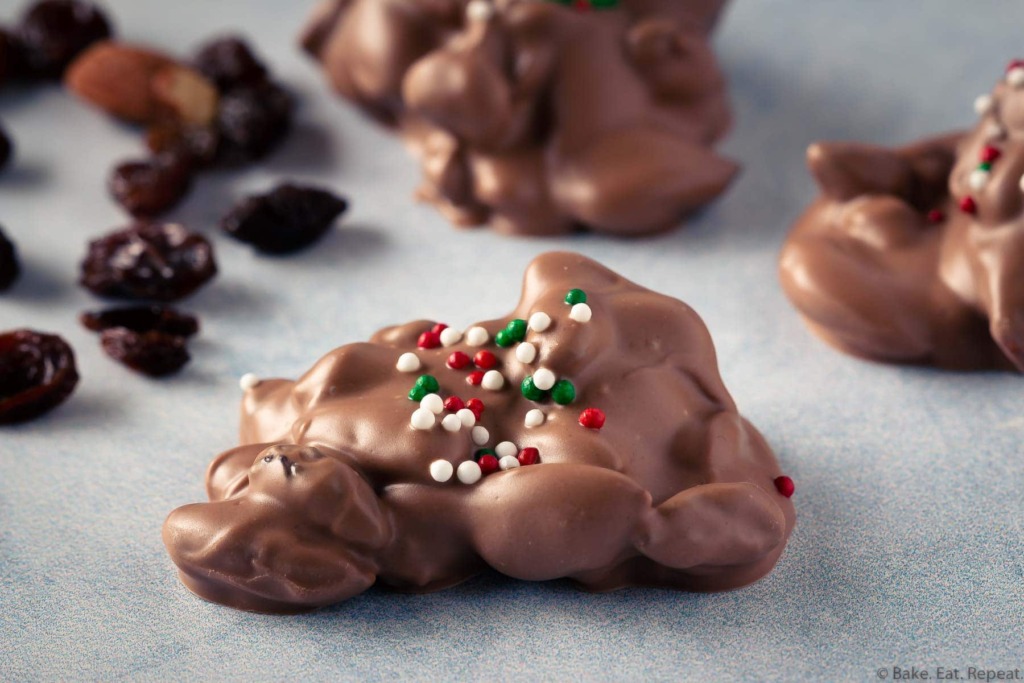 Can you use a slow cooker to melt chocolate?
Slow cookers are perfect for melting chocolate as they keep a low even heat.
Every slow cooker is different in how hot it gets though, so make sure to keep an eye on your candy, so the chocolate doesn't burn.
Putting the dipping wafers (or candy melts) on the bottom of the slow cooker with the chocolate chips and almonds on top, helps to prevent the chocolate from burning as the dipping wafers can be heated a lot more than chocolate can without burning.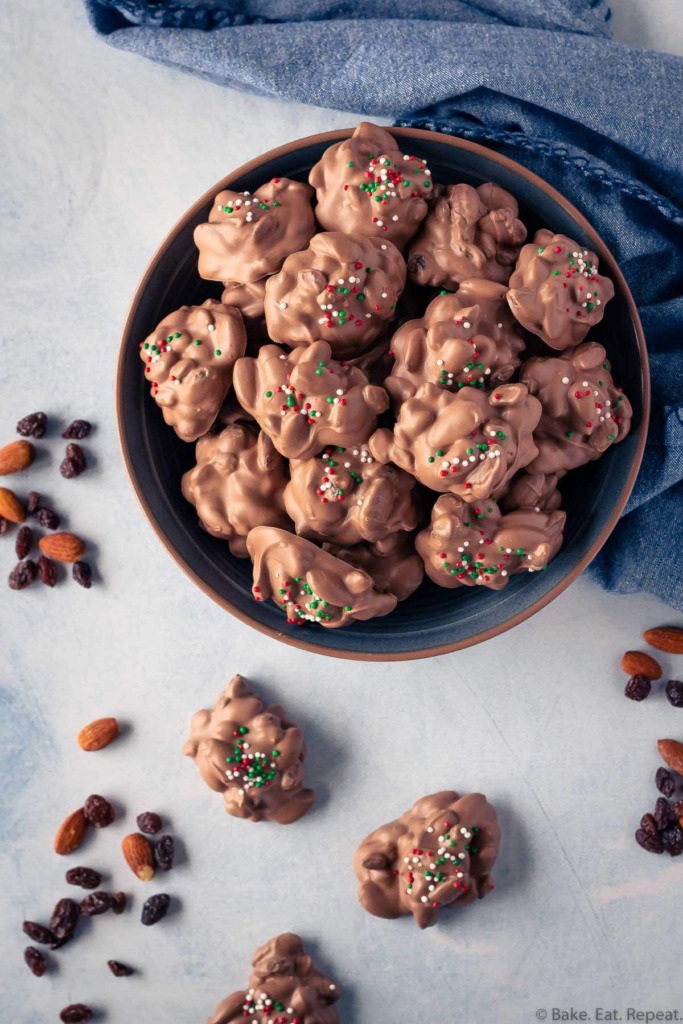 After an hour on low heat in my slow cooker, everything was almost melted. After another 15 minutes it was completely melted, and I continued with the recipe.
After the first hour, stir every 15 minutes until everything is entirely melted.
It may take up to a full second hour for everything to melt, depending on how hot your slow cooker runs – not all slow cookers will be the same.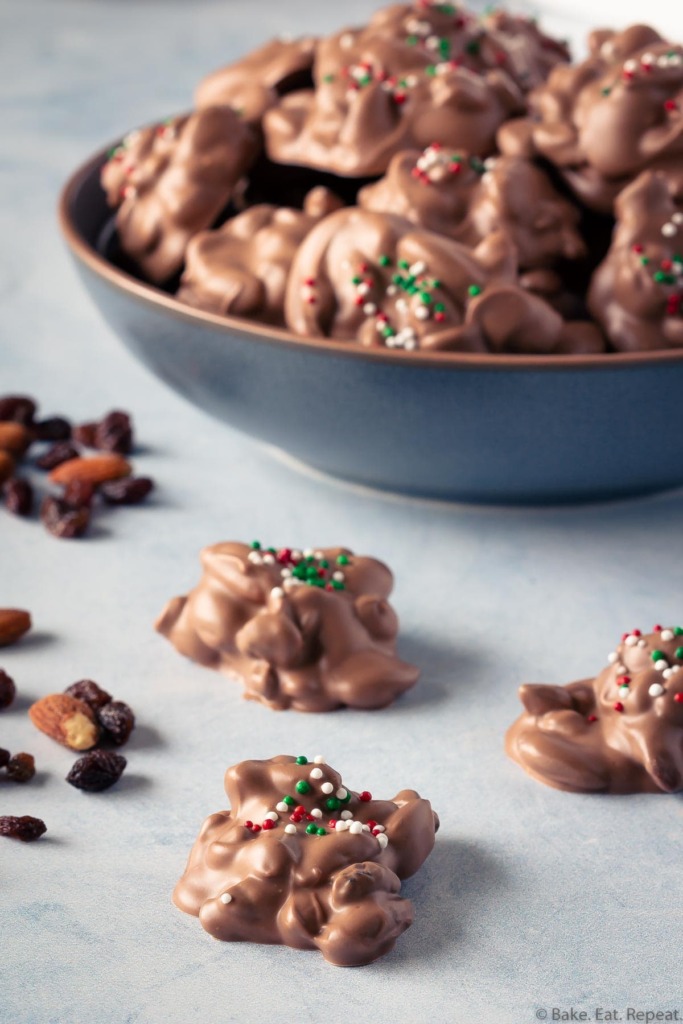 Can I use white chocolate instead of dipping wafers or candy melts?
You cannot replace the white dipping wafers (or white candy melts or almond bark) with white chocolate.
This is because dipping wafers, candy melts, and almond bark all have palm kernel oil in them, and white chocolate does not. The palm kernel oil helps the candy to set up.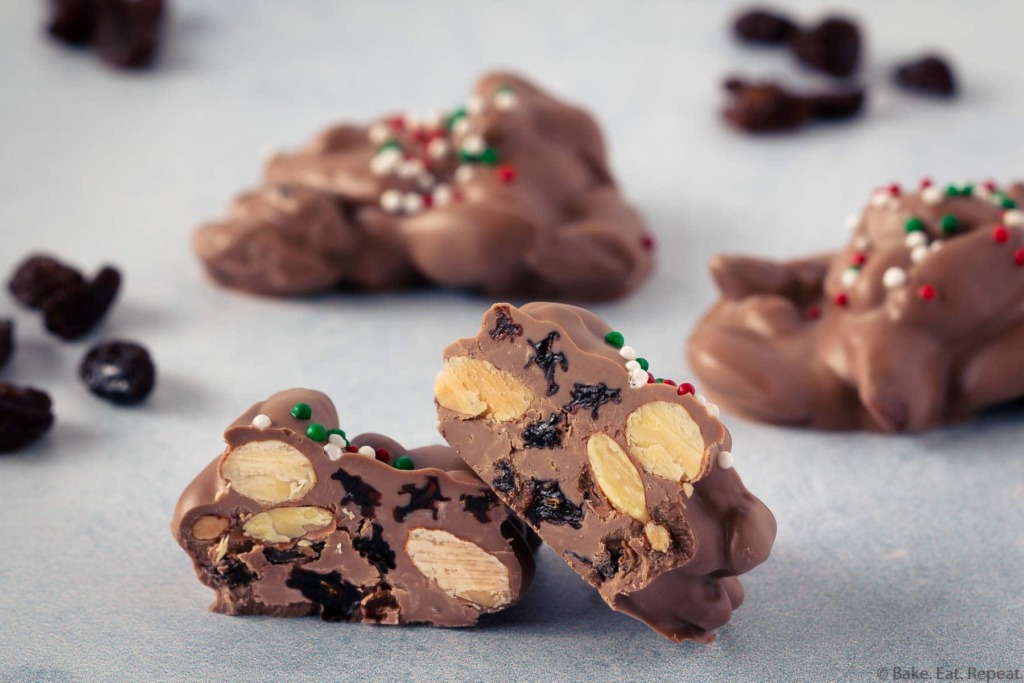 I did try increasing the amount of chocolate and decreasing the amount of white dipping wafers in the recipe. While we enjoyed the flavour of these too, the texture was quite soft and the candies did not set up as well, so I don't recommend doing this.
We preferred the taste of the white dipping wafers to the candy melts, but they both worked well. Almond bark would work here too, just make sure it has palm kernel oil in its ingredients list.
How to make Fruit and Nut Crockpot Candy:
Make sure to layer the ingredients in the slow cooker with the white dipping wafers on the bottom, followed by the chocolate chips, and then the almonds.
Stir the raisins in at the end, once everything is melted.
I like to use a 1.5 tablespoon cookie scoop to portion out the candy into almond raisin clusters, but you can make them any size you like.
If you want to make them look festive, top the candies with some sprinkles before it starts to set.
Here are some more great candy recipes for you: