Easy, moist, delicious, and healthy, this chocolate chip pumpkin bread is perfect for a snack, or even for breakfast! Low fat, low sugar, and whole grain.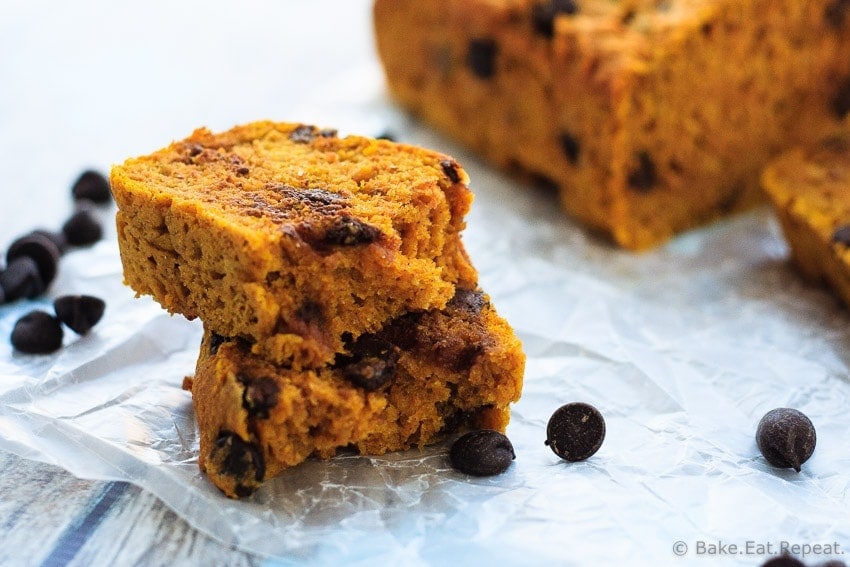 Well.  This is not what I was making for you.  It was supposed to be cheesecake pumpkin muffins, a variation of these carrot ones in fact.  And they were good, very good.  We ate them all with no problem whatsoever.  The problem was the cheesecake.  It kind of looked like cheesecake icing on top of the muffins – just a thin layer of cheesecake covering the tops. Not a bad thing I suppose, it just kind of looked weird.  And I didn't want to give you weird looking, because who's going to want to make that?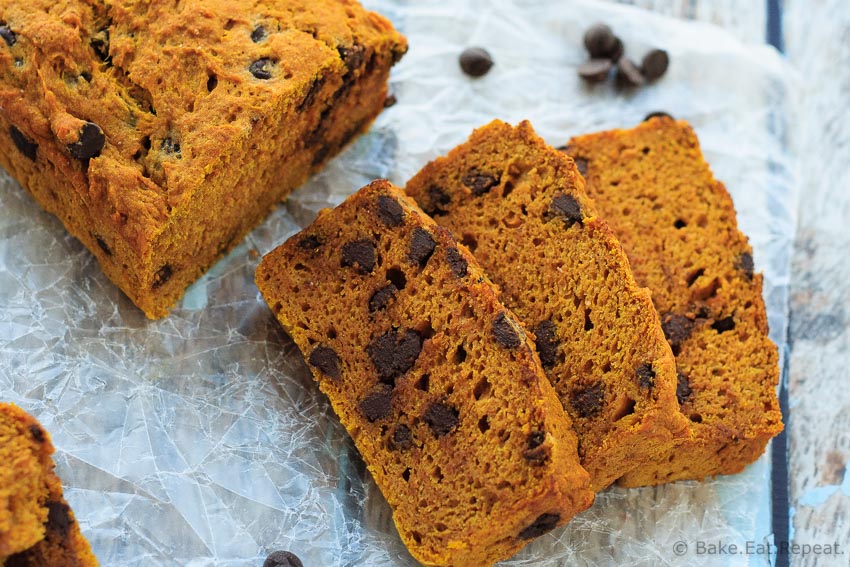 So then I decided I would make cheesecake filled pumpkin muffins instead.  Because then you get the tasty cheesecake and pumpkin combo without the weird looking cheesecake topping.
I still think this is a great plan and will do it eventually, but this is not it, because I ran out of cream cheese and didn't want to go back to the store.  So then it was a toss up – bread, muffins, topping, no topping – too many options!
So I decided that the world could always use another plain old pumpkin bread recipe.  There can never be too many of them in my opinion.  With chocolate chips.  Because chocolate.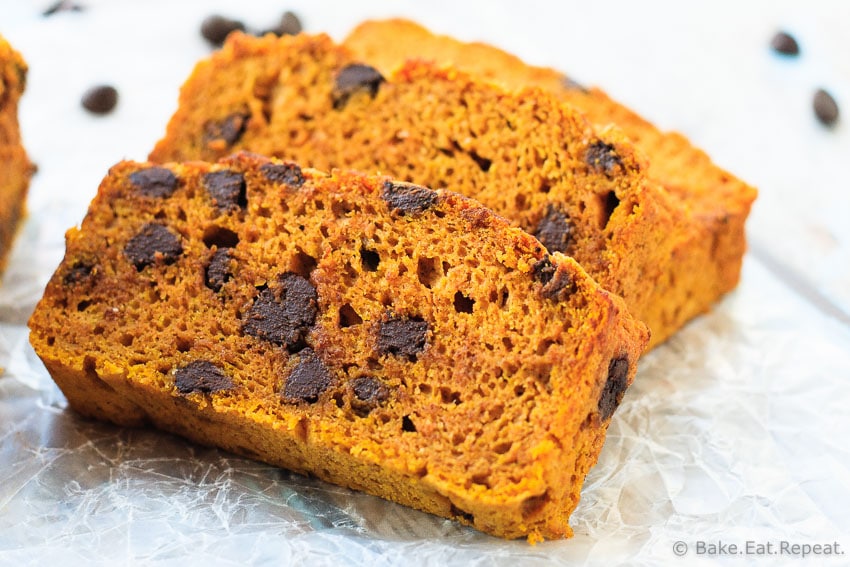 I think this was the right decision.  Chocolate chip pumpkin bread.  It doesn't get much better than that.  Plus, it's pretty healthy pumpkin bread that you can eat for breakfast guilt free.  Low fat, low sugar, with whole wheat flour – and you can even omit the chocolate chips if you want to get all crazy or something.  I wouldn't though.  Because, um, chocolate.  Chocolate is always the right decision.
Also – it's healthy pumpkin bread that tastes decidedly unhealthy.  In other words, it's amazing and you should make it.  If you're not pumpkin-ed out yet that is!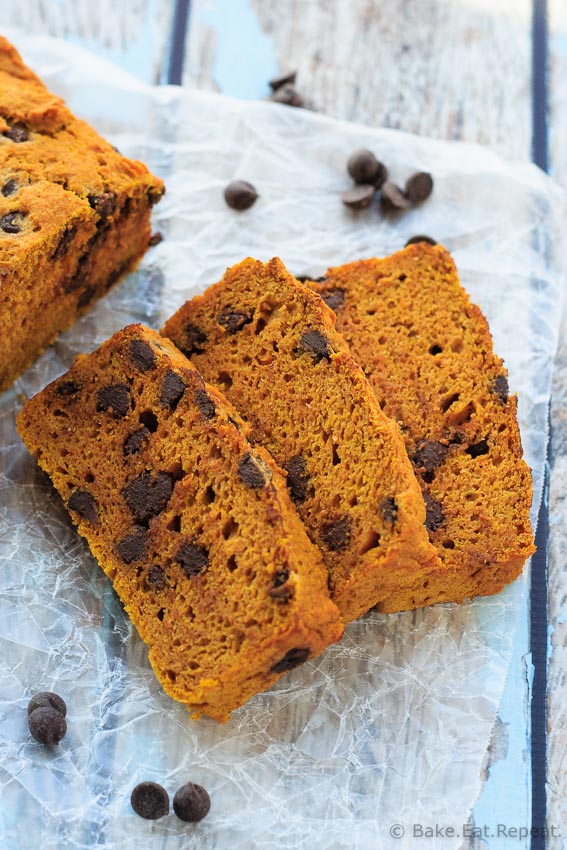 Yield: 2 - 8x4 inch loaves
Chocolate Chip Pumpkin Bread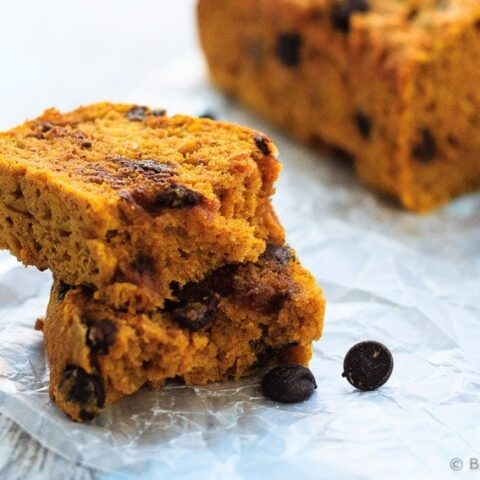 Easy, moist, delicious, and healthy, this chocolate chip pumpkin bread is perfect for a snack, or even for breakfast!

Prep Time 15 minutes

Cook Time 1 hour 10 minutes

Total Time 1 hour 25 minutes
Ingredients
2 cups pumpkin puree
1/3 cup plain Greek yogurt (or regular yogurt)
1/3 cup coconut oil, melted (or other vegetable oil)
2 large eggs
1/2 cup brown sugar, lightly packed
1 cup all-purpose flour
1 cup whole wheat flour
1/2 teaspoon baking soda
2 teaspoons baking powder
1/2 teaspoon salt
1 teaspoon cinnamon
1 1/2 teaspoons pumpkin pie spice
3/4 cup semi-sweet chocolate chips
Instructions
Preheat the oven to 350 degrees F.
Lightly spray two 8x4 inch loaf pans with non-stick spray and set aside.
In a medium bowl, whisk together the pumpkin puree, yogurt, coconut oil, eggs and brown sugar until they are well combined and no lumps remain. Set aside.
In large bowl, mix together the flours, baking soda, baking powder, salt, cinnamon, pumpkin pie spice and chocolate chips.
Make a well in the center of the dry ingredients and pour the pumpkin mixture into it.
Stir everything together until there are no more dry spots. This makes a very thick batter and takes a little longer to stir together then a typical quick bread batter does, so don't be alarmed. It will still be moist and tender!
Divide the batter between the two prepared loaf pans and smooth it out in the two pans. They will be filled about halfway.
Bake for 60-70 minutes until a toothpick inserted into the center of the loaf comes out clean. The loaves do not rise much in the oven as it is a dense, moist pumpkin bread.
Allow to cool in the pans for 10-15 minutes before turning out onto a wire rack to cool completely.
The pumpkin bread keeps well at room temperature, wrapped in plastic wrap or in an airtight container for 3-5 days, or can be frozen for up to 3 months.
Notes
I haven't made this loaf in a 9x5 inch pan, but if that's what you have, I think it would work just fine. The two 8x4 inch loaves are quite small and the bread does not rise much in the oven, so it should work well as a larger 9x5 inch loaf. Just watch your bake time if you make the larger size as one larger loaf would take longer to cook, expect another 10-15 minutes on your baking time.
Recommended Products
This post contains affiliate links. As an Amazon Associate, I may receive a small commission from qualifying purchases.
Nutrition Information:
Yield:
serves 12
Serving Size:
2 slices
Amount Per Serving: Calories: 262Total Fat: 11.2gSaturated Fat: 8.1gCholesterol: 31mgSodium: 171mgCarbohydrates: 36.5gFiber: 2gSugar: 15.9gProtein: 5g