These are the absolute best nanaimo bars, an amazing, no bake treat that's a perfect addition to your holiday dessert table!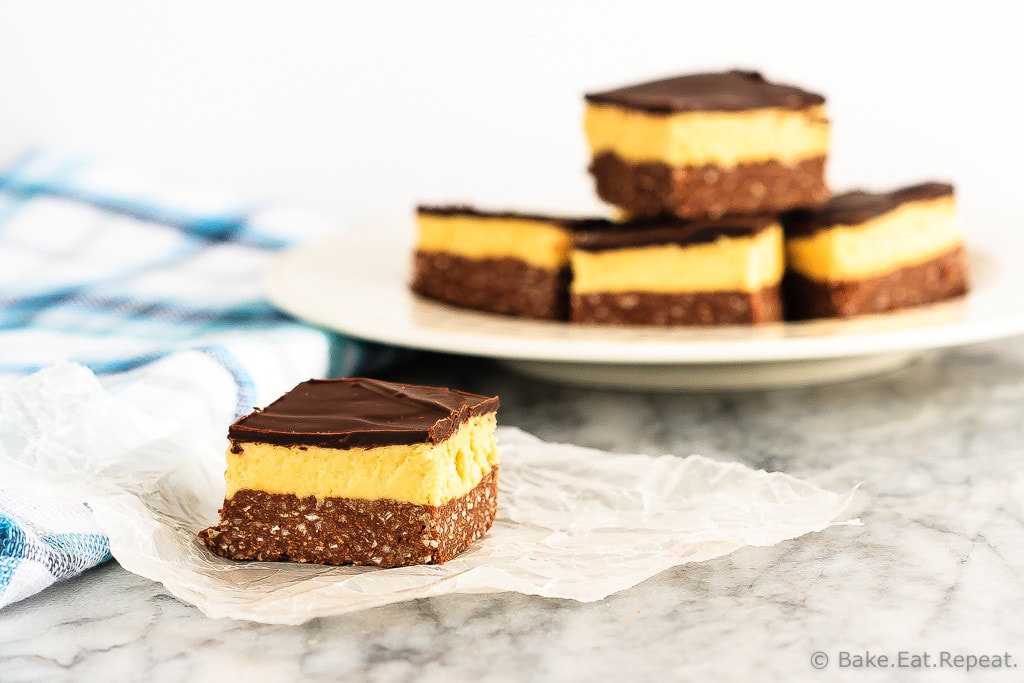 Have you ever had a nanaimo bar? When I originally posted this recipe almost two years ago, I discovered that they're actually a Canadian thing and many, many people have never heard of them, let alone tried them.
Now, clearly I should have known this was a Canadian treat. They're named after a city that I visit every. single. summer. This should have been obvious to me.
For some reason I just thought this was a strange coincidence. I can't even believe that I'm admitting that because I feel just slightly ridiculous for not knowing.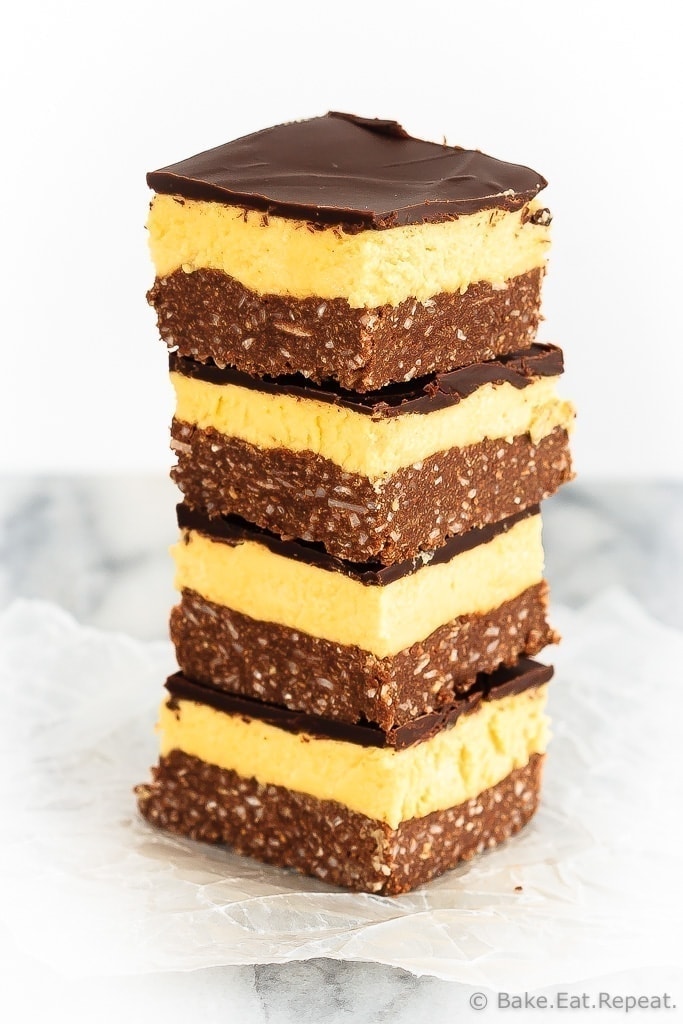 I guess I just can't imagine anyone not knowing about these little treats. How does everyone not know and love nanaimo bars? They're too amazing to only be a thing in Canada!
Nanaimo bars have always been a favourite of mine.
When they were on the dessert table at a buffet, there was no question about what to choose. But the first time I remember having an absolutely amazing one was the first year that I spent Christmas with my husbands family.
My mother-in-law makes the best nanaimo bars. That's just a fact.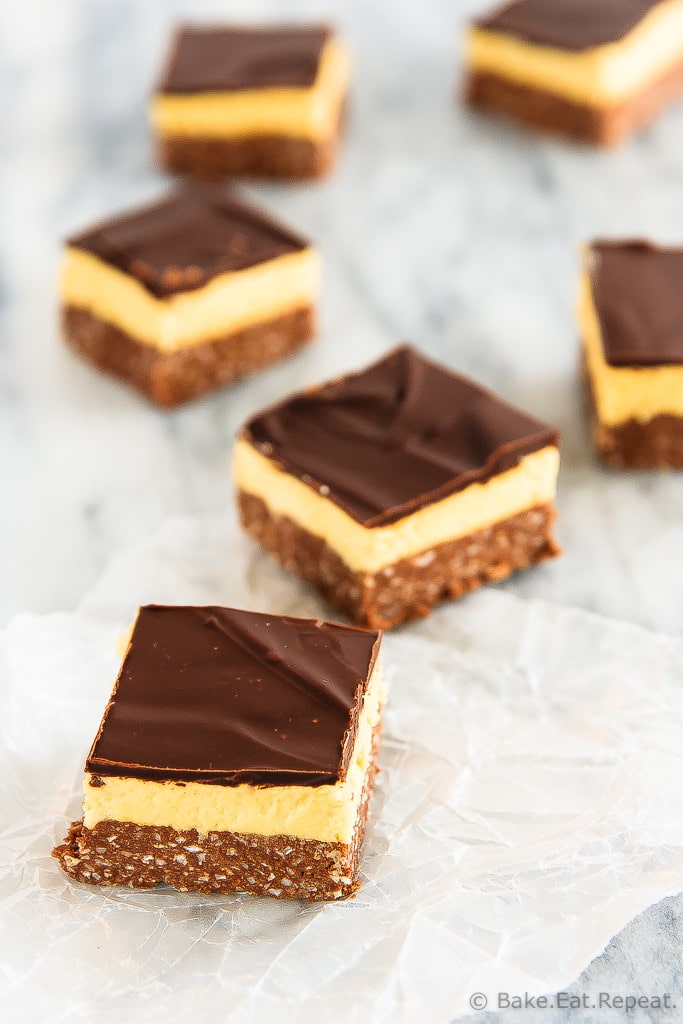 Nanaimo bars were actually not a dessert that I considered a Christmas treat until I was married. Although I'm certainly on board with that little tradition.
The best part about making them every year at Christmas is that I'm no longer too tempted by them when I see them at restaurants.
They're always a bit disappointing. These are the best, so why bother with any others?
They are also so simple to make.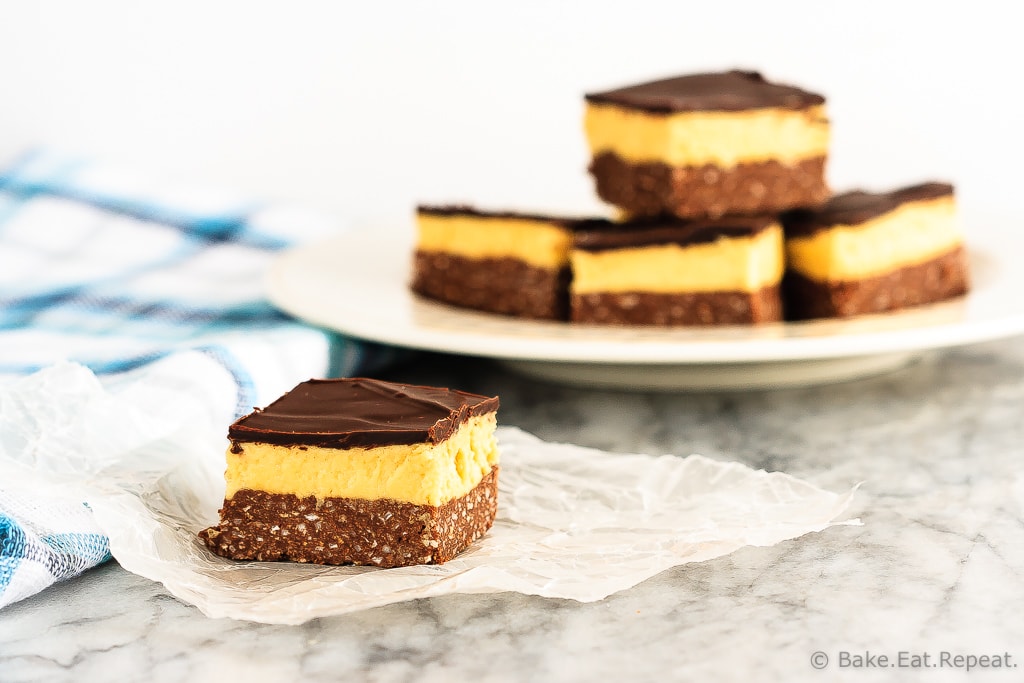 It takes minutes to make each layer, and there is no baking required. Mix a few things together, spread it in the pan and chill. Repeat. That's all you do for these.
They're pretty, they're easy to make and they're so delicious. That's a perfect Christmas treat in my opinion.
If you love nanaimo bars, you need to try these.
And if you've never tried one – you most definitely need to make these this Christmas. They shouldn't be just a Canadian thing, they're far too good for that.
How to make The Best Nanaimo Bars:
I always use pasteurized egg whites for the base (the kind you buy in a carton), but you can use a whole large egg instead if you don't mind raw egg in your desserts.
custard powder can be found in the international section of some grocery stores – in Canada it's available in the baking aisle of most stores, but I've been told it's more difficult to find in the States, although people have found it in the international section (it's a British product), or you can buy it on Amazon – I use Bird's brand.
I always use unsalted butter, but my mother-in-law uses salted and I have never noticed a difference in taste so use your preference.
I prefer to use chopped chocolate (I like this brand) instead of chocolate chips as it tends to melt better.
Here are some more great bar recipes for you: