That's a really boring name for what was a really amazing salad.  But for some reason I could not come up with anything better.  Oh well, trust me, this chicken chop salad is worth making.  So, so good.  Even the leftovers for lunch the next day were great, which is strange because generally the idea of leftover salad does not appeal.  This one did though and I couldn't wait for lunch so I could finish it off.
I originally saw this salad on How Sweet It Is last week.  It looked so incredible that as soon as I saw it (the day it was posted I might add), I needed to make it immediately, if not sooner.  Of course, that's generally how I feel about all of her salads, they're all amazing.
At any rate, I decided that we needed to have that salad for supper so I started making it.  And then discovered that I was missing most of the ingredients.  So, THIS salad is not the same.  Not even really close.
Especially since the part I was most excited about was grilling everything and I couldn't even do that.  I had everything ready to go, and then remembered that my BBQ wasn't hooked up because we had been painting the deck.  Next time I will be grilling the chicken (and some of the veggies), but for this version I just cooked the chicken in an electric skillet.  It did the trick.  And it was very tasty.  I can't wait to make it again, although with grilling involved.  I'll also have to make the original version sometime too, because it still looks amazing, and I still want it.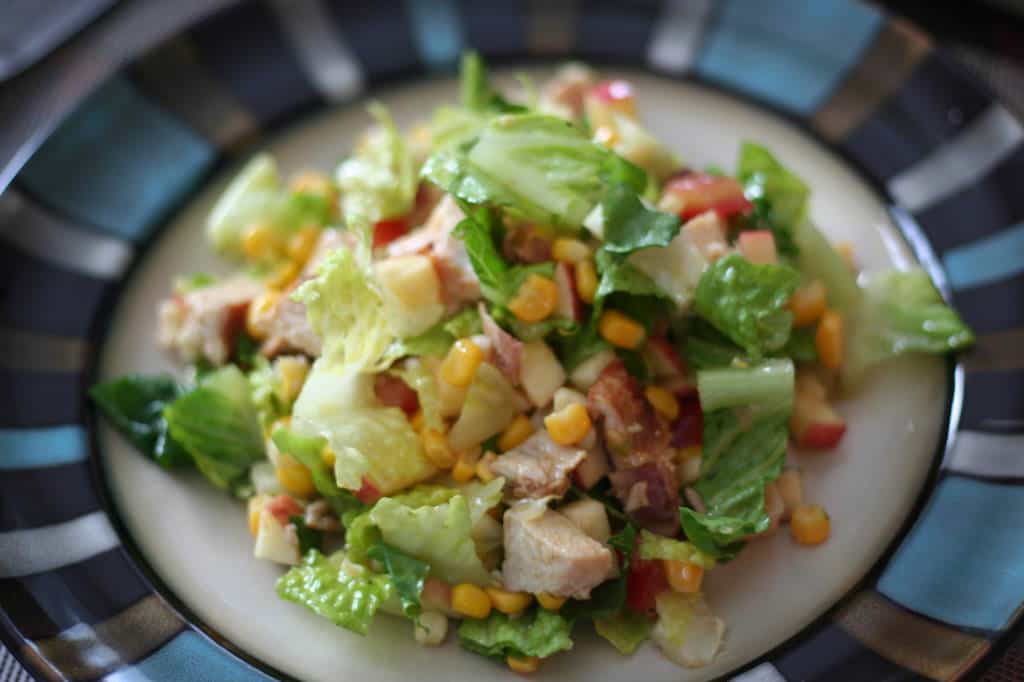 Yield: 4
Chicken Chop Salad
Ingredients
For the chicken:
3 chicken breasts
2 tablespoons olive oil
2 garlic cloves, minced
1 tablespoon brown sugar
1 teaspoon onion powder
1 teaspoon salt
1 teaspoon paprika
For the salad:
1 1/2 romaine hearts (or one full head of romaine), chopped
3 slices cooked bacon, crumbled
3 scallions, chopped
2 cups corn kernels
1/4 cup sharp cheddar cheese, cubed
2 apples, diced
2 tomatoes, diced
For the dressing:
1/2 cup olive oil
1/4 cup apple cider vinegar
2 tablespoons honey
1 1/2 tablespoons dijon mustard
1 clove garlic, minced
1/4 teaspoon salt
1/4 teaspoon pepper
Instructions
Preheat a grill or frying pan to medium high heat. In a small bowl, whisk together the olive oil, garlic, brown sugar, onion powder, salt and paprika. Rub this mixture all over the chicken breasts. Place on the grill (or in the frying pan), and cook for about 6-8 minutes per side, or until it is cooked through.
Whisk the dressing ingredients together. Chop the chicken, lettuce, bacon, scallions, cheese, apples, and tomatoes and toss together with the corn and dressing. Enjoy!