This homemade cherry cheesecake is easy to make, and is so delicious! This creamy cheesecake topped with a sweet cherry sauce is the perfect dessert!
Cheesecake is not something I make super often, but when I do it definitely disappears pretty quickly!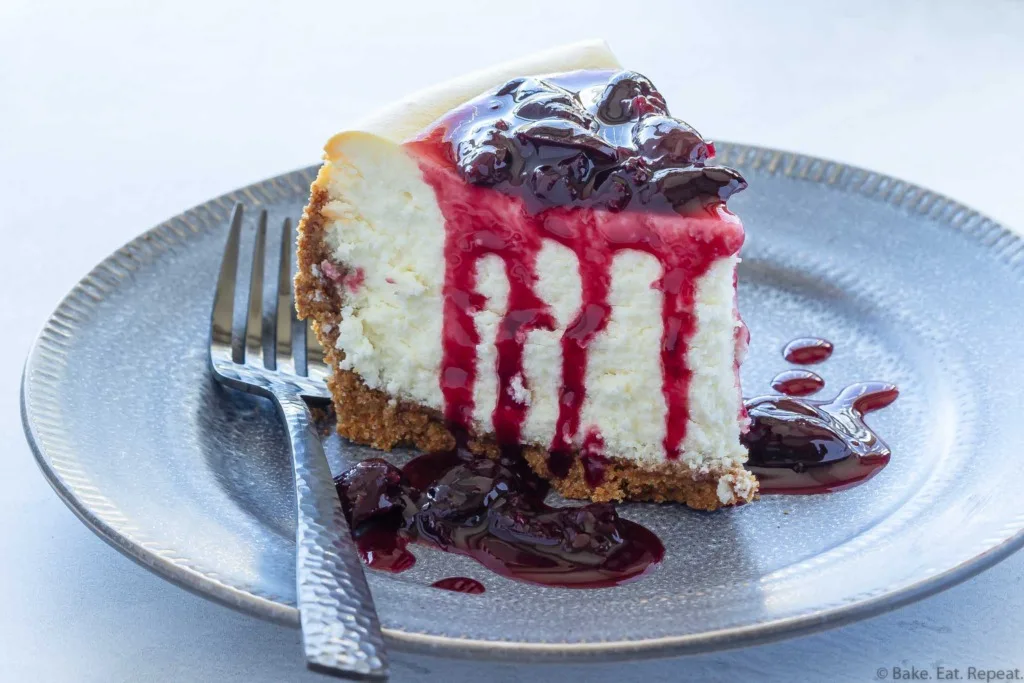 Homemade is just better. It really doesn't compare to a cheesecake from the frozen aisle at the grocery store!
And it's easier than you think to make! This homemade cheesecake is ready to put in the oven very quickly, and if you can beat cream cheese, yogurt, sugar, and eggs together – you can make cheesecake. It's really very easy, and the result is fantastic.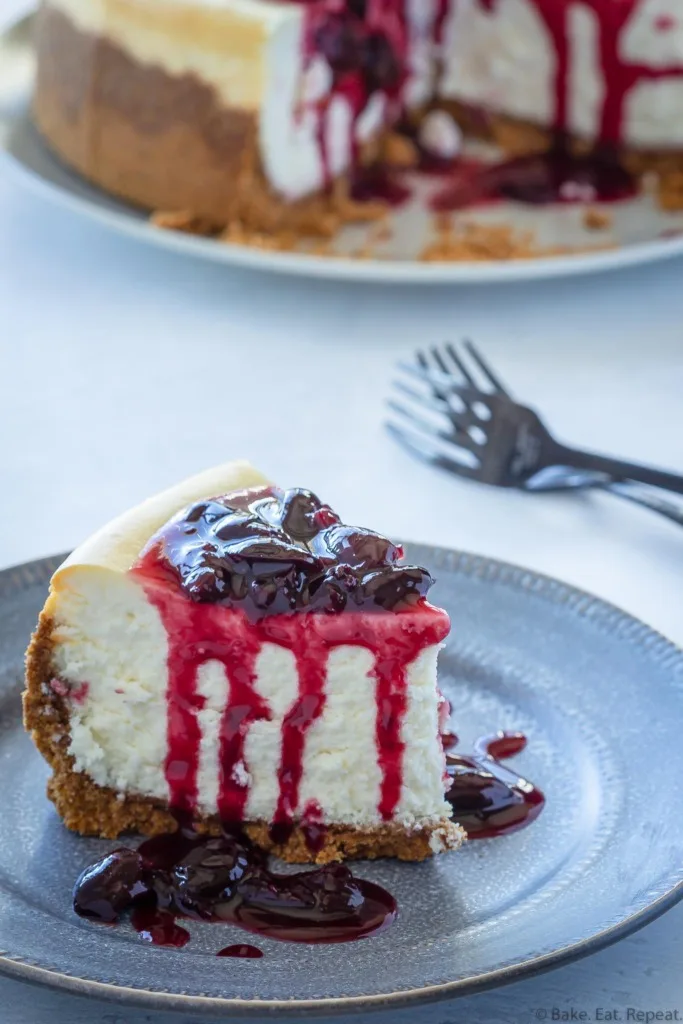 So creamy and delicious, you won't want to go back to store bought cheesecake once you've tried the homemade version!
We really enjoyed this cherry cheesecake. It makes the perfect dessert when you want something a little more extravagant than a cookie!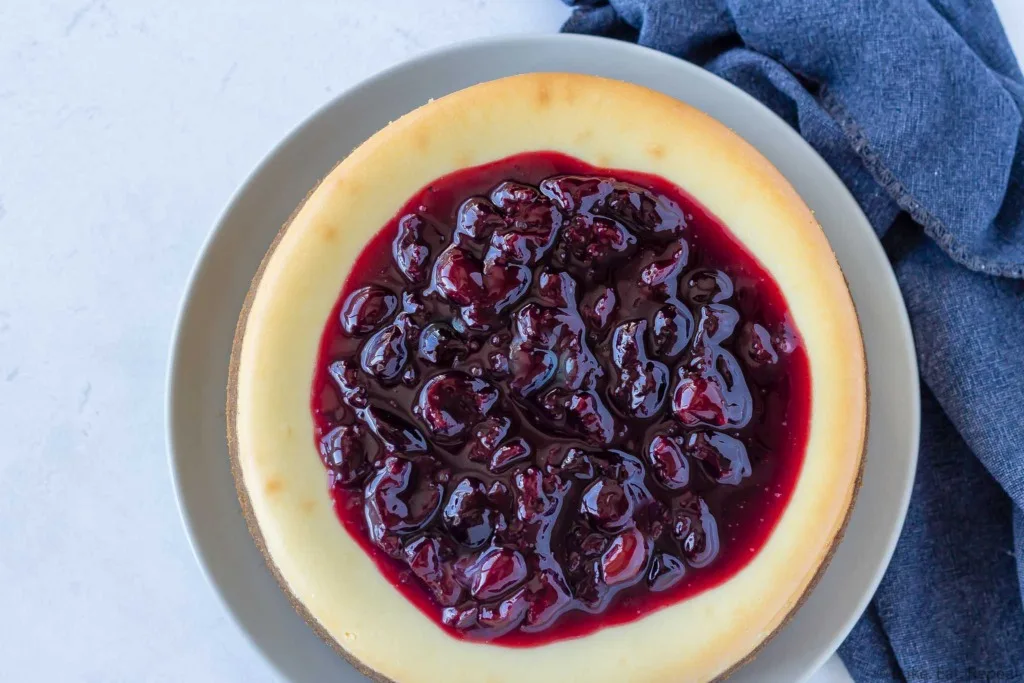 How can you tell if a baked cheesecake is done?
Cheesecake is finished baking when the outer two inches are set, but the middle is still a bit jiggly.
The best (and easiest) way to tell if a cheesecake is done, is to check the internal temperature of the cake with an instant read thermometer (I have this one and love it!). The internal temperature in the middle of the cheesecake should be 150F when it's done baking.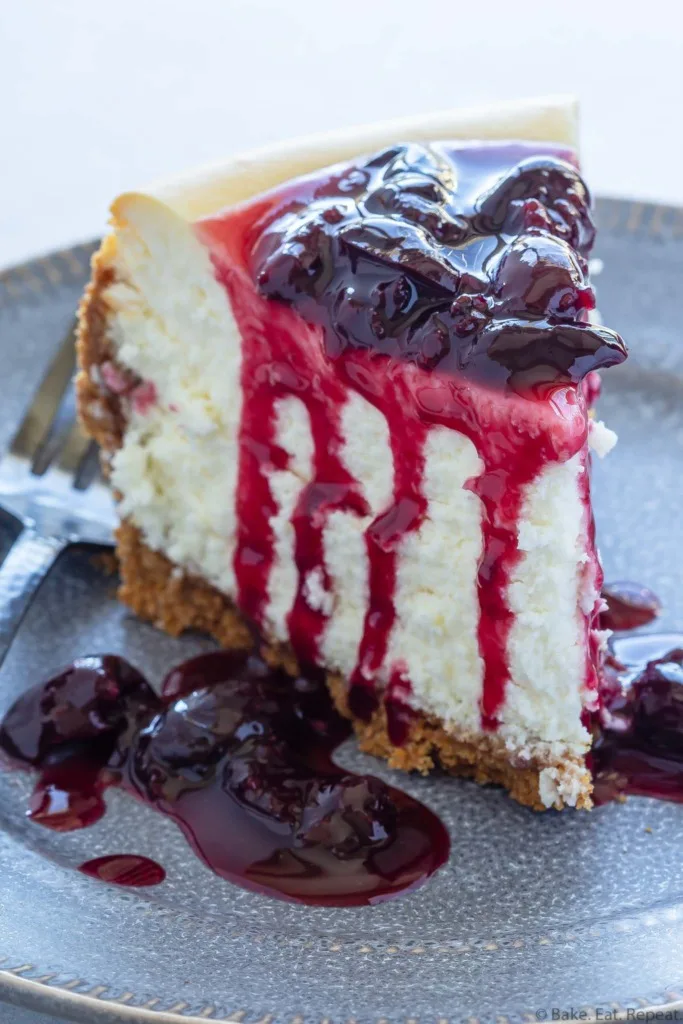 Once your cheesecake reaches 150F in the centre, turn the oven off and prop the door open with the handle of a wooden spoon. Let the cheesecake sit in the warm oven for an hour and then take it out to cool completely.
If you over bake a cheesecake, it will start to dry out, which is what will make it crack when it cools. This cherry cheesecake is so creamy that it will still be amazing, even if it's a bit overdone. But checking the temperature and knowing if it's finished baking, will help prevent any cracks from forming.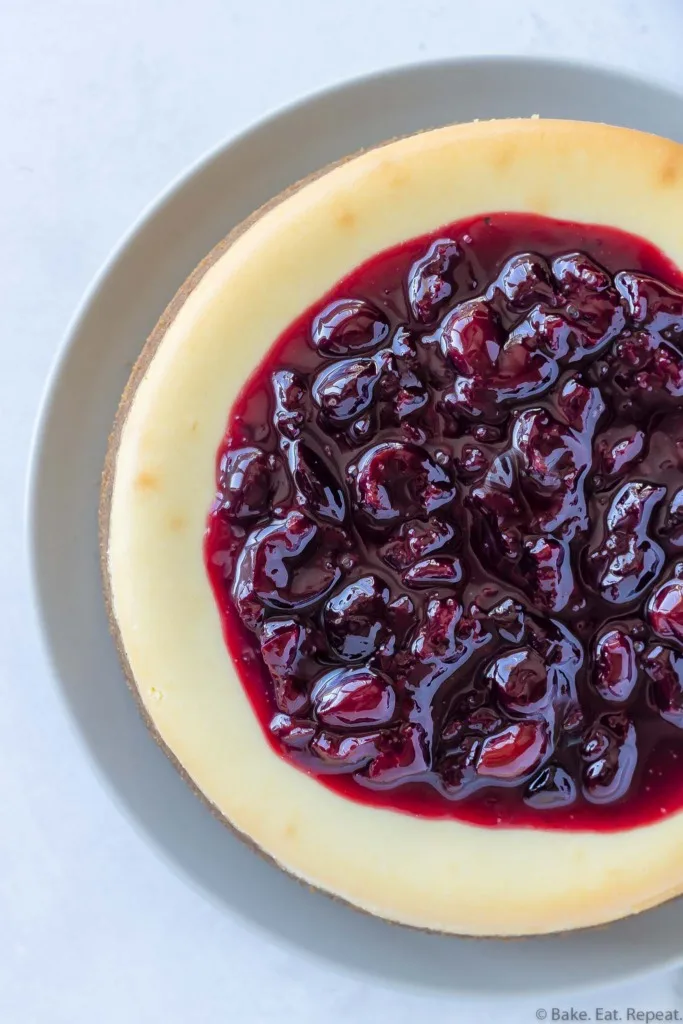 Can you over-beat a cheesecake?
It's pretty difficult to over-beat the cheesecake mixture if your cream cheese is softened to room temperature.
If you try to beat cold cream cheese, there is a much better chance of over mixing the batter, just because it will take so long to get it smooth. This will result in incorporating too much air into the cheesecake batter.
When this happens, the cheesecake will rise in the oven and then fall as it cools. This will give you a cheesecake with a sunken centre and/or cracks in the middle.
So start with room temperature cream cheese for perfect cheesecake!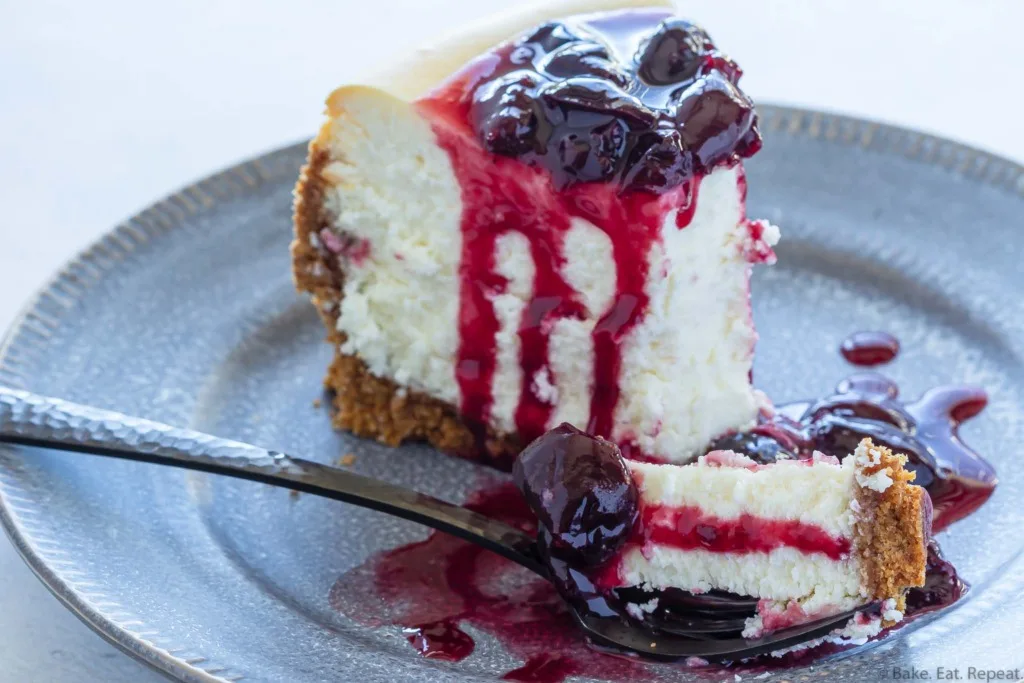 How to make Cherry Cheesecake:
Make sure to start with room temperature cream cheese when you make the batter so it's easy to beat.
Check the internal temperature of the cheesecake with an instant read thermometer to see if it's finished baking or not. I have this one and love it!
You can either put the cherry sauce on top of the cheesecake and then slice and serve, or spoon the sauce over top after slicing the cheesecake up.
This cheesecake will keep, tightly covered, in the fridge, for 3-5 days.
Here are some more great desserts for you: