Well, I did have every intention of having a Christmas recipe of some sort for you today.  For some unfathomable reason though, the first year ever that I'm not finished my Christmas baking by the first week of December, is the same year I decide to start a food blog.  Makes sense.
Why make things ahead of the seasons when you want to share them with people?  It totally just makes sense to do that every. other. year. ever.  Not the year you want to take pictures and post them online.  Nope.
So, I finally MADE my first batch of Christmas cookies yesterday (seriously, why am I so far behind this year?  Christmas is in like 30 seconds?!).  But I forgot that it gets dark at about 3pm and since I finished making them at 4, that didn't really leave any picture taking time.  I tried anyways, but they were absolutely awful pictures.  So, instead of subjecting you to that, we have salad.
I know, kind of the opposite end of the spectrum.  But I promise that there will be plenty of sugar and chocolate to make up for it the rest of the month.  I have a never-ending supply of Christmas recipes that I both love, and want to try.  So there will be plenty of those, just a little later than planned!  And if you're more organized than me and have had too much sugar already, I have the solution for you in this salad for supper!
I love asian chopped salads.  So many flavours and textures going on.  This one is maybe the best I've ever made.  It was so good.  The kids even ate it.  Well, they ate the noodles and oranges and shrimp, and picked through the rest to find the veggies they liked.  And wouldn't touch the dressing.  But that's pretty normal.
My husband and I loved it.  Okay, I won't go that far.  I mean, I DID serve him salad for supper.  Even with shrimp in it, he doesn't totally consider salad a full meal, but he did eat it and enjoy it.  He just needed a snack 10 minutes later.  But for people that think salad can be a meal, this one is amazing.
And if you, like me, are the only one in the house that enjoys salad as an entree, don't worry, it keeps well.  Just leave the components separate, as I've noted in the recipe, and it keeps well for 3-4 days.  It's a large recipe though, so it's also a great salad to bring to potlucks as there is plenty.  Again, just keep the components separate until right before serving.
Enjoy!  Christmas stuff will be here next week.  I'm going to make it happen!
Yield: serves 4-6 as an entree, 8-10 as a side
Asian Chopped Salad with Shrimp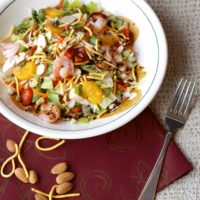 *Note:* If you want to make this salad ahead of time, combine all of the vegetables, the oranges and the shrimp, but keep the almonds, sesame seeds and noodles separate so that they don't get soggy. Then when you are ready to serve it, add the rest of the salad ingredients and the dressing and toss. If the components are kept separate it keeps well for up to 3 days.
Ingredients
For the salad:
1 romaine heart, chopped
2 cups shredded cabbage (about half a medium head of cabbage)
1 cup shredded carrot (2-3 medium carrots)
1 red bell pepper, chopped
3 green onions, sliced
2 cups mushrooms, chopped
2 cups snap peas, chopped
1 - 11 ounce (312g) can mandarin oranges, drained
1/2 cup sliced almonds (toasted for 5 minutes at 350 degrees F)
2 tablespoons sesame seeds (toasted for 5 minutes at 350 degrees F)
1 package ramen noodles, broken into pieces
7 ounces (200g) chow mein noodles
1 pound (453g) cooked shrimp
For the dressing:
2 cloves of garlic, minced
1 tablespoon ginger, minced
3 tablespoons soy sauce
1/4 cup brown sugar
2 tablespoon sesame oil
2 tablespoons rice vinegar
1/4 cup canola oil
salt and pepper to taste
Instructions
In a large bowl, combine all of the salad ingredients. In another bowl, whisk together the dressing ingredients until well combined. Pour over the salad and toss to combine. Serve immediately.
Notes
Source: Adapted from a combination of Lauren's Latest and one of my mom's recipes.