An easy slow cooker pork roast with maple roasted sweet potatoes, apples and spinach. The perfect fall meal!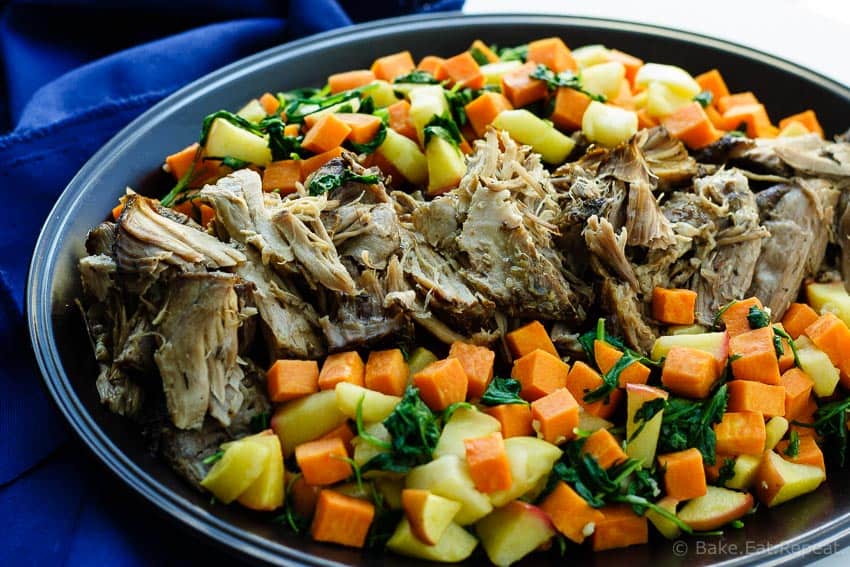 With maple roasted sweet potatoes, apples and spinach!  Seriously, such a great meal.  And so easy too.
I probably don't even need to say anything else about it.  Right?  I mean pork roast in the slow cooker that literally falls apart when you take it out kind of speaks for itself.  And those veggies?  So colourful and perfect with the tender pork.
We really loved this meal.  In fact, I first made it last fall and loved it.  Then I tried it with pork tenderloin, and that was also really fantastic (so get whatever kind of pork roast you prefer).  That time I even snapped some quick photos so I could share it with you, because clearly it was a winner.  But they were absolutely terrible and I just couldn't subject you to looking at that.  So I made it again, but by that time it was after Christmas and it just seemed a little bit too fall-like to post.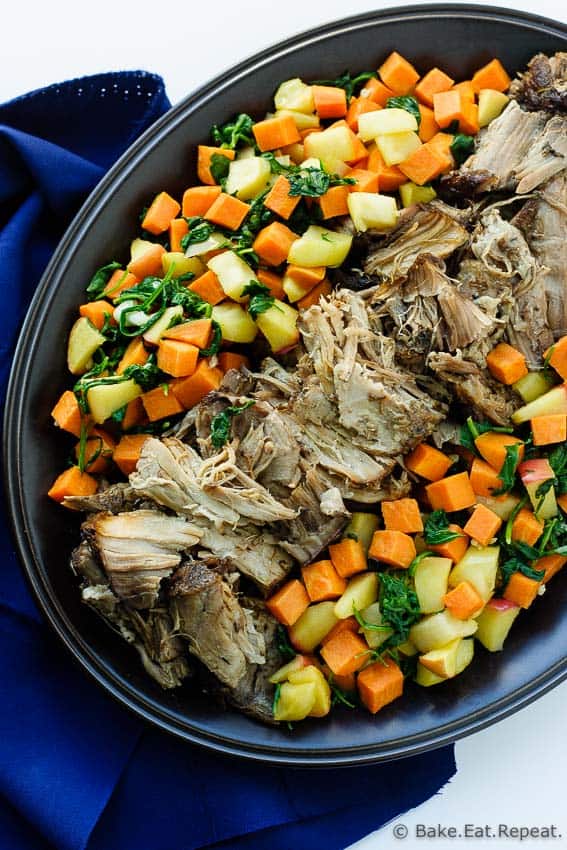 Of course, here it is the last week of November and I'm just now getting around to sharing it!  I will admit that if I hadn't gotten my act together and made it again this month, you probably would have been seeing it after Christmas.  Because I certainly was not going to wait another whole year to share it.  That would just be mean.
You need this easy, tasty and colourful meal in your life before then.
Plus, since we are heading into December, I can pretty much guarantee that it'll be mostly (maybe all) sweet stuff around here for the next month.  I'm sorry, but that's just a fact.  December is the one time of year that it's a-ok to bake incessantly and enjoy all the treats.  At least in my world!
But for today, we have slow cooker pork roast with maple roasted sweet potatoes, apples and spinach on the side.  Perfect for those chilly fall evenings (or winter if you're in the freezing north like me!) when you want something warm and cozy to eat, that's also easy to make.  This is it.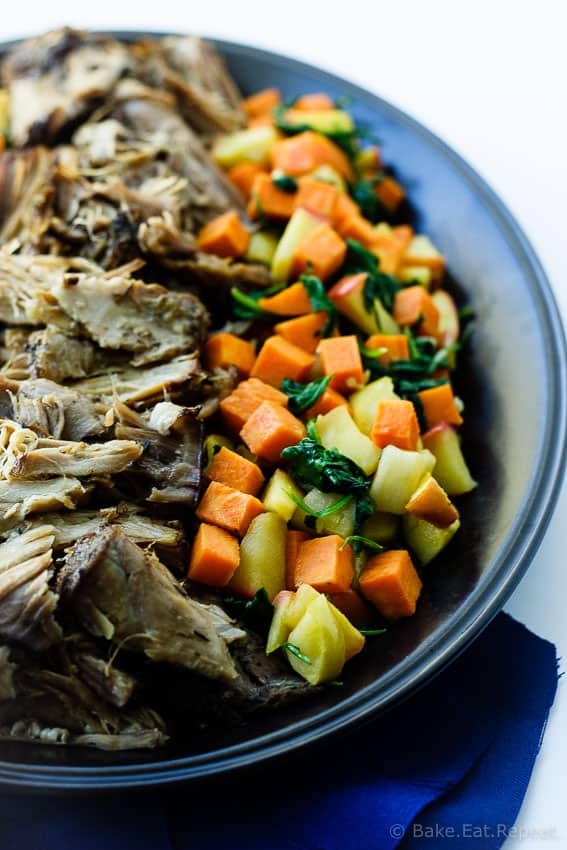 Yield: serves 6
Slow Cooker Pork Roast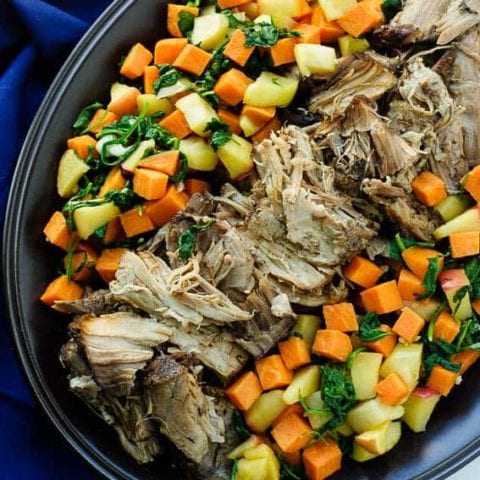 An easy slow cooker pork roast with maple roasted sweet potatoes, apples and spinach. The perfect fall meal!

Prep Time 15 minutes

Cook Time 8 hours

Total Time 8 hours 15 minutes
Ingredients
3 pound (1.4 kg) pork shoulder blade or picnic roast (or 2 pork tenderloins)
For the marinade:
2 tablespoons balsamic vinegar
2 tablespoons olive oil
2 cloves garlic, minced
1 teaspoons dried rosemary
1 teaspoons dried thyme
1/2 teaspoon kosher salt
1/2 teaspoon pepper
For the veggies:
2 apples, chopped (about 2 cups)
1 sweet potato, peeled and chopped (about 2 cups)
1 tablespoon olive oil
1 tablespoon maple syrup
4 cups fresh baby spinach
2 cloves garlic, minced
Instructions
Combine all of the marinade ingredients in a small bowl. Place the pork roast (or tenderloins) in a large ziplock bag and pour the marinade over top, moving the meat around to coat it completely in the marinade. Seal the bag and place in the refrigerator overnight, or freeze for up to 3 months. If freezing, allow to thaw in the refrigerator for 1-2 days before continuing. You can also just marinate it in the bowl of your slow cooker if you're cooking it the next day.
Place the roast (or tenderloins), along with the marinade, into the crock of a slow cooker. Cook on low for 6-8 hours until the meat is cooked through and is very tender, it should be falling apart.
Preheat the oven to 450 degrees F. Line a baking sheet with parchment paper. In a large bowl, toss the sweet potato and apples with the olive oil and maple syrup. Spread on the prepared baking sheet and roast for 15-20 minutes, or until tender. In a large non-stick saucepan, saute the spinach and garlic until wilted, about 2-3 minutes. Add the sweet potatoes and apples and stir to combine.
Remove the pork from the slow cooker and slice, or shred with two forks. Serve with the sweet potato mixture.
Notes
This pork roast freezes very well if you want to get it prepped when you buy it and then cook it in the future after defrosting. It does need to marinate overnight before cooking so plan to get it ready in the slow cooker the night before cooking so it can marinate all night.

Source: Pork marinade adapted from The Food Network.