This is the dessert I made for Mother's Day. That I wanted to share before Mother's Day so that I would be giving you a great Mother's Day recipe. But… that was a bad week, kitchen wise, and I just wasn't sure that it would be worth sharing.
In fact, even though it looked amazing, I was actually fairly certain that it would be a disaster when we tasted it. It was just that kind of week. I was so sure of this, that I made a second dessert – you know, for options – but mostly so there would still be dessert when the cream puff one was awful!
I'm happy to say that it was not awful. Obviously, or you wouldn't be seeing it here. Either was the other dessert. So mostly it just made for a tough choice, which ended up being okay. Because when you have a choice between two desserts and can't decide – you just have both. Obviously.
I'm glad I wasn't alone in this decision – pretty much everyone there agreed that that was the right call, and there really weren't a lot of leftovers. And before you judge us too harshly for that, there were 15 people there, so we had small slices of each!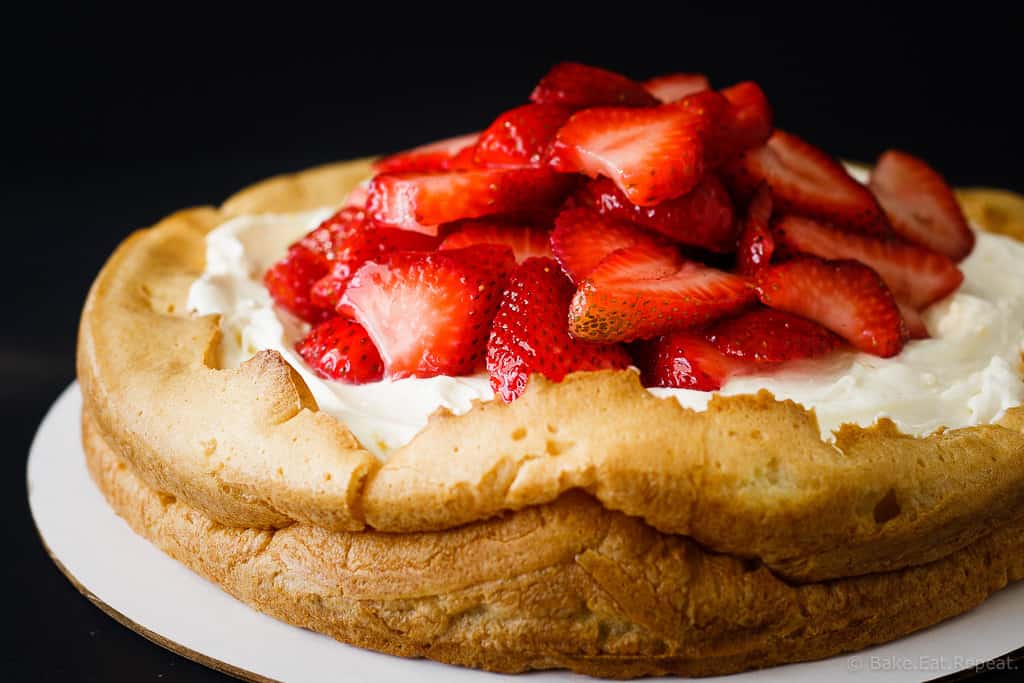 This lemon strawberry cream puff cake was the winner though I think. It was absolutely divine. A giant cream puff shell, with a layer of sweet lemon curd spread on the bottom, filled with a sweet lemony cream cheese and whipped cream filling, and topped with sliced fresh strawberries. I was surprised at how good this was. Although really, I shouldn't have been. A cream puff with lemon curd, whipped cream and strawberries? How bad could it be?
Not bad at all it turns out. In fact, pretty amazing. And an absolutely stunning looking dessert that tastes as great as it looks and is perfect for a special occasion. Or a Tuesday night. Your call!