Well, I thought I was done with pumpkin for the season, but not quite.  The idea of pumpkin cheesecake swirled brownies has been floating around in my mind for a couple of months, basically as soon as pumpkin season started!  But it took me a while to actually get around to working on them.  And then it took a few tries to get it right.
But these brownies are amazing.  If you like pumpkin that is.  My husband was really not a fan, but then he doesn't like pumpkin in anything.  I really don't know what's wrong with him.  Pumpkin is amazing.  He says it tastes like a candle.  I'm baffled by that.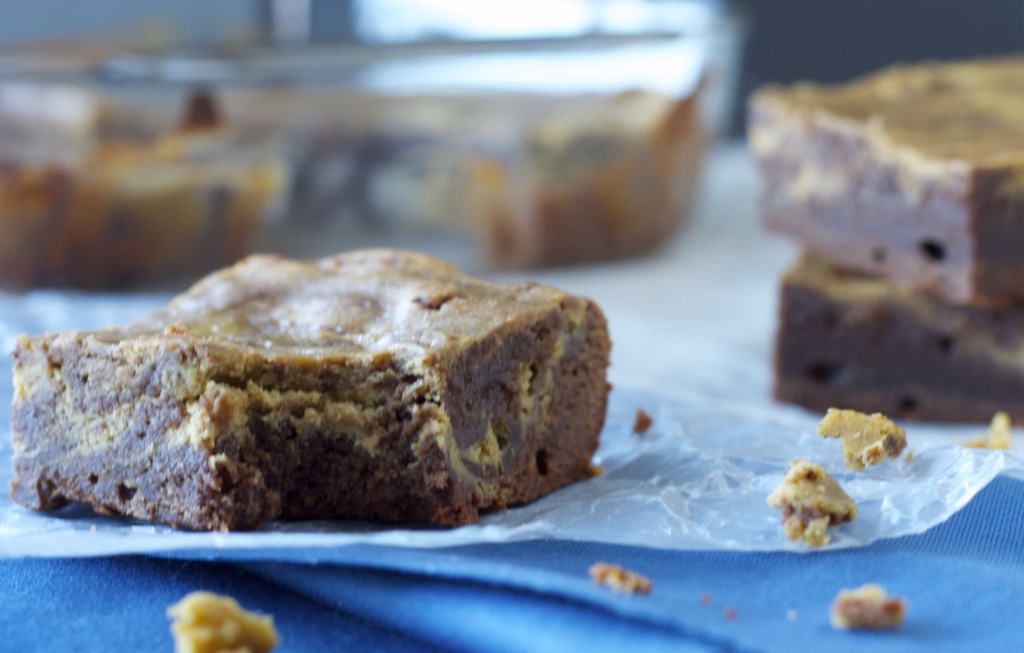 Pumpkin combined with both cheesecake AND brownies.  Yum.  It doesn't get much better than that.  These are chocolatey, fudgy brownies, with spiced pumpkin cheesecake swirls throughout.  I've eaten far too many of them (I had to give some away actually due to the aforementioned pumpkin hater here!  Even I can't eat 2 batches of rich cheesecake brownies!)
If you're a pumpkin fan, you need to try these.  They are the perfect decadent pumpkin treat to end pumpkin season.  You know, if pumpkin has a season in your house.  I use it all year,  but I'll try to avoid bombarding all of you with it until next fall!  On to the Christmas season and far too much baking!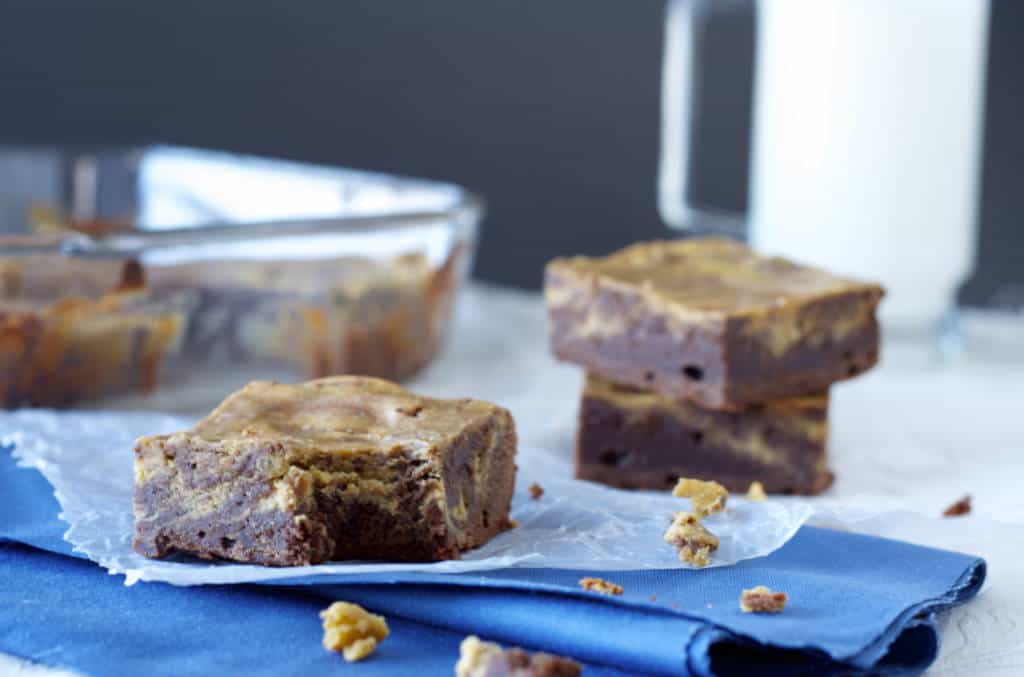 Yield: 12-16 brownies
Pumpkin Cheesecake Swirled Brownies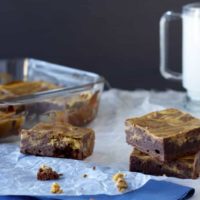 Ingredients
For the brownies:
1/2 cup unsalted butter, softened
1/2 cup granulated sugar
1/2 cup brown sugar, lightly packed
2 large eggs
1 teaspoon vanilla
1 cup all purpose flour
1/4 cup unsweetened cocoa powder
1/4 teaspoon salt
For the pumpkin cheesecake:
4 oz (125 g) cream cheese, softened
1/2 cup pumpkin puree
3 tablespoons granulated sugar
1/2 teaspoon pumpkin pie spice
1/2 teaspoon cinnamon
Instructions
Preheat the oven to 350 degrees F. Spray an 8x8 inch baking pan lightly with non-stick cooking spray.
In the bowl of a stand mixer (or in a large bowl with an electric mixer), cream together the butter, granulated sugar, and brown sugar until smooth. Add the eggs and vanilla and mix again until smooth. Add the flour, cocoa powder and salt, and mix until light and fluffy. Pour the brownie mix into the prepared dish.
In another bowl, with an electric mixer, combine the cream cheese, pumpkin puree, granulated sugar, pumpkin pie spice and cinnamon until smooth and creamy. Spoon onto the brownie batter. Using a rubber spatula or a butter knife, swirl the cheesecake into the brownie batter, lifting up the brownie batter and moving the two around until the top half of the squares are swirled together. Smooth the top flat.
Bake for 35-40 minutes, or until the center is set. Don't overbake, or the brownies will be dry. The center will be set, but a toothpick inserted in the center will not come out clean, it's okay, it will set up completely as it cools. Let cool completely, then cover and store in the refrigerator, chilling for about an hour before slicing into squares. Brownies will keep in the refrigerator for about a week.
Notes
Source: Bake.Eat.Repeat. original.