These chewy puffed wheat squares, sometimes called puffed wheat cake, are the best snack. Only 10 minutes to make and everyone loves them!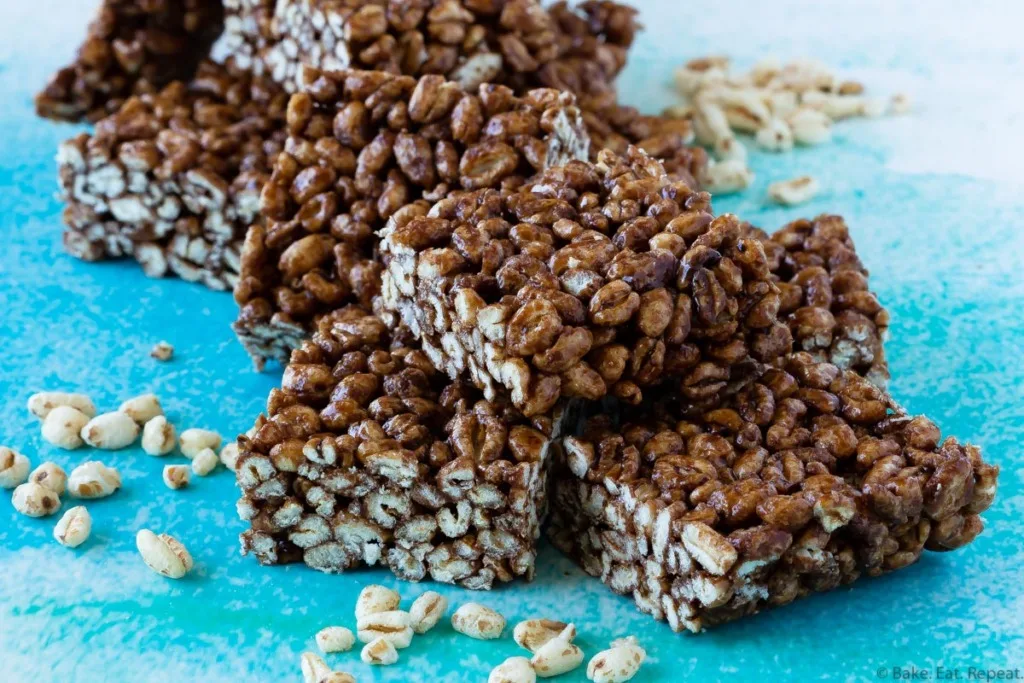 I have an old fashioned treat for you today, with these tasty puffed wheat squares. There's nothing new or different about them, this is the recipe my mom always made, and it's amazing so I didn't mess with it!
But I have recently found out that puffed wheat squares are not actually something everyone makes, so I decided I needed to share the recipe. Because evidently they are not a common treat.
They're definitely common where I come from, everyone knows and loves puffed wheat squares.
So if they're not common for you – or you've never even heard of them – I highly recommend trying this recipe. These chewy, chocolatey, puffed wheat squares are the best snack.
And if you've never tried them – you need to!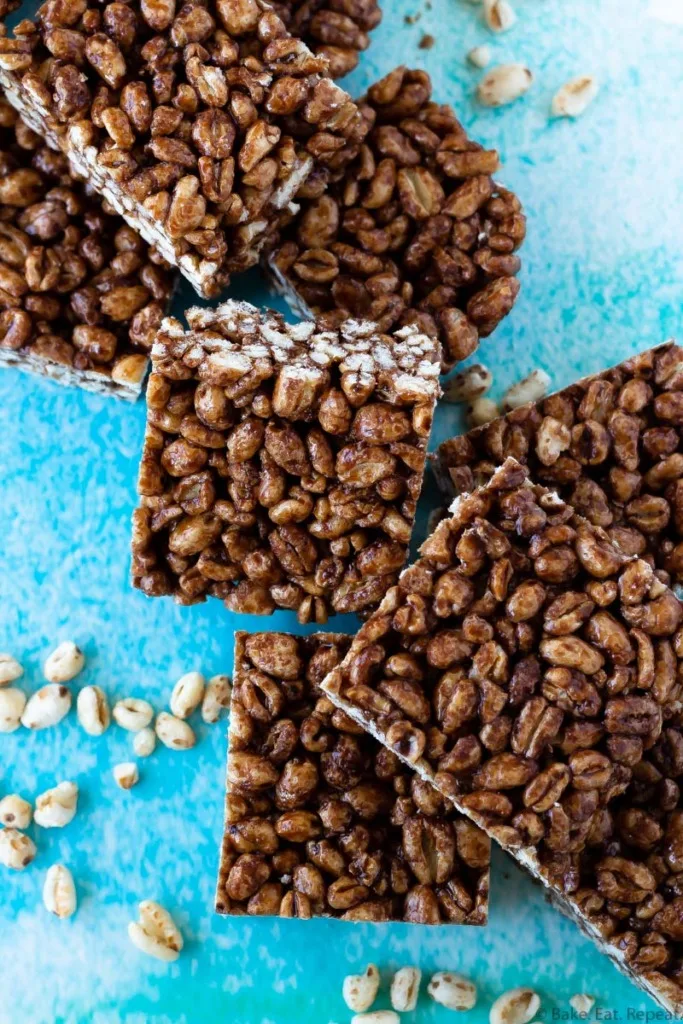 Why are my puffed wheat squares hard?
Puffed wheat squares will be hard when you cook the syrup for too long before mixing it with the puffed wheat cereal. They will still taste good, but they are definitely better when they're soft and chewy.
The trick is to cook the syrup long enough that the squares will hold together, but not so long that the squares are hard.
I've found that cooking the syrup over medium low heat is best. Melt the butter, then stir in the brown sugar, corn syrup, and cocoa powder, until you have a smooth syrup.
Cook the syrup, stirring slowly (you don't need to whisk it vigorously, just stir to keep it from burning), just until it comes to a boil. Once the syrup comes to a boil, remove it from the heat and stir in the vanilla and puffed wheat cereal.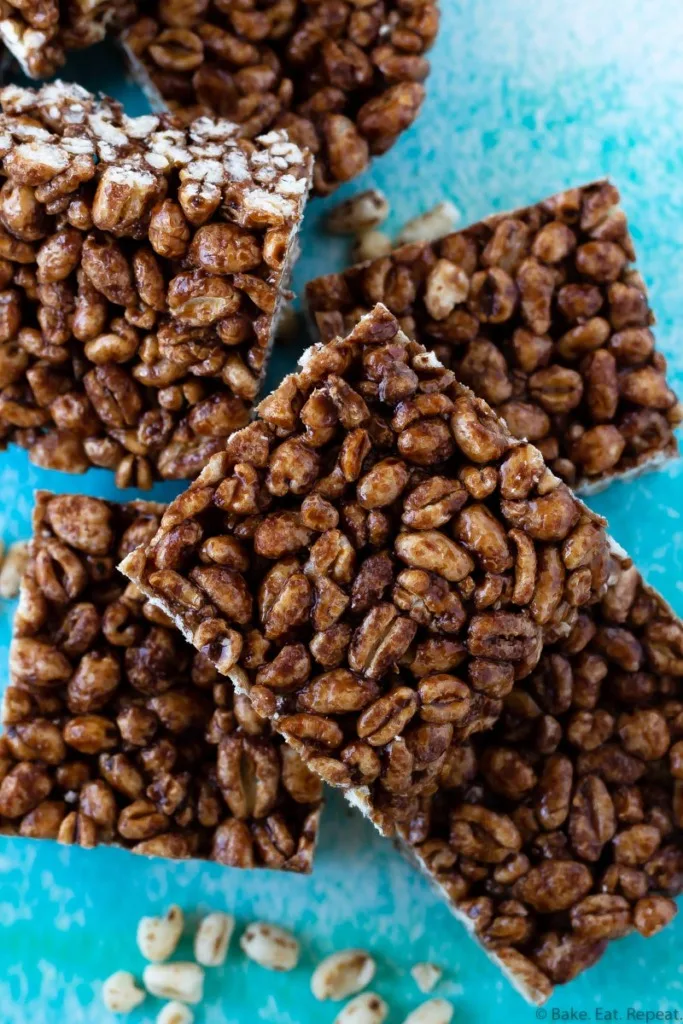 I've found a lot of recipes call for a boiling time of 3-4 minutes for the syrup, but every time I've let it boil more than briefly we've ended up with rock hard puffed wheat squares. My recommendation it to bring the syrup just to a full boil and then remove it from the heat.
The other thing I've found is that the brand of corn syrup you use matters. I've made these with no name golden corn syrup and they will stay soft for a few hours, but are rock hard by the next day. And my kids can eat these things quickly, but a whole pan in one afternoon is kind of pushing it, so that's no good!
Buying a brand name golden corn syrup (I've used this one and this one) and not letting the syrup boil for too long, results in chewy puffed wheat squares that last for at least 3 days. They may be chewy for a couple more days, but I couldn't say for sure, because they don't last any longer than 3 days here!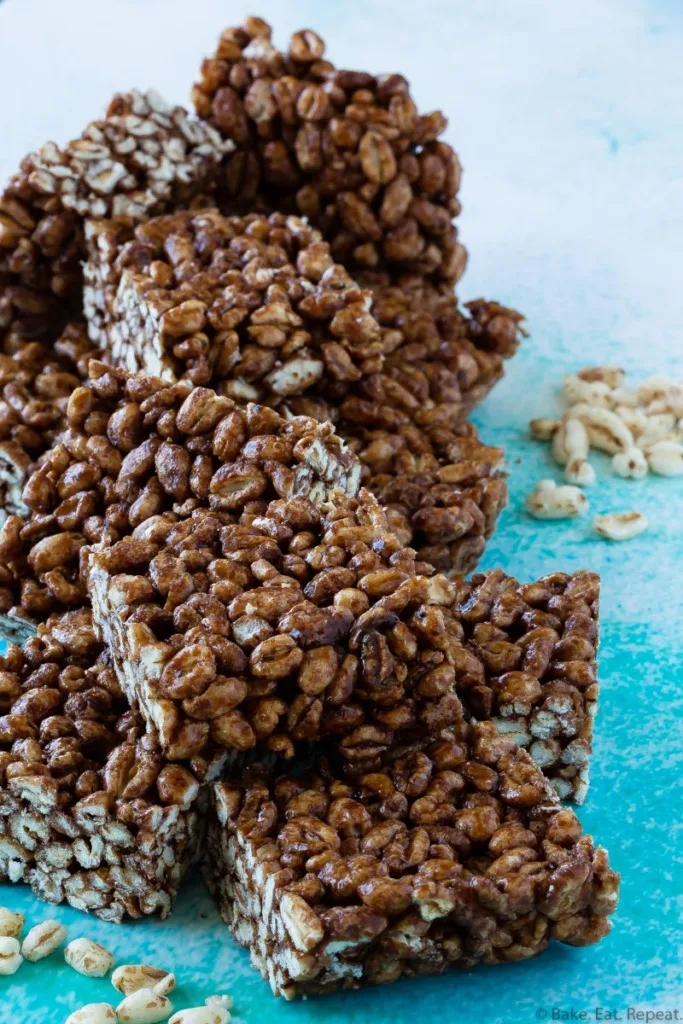 Where do puffed wheat squares originate?
I just found out that puffed wheat squares actually originated in a candy store in Red Deer, Alberta, which is quite close to home for me. I was not aware that they weren't something everyone made, but evidently it's a Canadian prairies thing. Who knew?
They were definitely a treat that appeared at every potluck event when I was growing up – and still are. And they're delicious, so they should be popular in more places than just the Canadian prairies!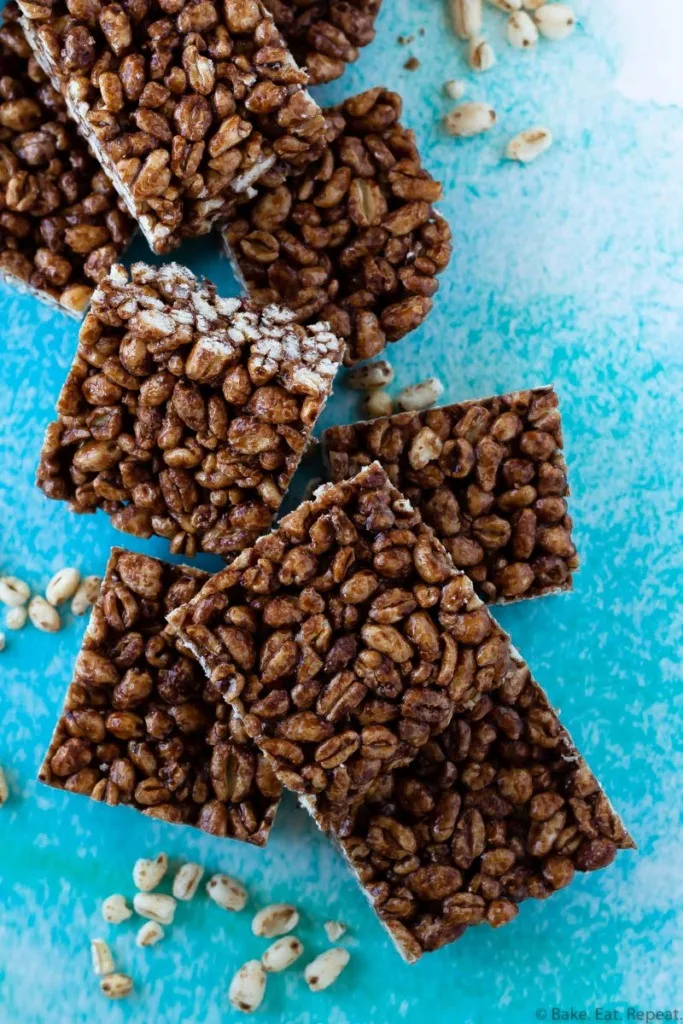 How to make Puffed Wheat Squares:
Make sure not to cook the syrup too long or your squares will be hard. Still tasty, but they are better when they're chewy. Cook the syrup just until it comes to a boil, and then remove it from the heat.
If you have a large pot, it's easiest to make the syrup in that and then add the puffed wheat and stir it to coat the cereal in the syrup. It keeps the syrup warm enough to coat the puffed wheat before it starts to set.
After dumping the puffed wheat into a buttered 9×13 pan, press it down evenly with a greased spatula.
If you can't find puffed wheat cereal, puffed rice will work as a substitute.
Here are some more great snack recipes for you: