These monster cookie bars are super easy to make and loaded with peanut butter, oats, chocolate chips, and M&M's. The kids will love them!
Monster cookies are one of the best cookies around. Peanut butter, oatmeal, chocolate chips, and M&M's all in one cookie – it doesn't get much better.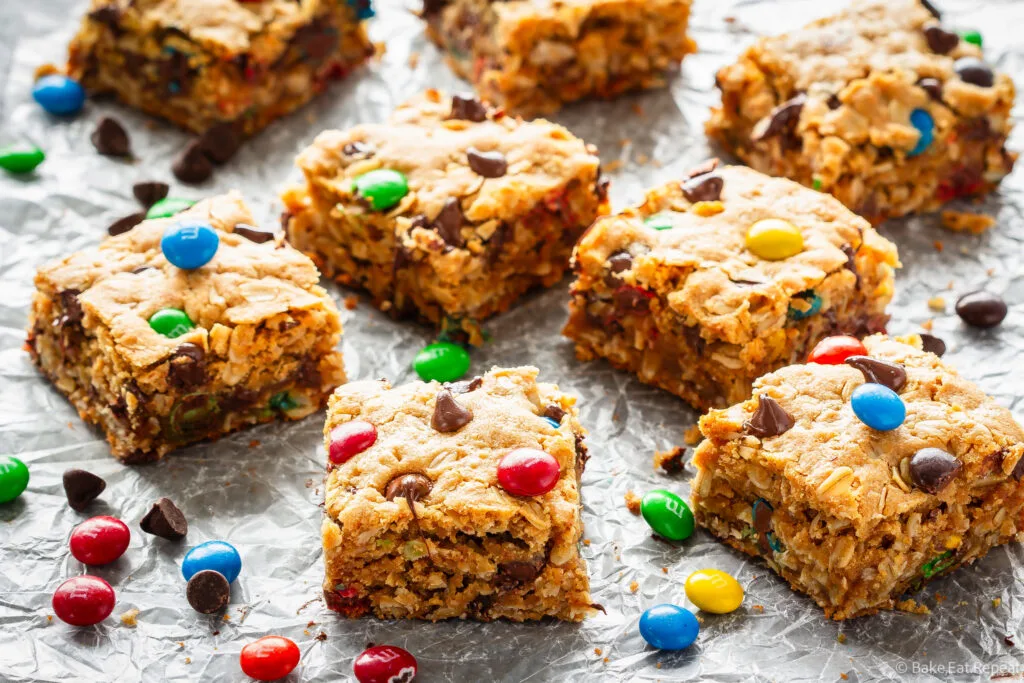 Except maybe as a cookie bar. Mostly because they're even easier to make in cookie bar form. Instead of scooping individual cookies, you toss all the dough in a pan and bake it up.
They're so easy to make, and so tasty. Filled with peanut butter, oats, and chocolate, they make an absolutely delicious cookie bar that everyone will love!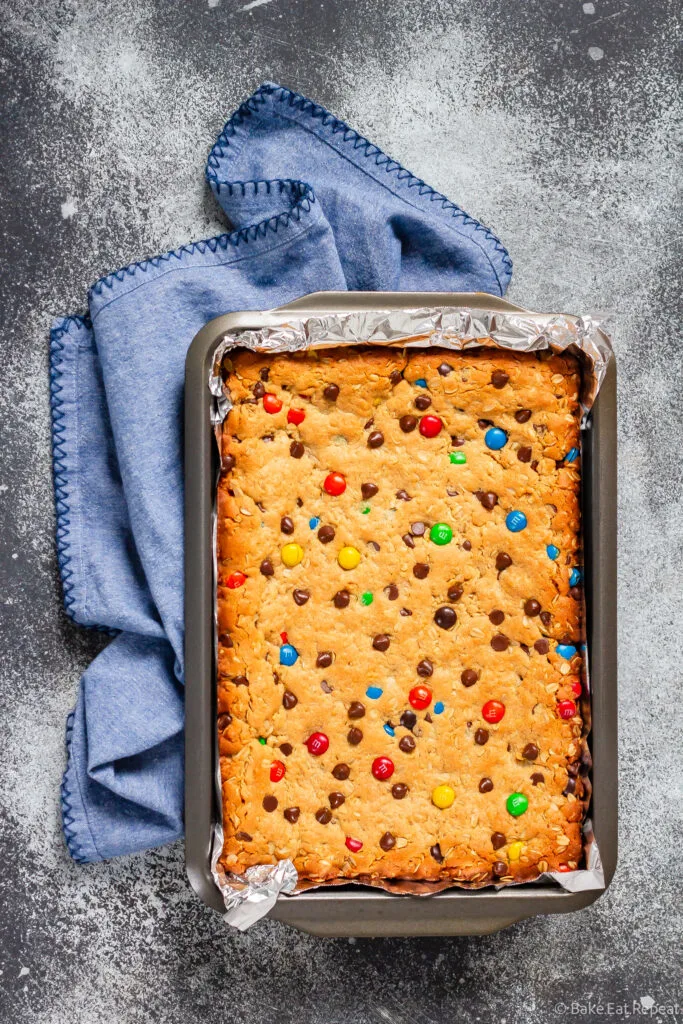 What are monster cookie bars made of?
Monster cookie bars are filled with peanut butter, oats, chocolate chips, and M&M's. They're chewy, hearty, and delicious cookie bars filled with all sorts of good things!
They're quite adaptable too. If you want different or additional mix-ins, you can easily change it up.
There's two cups total of chocolate chips and M&M's in this recipe, but you can change that to any combination you'd like. They would also be great with peanut butter chips, dark chocolate chips, chopped pretzels, mini peanut butter cups – so many options!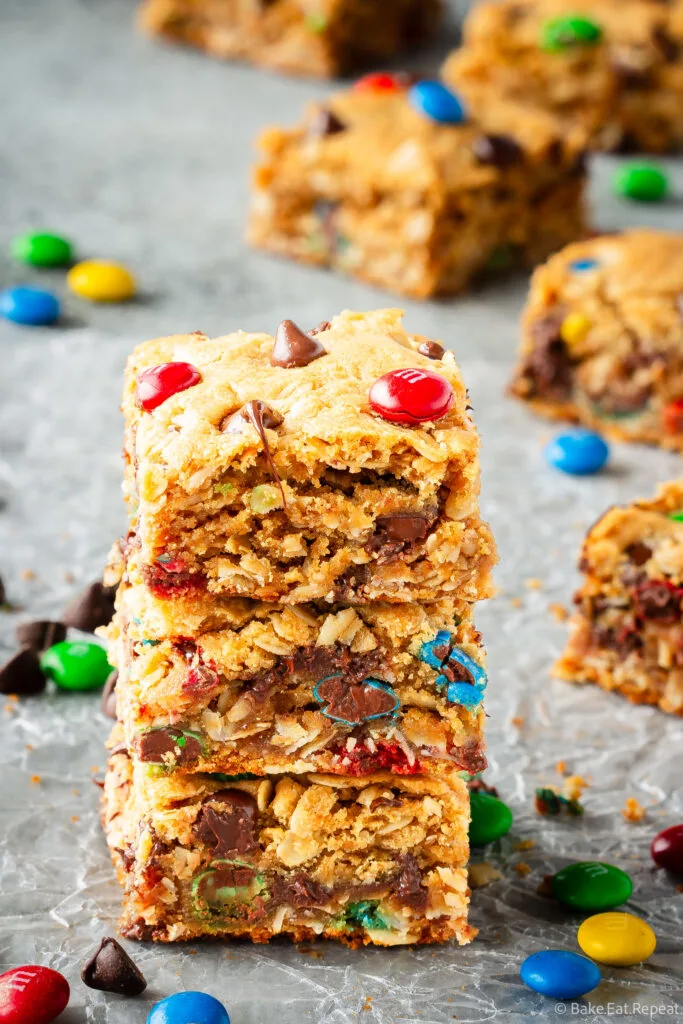 Which type of pan is used for baking bar cookies?
Typically you use a metal pan for baking bar cookies. The metal heats up faster and bakes the cookie dough more evenly than a glass pan will.
I always use a metal pan for these monster cookie bars, so the baking time is based on that. If all you have is a glass pan, I would recommend lowering the oven temperature to 325F, and you will likely need to bake the bars for an extra 5-10 minutes.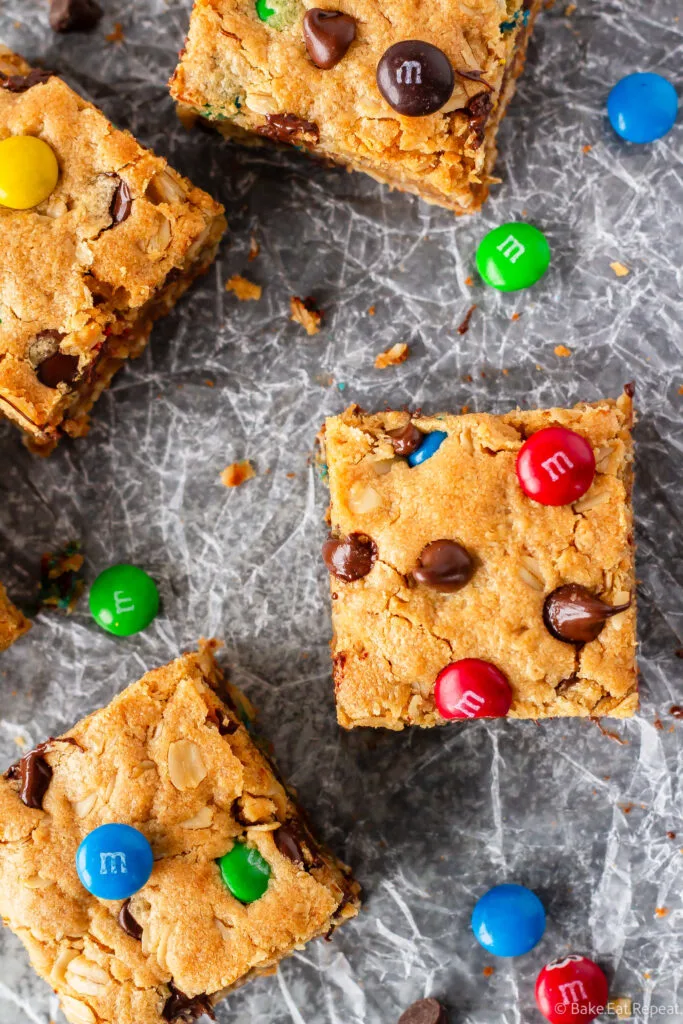 Can you use quick oats in monster cookies?
For these monster cookie bars I prefer to use quick oats instead of old fashioned rolled oats, so the recipe is written that way. For my Monster Cookies recipe I prefer to use old fashioned rolled oats, as they give the cookies a chewier texture.
But for these cookie bars, I found that old fashioned rolled oats resulted in a crumblier texture. I've made them with both though, and both were delicious, so use your preference.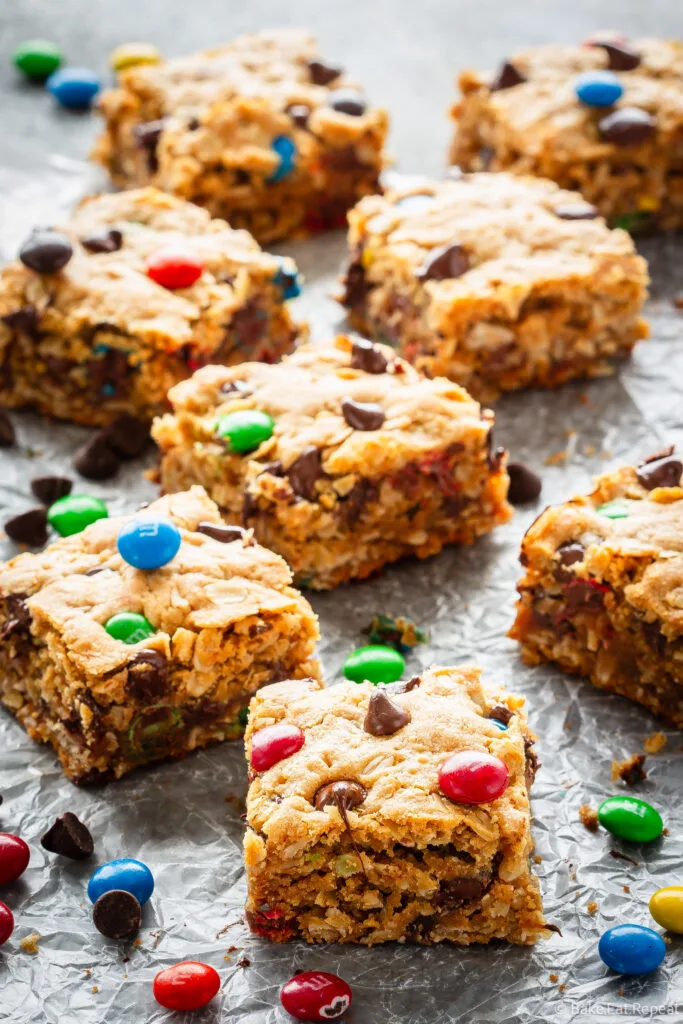 How to make Monster Cookie Bars:
Make sure not to over-bake these cookie bars or they will end up a bit crumbly and less chewy.
The dough will be very soft and sticky, don't worry about it, it will bake up fine, just spread it in a baking pan as evenly as possible.
The recipe is written with quick oats, as that was my preference, but I've made these with old fashioned rolled oats as well and they are great too, just a bit crumblier in texture.
If you want to change up the mix-ins, that's totally fine. Lots of different combinations would be delicious in these cookie bars.
Here are some more great cookie bar recipes for you: