Breakfast biscuits are one of the greatest take and go meals.  And they're not just for breakfast!  We actually had these for supper the other night while at my daughter's cross country race.  And they were perfect, they filled everyone up, and could be eaten while standing around at the park watching the race.  Or, in my daughter's case, while driving home from the park, since even these probably wouldn't be great to eat while racing.
But I do think that they were better the next morning for breakfast.  Since they're breakfast biscuits I suppose that makes sense.  These were perfect straight from the oven, warm and tender and flakey.  But they reheated very well in the microwave for 20-30 seconds and were a great breakfast that kept me full all morning.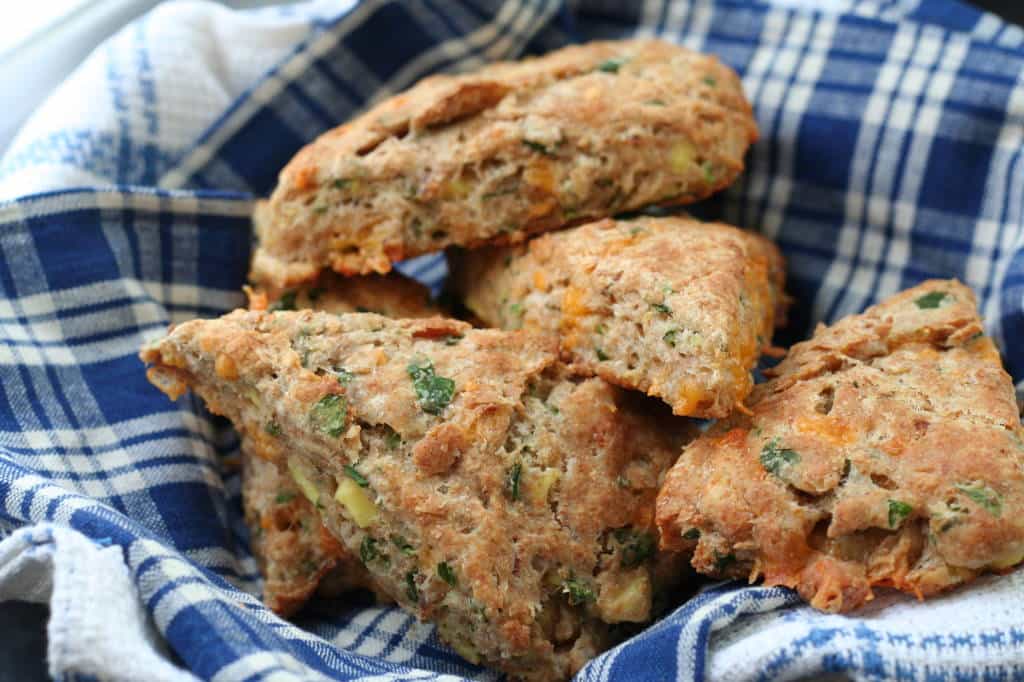 So the next time you have some leftover scrambled eggs and bacon, whip these up for an easy breakfast that you can grab and go on your way out the door.  You won't be sorry.  They're 100% whole wheat, and loaded with eggs, cheese, bacon and spinach to keep you going.  And you can obviously mix it up depending on what you have or like.  Cut out the cheese and bacon and load it up with veggies instead and it's even healthier.  Enjoy!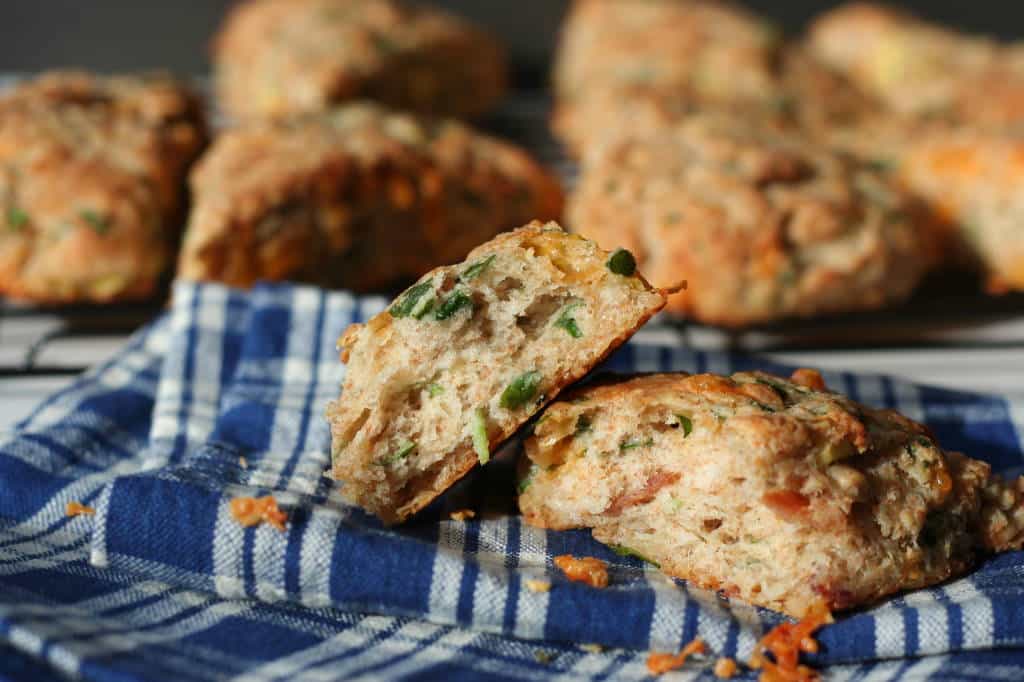 Yield: 8 large biscuits
Breakfast Biscuits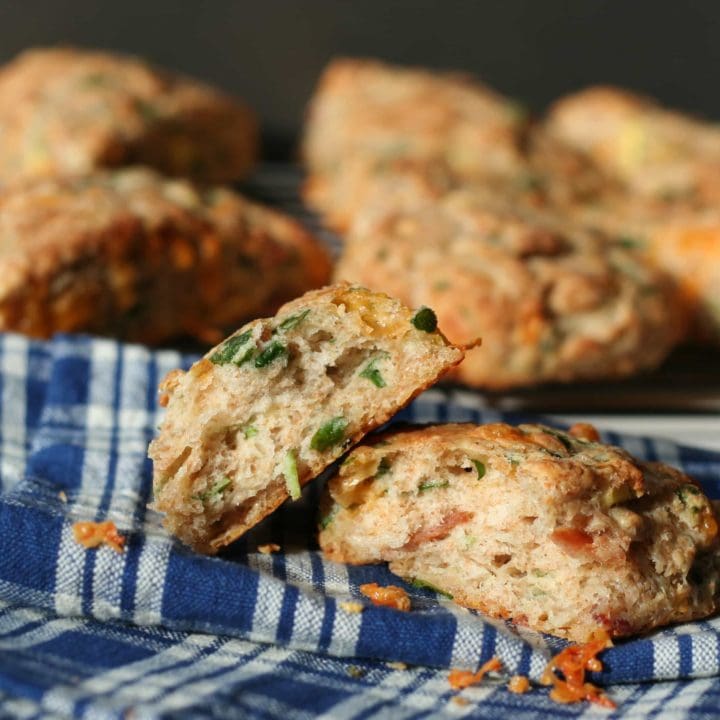 Ingredients
2 1/2 cups whole wheat flour
2 teaspoons baking powder
1/4 teaspoon baking soda
1/2 teaspoon salt
1/2 cup unsalted butter, frozen and grated
1 cup buttermilk
1/2 cup sharp cheddar, grated
1/4 cup cooked bacon (about 3 slices), chopped
1/2 cup scrambled eggs, chopped (about 2 eggs)
1/2 cup fresh spinach, chopped
Instructions
Preheat the oven to 450 degrees F. Line a baking sheet with parchment paper or a silicone baking mat. Set aside.
In a large bowl, whisk together the flour, baking powder, baking soda, and salt. Grate in the frozen butter and toss the mixture together with a spoon, pastry cutter, or your hands until the butter is coated in flour and the mixture resembles coarse crumbs. Pour in the buttermilk and stir a few times until it starts to come together into a dough. Add the cheese, bacon, eggs and spinach and continue stirring until it comes together into a rough ball and everything is evenly dispersed through the dough. Try to mix it as little as possible.
Turn the dough out onto the prepared baking sheet and form the dough into an 8 inch disc with your hands. With a sharp knife, cut the disc into 8 wedges. Spread the wedges out a bit with your hands (not completely necessary, I just like the crisper edge this gives to all the biscuits, you can leave them touching if you prefer). Bake for 18-20 minutes or until golden brown.
These are best warm, the same day they are baked, but keep well in a sealed container in the refrigerator for up to 3 days, reheat in the microwave for 20-30 seconds.