Flaky, tender, filled with chocolate chips and topped with coarse sugar – these chocolate chip scones make the perfect treat with your morning coffee!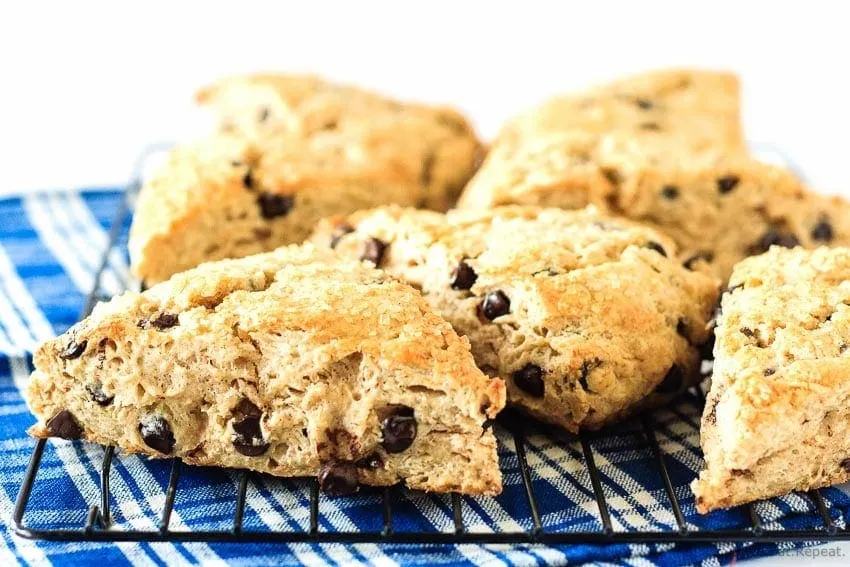 I think scones are my all time favourite treat to have with my morning coffee. Good scones at least. It's always so disappointing when I decide to buy a scone somewhere thinking that I'm getting a wonderful, flaky, amazing pastry to enjoy with my coffee, and I end up with a dry, stick in your throat and end up throwing out half of it pastry instead. SO disappointing. Because they're my favourite.
These chocolate chip scones are good scones.
Not dry, stick in your throat ones. I don't make those kind of scones. I just buy them and wish I hadn't.
Why is it that whenever you're in a coffee shop the baked goods always look so amazing? You know they won't be. Or at least not as amazing as homemade would be. You know you'll be disappointed. You know they cost WAY too much. And you still buy them.
Just me? Please tell me I'm not the only one roped into buying ridiculously expensive and not very good pastries to go with my ridiculously expensive latte. I'll feel better about it if I'm not the only one.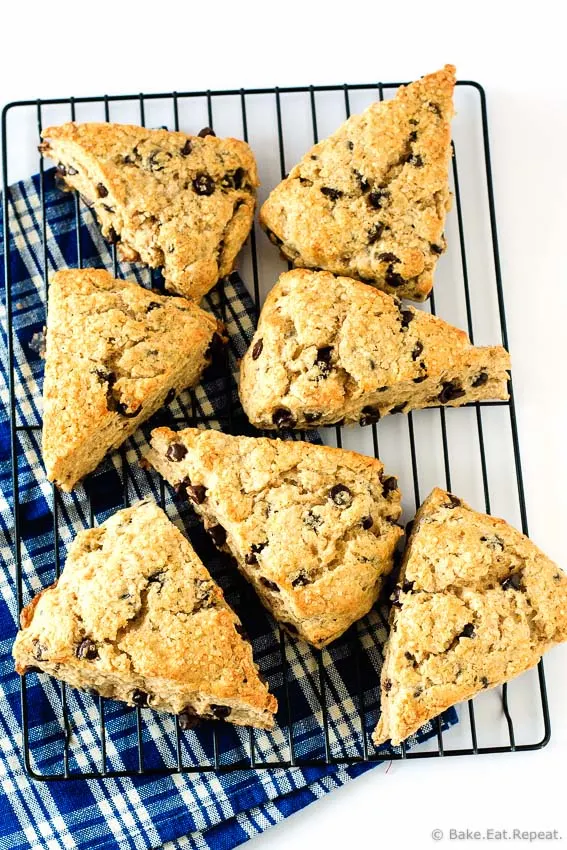 I don't get convinced nearly as often as I used to though. Mostly because I know that I can make a better one at home. And they don't take long to make either. These are hot from the oven in under 45 minutes, and that's with a 15 minute chill time. Plus, they use some whole wheat flour in them, which totally makes them healthy right? Negates all the butter and chocolate? I think so.
Okay, they're not healthy, but I'm sure they're better then the local Starbucks. And if not better for you, at least they're worth the calories. Flaky, buttery, chocolatey, amazing chocolate chip scones.
Totally worth it.