Flaky, tender, filled with chocolate chips and topped with coarse sugar – these chocolate chip scones make the perfect treat with your morning coffee!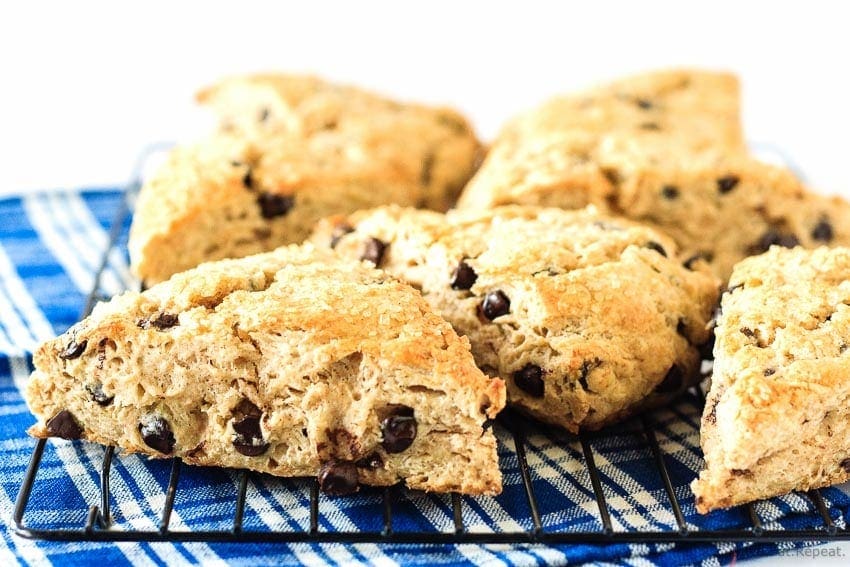 I think scones are my all time favourite treat to have with my morning coffee.  Good scones at least.  It's always so disappointing when I decide to buy a scone somewhere thinking that I'm getting a wonderful, flaky, amazing pastry to enjoy with my coffee, and I end up with a dry, stick in your throat and end up throwing out half of it pastry instead.  SO disappointing.  Because they're my favourite.
These chocolate chip scones are good scones.
Not dry, stick in your throat ones.  I don't make those kind of scones.  I just buy them and wish I hadn't.
Why is it that whenever you're in a coffee shop the baked goods always look so amazing?  You know they won't be.  Or at least not as amazing as homemade would be.  You know you'll be disappointed.  You know they cost WAY too much.  And you still buy them.
Just me?  Please tell me I'm not the only one roped into buying ridiculously expensive and not very good pastries to go with my ridiculously expensive latte.  I'll feel better about it if I'm not the only one.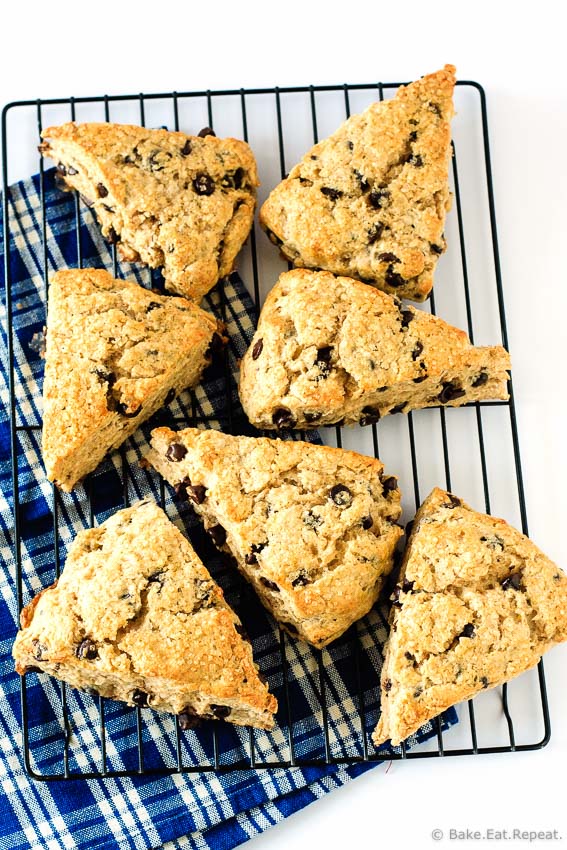 I don't get convinced nearly as often as I used to though.  Mostly because I know that I can make a better one at home.  And they don't take long to make either.  These are hot from the oven in under 45 minutes, and that's with a 15 minute chill time.  Plus, they use some whole wheat flour in them, which totally makes them healthy right? Negates all the butter and chocolate?  I think so.
Okay, they're not healthy, but I'm sure they're better then the local Starbucks.  And if not better for you, at least they're worth the calories.  Flaky, buttery, chocolatey, amazing chocolate chip scones.
Totally worth it.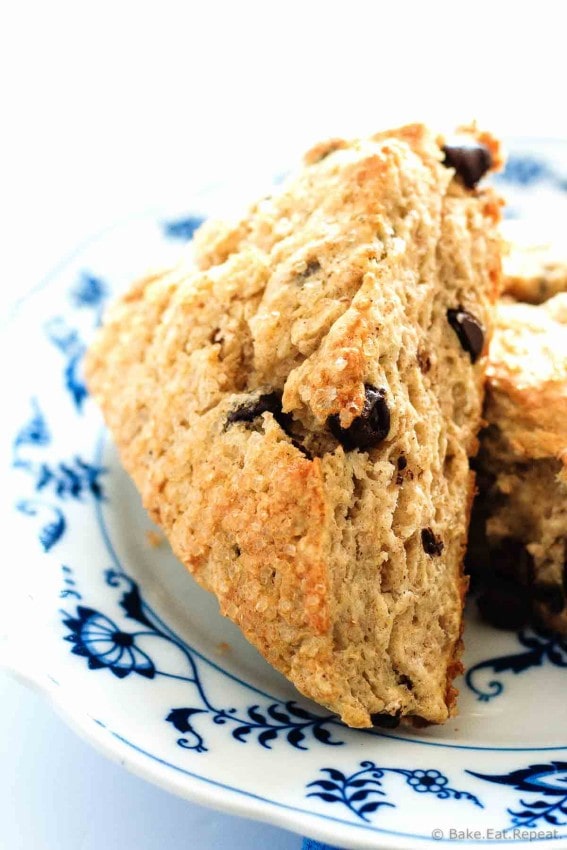 Yield: 8 scones
Chocolate Chip Scones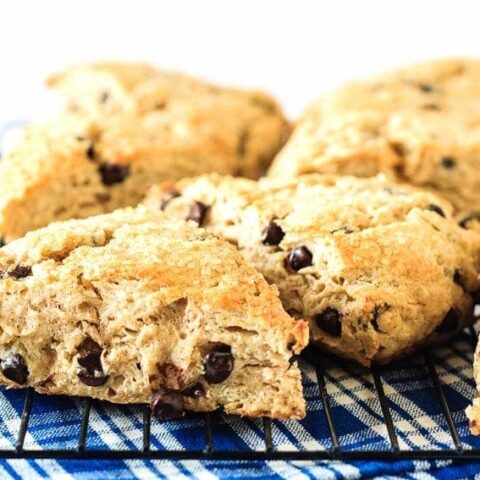 Flaky, tender, filled with chocolate chips and topped with coarse sugar - these chocolate chip scones make the perfect treat with your morning coffee!

Prep Time 30 minutes

Cook Time 15 minutes

Chilling Time 15 minutes

Total Time 1 hour
Ingredients
1/2 cup cold unsalted butter
2 cups all purpose flour
1 cup whole wheat flour
1 teaspoon cinnamon
3/4 teaspoon salt
1 tablespoon baking powder
1 cup semi sweet chocolate chips
2 large eggs
1/2 cup maple syrup
1/2 cup buttermilk
1 egg white
1-2 tablespoons turbinado or coarse sugar
Instructions
Place the butter in the freezer while getting out the other ingredients so it is very cold and easy to grate.
In a large bowl, combine the all purpose flour, whole wheat flour, cinnamon, salt, baking powder and chocolate chips.
Grate the cold butter into the flour mixture and mix it together with your hands or a pastry cutter.
In a small bowl, whisk together the eggs, maple syrup and buttermilk until combined.
Pour this mixture into the dry ingredients and stir until it is just combined.
Transfer the dough to a lightly floured surface and form it into a thick circle, about 7-8 inches wide.
Place the circle in the freezer to chill for 15 minutes, and preheat the oven to 425 degrees F.
Take the dough from the freezer and place it on a parchment lined baking sheet.
Pat it together again into a circle and cut it into 8 wedges with a sharp knife.
Spread the pieces out on the baking sheet and brush the tops lightly with egg whites.
Sprinkle the tops with turbinado sugar.
Bake the scones for 15-17 minutes, or until they are golden brown.
Remove to a wire rack to cool.
Store in an airtight container at room temperature for 3-5 days, or freeze for up to 3 months.

Recommended Products
This post contains affiliate links. As an Amazon Associate, I may receive a small commission from qualifying purchases.
Nutrition Information:
Yield:
serves 8
Serving Size:
1 scone
Amount Per Serving: Calories: 392Total Fat: 15.4gSaturated Fat: 8.8gCholesterol: 78mgSodium: 346mgCarbohydrates: 56gFiber: 2gSugar: 17.2gProtein: 8g