Whole grain breakfast pitas flavoured with cranberry and orange. A great way to change up your morning meal!
Toast is one of my favourite things to have for breakfast. But….I also get bored easily and plain old toast with peanut butter is usually only good for a day or two until I need a different kind of toast. Different bread, different topping, different in some way, shape or form.
Enter breakfast pitas. I love these things. My family and I first became addicted to them when we discovered the ones they sell at Costco. So, so good. Those ones are flax seed ones, and they are absolutely wonderful toasted for breakfast with some peanut butter and jam. If toast is your thing.
So of course, I needed to recreate them. Naturally. If you're going to be buying something constantly, you might as well be able to make it yourself, right? Right.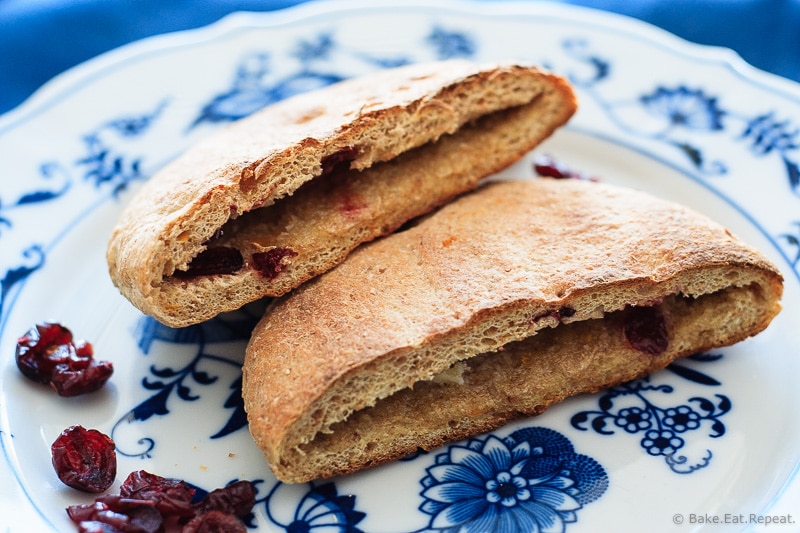 Those flax seed, whole grain pitas took a few tries to recreate to my satisfaction, but they are amazing. And actually quite easy to make. So then I needed to try some new flavours. Because I can't just leave well enough alone. Also, bored easily.
These cranberry orange breakfast pitas were just as amazing as the whole grain ones. We loved them. And again, they are quite easy to make. I will say though, that they're a little more finicky in the puffing department.
They definitely don't puff as easily as regular pita bread. In fact, it's a little hit and miss with the puffing, in that they usually don't puff all that much. But it's okay. We're just using them for toast, and they're also a bit thicker than your typical pita bread, so it's actually quite simple to cut a pocket into the bread with a knife after you toast it.
We enjoyed these for breakfast toasted with a little butter, or some jam. No more boring toast for breakfast!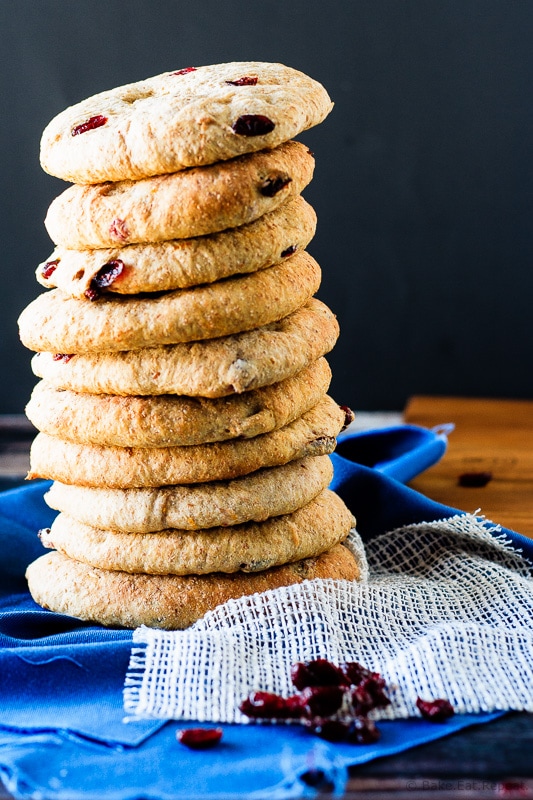 I shared this Cranberry Orange Breakfast Pita recipe over at Cupcakes and Kale Chips last week, so head on over there to check it out!