Homemade pita bread that is quick and easy and absolutely delicious! You'll never want to buy pita bread at the store again!
Isn't pita bread kind of neat? I don't know, something about a pocket being inside your bread to stuff things into.
And don't even get me started on watching them puff up in the oven when you make them yourself!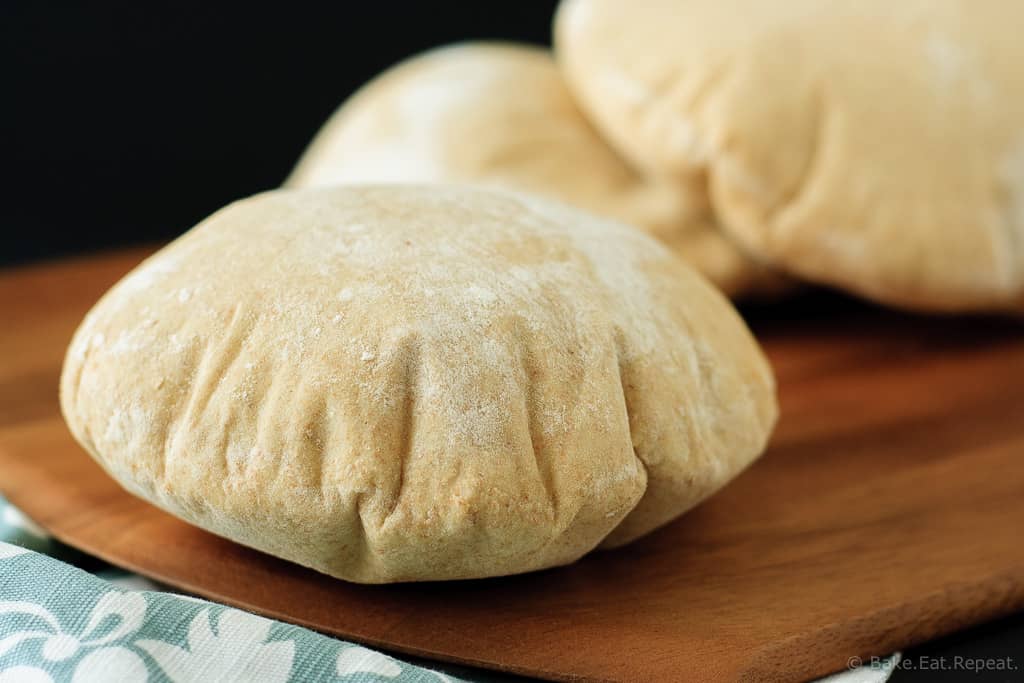 Homemade pita bread is even cooler than the store-bought stuff. I don't even need to tell you that it tastes way better too!
That's just a given I think. Homemade bread is pretty much always better.
These homemade whole wheat pitas are pretty fantastic. I've tried many, many recipes for pita bread, and have always liked it, but it's never been amazing.
Usually a little thick, a bit dry, and rather undependable in the puffing department.
And that's just plain disappointing when you have a bunch of kids staring into the oven waiting for the magical puffing bread to balloon up in the oven and it doesn't happen!
Now I won't say that these will all puff up without fail every single time you make them. They probably won't.
But this recipe does work a thousand times better than any other one I've ever tried.
Plus, it's faster, easier and tastes better too. That's a winning recipe in my books!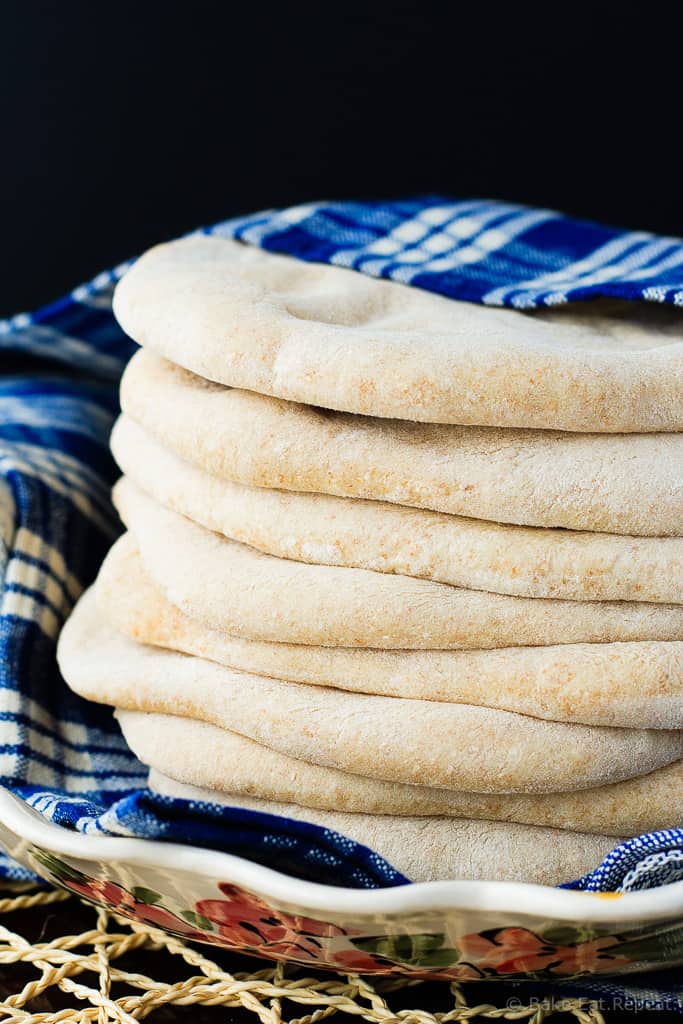 The trick is to flip the pitas over onto the hot stone or prepared baking sheet so the side that was resting on the countertop while rising is facing up in the oven.
Having the side of the bread that is not as dry facing up in the hot oven helps with the puffing. So does rolling them out as evenly as possible.
I find that this is easier to do if you try to roll them out with as few rolls as possible, and to keep the surface you're rolling on lightly floured so you don't have bits of your pita bread sticking to the countertop.
Regardless of how many of your pitas do the magical puffing trick in the oven though, this pita bread still tastes amazing, even as flatbread!
So you definitely need to make it soon even if you think yours won't puff. And when they DO puff up for you, it'll be really exciting! You know, for the kids.