These cherry pop tarts are easy to make, and make the best dessert or snack. Flaky homemade pastry wrapped around a sweet cherry filling – so good!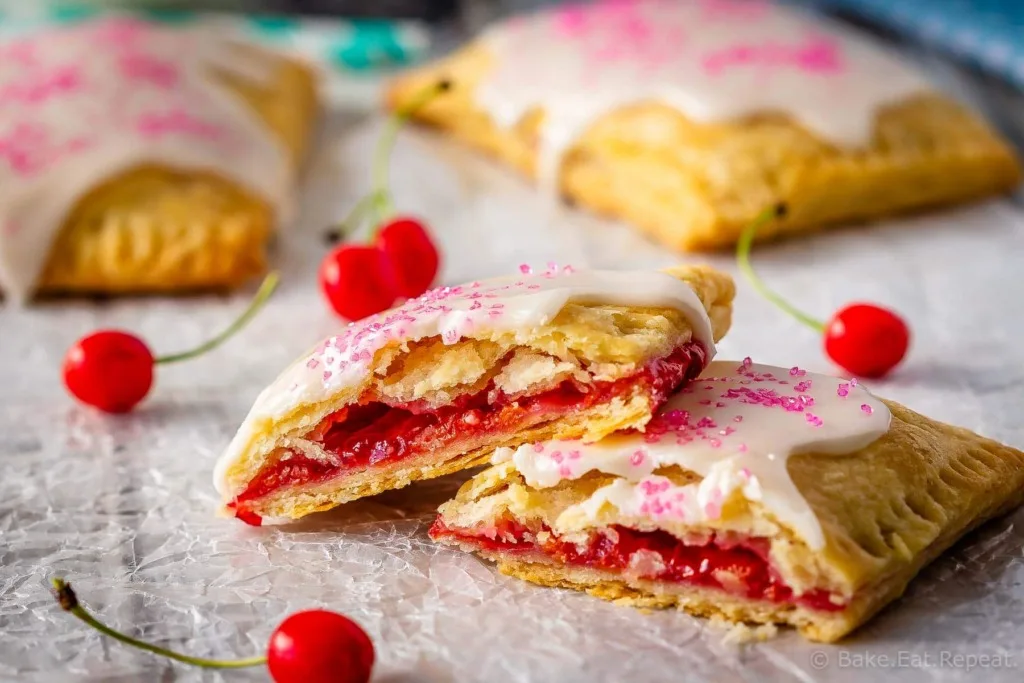 So these cherry pop tarts might just be one of the best things to come out of my kitchen in a while.
But then, it's flaky pastry wrapped around a sweet cherry pie filling and topped with vanilla icing. Obviously they were good. I didn't even really need to tell you that, I'm sure.
Anything in pie form is always gonna be good. I think we can all agree on that (and if not….why?).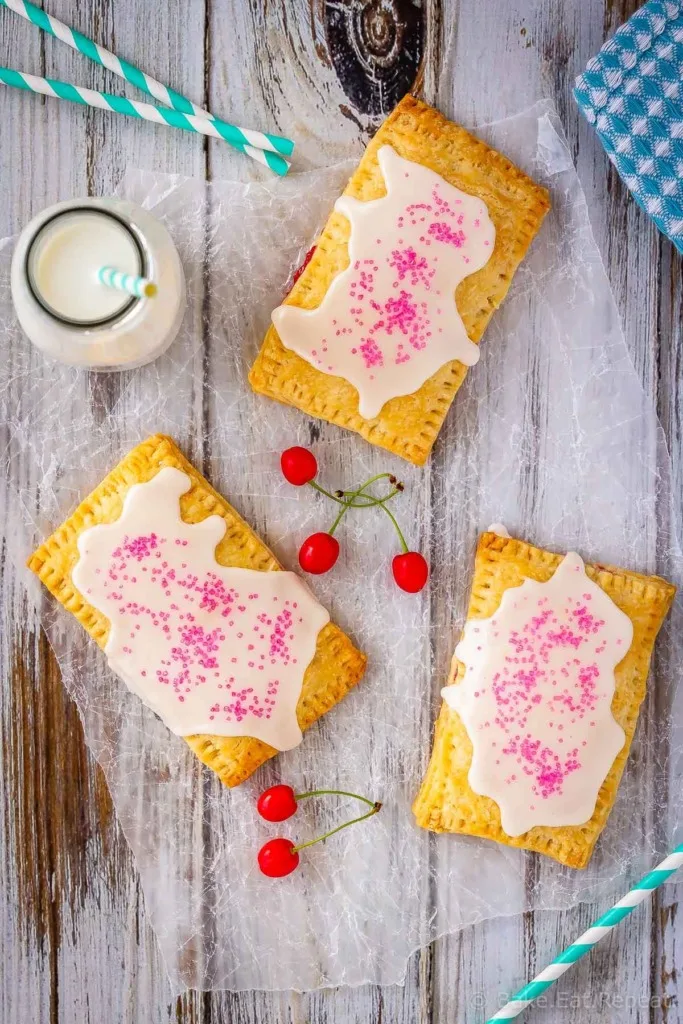 Also, when you call pie a pop tart – that just makes it acceptable breakfast food. Am I right? I really don't know how pop tarts ever convinced us that pie for breakfast was reasonable. It really is quite ridiculous. But at the same time, I can kind of get behind it when these cherry pop tarts are sitting in my kitchen calling my name. Just wait till 10am and call it a coffee break. It's all good.
Or be a little less crazy and have them for dessert. Pie for dessert is always acceptable.
Either way, you should probably make these tasty cherry pop tarts as soon as possible.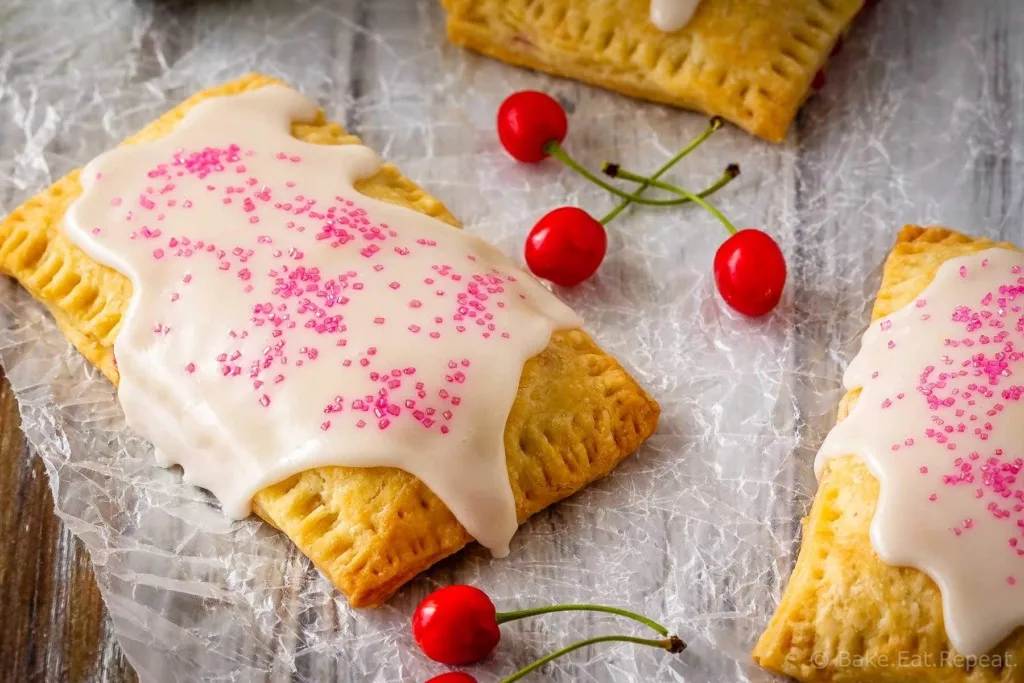 I used sour cherries off the tree in my backyard to make these. But if you don't have sour cherries available to you, you can definitely use regular sweet cherries instead. You will just want to increase the lemon juice a bit and give the filling a taste before adding all the sugar (details in the notes of the recipe) because you likely won't need as much sugar for the filling with sweet cherries. Depends how sweet you like your pie filling to be, though.
We absolutely loved the sour cherries in these pop tarts, and I am now hoping that tree grows real fast so we get a lot more cherries in the future, because now I really want to make cherry jam, and cherry pie, and cherry sauce, and of course more cherry pop tarts….but I'm all out of sour cherries.
I'm now looking forward to next year's harvest though!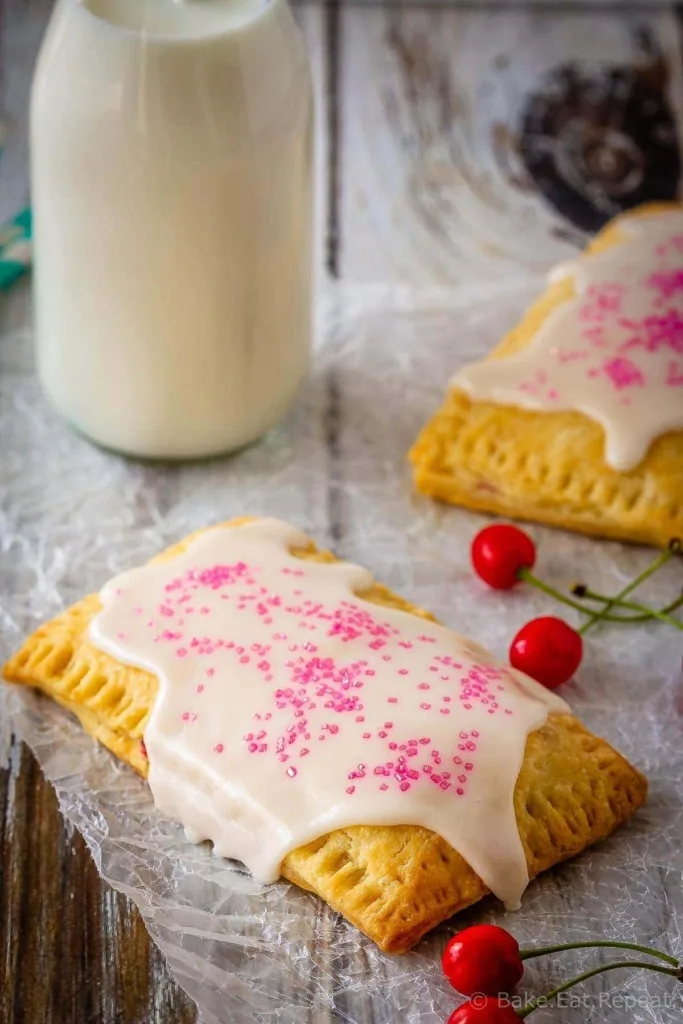 Tips for perfect Cherry Pop Tarts:
Make sure your pastry is cold when you roll it out – just roll out half at a time – or it will be difficult to work with. Cold pastry is much easier to roll out and cut then warm, sticky pastry. I used this Perfect Pastry for these (half the recipe, the other half can be frozen for future pie making), but any pastry will do.
I usually make my pastry in a food processor – it's just faster and easier – but sometimes use this pastry blender instead and it works well.
I like to roll out my pastry between two pieces of plastic wrap or wax paper – just peel off the top piece, cut out your rectangle pieces of pastry, and transfer them to a baking sheet – but you can certainly roll it out on a lightly floured countertop instead if you prefer.
Here are some more great pie recipes for you: Raspberry Pie, Apple Pie Bars, and Pumpkin Pie
This post contains affiliate links, meaning that if you make a purchase through these links, I may receive a small commission. I am a participant in the Amazon Services LLC Associates Program, an affiliate advertising program designed to provide a means for us to earn fees by linking to Amazon.com and affiliated sites.