These cherry cheesecake brownies are easy to make and taste delicious. Fudgy brownies, creamy cheesecake, and sweet cherry pie filling all rolled together into one amazing brownie!
These tasty cherry cheesecake brownies are so decadent. Creamy cheesecake, sweet cherry pie filling, and fudgy brownies swirled together into one amazing dessert that everyone will love.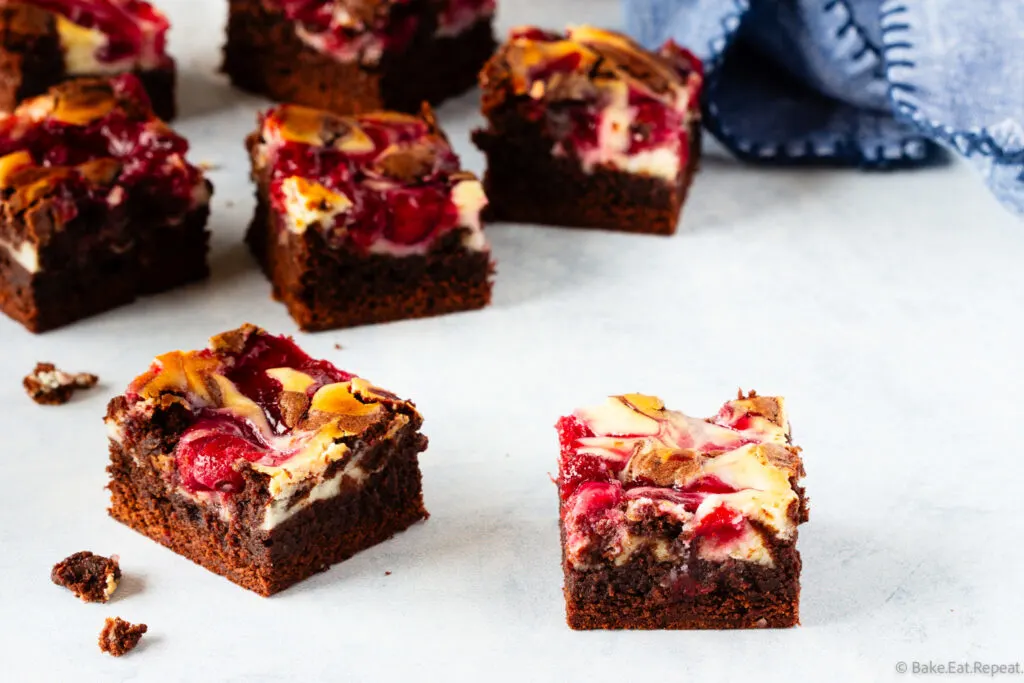 I made the cherry pie filling from some frozen sour cherries I had from my tree. But I've included directions if you want to use sweet cherries instead. Or alternatively you can just open a can of cherry pie filling. Any of those options will be delicious.
The cheesecake and brownie batters both mix up quickly, so even though there are three separate parts to these brownies, they are not difficult to make.
They are rich, decadent, and delicious, and they will not last long!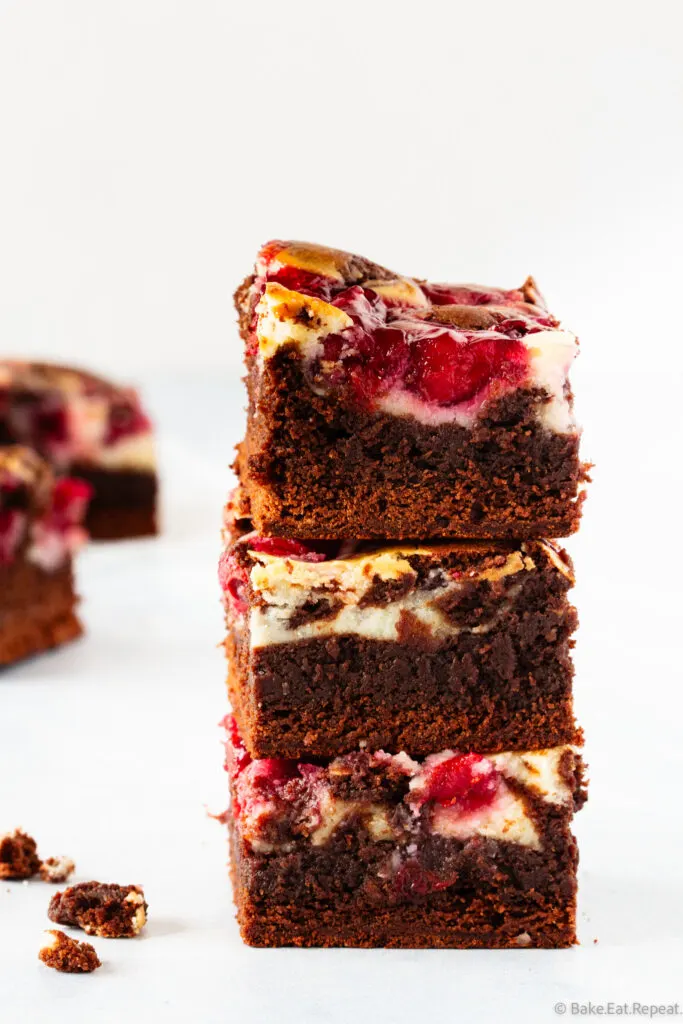 Do cream cheese brownies need to be refrigerated?
Yes, you do need to refrigerate cheesecake brownies like these. Since cream cheese is a dairy product it does need to be refrigerated, even after baking it.
Let the brownies cool completely after baking them, then slice them and store them in an airtight container in the refrigerator for 3-5 days.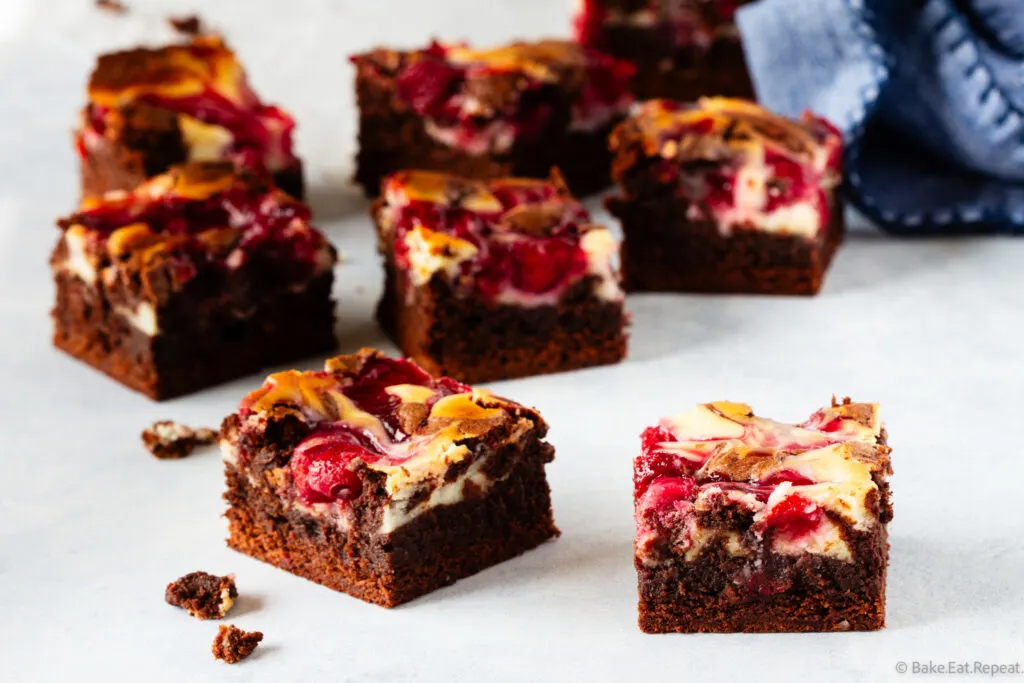 If you prefer your brownies warmer, rather than cold from the fridge, you can let a piece warm up at room temperature for a half hour or so before eating it, but don't store them at room temperature for food safety purposes.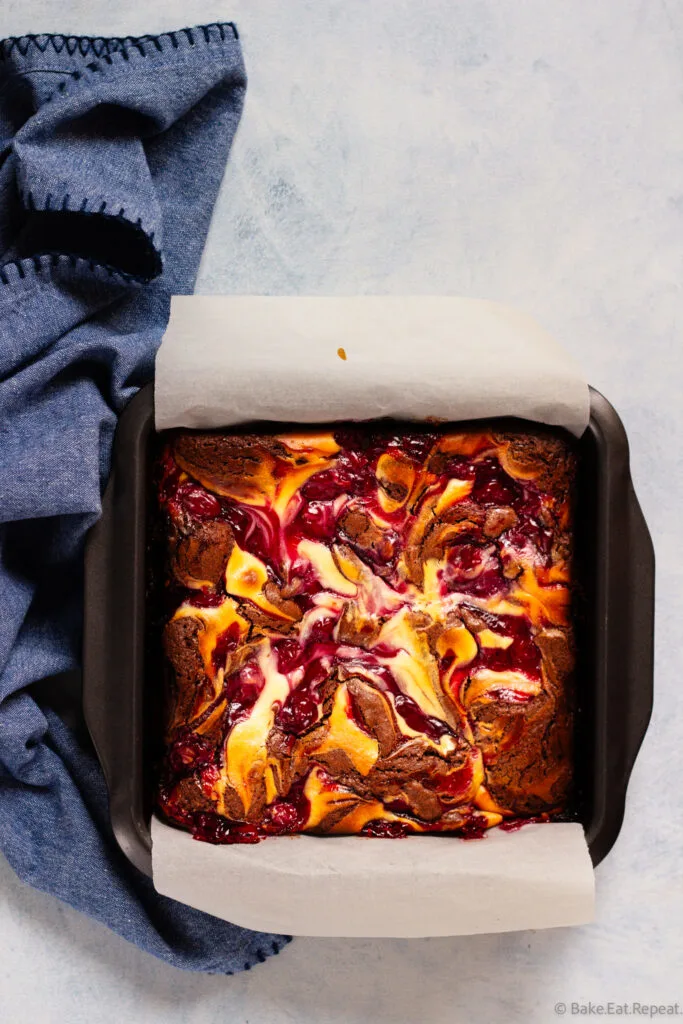 How do you tell when fudgy brownies are done?
When fudgy brownies are done baking, a toothpick inserted in the centre of the brownies will come out with a few moist crumbs on it. If it comes out with wet batter on it, bake for another 4-5 minutes and test again.
If it comes out dry, you likely over baked the brownies a bit. They'll likely still taste delicious, because they're cherry cheesecake brownies and they're amazing, but next time you will want to bake them a little less!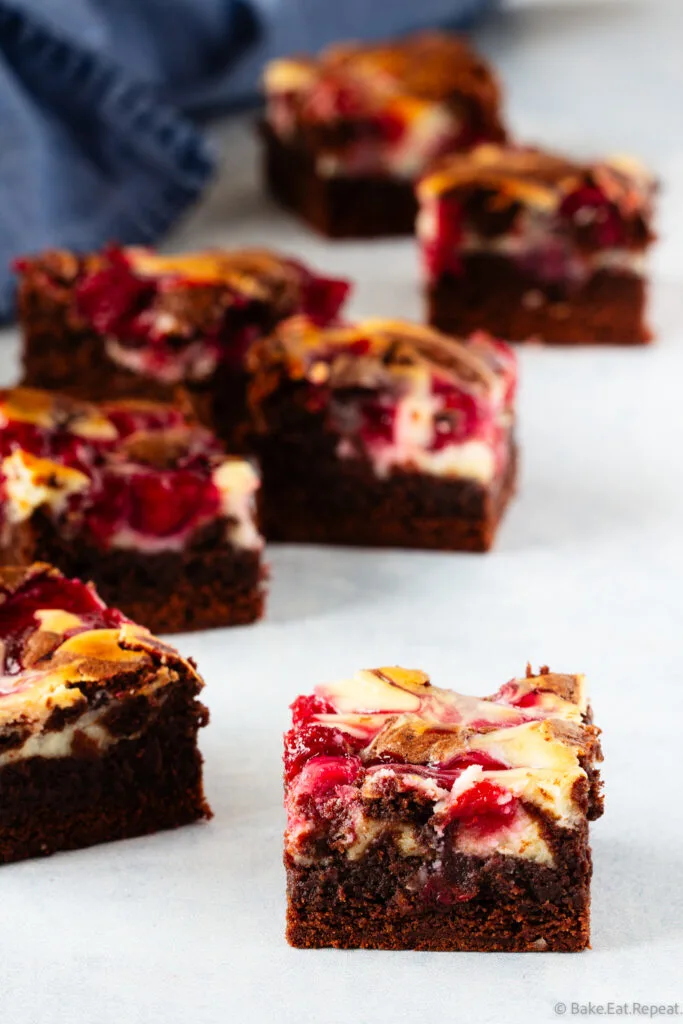 How to make Cherry Cheesecake Brownies:
To get the marbled effect in these brownies, you spread 2/3 of the brownie batter in the pan and then add spoons of the rest of the batter along with the cheesecake batter and the cherry pie filling until it's all used up. Then swirl it all together with a butter knife.
If you don't want to make the cherry pie filling from scratch, you can use canned cherry pie filling instead.
I use a metal baking pan for this recipe. I haven't tried this recipe in a glass baking dish, but typically using a glass baking dish instead means you should lower the oven temperature by 25 degrees and bake for about 10 minutes longer if you want to try it.
Here are some more great brownie recipes for you: