These almond joy thumbprint cookies are so tasty. A chocolate cookie coated in coconut, with an almond pressed on top is the perfect Christmas cookie!
I typically stick to pretty simple cookies. Cookies where you mix the dough, drop it on a cookie sheet and bake are more my style than thumbprint cookies which take a little more time.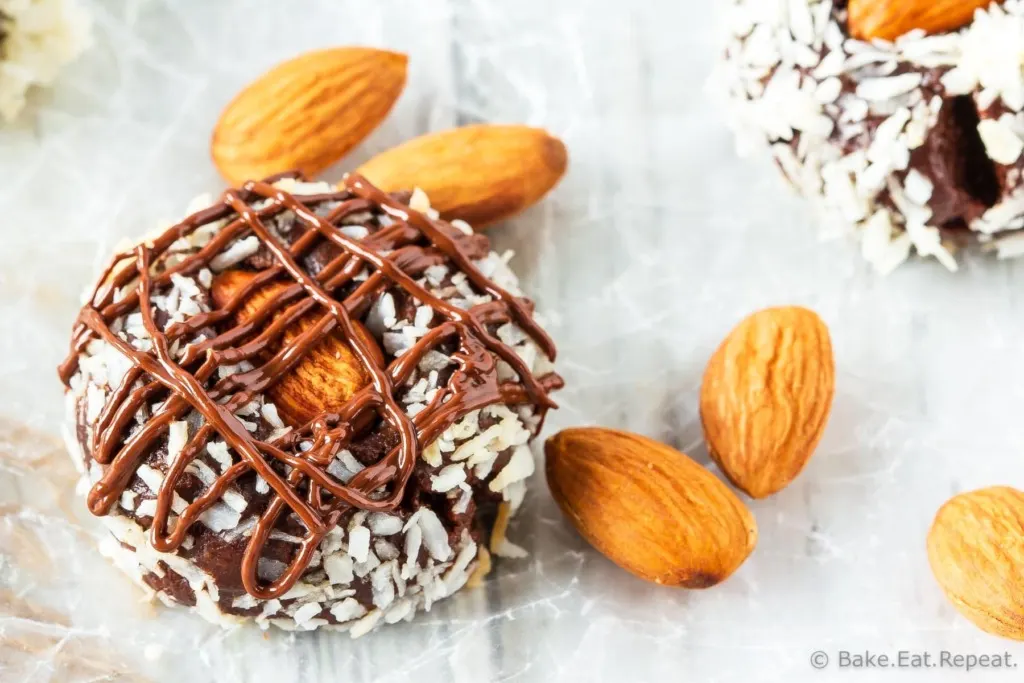 But at Christmas time I'm willing to take an extra 5 minutes on my cookie prep work. Still not a huge fan of cut out cookies, because they take WAY too long, but thumbprint cookies I can deal with.
Last year I made these turtle thumbprint cookies and they were a huge hit. So this year I decided to try another version.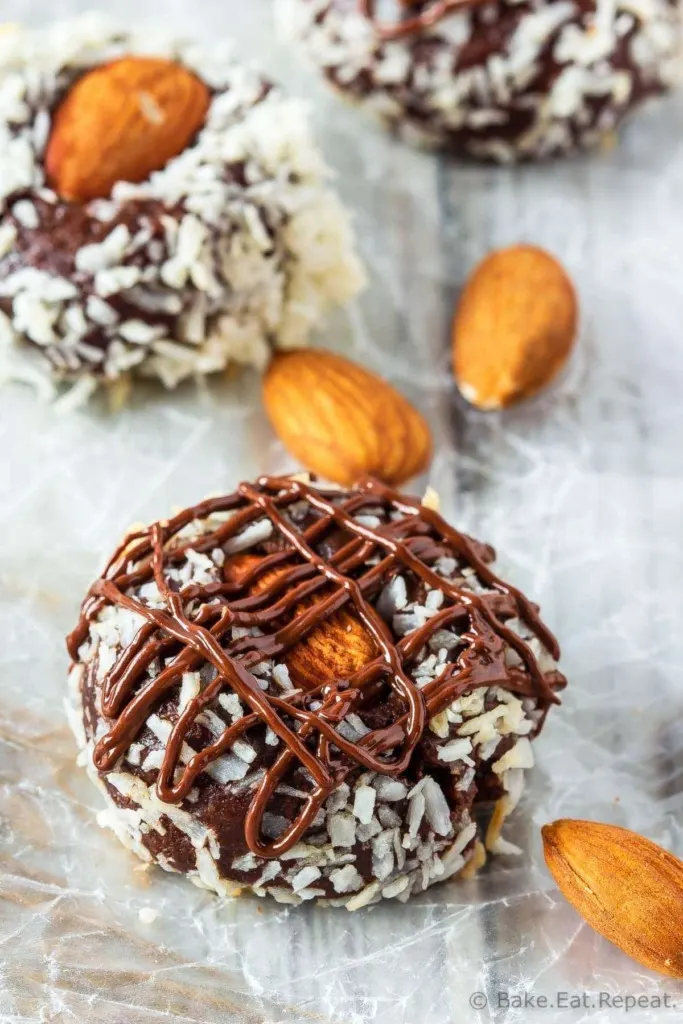 Enter almond joy thumbprint cookies. Because chocolate, coconut, and almond are always amazing together – so this cookie had to be a winner.
I brought these almond joy thumbprint cookies to a potluck lunch and they all disappeared very quickly.
My kids were a little disappointed. They're always a bit annoyed when there's cookies available and they aren't for eating. When I said they couldn't have one of these almond joy thumbprint cookies because I was bringing them to the church they informed me that everything I make is always for the church.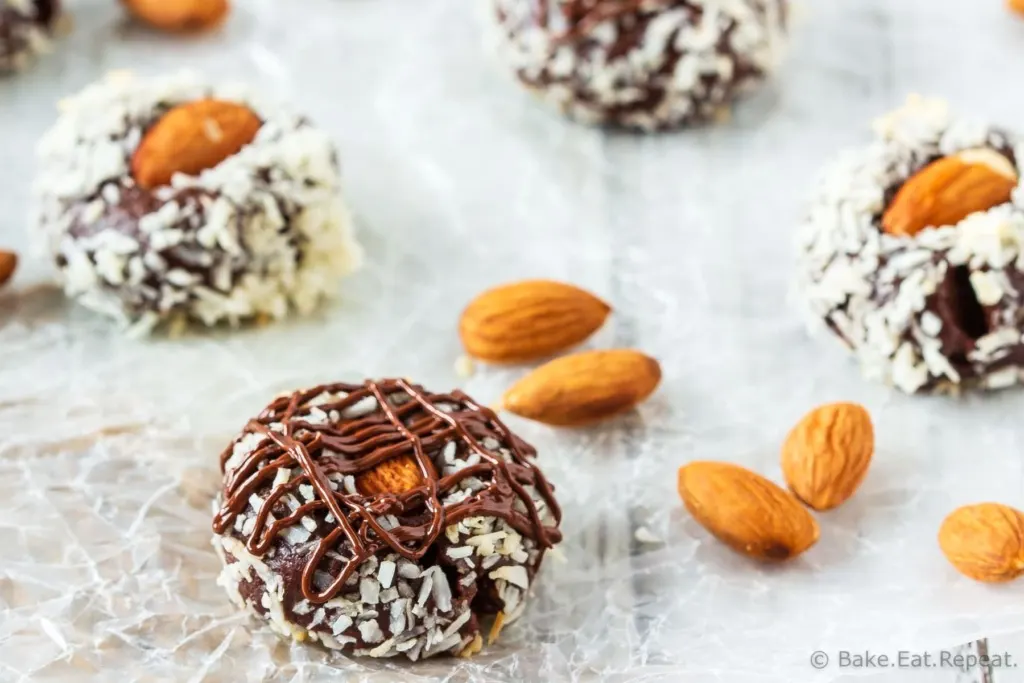 Pretty sure that's not true. Cookies are made on a pretty regular basis around here.
Maybe it's just hard to see something new and delicious disappear without a taste.
I get that. After all, I made sure to snag one before bringing the rest to the church.
I suppose I'll have to make these almond joy thumbprint cookies again. Which is just fine by me.
Can thumbprint cookies be frozen?
Yes. These almond joy thumbprint cookies can be frozen for up to 3 months, in an airtight container.
I freeze cookies every single Christmas season (and all year long for that matter). It's the best way to be able to bake multiple kinds of cookies for Christmas, but not be baking incessantly the week before the holidays.
How long do cookies last in the freezer?
I freeze cookies all the time. They keep well in the freezer for up to three months, in an airtight container. I like to freeze my cookies with wax paper between the layers of cookies so they don't stick together.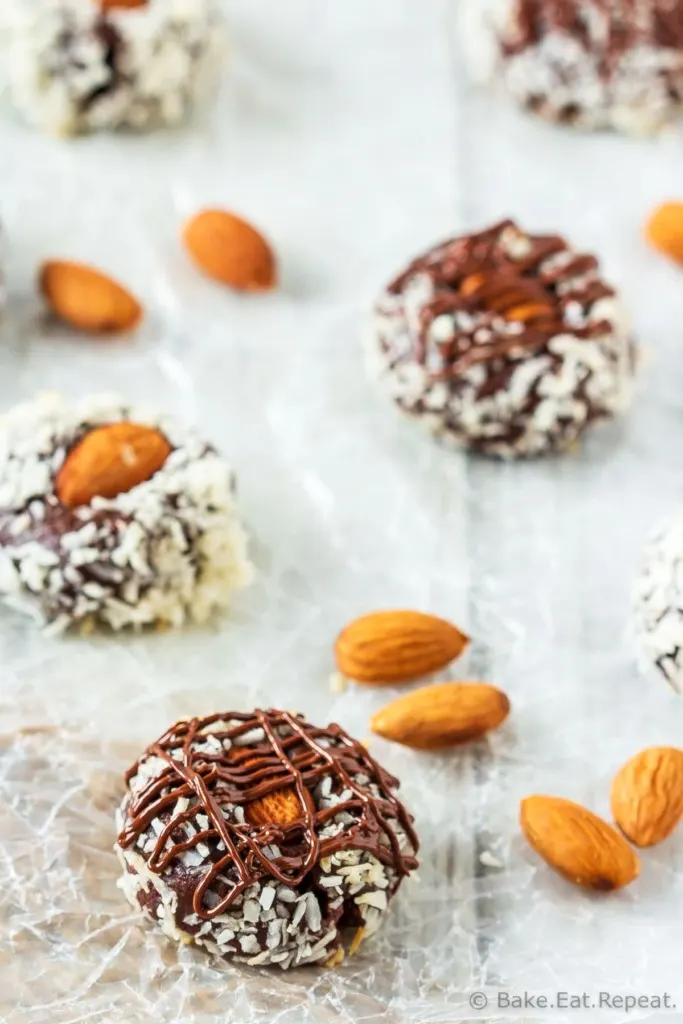 How to make Almond Joy Thumbprint Cookies:
The fastest way to prep these cookies is to roll all the cookie dough into one inch balls first, before coating them in coconut. Once you have all the cookie dough rolled into balls, use one hand to roll it in the frothy egg whites, and the other to roll it in the shredded coconut. This way you don't end up with a bunch of coconut in the egg white, and it's just less of a mess overall.
You can use sweetened or unsweetened coconut for these cookies, either is fine. I used unsweetened coconut because that's what I generally buy.
These were good both with and without the chocolate drizzle on top. But I did prefer them with the chocolate. Obviously.
Here are some more great cookies for Christmas: