I've rounded up 17 cute, easy and amazing homemade Easter treats that you can whip up for the kids this year! So many fun treats to choose from!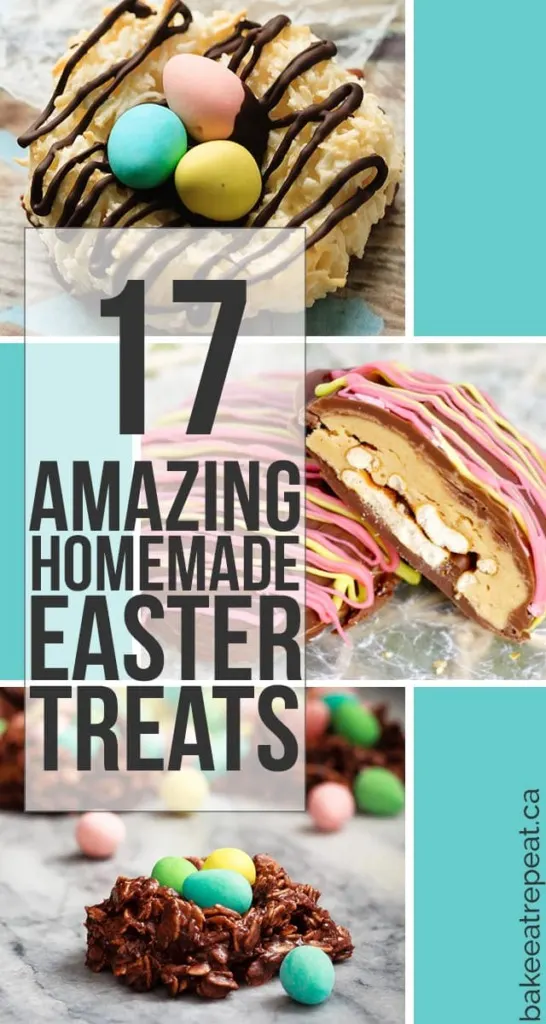 I'm not usually super into the cutesy holiday food. I'll admit it. I'm a boring mom that doesn't often make the cute food for her kids. Poor deprived children.
But – I will say that when I do make that cutesy food, they really love it. I think they appreciate it more because it so rarely happens. Yeah, that's what I'm going with.
At any rate, Easter is one of those times that I have made cutesy treats a little more often. Maybe because I'm buying them candy anyways so I feel the need to make some part of that basket a homemade goody? Not sure, but I do actually have a few homemade Easter treats on here, which is a little surprising since I'm not into the cutesy food thing!
Homemade Easter treats are kinda fun though, so I've rounded up a list of 17 amazing homemade Easter treats for you that are cute, easy and fun to make for your kids. And if you, like me, don't make the cute food often – they'll really love it. Then you can just decide whether to feel guilty for never making that kind of thing, or proud of yourself for doing it this once.
I'm going with the second option.