So, anyone else absolutely adore those peanut butter eggs that you can get at Easter time? I suppose they're basically just peanut butter cups, but hey, they're in an egg shape and that just makes them fun!
This year, after many, many years of telling myself that I would make some at home, I actually did it. I'm quite pleased actually, because seriously? It's been at least 5 years now that I've been planning on making my own peanut butter eggs at Easter. Put homemade candy in the kids Easter baskets. Just for fun. Just because I can.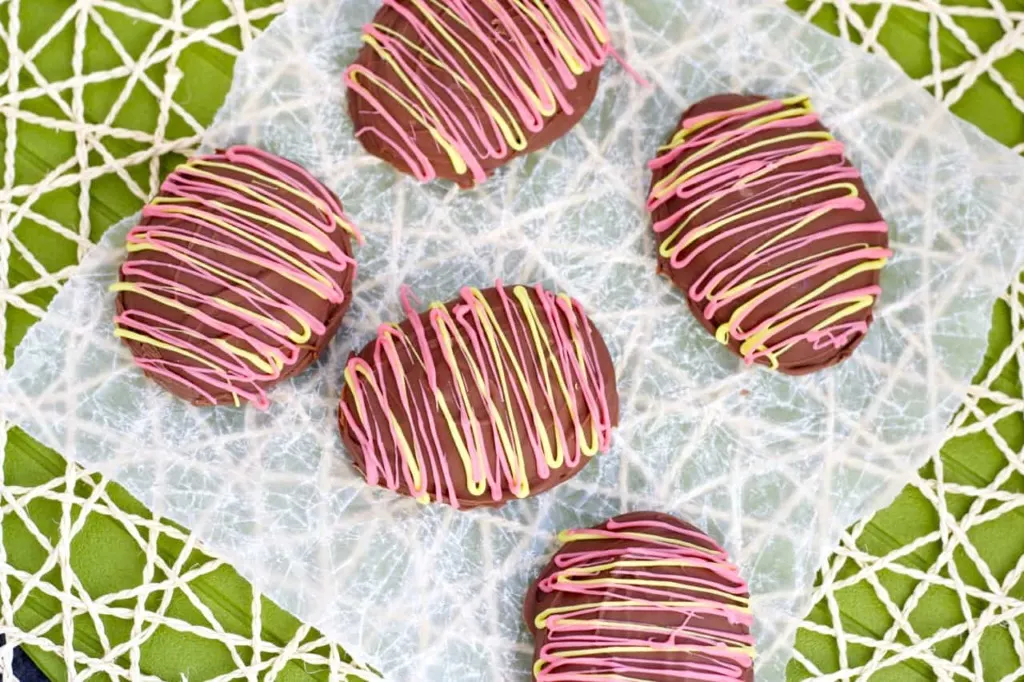 But I have never actually gotten around to making any. No real reason. It's not like they're that difficult. I suppose they're really just too easy to go out and buy! But since you can say that about anything and everything, I finally stopped procrastinating and actually made some homemade candy.
Such a good idea. These are amazing. And really? It makes me feel pretty awesome to make candy from scratch. Now if only I could figure out a way of making that candy healthy as well, and still taste just as good. Probably not going to happen. But hey, a girl can dream!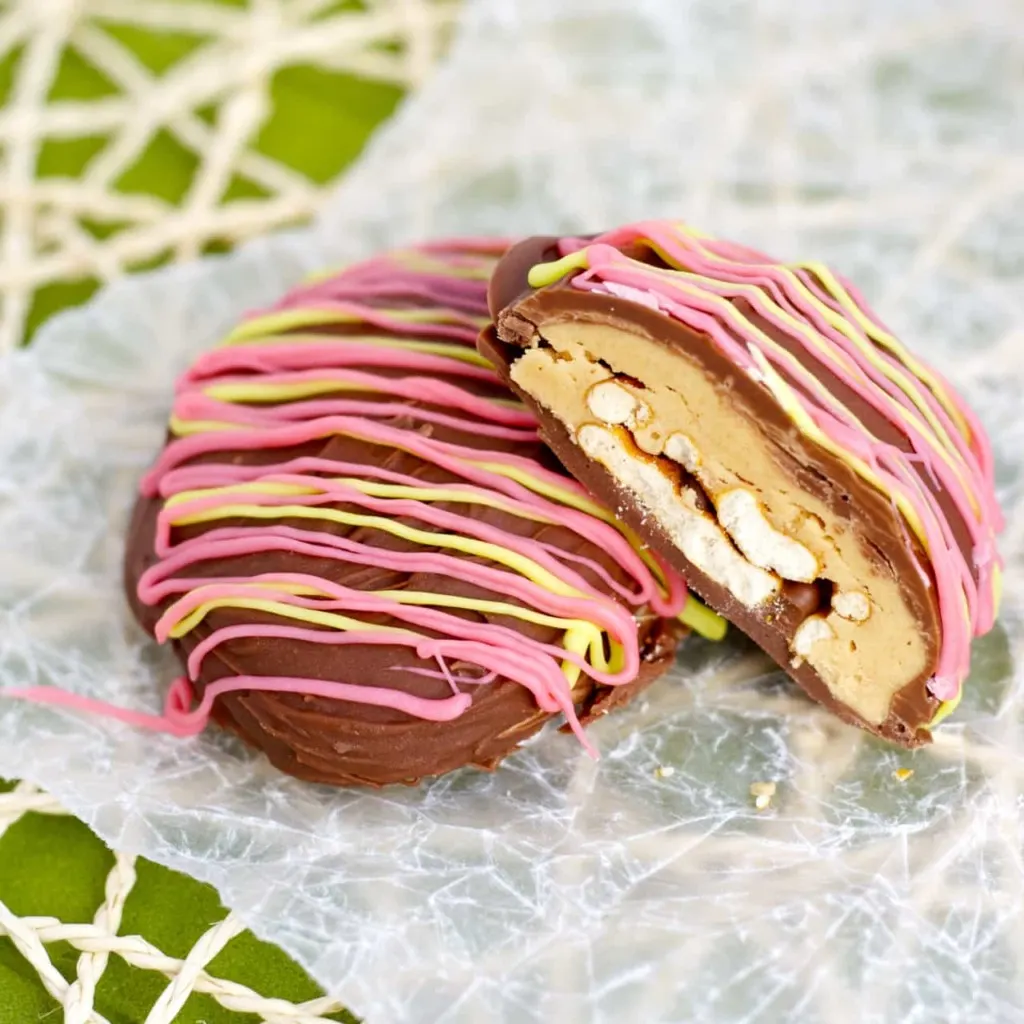 Luckily this batch only makes 6 eggs though, so I can't eat too many of them. Especially if any are going to make it into the kiddos Easter baskets! That was the plan. We'll see if they make it a whole week and a half though. I hid them in the freezer after the obligatory taste test (obviously I needed to know if they were good enough to share – someone had to do it!) so that they wouldn't somehow disappear before the holiday.
Of course. the kids don't know I made them, so they wouldn't miss them at all if they weren't in their baskets. Maybe they don't need homemade candy.
Kidding. Of course I'll give them to my kids. I won't eat them all. Maybe.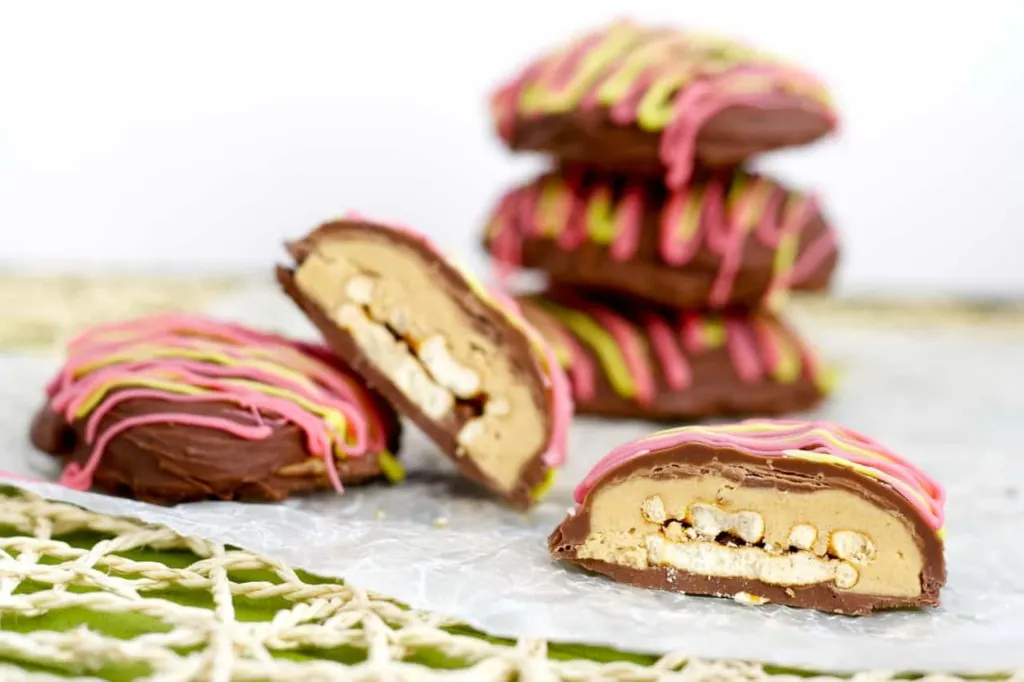 I should also mention that these have pretzels in them. Because peanut butter and pretzels and chocolate really just belong together. I loved that bit of salty crunch, but you could leave out the pretzels if you just want a plain peanut butter egg. I used milk chocolate, but I think I might use a combination of milk and dark next time, to balance out the sweetness a bit, so use whatever chocolate you prefer. And the tinted white chocolate drizzle on top is obviously optional, but let's be honest, it's pretty cute and you should probably do it!
You should also probably be better at dipping then I am – and trust me, that wouldn't be hard. I am absolutely the worst chocolate dipper ever. It inevitably looks like I let my 3 year old do it for me. And now you know the real reason for the tinted white chocolate drizzled all over. It looks cute – and it hides my ineptness. It's okay, they get all messy as soon as you take a bite anyways – and they taste great regardless of how well they're dipped! At least that's what I'm telling myself!