Skip the takeout and make your Pad Thai at home instead! This easy to make chicken and shrimp Pad Thai will be on the table in 30 minutes! Fast, easy, delicious.
I had never actually eaten Pad Thai until about a year ago. That's kind of crazy, right? Isn't it a super popular takeout option? I feel like it is.
I think I had never had it because:
we have only ever ordered Thai food once (which is when I tried it the first time)
I don't really like tofu, which usually seems to be in it (3 guesses as to whether my version has any)
I'm deprived in the food department
Clearly #3 is true because I've been missing out on this deliciousness that is Pad Thai for far, far too long.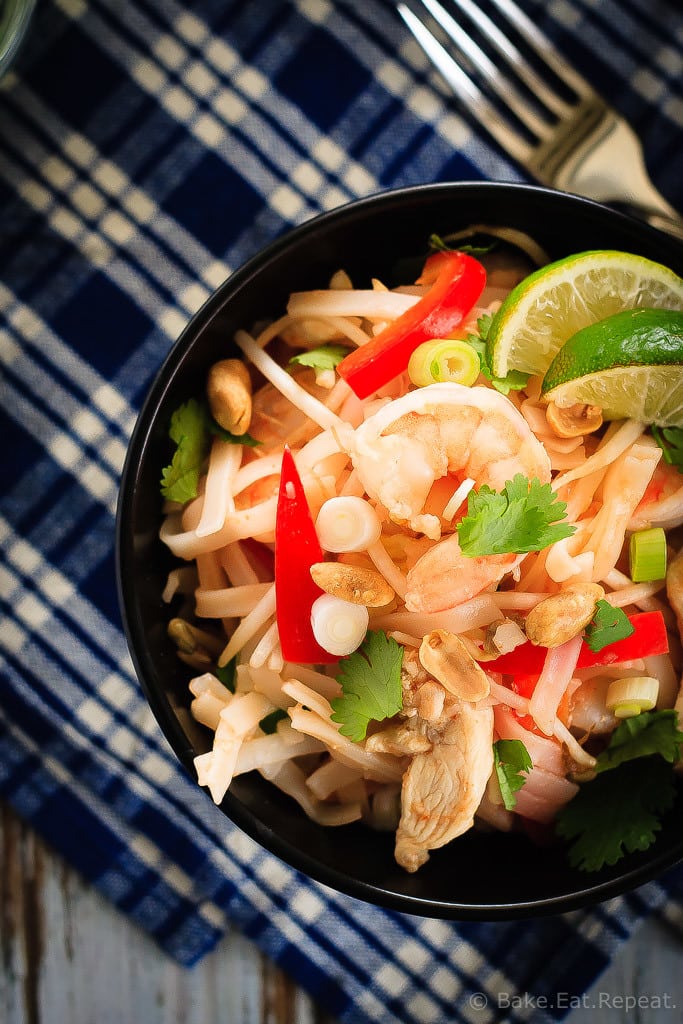 After finding this recipe (and promptly eliminating the tofu from it) I started making up for lost time. My kids were definitely really sick of Pad Thai by the time I stopped making it incessantly.
I'm not sick of it yet though, but it's now been a while since I last made it. After looking at these photos again, I think it's going to be on the menu for next week.
30 minutes, better then takeout, amazing Pad Thai. If you haven't tried it yet – make this. It's so good, you'll join me in wondering why on earth it's taken you so long to try.
Plus, it's 30 Minute Thursday again! If you're new around here, 30 Minute Thursday is the first Thursday of every month, where myself and some of my blogging friends share recipes that you can make in 30 minutes or less, to get you through those busy nights! So scroll down to below the recipe for more tasty 30 minute meals from my friends. You can also check out past 30 Minute Thursday posts here.
Yield: serves 4
30 Minute Pad Thai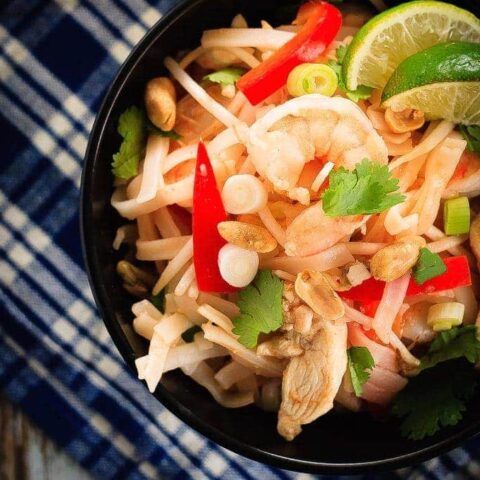 Skip the takeout and make your Pad Thai at home instead! This easy to make chicken and shrimp Pad Thai will be on the table in 30 minutes!
Ingredients
225g (8oz) 1/4" rice stick noodles
1/3 cup (80mL) ketchup
1/3 cup (80mL) chicken broth
1/4 cup (60mL) fish sauce
2 tablespoons (30mL) lime juice (juice from 1 lime)
2 teaspoons (10g) sugar
1 teaspoon (5mL) sriracha sauce
2 large eggs, lightly beaten
225g (8oz) raw, peeled shrimp
1 chicken breast, thinly sliced
1 small onion, thinly sliced
4 cloves garlic, minced
1 red pepper, thinly sliced
2 teaspoons fresh ginger, minced (1 inch piece)
3 cups (300g) bean sprouts
green onions, sliced
salted, roasted peanuts
fresh cilantro, chopped
lime wedges
Instructions
In a large pot of boiling water, cook the rice noodles until softened, according to the package directions (the ones I buy take 6-8 minutes). Drain and set aside.
Meanwhile, in a small bowl, whisk together the ketchup, chicken broth, fish sauce, lime juice, sugar and sriracha sauce until well combined. Set aside.
In a large non-stick skillet, cook the eggs over medium heat, and then remove the scrambled eggs to a plate.
Add the shrimp and chicken to the skillet, and stir-fry until it is no longer pink, about 3-4 minutes.
Add the onion, garlic, red pepper and ginger to the pan and stir-fry for another 2 minutes until they start to soften.
Add the prepared sauce and the cooked noodles to the pan and cook, stirring to coat everything with the sauce for 2-3 minutes.
Return the scrambled eggs to the pan, along with the bean sprouts, and stir to combine and heat through.
Serve the Pad Thai with green onions, peanuts, cilantro and lime wedges.
Recommended Products
This post contains affiliate links. As an Amazon Associate, I may receive a small commission from qualifying purchases.
Nutrition Information:
Yield:
4
Serving Size:
1
Amount Per Serving:
Calories:

302
Total Fat:

5g
Saturated Fat:

1g
Trans Fat:

0g
Unsaturated Fat:

3g
Cholesterol:

238mg
Sodium:

2308mg
Carbohydrates:

34g
Fiber:

3g
Sugar:

13g
Protein:

32g
Nutrition Information is estimated based on ingredients used and may not be exact.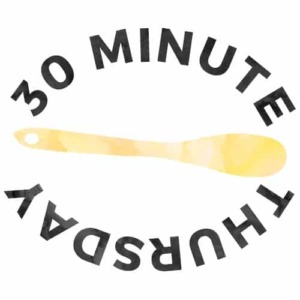 One Pot Teriyaki Chicken and Rice from The Recipe Rebel
Arugula and Prosciutto Puff Pastry Pizza from Pumpkin 'N Spice
30 Minute Shrimp Scampi from My Kitchen Craze
Savory Waffles with Roasted Broccoli and Cauliflower from Floating Kitchen
Crispy Black Bean and Sweet Potato Tacos from She Likes Food
20 Minute Healthy Taco Salad from Kristine's Kitchen
30 Minute Skillet Pasta Primavera from Flavor the Moments