So, I'm not entirely sure I can even call this a recipe. In fact, it's a little embarrassing to call it one. But…..the kids loved this and were so super excited about it, that I thought I might as well share.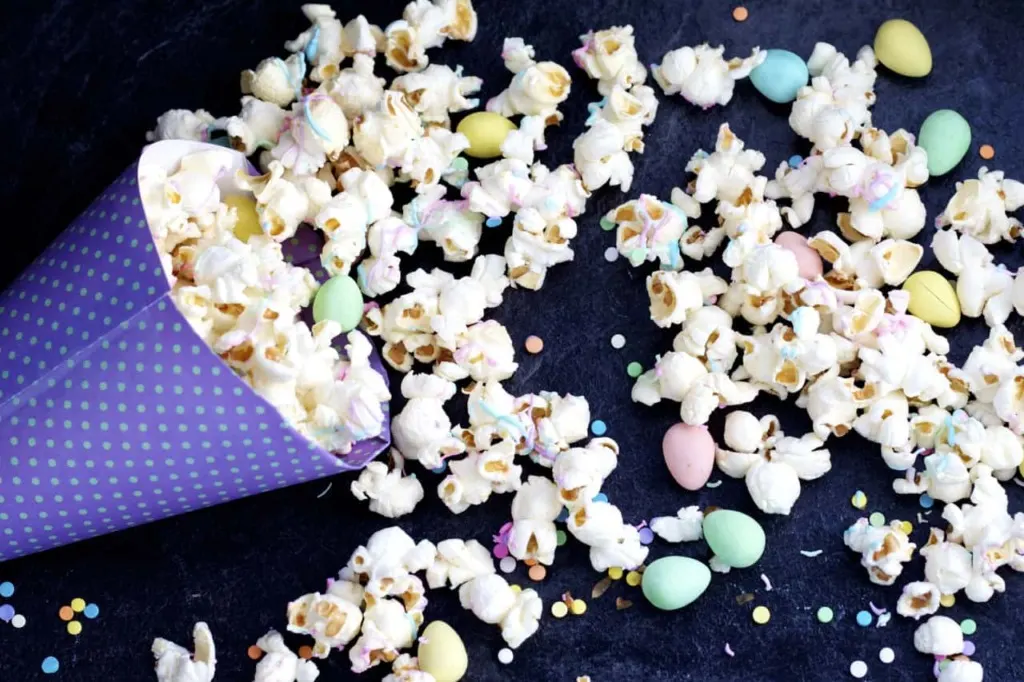 Basically I popped some popcorn and tossed some things on top of it. Brilliant, I know. Well, at least in my kids eyes! And sometimes, that's all that matters. They were super happy about this snack. And I let them eat it in their fort while we read stories so that just made it extra special, as I'm usually a stickler for eating at the table. Or maybe it was just the fact that they got Easter popcorn filled with sprinkles and mini eggs for a snack instead of the usual fruit or yogurt! That could be it.
At any rate, popcorn IS a great snack, I am completely with them on that. And adding chocolate to popcorn to get that sweet and salty combo is just plain awesome. Sweet and salty snacks are the best. I can never get enough of that combo.
I used coloured candy melts for the coloured drizzle on top, because they're easy and I had some. I love those things, they're so easy to work with, you can't really wreck them, and you can melt them right in a ziplock bag, cut off the corner and drizzle them on. And they harden really fast too, so you can be eating your Easter popcorn almost immediately. No waiting for it to set!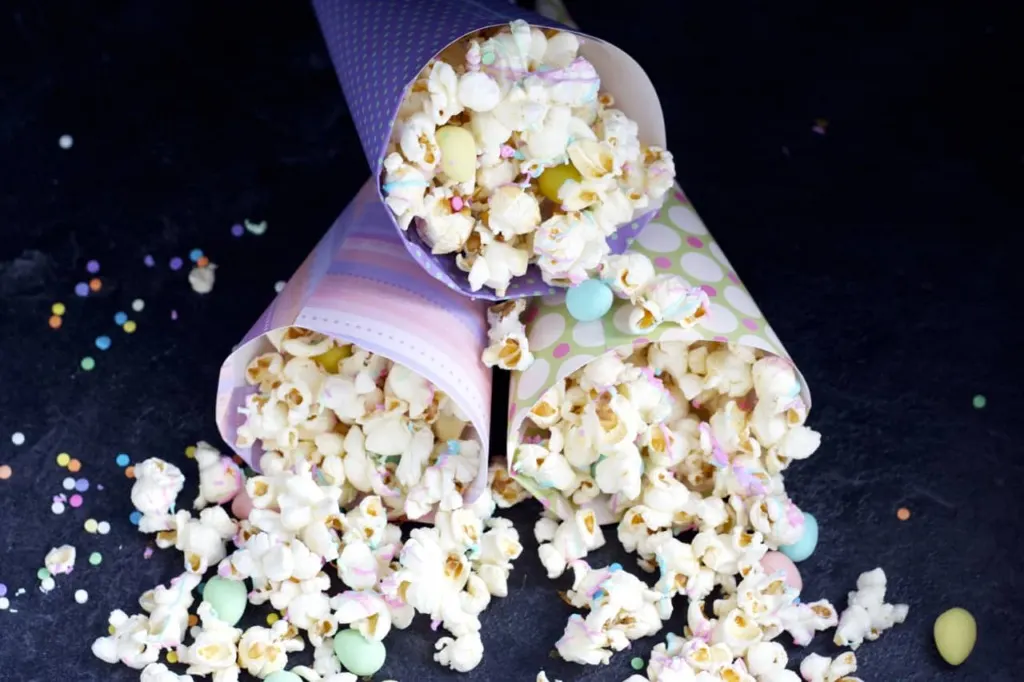 That being said, you could easily use white chocolate, tinted different colours to drizzle on top instead. That might actually taste a little better (I'm not a huge fan of the flavour of those candy melts, but I think I'm in the minority there) but it would take a little longer, and you need to be a little more careful when melting chocolate then candy melts as it can seize. But either would be fine, so use what you have.
I also browned the butter to toss the popcorn with, and that's totally NOT optional. Okay fine, it is. You could just melt the butter in the microwave. But trust me, it's worth the extra five minutes to brown the butter on the stove instead. Of course, if you DO brown the butter, you can blame me when you are no longer capable of making regular buttered popcorn. After having it with browned butter, you won't want to go back to plain old melted butter. It's too amazing when it's browned. I'm sorry.