Well, I finally jumped on the kale bandwagon.
I will freely admit that I have never liked the stuff.  Not in my pasta, not in my smoothie, not in chip form.  All of those – just yuck.  That's all.
Now I'm not against vegetables or greens or healthy stuff.  Not at all.  And I know that it's good for you and I should like it.  But I don't.  I've tried.  I've tried over and over – I even bought a kale and pineapple smoothie from an actual smoothie place (well, my husband bought it but hated it and gave it to me, though that's neither here nor there), and didn't even like that.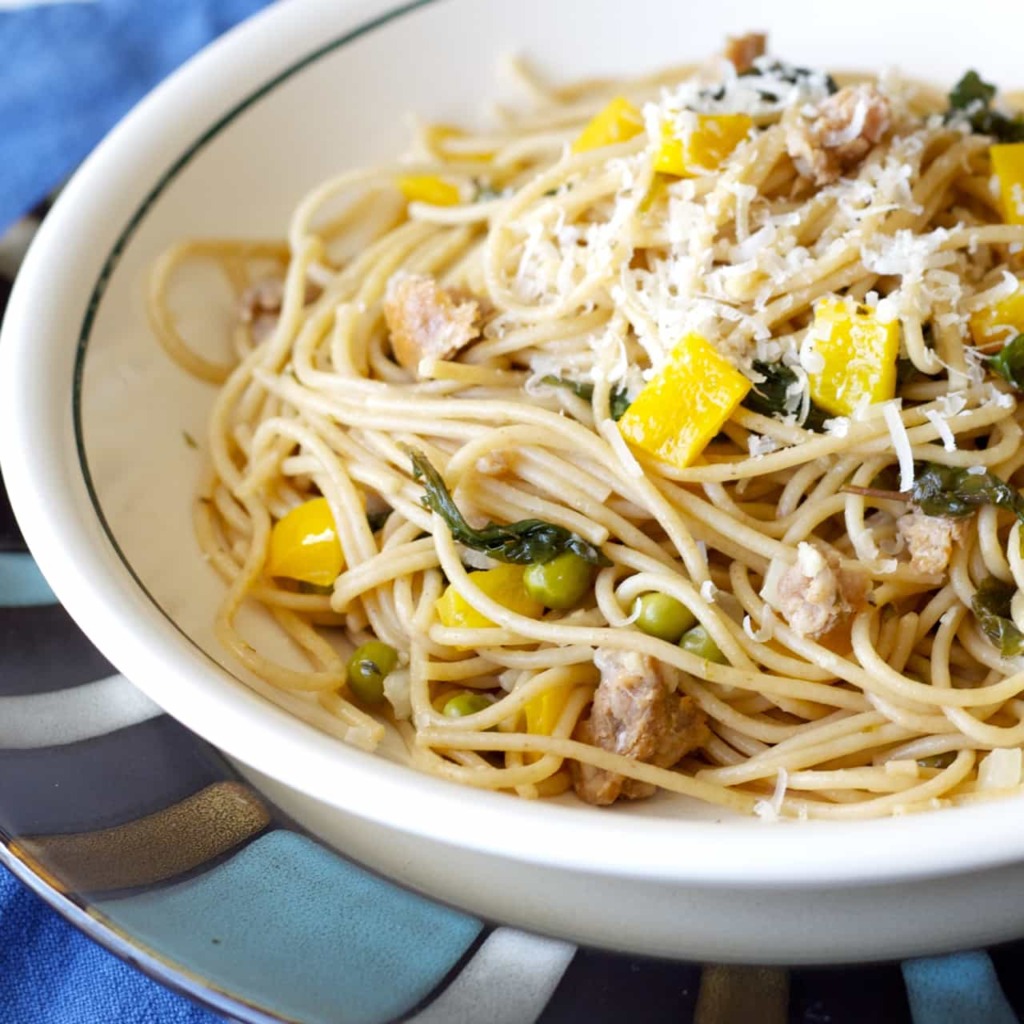 Everyone raves about this stuff and all its benefits and how amazing it is in everything under the sun.  But I just don't see it.  So, so bitter.
And then I discovered that baby kale is a thing!  So I had to try it and see if maybe, just maybe, baby kale could be edible.
It is.  Edible.  So much more so then its grown up counterpart.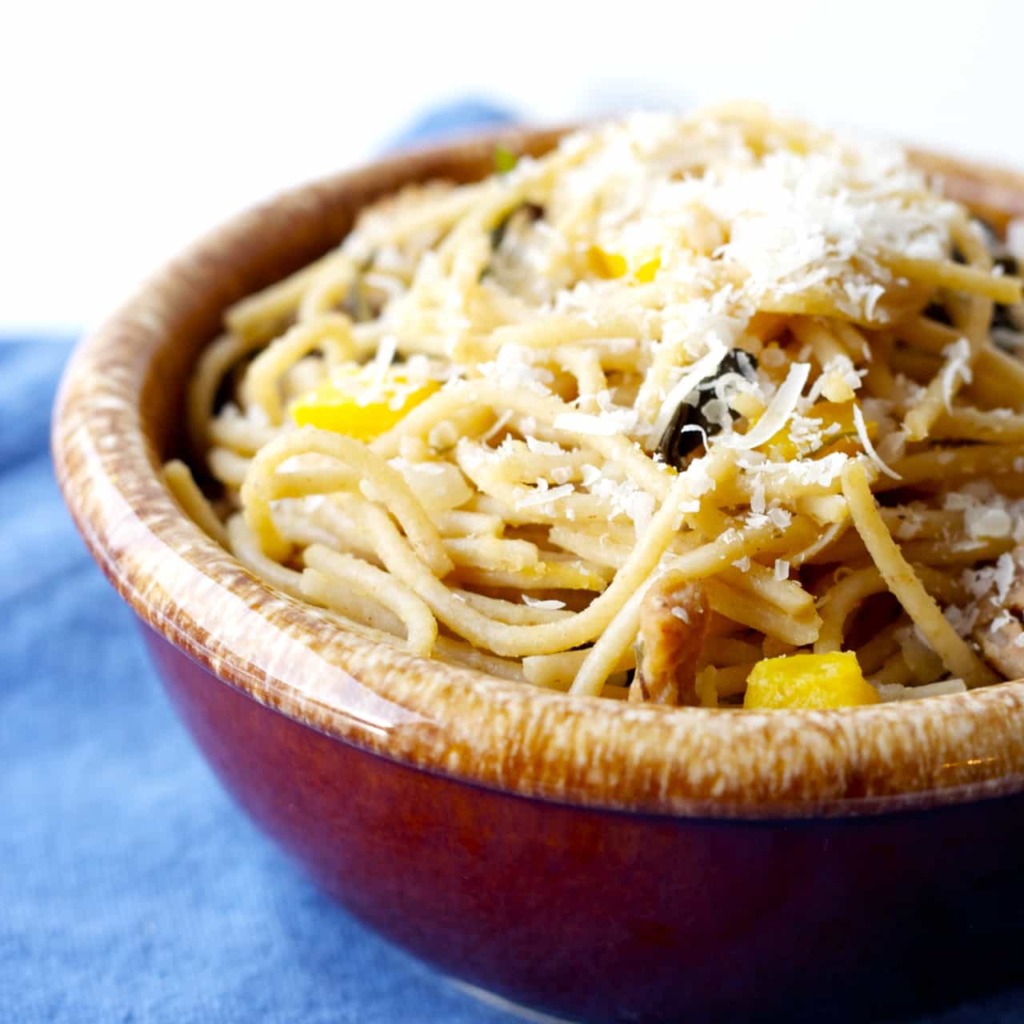 And now I may start throwing kale into everything.  Because, of course, I saw it at Costco and so I have a ginormous bag of the stuff to eat. Good thing it turned out that I liked it.
I even tried the whole kale chip thing again with it and they weren't half bad.  Although I had them as a snack because I was hungry, and, I'm sorry, but a bowl of kale chips for a snack?  Not really a snack.  It's a little like eating crispy air.  I was still hungry after which kind of negated the whole, I'll just have a healthy bowl of kale for a snack idea.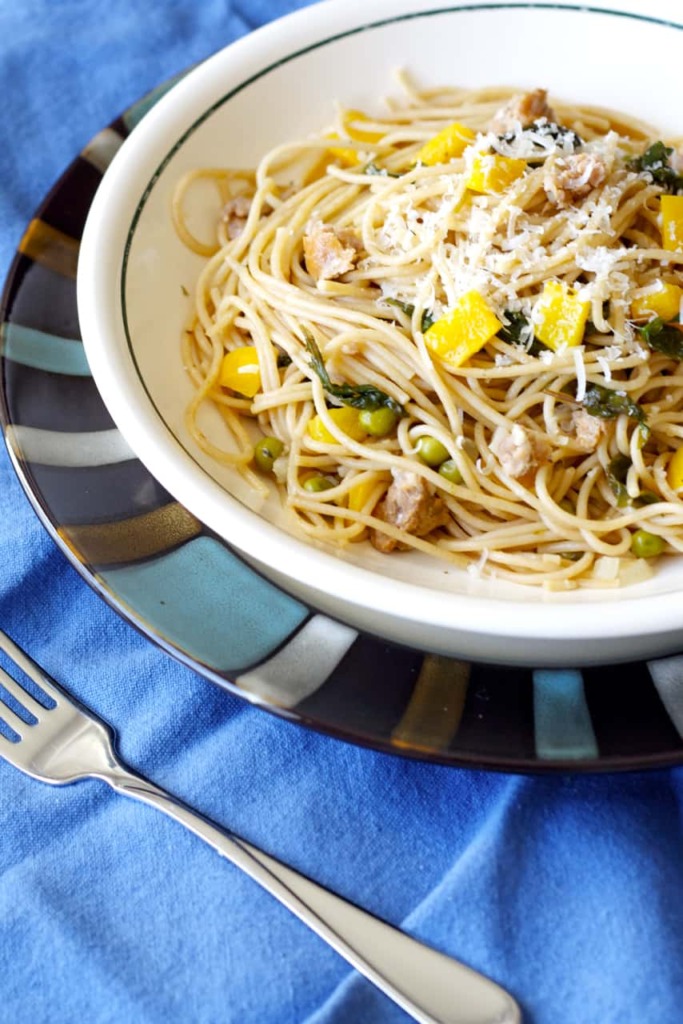 In this pasta though?  Very, very good.  I liked the kale.  The kiddos picked it all out of course, but you can't have everything!  Maybe they'll learn to like it too.  Or I can hide it better next time?  We'll see.
If you're looking for a quick and easy meal, this skillet pasta is amazing.  It's an easy meal that takes under 30 minutes to make and has so much flavour.  The sausage, peppers and kale go together so well, and it's a nice filling meal with the pasta.  Try this out, I'm sure you'll love it!  Quick, easy, tasty.